Playrooms might be one of my all time favorite spaces to organize. I absolutely love creating spaces that spark creativity and play, look adorable and are super-functional for the kids to use. But with so many playroom ideas out there, how do you know which one will work for your space? The tips below should help!
Start With The Basics
Before I get into the one thing you need to use in your playroom, I wanted to preface it by saying there is something that you need to do first: declutter. Not just dumping everything into bins so the room looks "clean," but really getting rid of toys that you don't need anymore. Be ruthless! A few guidelines:
If you can't find a missing part or piece, then get rid of that item.
Kids don't play with it? Donate it!
If it's a toy you're unsure about, store it in a bag or bin in a secret location the kids can't access. If, after a month or two, they aren't asking for that particular toy, you know you can donate. If they do, you can put it back.
Then, round up all the remaining toys and categorizing accordingly (art supplies, action figures, cars, dolls, etc.). Make a list of the 8 to 10 categories you want, then make piles of only those toys.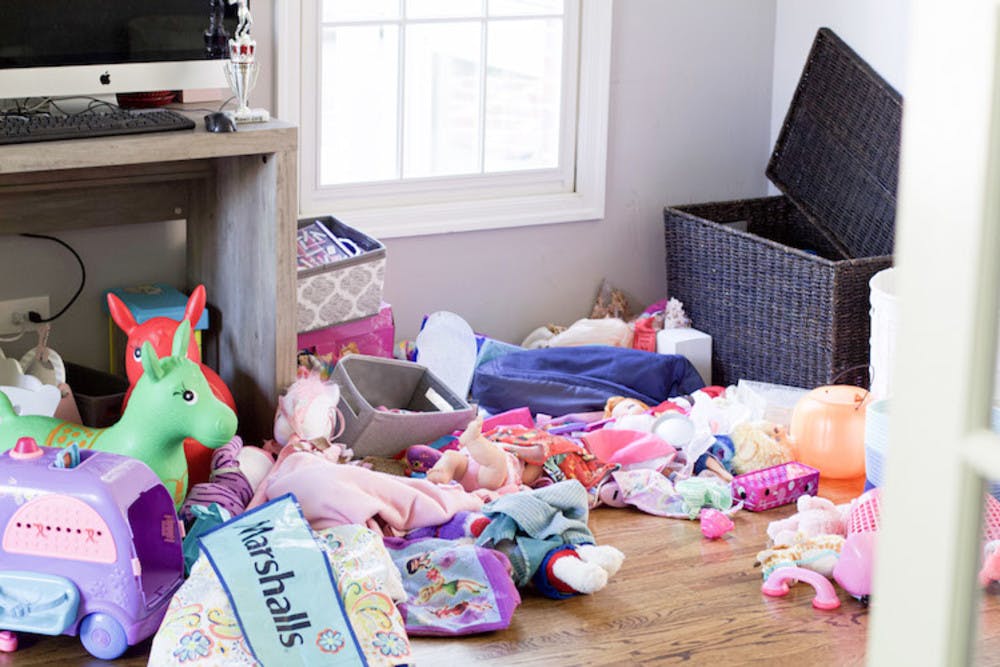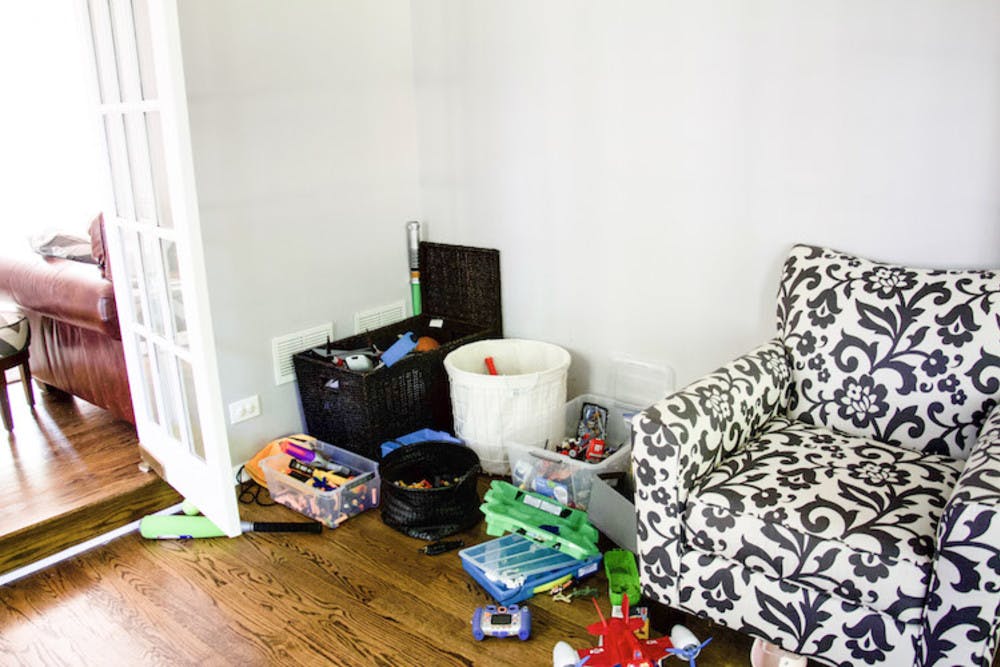 Playroom Ideas
Once you have decluttered the space by purging toys and separating them into categories, you can now take a peek at some playroom organizing ideas to get you inspired! I am a huge fan of storage cubes for kids because they are easy to maintain. They're also soft, lightweight, and collapsible, so even if little ones dump them over, you don't need to worry about them getting hurt.
In this space I used the White 4-Cube Cubby Shelves from The Container Store and added the 3 Sprouts Storage Cubes for items like stuffed animals, sports equipment, dolls, and other large items. (Or, you can also use the cubbies without the cubes to store larger toys and books.) For dress-up clothes, the 3 Sprouts Toy Storage Box is the best!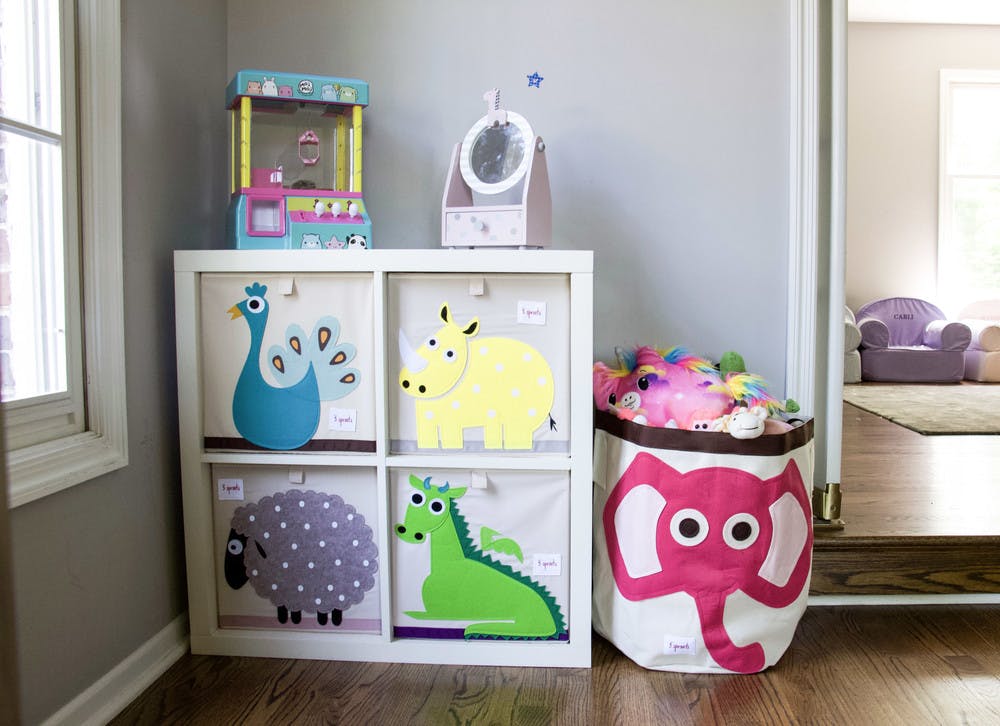 No matter how many playroom ideas you may have, what ultimately matters is this--make it completely accessible for the kids! This usually involves keeping the toys at their level, which is why I love the cubbies. They are the perfect height for kids to grab their toy bins and go play!
Add color and whimsy through the use of decorative bins, floating shelves, and pictures! My biggest suggestion about adding décor is to do it slowly. (This way you only buy what you love instead of just buying a bunch of things and hating them in a few months.) Have an idea of what you want the walls to look like, and then you can find your favorite items to decorate!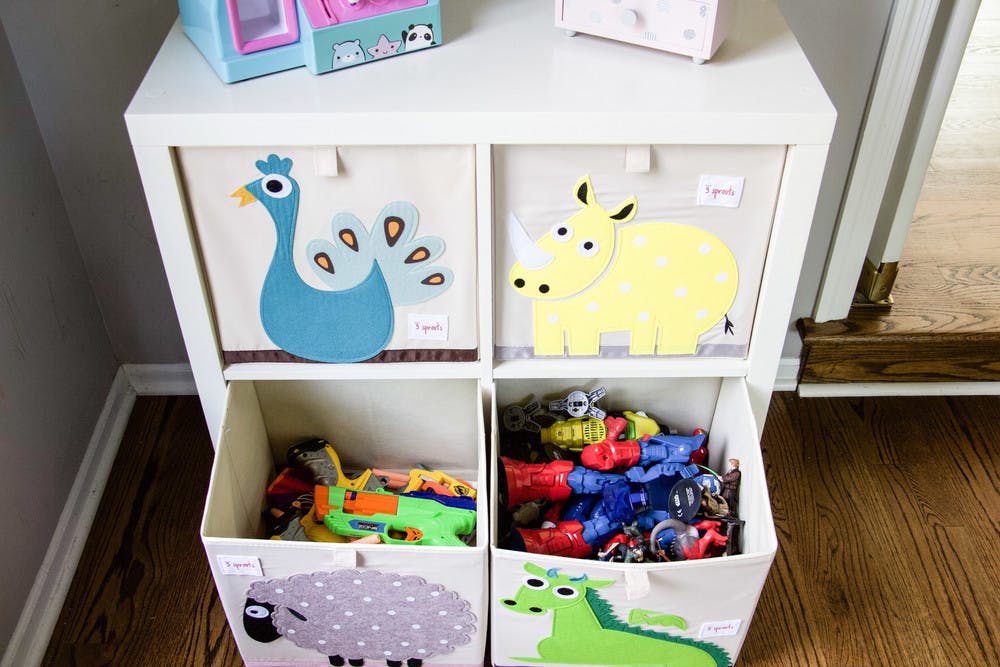 Still looking for effective ways to improve your kids' playroom? Be sure to check out my blog here!