Playrooms are a great place for kids to play dress up, color, build things and let their imaginations run wild. But without a system of organization, playrooms can quickly become an overwhelming mess for kids and parents alike. When things don't get put back where they belong, favorite toys get buried or go missing under the couch. Games and puzzles become useless as pieces disappear. Doll wardrobes become incomplete - and if we're being honest - stepping on a Barbie shoe can be just as painful as stepping on a LEGO. Thus, it is important to actually set the playroom up with a system of organization that works specifically for your child - helping ensure your kids know where to find everything AND return everything.
Brendt, busy mom and blogger of She Gave It A Go, knew this story all too well. Overtime, Brendt noticed her son Paul was playing less and less in his room. In fact, he'd end up playing with just a few toys on the couch instead of playing with all of his toys in his play area. Admittedly, he said he still liked all of his toys, but she couldn't figure out why he wasn't interested in playing in his room anymore. Then she took a good hard look at his space.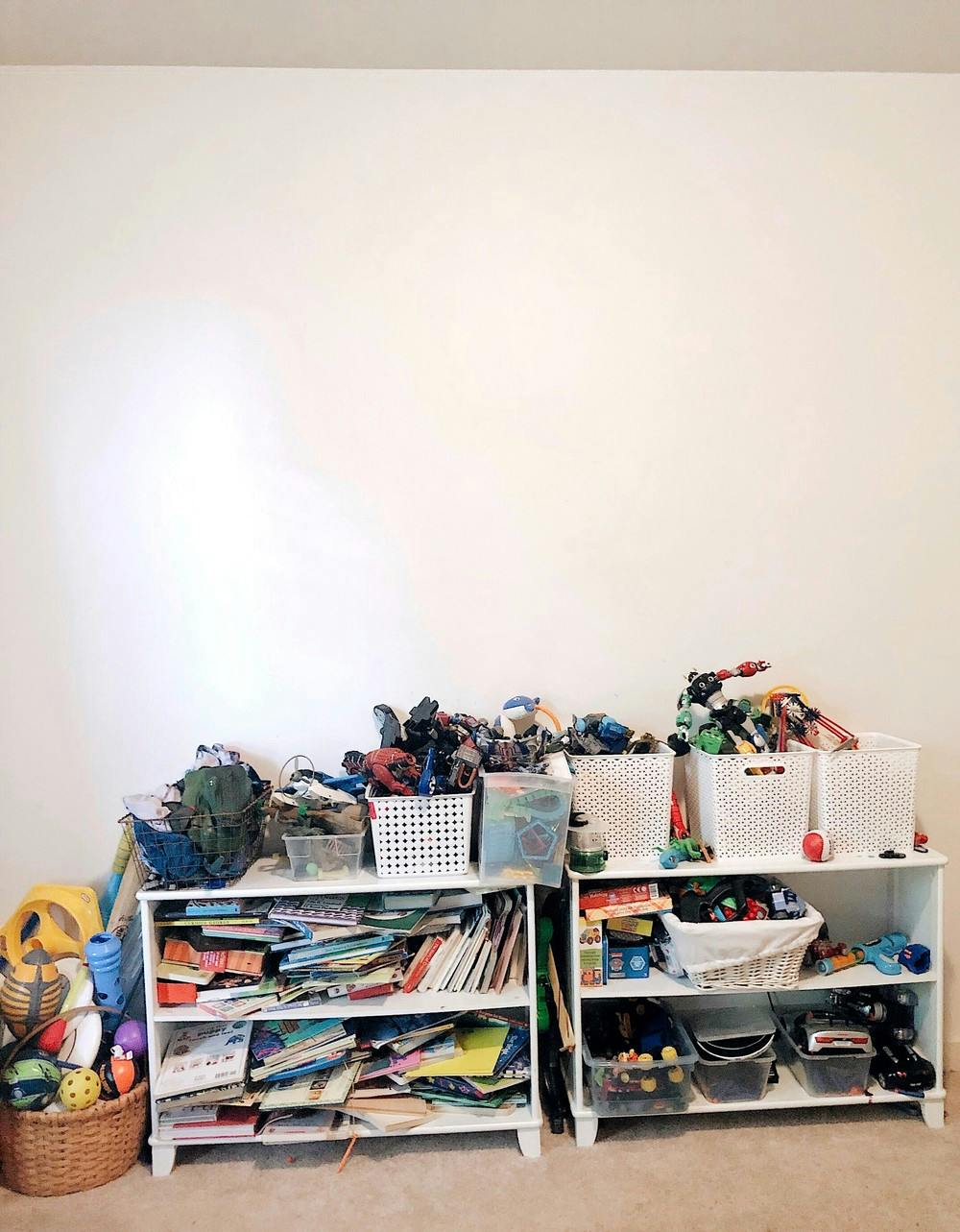 Brendt said, "It wasn't until I took on the project of organizing his space, that I realized what the root of the problem was! All this time, he didn't want to play in there because his toys were so disorganized. The baskets were too big for him to find anything other than what was just laying on the top. Honestly, it was just too much stuff!"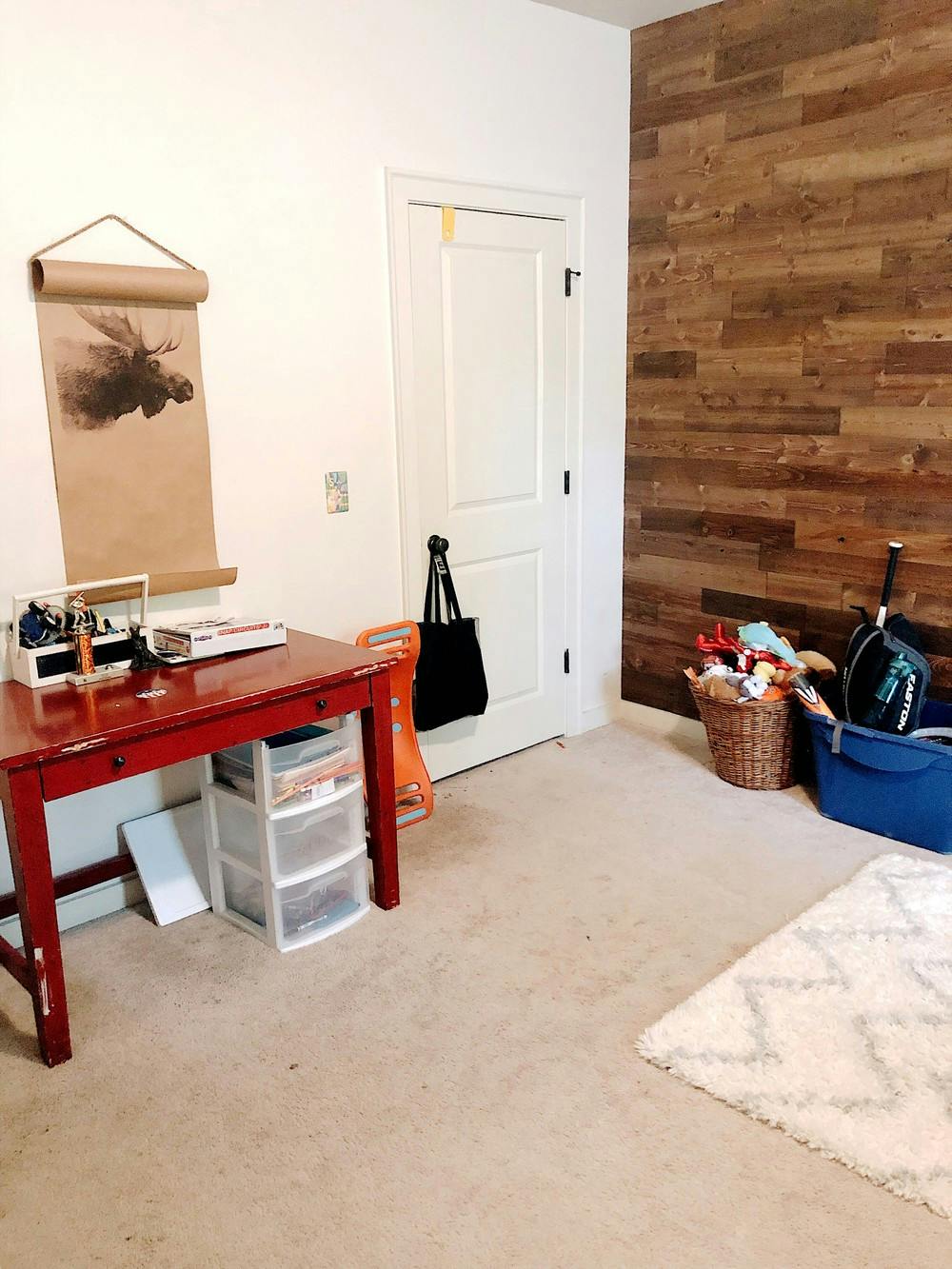 Thankfully, after having turned to us to help with her master closet and other projects, Brendt knew where to find everything she needed to restore Paul's playroom to a space where he could actually play and have fun. She reached out and asked us to partner with her on this project. Of course, we were eager to help!
As with all organization projects, she knew the first thing she needed to do was purge everything Paul had outgrown, or no longer played with. She and Paul went through all the toys, games and books currently stored in the room and began sorting things they wanted to keep, donate, or throw away.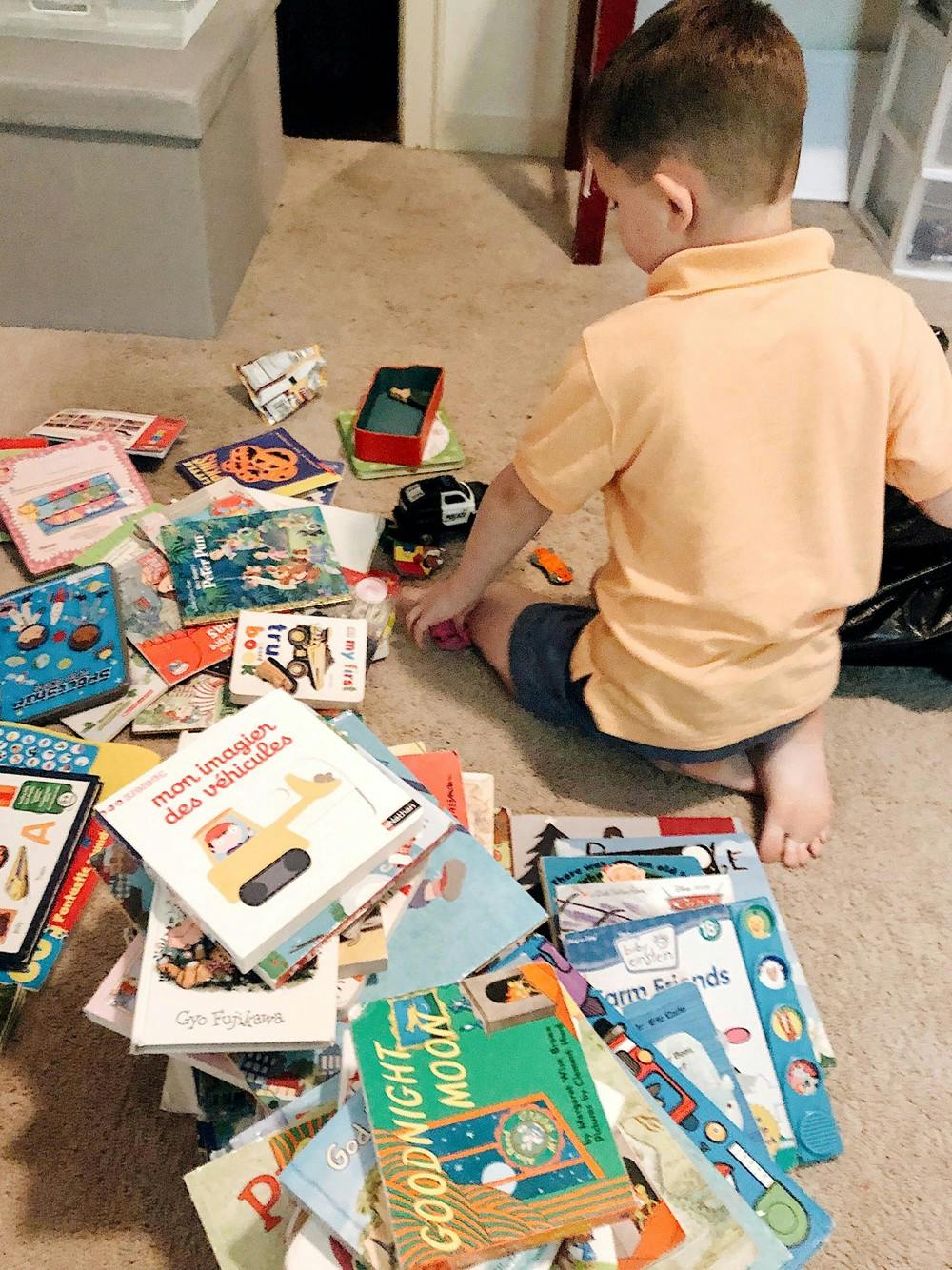 Next, her husband and Paul built two Weather Smoke 4-Cube Cubby Shelving Units, and stored them side by side in Paul's room. Inside half of the cubbies, they used Bigso Grey Fabric Storage Cubes to hold Paul's larger toys, such as dinosaurs and Transformers. Each bin was then labeled with Birch Bin Label Clips to make it easier to get toys back to their rightful space. They used Small Tint Stackable Storage Drawers in the other half of the cubbies to hold smaller items, like LEGOS. Brendt loves how easily Paul can access all of his toys now.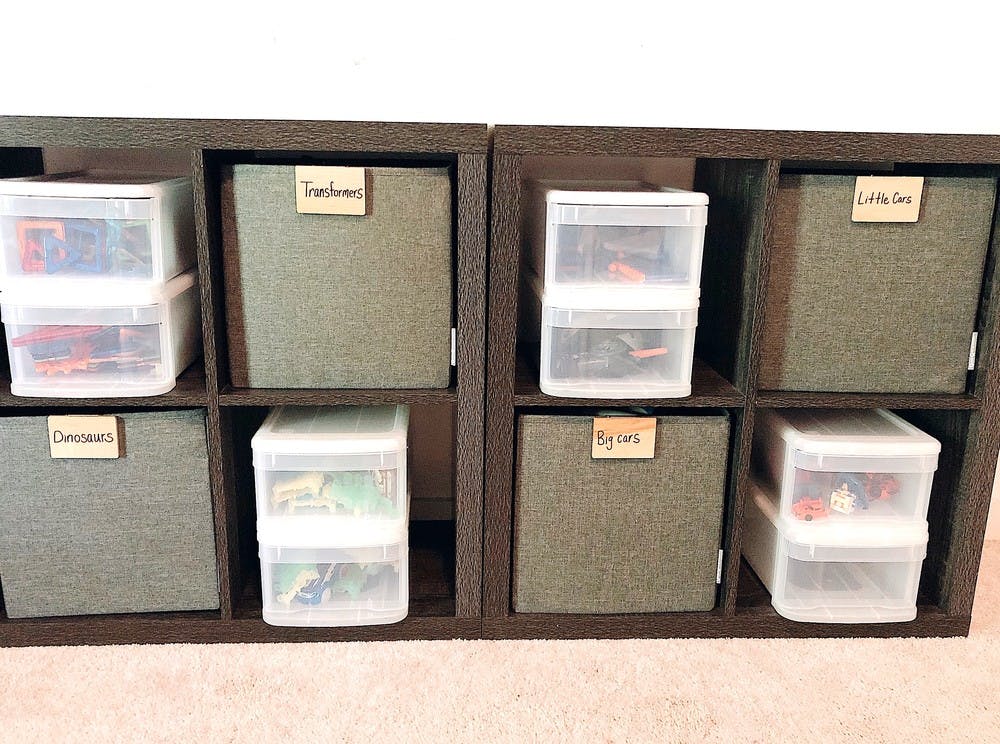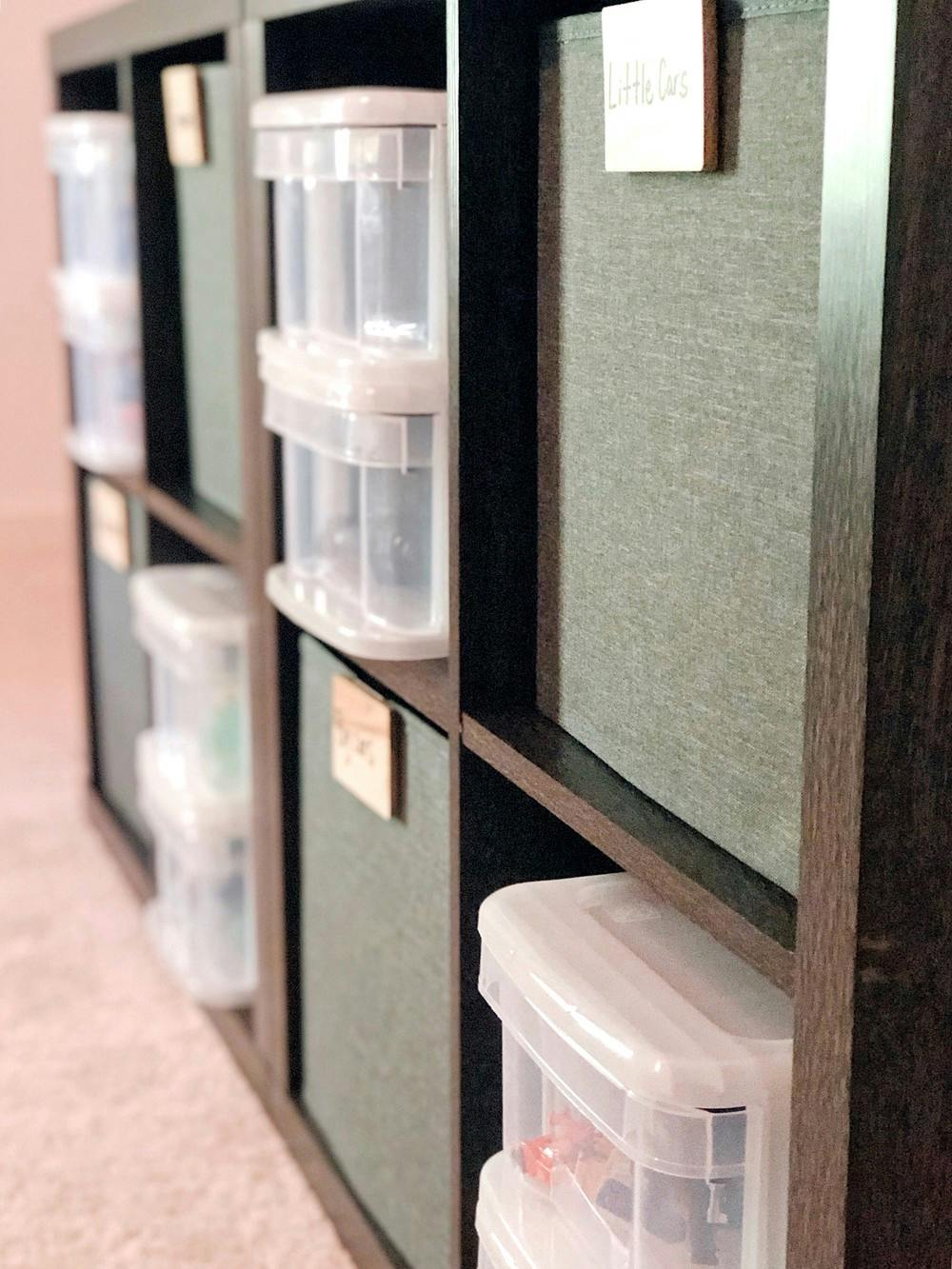 After tackling the toys, it was time to organize Paul's books! Brendt knew the Elfa Kids Playroom Door and Wall Rack was exactly what she needed. "We filled the baskets with a combination of books we love and ones he has grown into," she said. The best part? Paul wants to read every night before he goes to bed. Now, that's winning!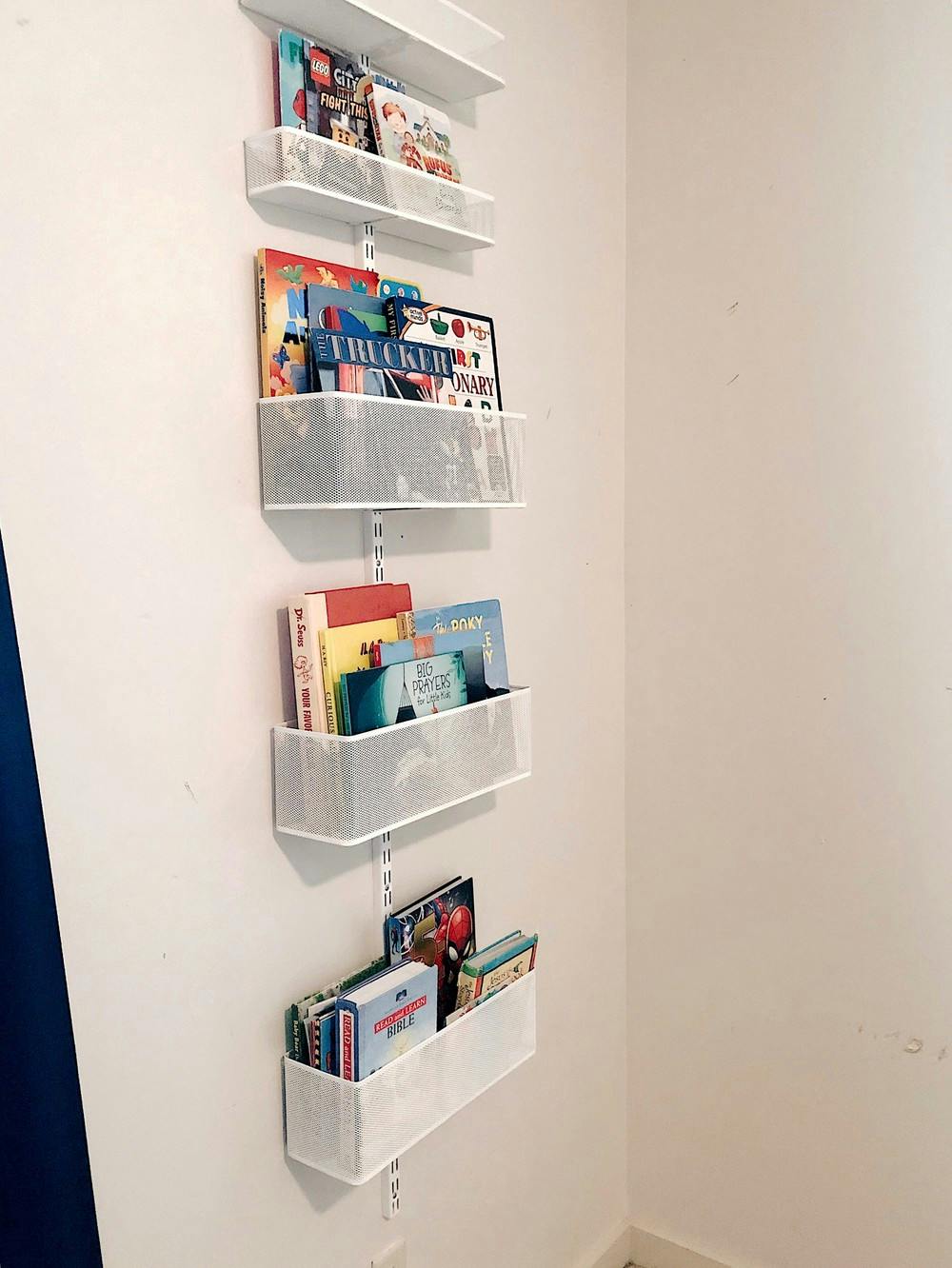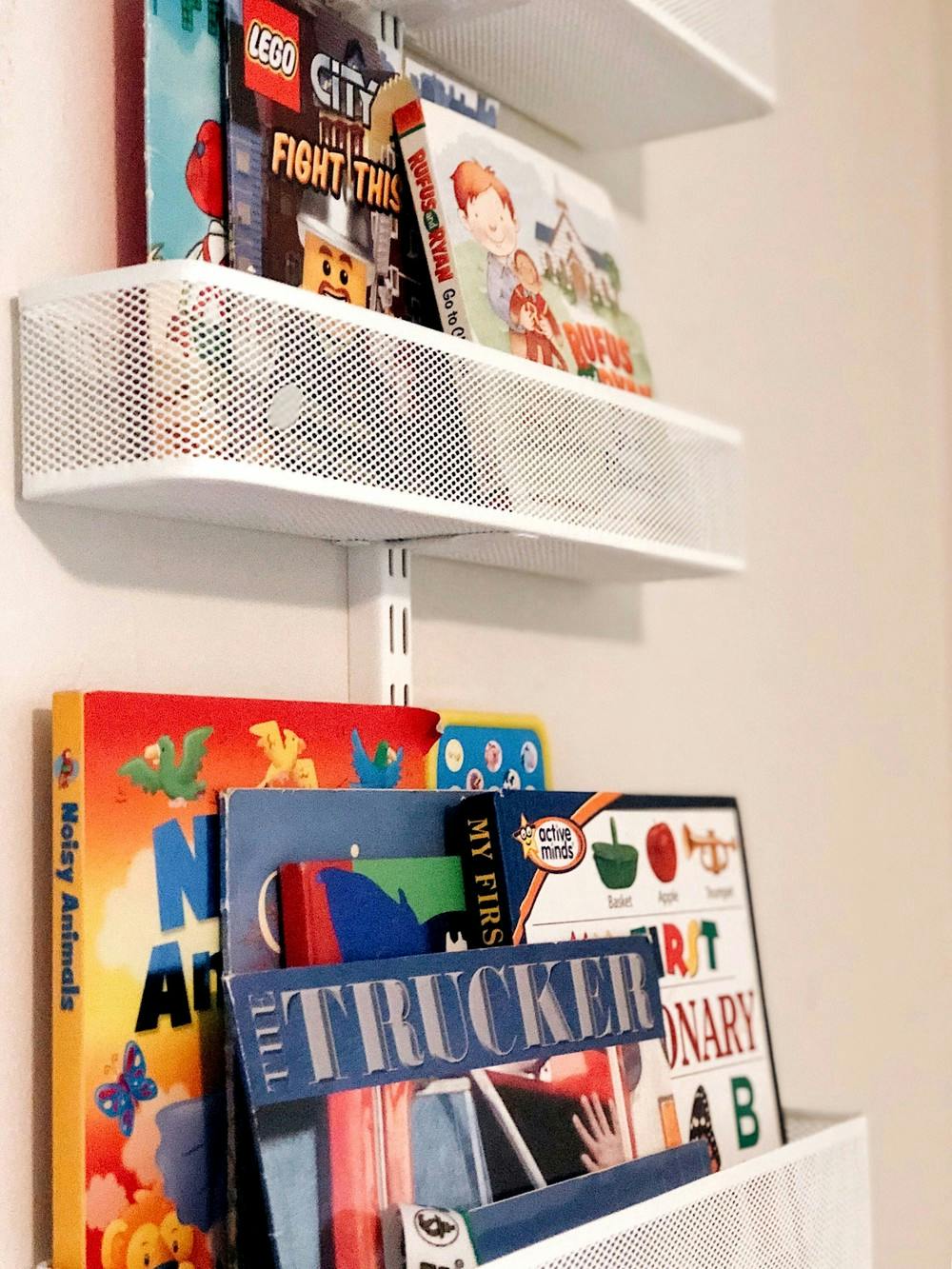 Finally, it was time to rethink Paul's workspace. An important value Brendt's family holds is for their kids to have creative playtime, "whether that means drawing, coloring, making animals out of play-dough, or building something out of LEGOS." Unfortunately, Paul's setup was limited and didn't really work for the space. After spending some time on our website, Brendt knew "they needed something that was just his size, and would provide him with ample space to spread out and get his creative juices flowing," which is why they landed on the Elfa Kids' Coloring Table.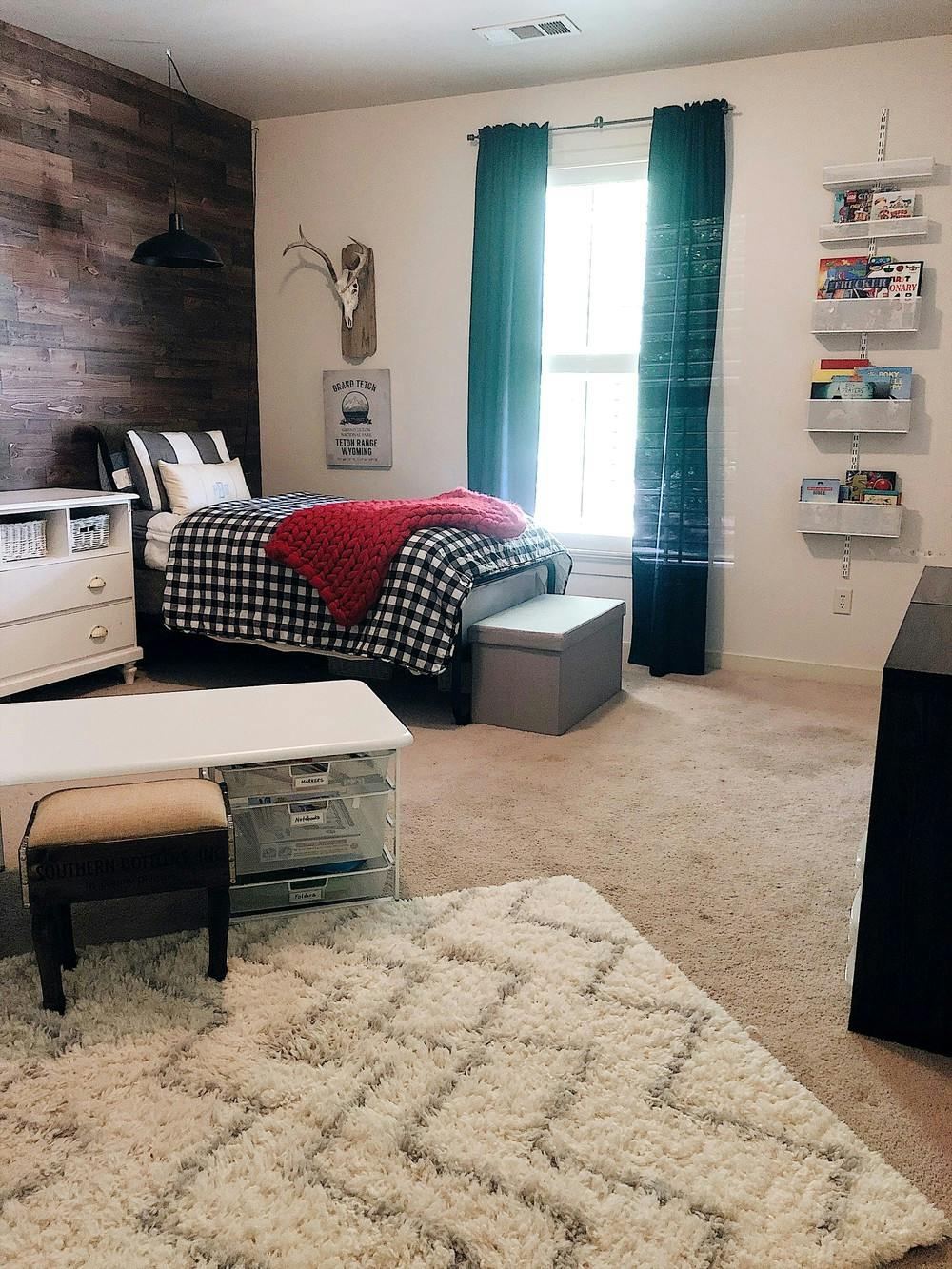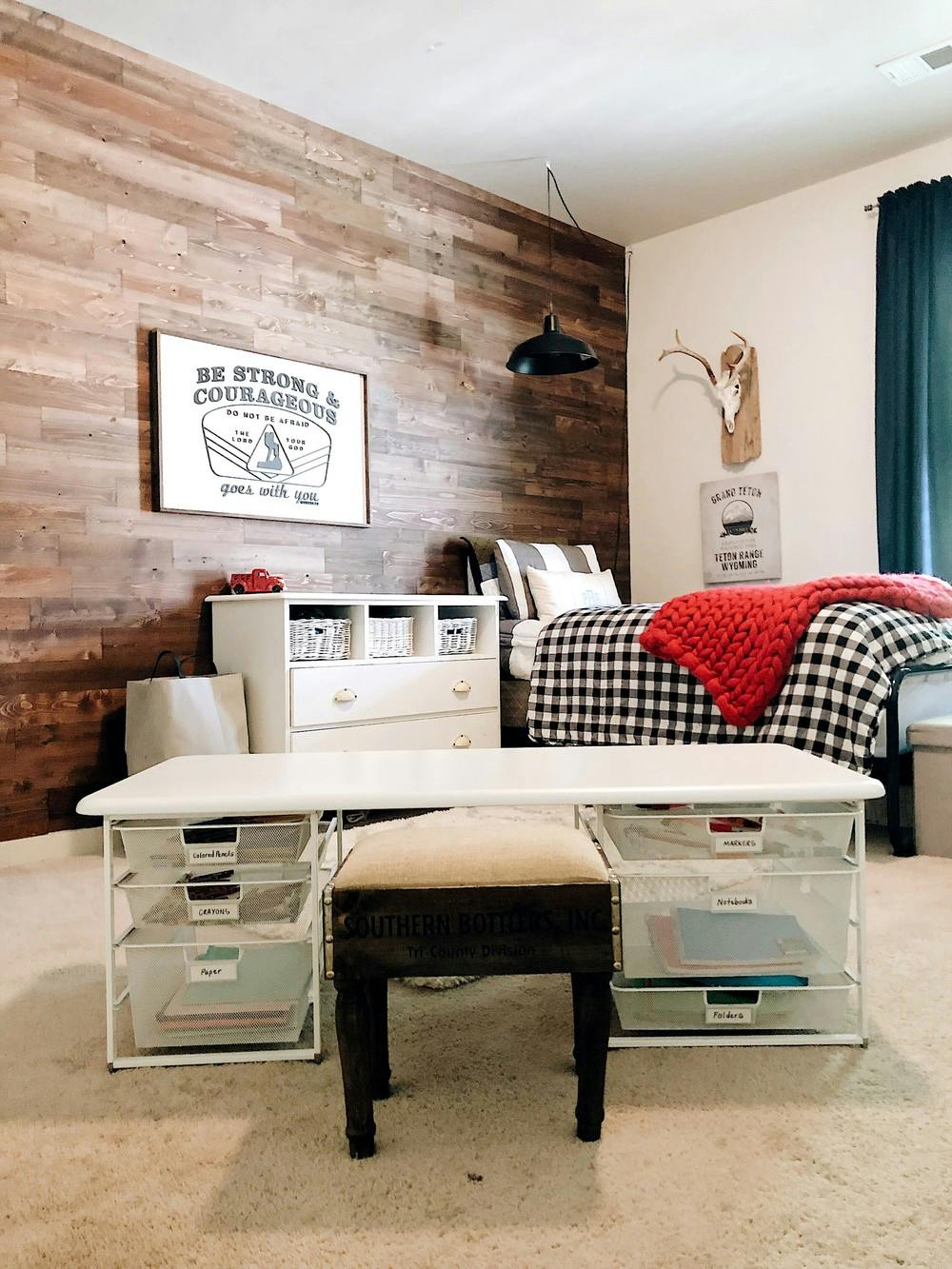 Once his playroom was organized, the room felt much more open and inviting. It's now a space Paul wants to be in. In fact, all that extra creative space inspired Paul to create even more artwork - which Brendt displays in his room by using the Clothespin Photo & Memo Holder.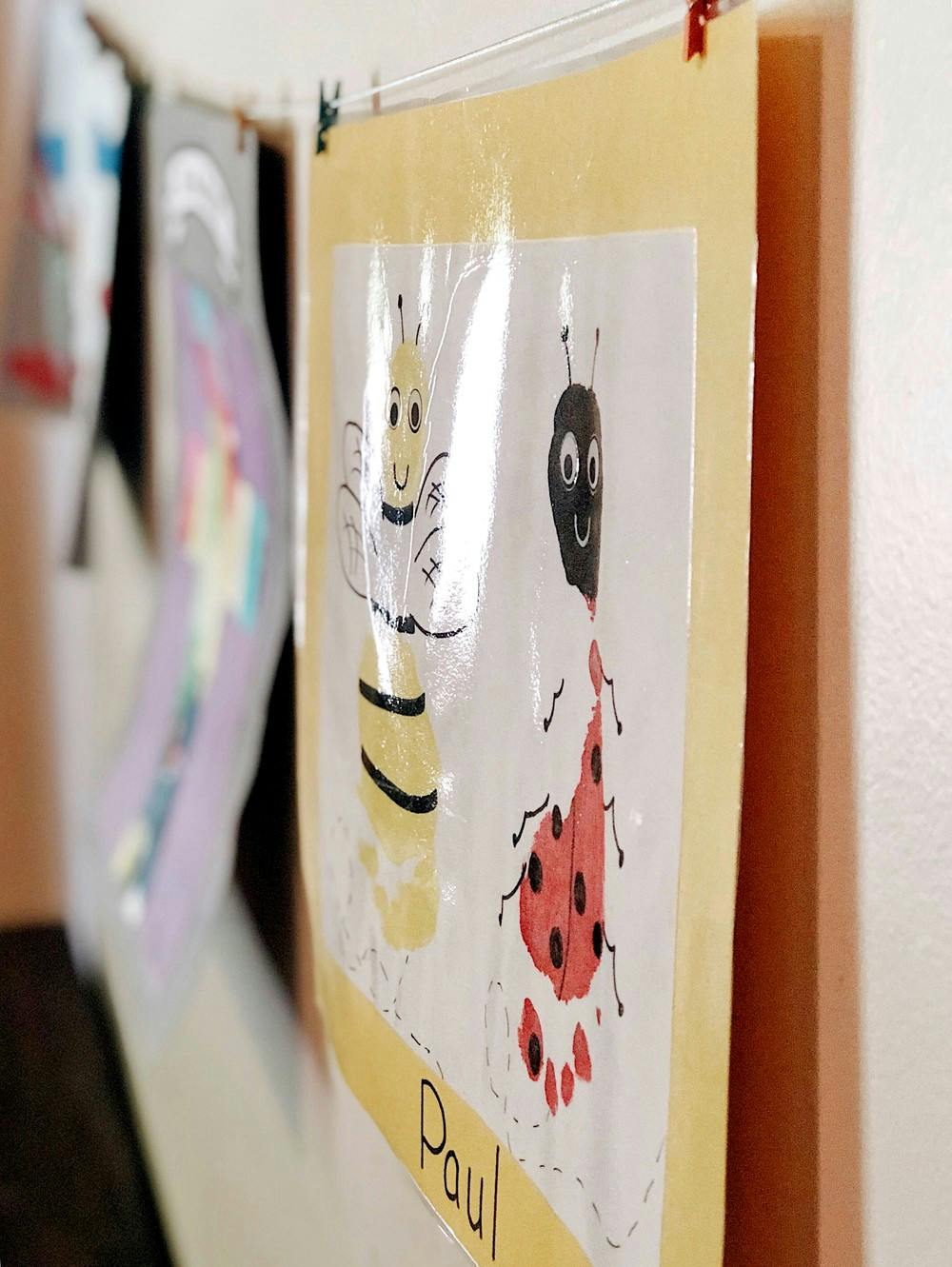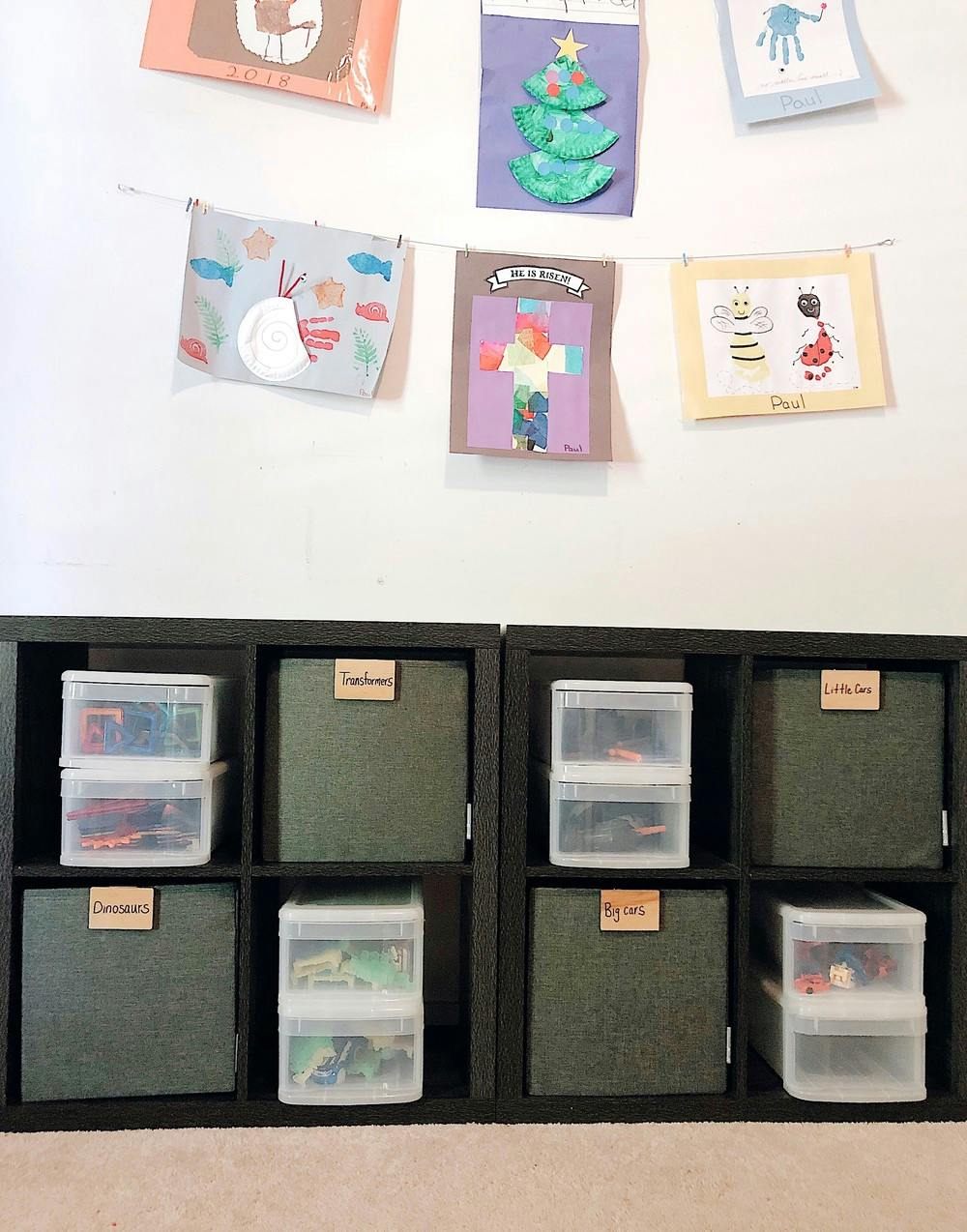 After completing the makeover, Brendt shared, "we could not be happier with how his toy and book organization turned out. By discarding things that no longer were being played with, and implementing a system of toy storage, it has reignited Paul's desire for playtime in his room. It is so much fun watching him enjoy his room again. This project was such a great investment of our time and resources."
Head to Brendt's Blog to see the full transformation, and be sure to follow Brendt on Instagram for even more organization inspiration. Want to organize your child's playroom, but don't know what you need or how to get started? Check out our Toy Storage category, or head to our Projects and Inspiration section for even more great tips.