Back in the day (you know, pre-kids), I was all about being in the "carry-on club" when traveling. I never wanted to have to check a bag at the airport, so I taught myself some easy tricks for how to get everything I needed into a single carry-on suitcase. It took plenty of time and strategy to execute this plan, but it worked!
However, on my first trip with a baby, I learned that sadly, my packing strategy wasn't going to cut it. After a new round of planning I eventually figured out how to pack everything our family of three needed into two carry-on suitcases (plus a diaper bag). I felt like I had really mastered this packing thing! Until, our second came along and we were back at square one.
Although our family was now at four, I was still not going to cave in and check a bag! I was bound and determined to figure out a way that I could pack all of our travel items into two carry-on bags. That's when I discovered something that changed my entire packing game for good: Eagle Creek Pack-It Cubes.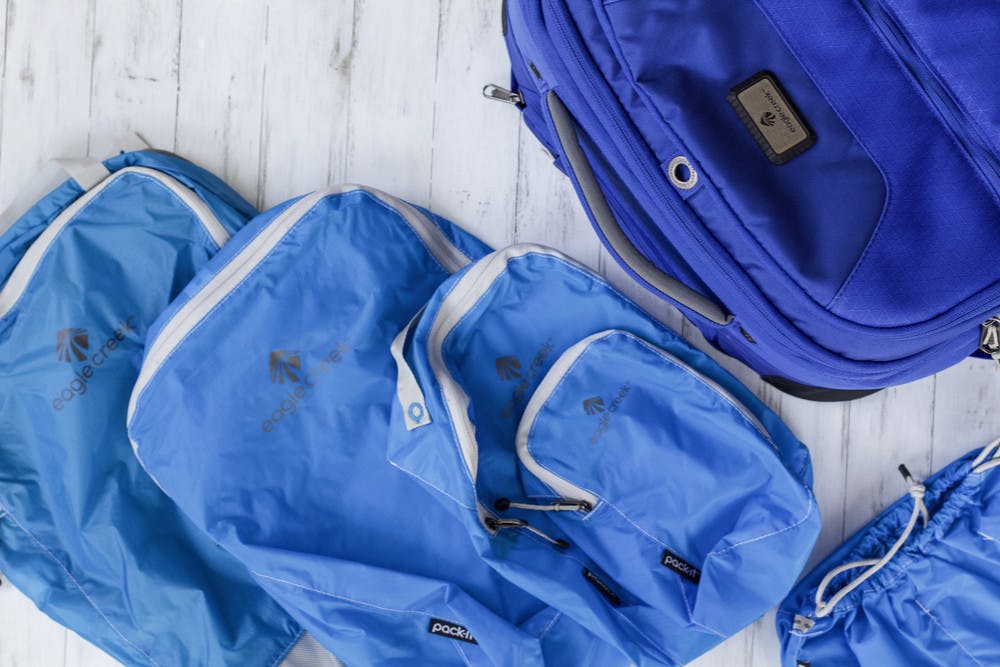 Before packing, the very first thing I do is create my travel packing lists. I give each family member their own checklist outlining everything they will need for the trip, and each checklist is stored near their packing cubes.
I personally love the packing cubes from Eagle Creek because they come in a bunch of different sizes making it easy to pack what you need. The Eagle Creek Specter Pack-It Cubes Set comes with 3 different sizes; the large bag is great for packing clothing, the medium works well for swim suits and pajamas, and the small is best for socks and underwear.
I also love packing with Eagle Creek's 2-Sided Clean & Dirty Packing Cubes. These are really helpful when we go on longer vacations because I can store all the clean clothing on one side and the dirty clothes go on the other. The dirty side even has an opening that allows clothing to breathe and avoid getting stinky!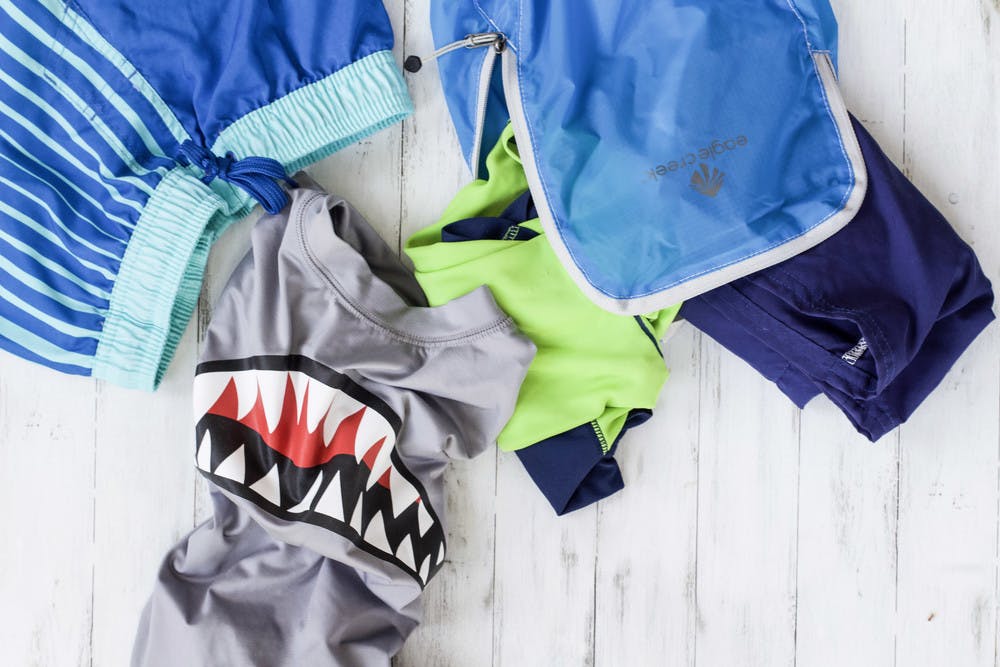 Start packing by pulling out all the outfits you (or the kids) are going to wear while you are away. I like getting different colored cubes for each family member. For example, my son's designated color is blue, so I have him pull out the outfits he wants to wear and roll them up into the packing cubes. I've found that putting rolled-up clothing in the cubes creates more space for more things! But because you can really cram a lot into the cubes, just make sure you don't pack too much and make the bags too heavy.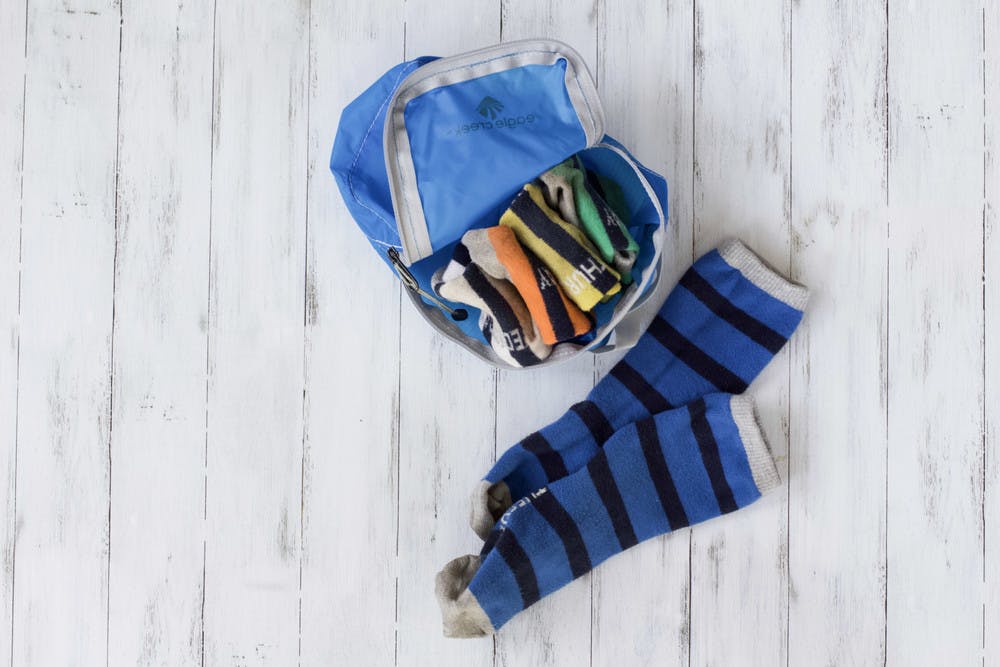 Make sure you bring plenty of toys for the kids to play with as well. I use the Specter Cinch Sac for storing the kids' LEGOs, as well as our headphones and chargers.
Once the cubes are all packed, I store them in our Eagle Creek suitcases. The cubes fit inside nicely and can be stacked on top of each other. I can also lay jeans or pants on top of the cubes to avoid wrinkles.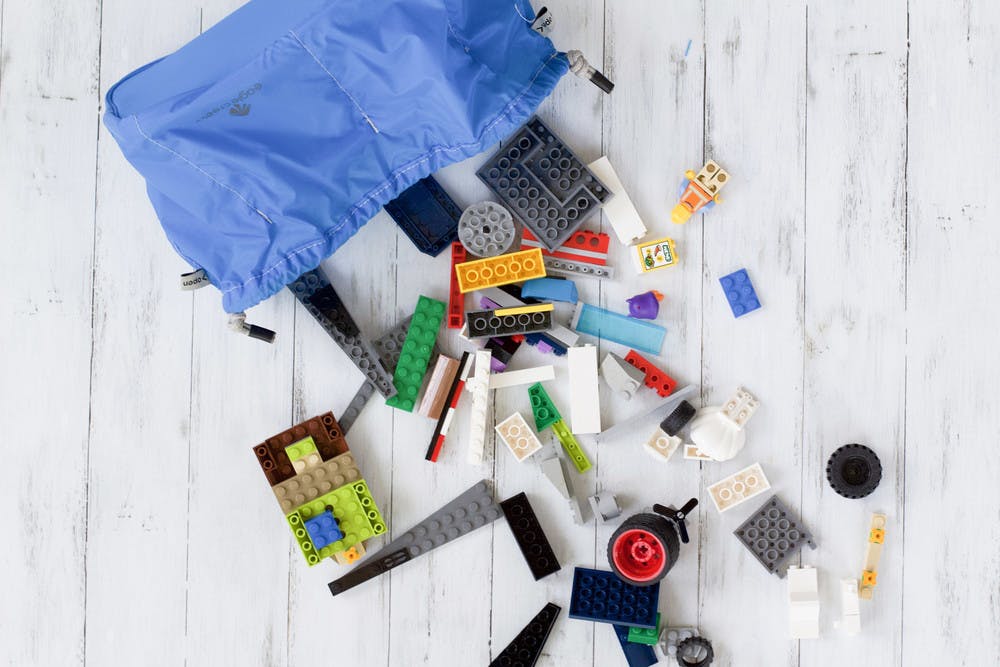 No joke--the Eagle Creek Pack-It Cubes are full-on life-savers when it comes to packing the entire family! They really come in handy and make traveling so much easier!
(You can see more on The Organized Mama blog here.)