Closet space. It's one of those things that you just can't seem to have enough of - especially if you live in a loft, older home or reclaimed space. But little to no closet space doesn't have to limit your wardrobe. With a bit of creativity, one of our Folding Commercial Clothes Racks and some Hanging Organizers, you can create a closet virtually anywhere.
Of course, if you're going to build a closet around a Clothes Rack, it's important to use an extra-sturdy one. Made from thick, steel tubing, ours truly is a commercial-grade rack featuring an extra-wide base for stability. The rack also extends to handle your entire wardrobe. But as great as it is, the rack itself would not be enough. To function as a complete closet, you need to add Hanging Organizers. They not only hold folding clothes, shoes, jewelry and accessories, but can also be used to divide the space on the Clothes Rack. Hang work clothes on one side and more casual clothes on the other.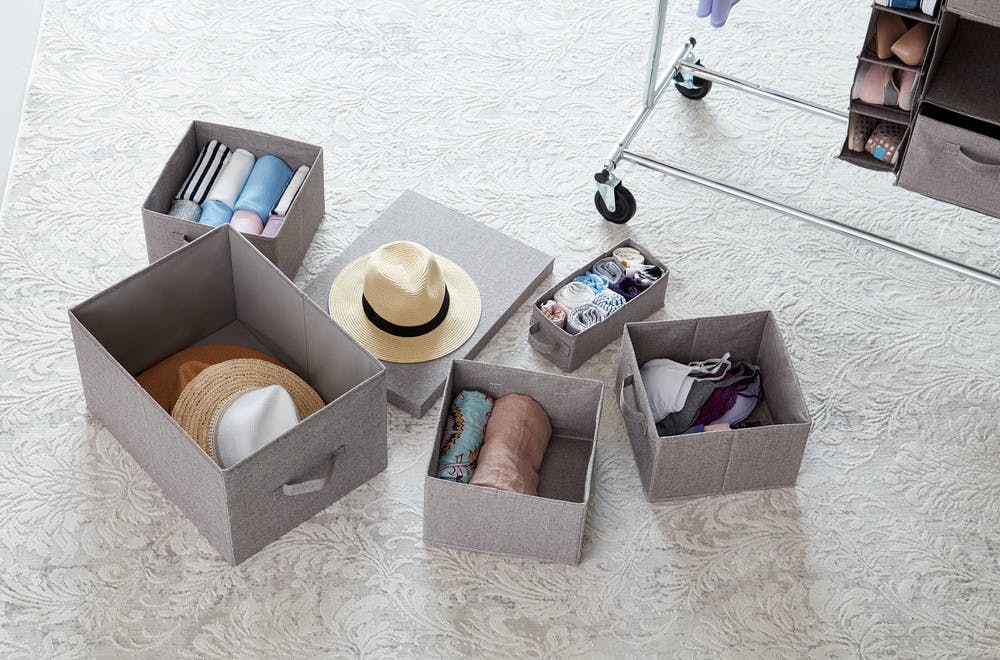 We recommend using at least two different types of Hanging Organizers - one for shoes and purses and one for folding clothes and accessories. Then turn the compartments into drawers by adding bins or Storage Boxes.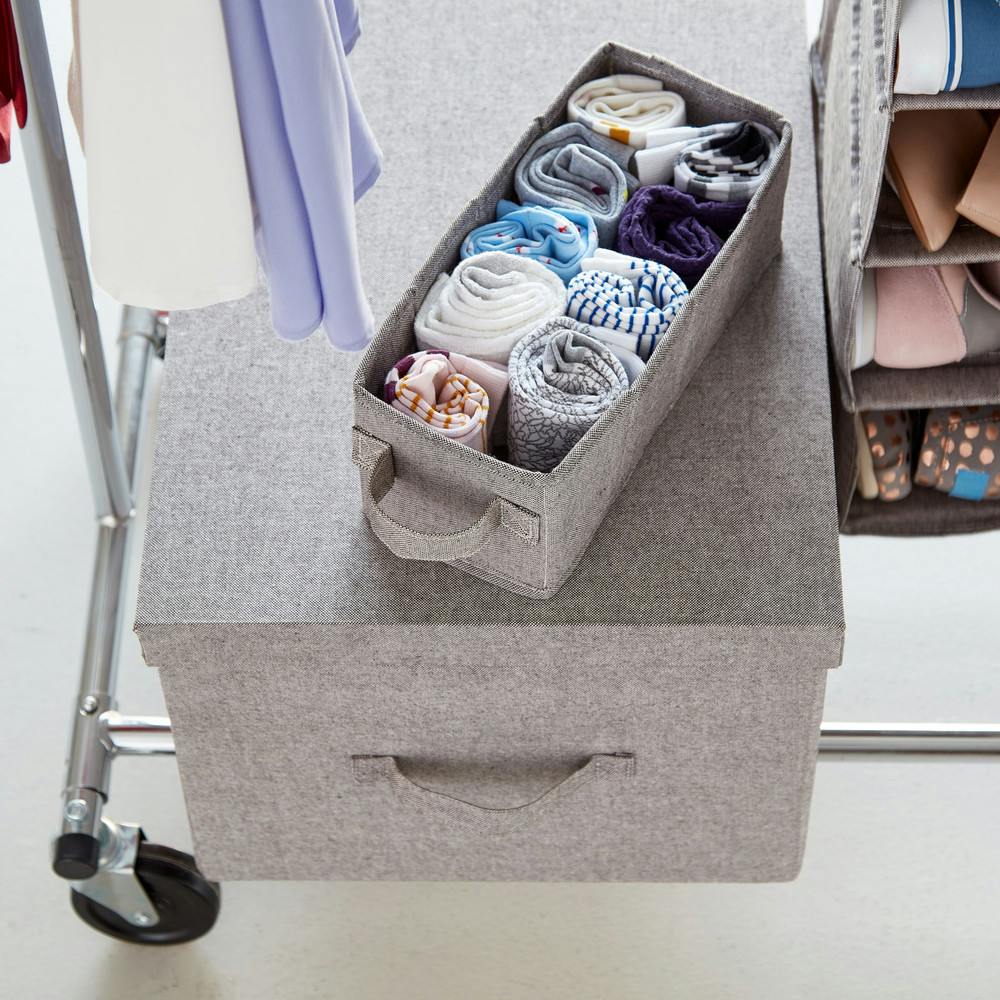 Products Shown: Grey 10-Compartment Hanging Shoe Organizer Drawer; Grey 10-Compartment Hanging Shoe Organizer Drawer; ; Grey Storage Boxes
Be sure to roll or file-fold clothing, scarves and socks in each Storage Box to conserve space and make items easy to see at a glance. This method also keeps drawers neat, as you won't have to dig through a pile to get to the item you want (a real bonus as this type of closet will be out on display for all to see).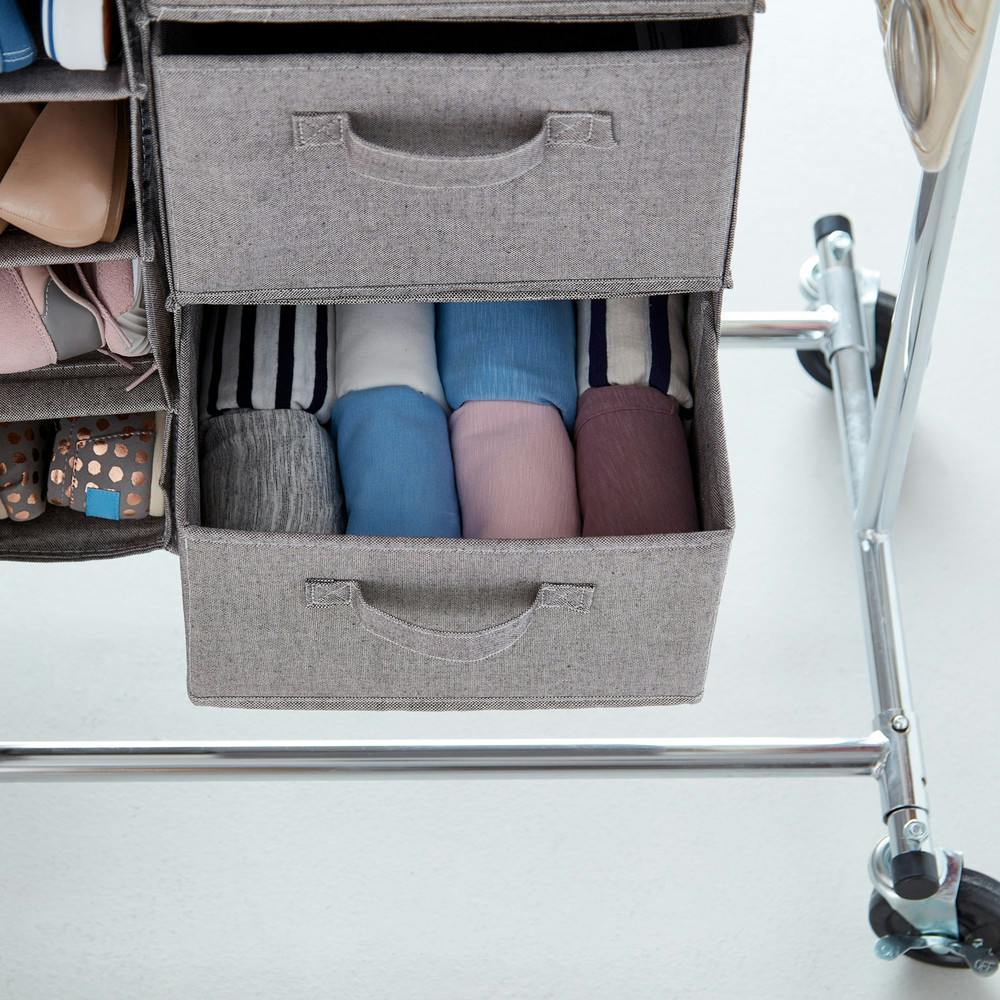 Use the open compartments of your Hanging Organizer to store stacks of jeans, shoes, clutches and purses. Be sure to choose an organizer that features heavy-duty hooks to keep it from sagging.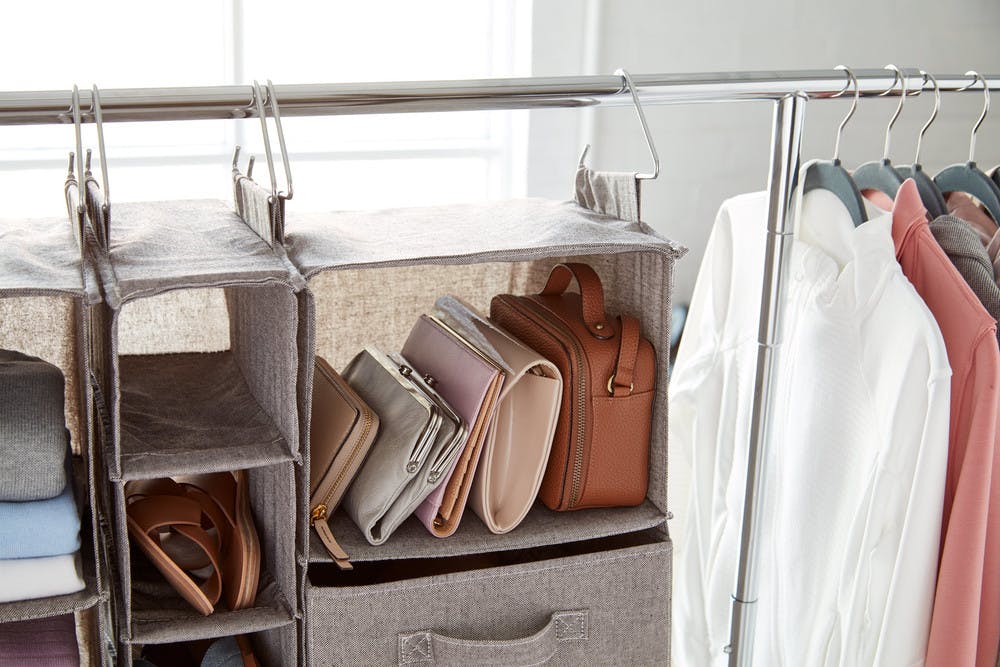 Finally, use the bottom rack for longer-term storage of seasonal clothes, hats and other accessories. Containers or bins with lids can be stacked on the bottom under your hanging items. You may even want to add a board across the bottom of your rack to create a solid shelf for storing items. And that's how you can create a closet virtually anywhere.