When Houston-based interior design firm Marie Flanigan Interiors decided to change up their office storage spaces, they knew that they'd need a shelving and drawer system that was both strong and flexible. "We are sometimes working on projects for two years at a time, so we needed a place that could stand up to constant use and be durable enough to store our design materials long-term," says founder Marie Flanigan. "We're also a very collaborative office, so we're constantly changing samples and swatches, so we really needed a flex space that could grow as the project evolves."
Marie and her team decided to work with The Container Store to make their dream workspace come true, and you can see the beautiful results below!
Design Wall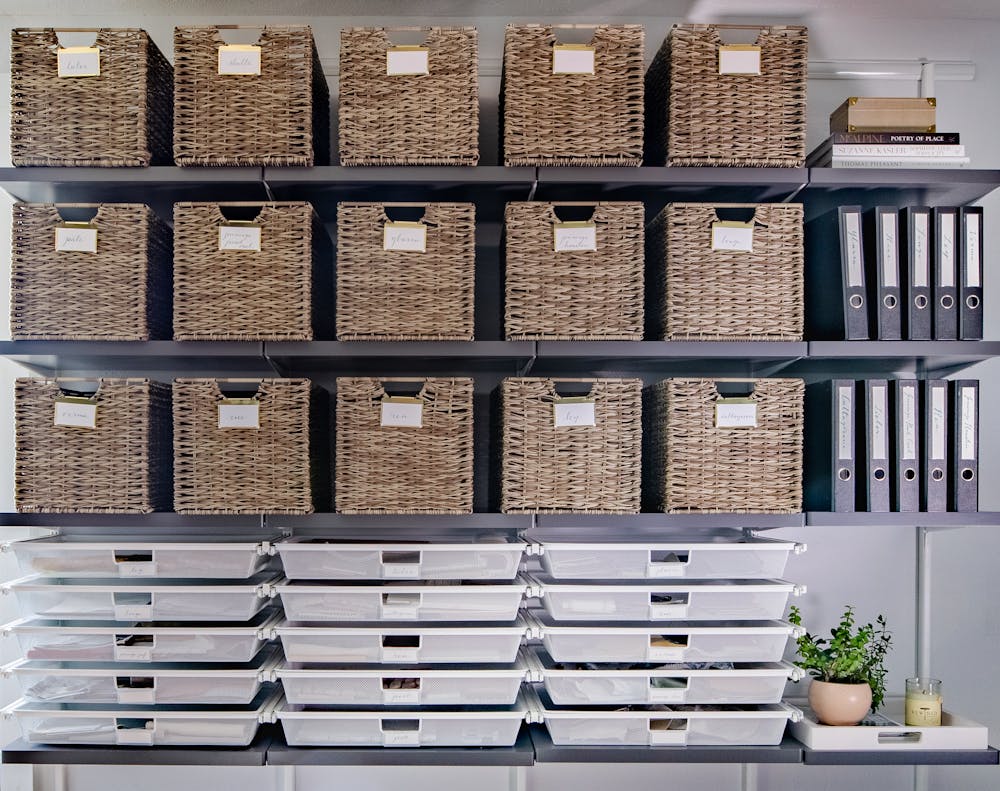 For their design wall area, the Marie Flanigan Interiors team chose Grey Elfa Décor Shelves and White 1-Runner Drawers. The upper shelves feature our Ashcraft Storage Cubes--complete with Gold Clip Labels--to store their clients' heavier design materials (tile samples, etc.). At the bottom, the labeled Elfa Drawers are used for clients' fabric samples and swatches.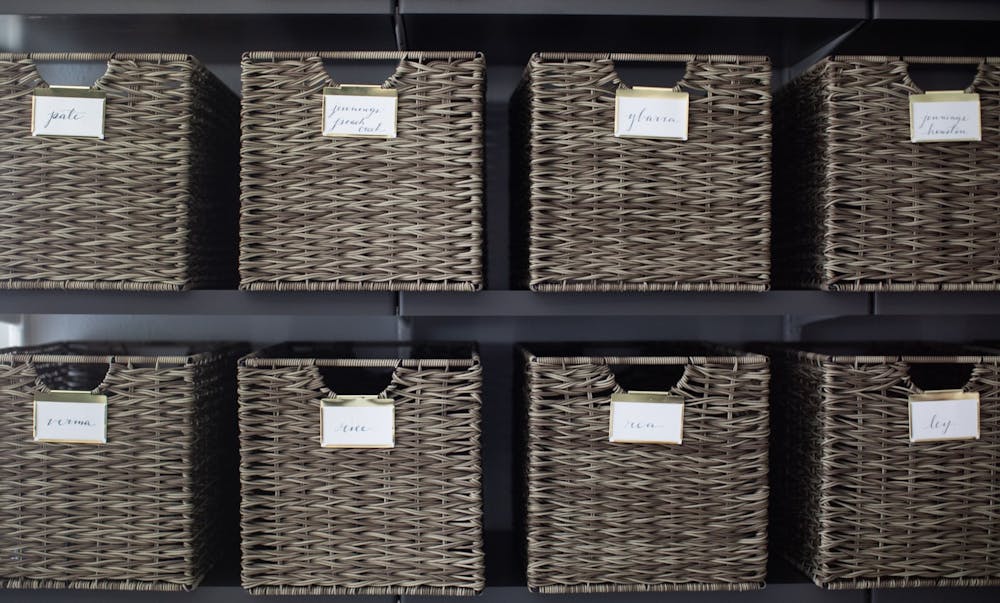 Above: Ashcraft Storage Cubes with Gold Clip Labels.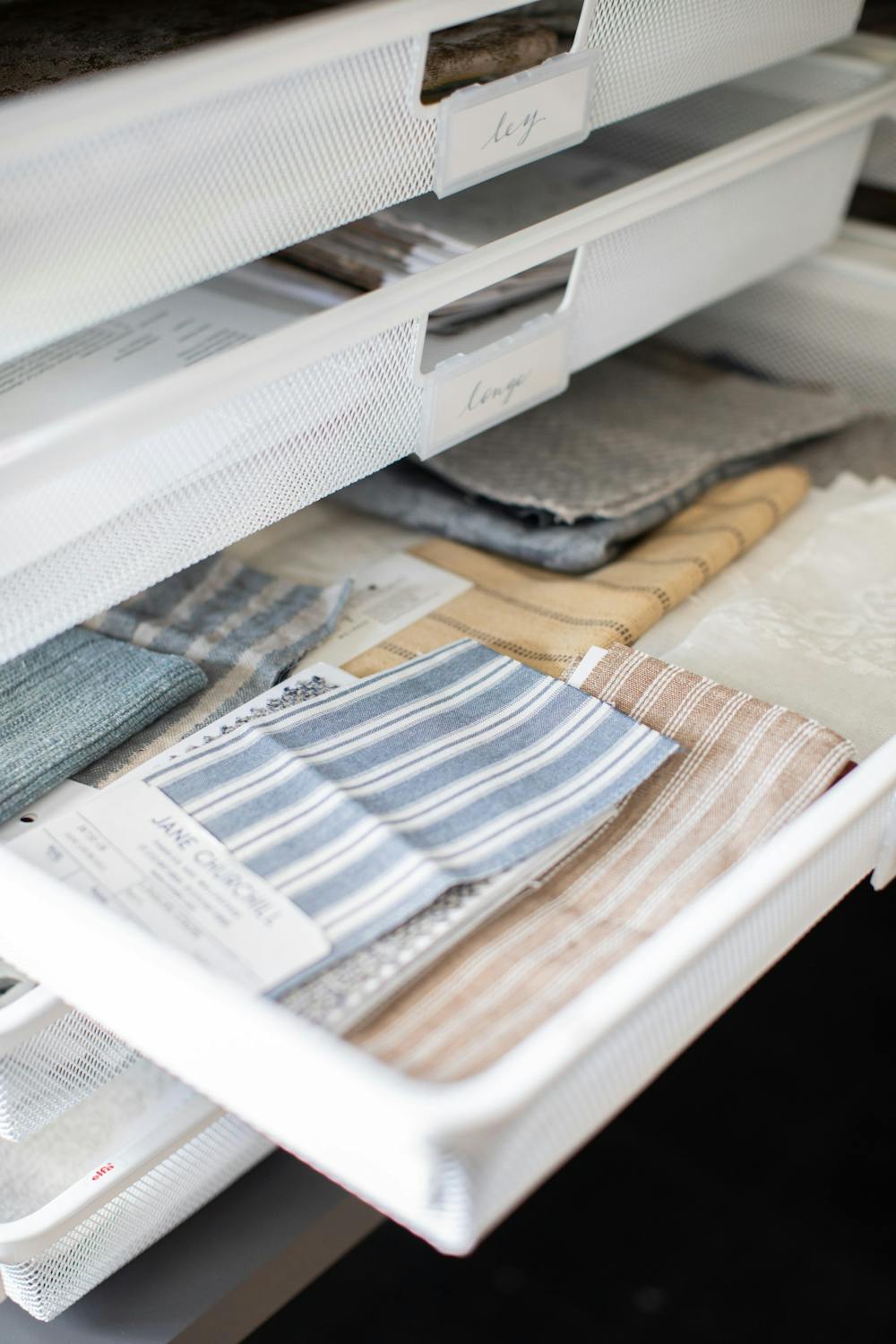 Above: Elfa drawers with labels.
Storage Closet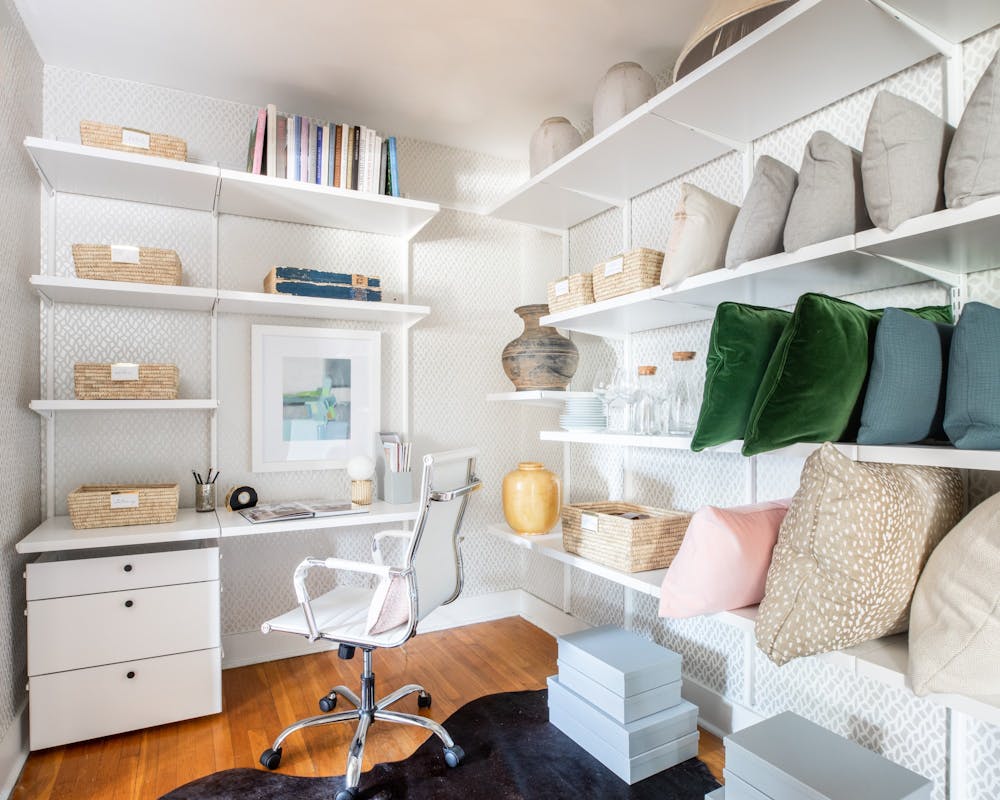 The design team's storage closet had to be two things simultaneously--a place to store "finishing touches" such as pillows and antiques, and a small private office area with plenty of room for stationary and other supplies. ("It needed to feel cozy, but still have enough space for all of our needs," Marie explains.) To accomplish this, they added White Elfa Décor Shelves for storage and a desk area with drawers, giving the room both the relaxing atmosphere and functional storage space it needed. We also added our Hand-Woven Palm Leaf Baskets for an extra organizational touch that perfectly complements the room's neutral color scheme.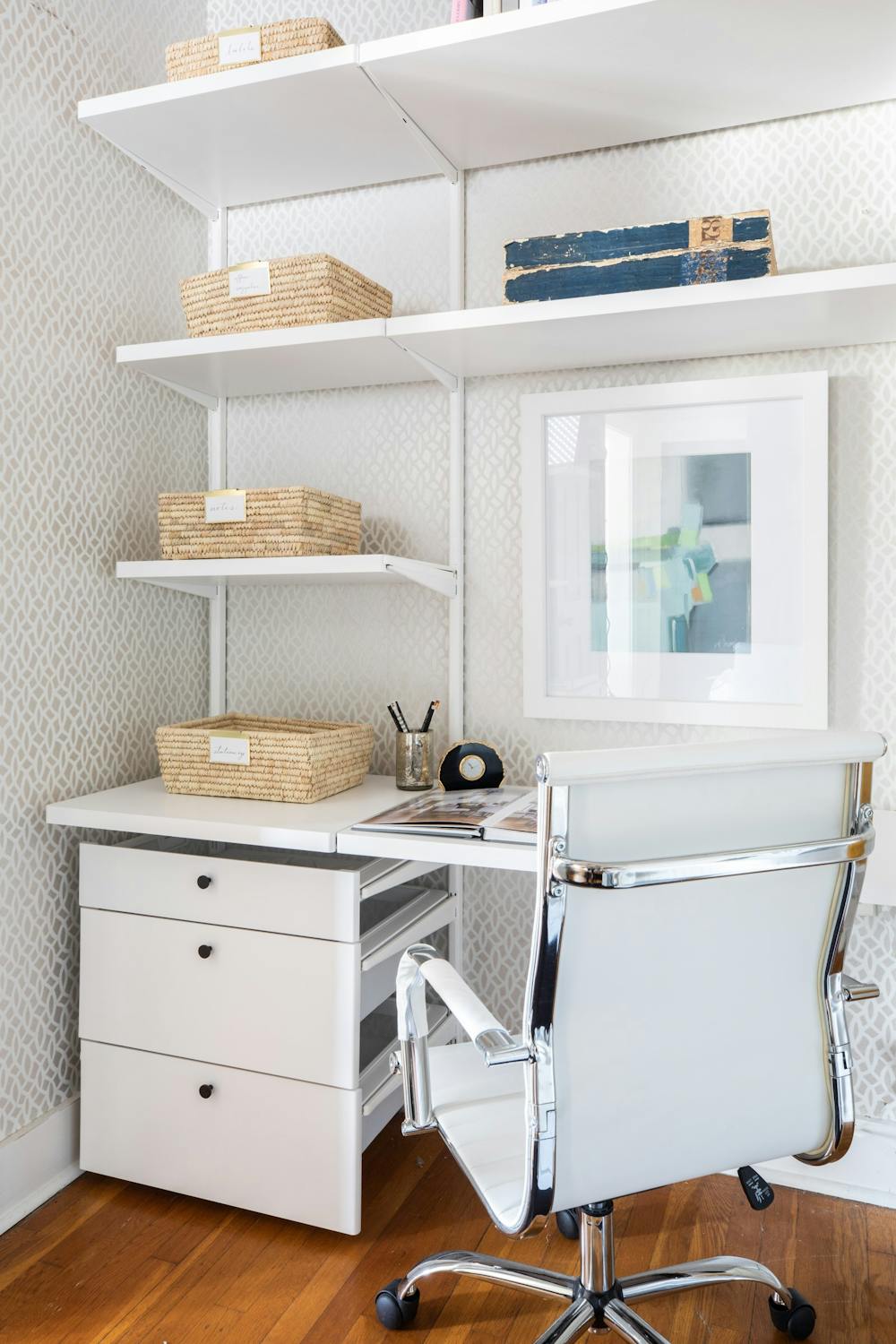 Above: Hand-Woven Palm Leaf Baskets with Gold Clip Labels.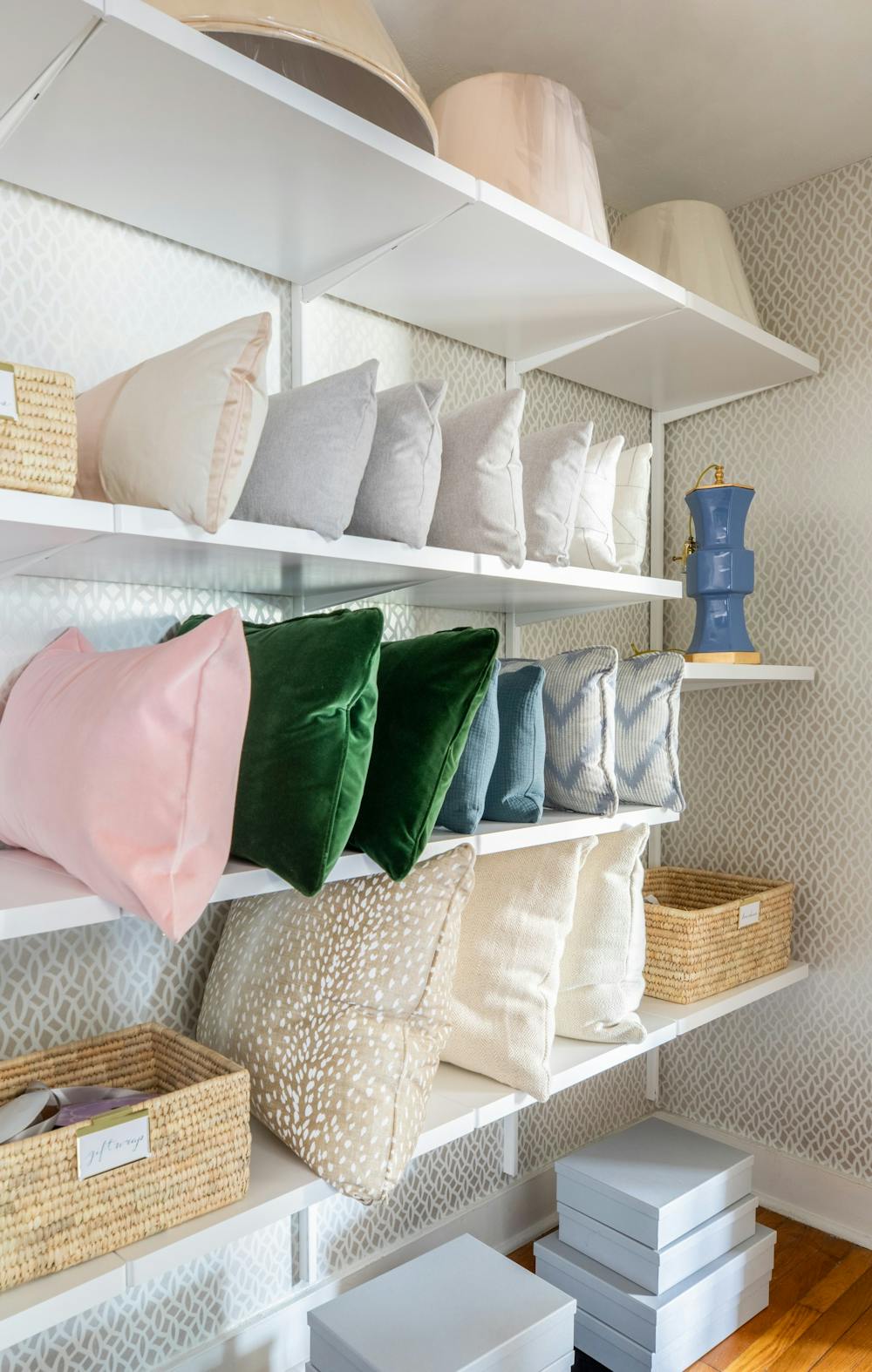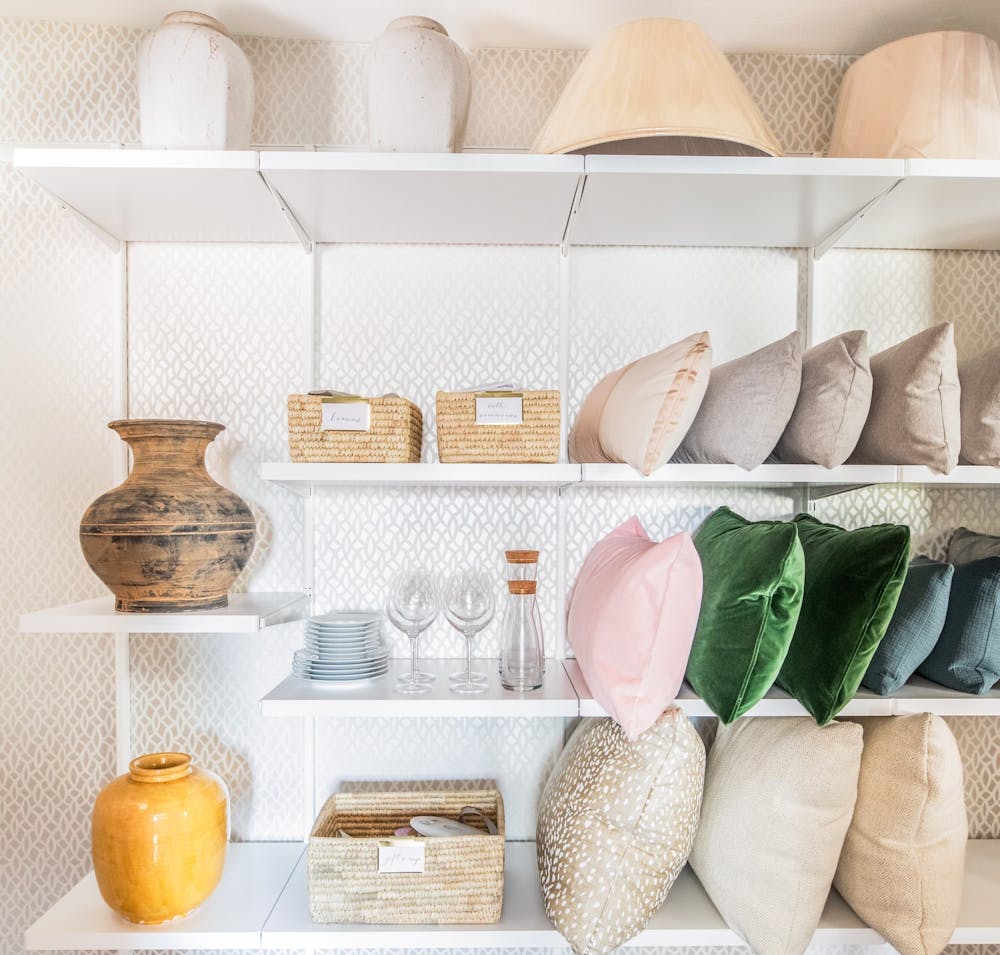 Above: The height of Elfa shelves can be adjusted in 1" increments according to your storage needs.
While the Marie Flanigan Interiors team faced some unique storage challenges, they were incredibly pleased with their space makeover. Now the designers have a much more comfortable and organized space in which to create, resulting in a win-win for both the team and their clients. "Within our office of ten incredible, creative women who are constantly designing and coming up with new ideas, sometimes organization is last on our list," says Marie. "Thankfully, The Container Store came to our rescue!"