The challenge: Transform a wall in a car enthusiast's ordinary two-car garage into an organized car center. Fortunately, our exclusive elfa shelving and drawer system was equal to the task.
To see the full transformation, check out the video below.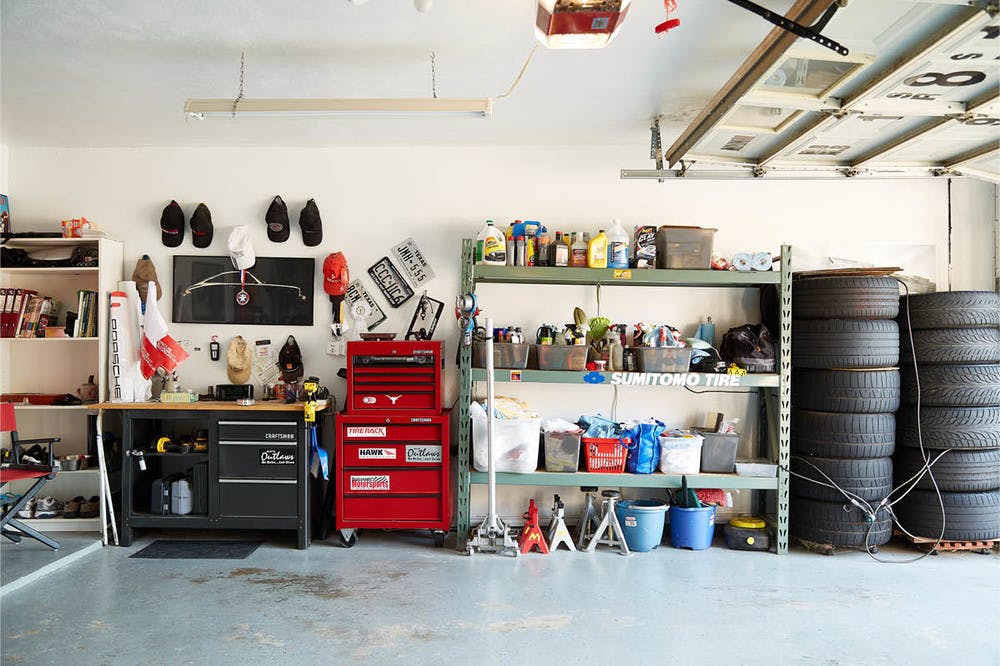 Michael Baynton's passion for cars knows no bounds. He's loved them since he was a boy, so owning two vintage sports cars and a newer model has been a dream come true. Unfortunately, his typical two-car garage was a bit more limiting. While it was fairly neat, space was underutilized. Stacks of racing tires and a large tool chest took up a lot of floor space and there was no organizational system in place.
It had come time for a plan to overhaul this garage into a space Michael could easily work on and store his cars. With his goals in mind, plus our expert designers and installers, we overhauled his garage in no time. Check out the full transformation, and every step of the process, below.
Before, a large free-standing shelving unit served as a catch-all for Michael's cleaning supplies, and a small work bench the only available work space.
Without a system of organization, Michael's garage had some unique ways to store frequently used items, like this bike fork turned tape dispenser.
Step 1 - Planning the Space
We kicked the project off by talking with one of our elfa designers about what Michael needed the space to do.
"The biggest goal was to be able to quickly find exactly what I'm looking for. I wanted items like my cleaning supplies to be easy to access, but not necessarily out in plain view. I also probably have too many things stored in my red tool chest. And I really wanted a place where I could work to get my cars ready for shows," said Michael.
Our designer created an 8' custom solution using elfa utility. Once Michael and his wife, Shanna, approved the design, the real fun began.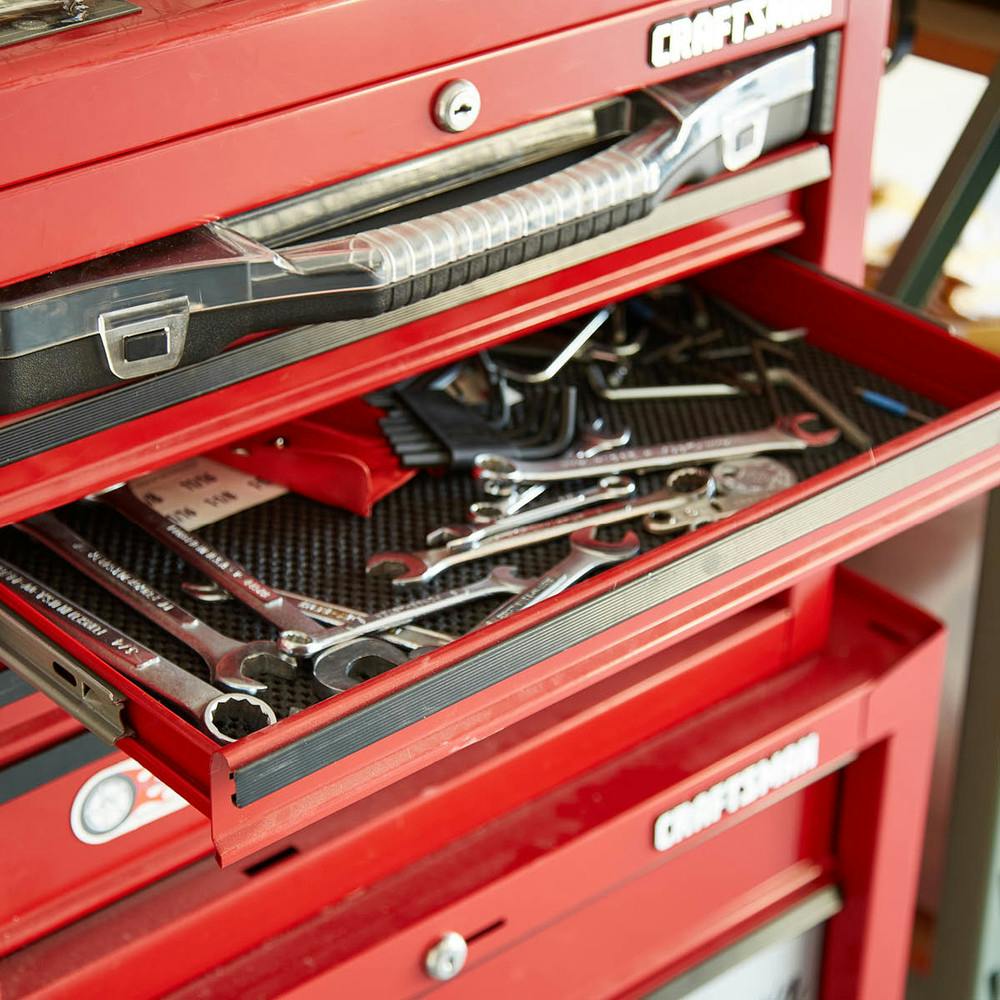 Step 2 - Cleaning Out the Space
The space was cleared and Michael went through all his gear, discarding dried up cleaning supplies and random clutter.
"It felt really good to get rid of old, half-empty bottles of cleaners and sort through everything. I can't wait to see how it all fits in the new space," said Michael.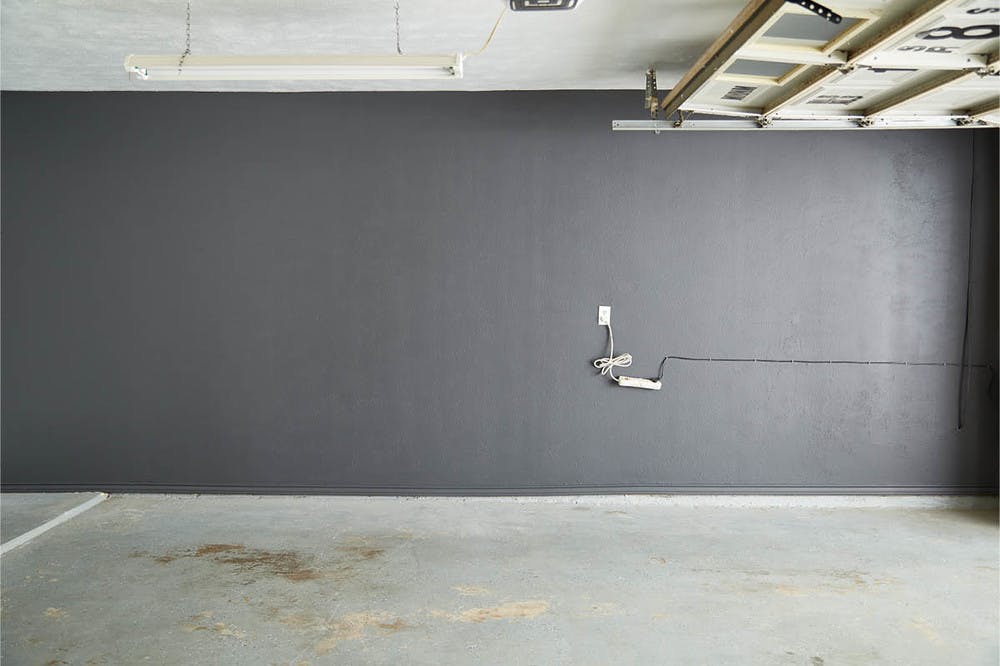 Step 3 - Patching and Painting
After everything was cleared out, the wall was patched and painted a dark grey using Behr's Cracked Pepper. As soon as they saw it on the wall, Michael and his wife fell in love with the color.
"The color brings the space to life. It adds a bit of drama, and I think it will hide the dirt that collects in a garage," said Shanna.
"I don't know who is more excited about the installation, me or Michael," she continued.
Step 4 - Installation Day
Finally, it was installation day. The installer arrived, and in no time, he had the base of the entire design, the Top Track, in place.
From there, building the space went quickly. Standards were hung from the Top Track, and Shelf Brackets were put in place. Next, the installer positioned the Standards and hung the Shelves, Drawers and utility Boards.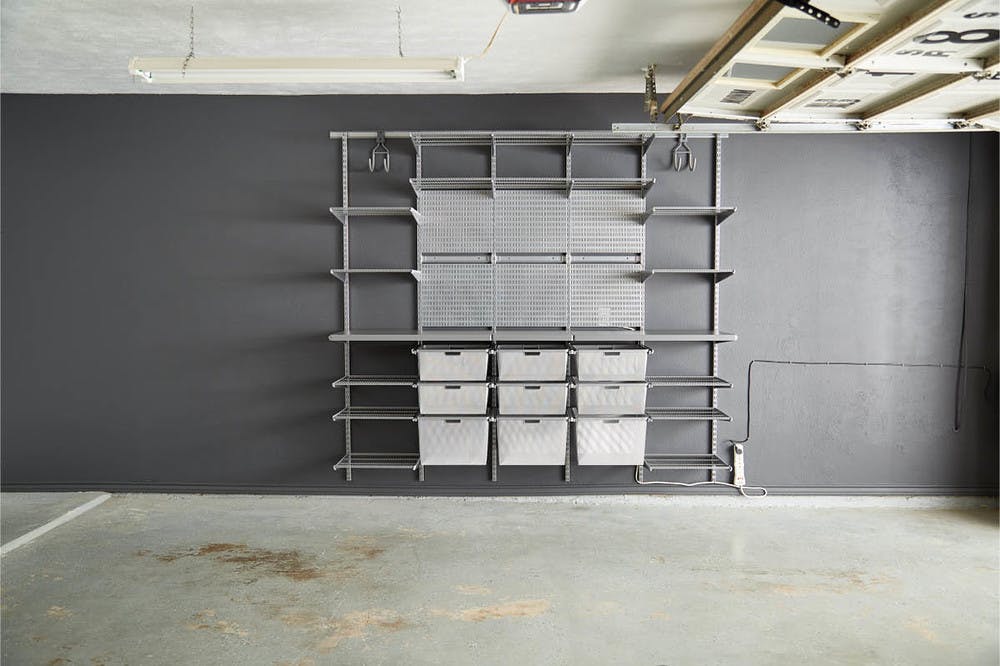 Featured Products: elfa Easy Hang Top Tracks & Standards, elfa Mesh Drawers, elfa Ventilated Shelving, elfa Utility Boards & Hooks, elfa Utility Work Surface
Now, the new space features a bank of Mesh Drawers, an expansive utility Work Surface, Ventilated Shelves, Hooks and six elfa utility Boards to organize tools and parts.
Step 5 ­- Putting Everything Away
Figuring out where to put everything was a trial-by-error task. Spray cleaners, waxes and polishes found homes in labeled Mesh Drawers, as did towels, polishing cloths, oil, lubricants and funnels.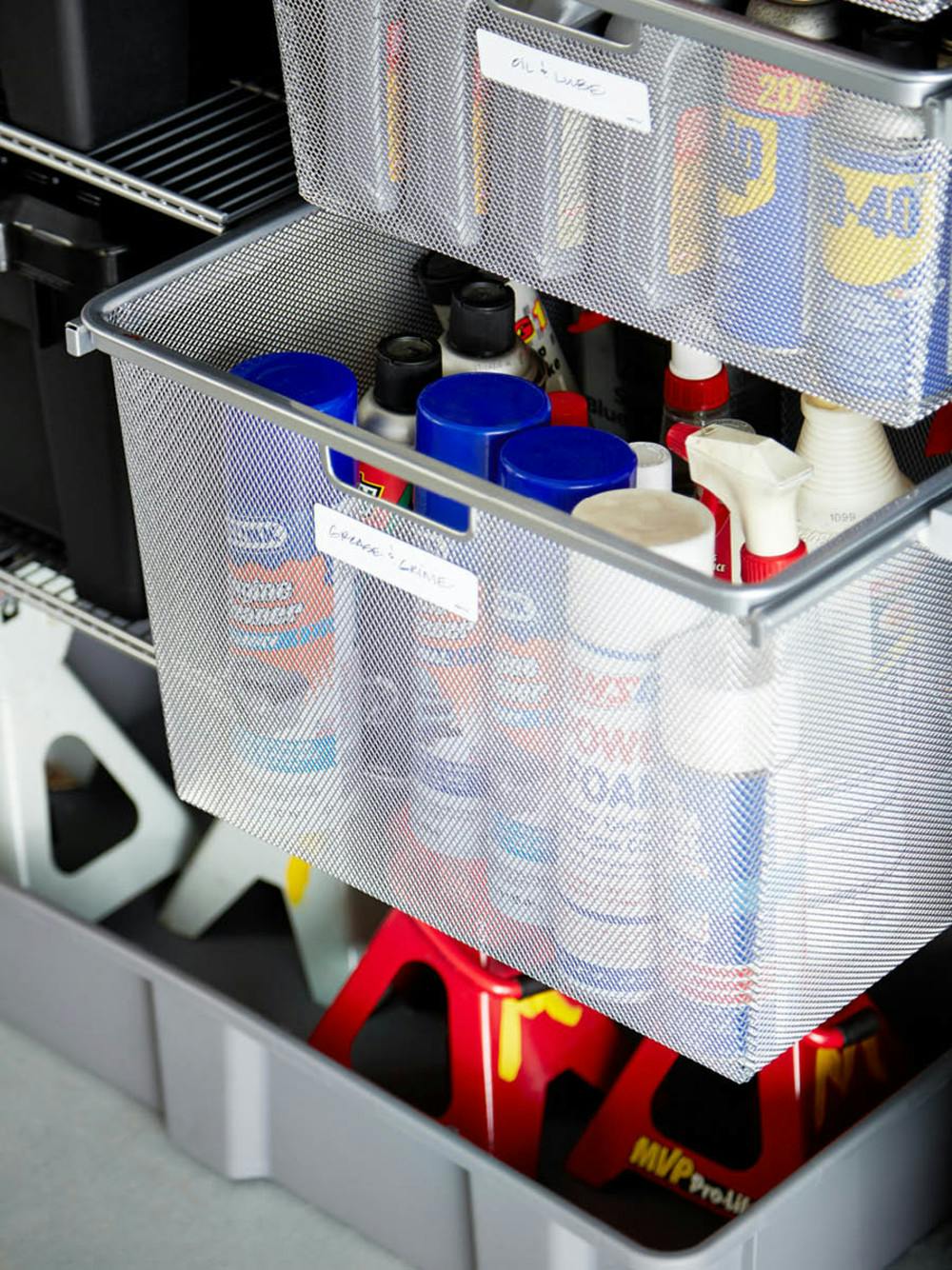 Featured Products: elfa Mesh Drawers & Label Holders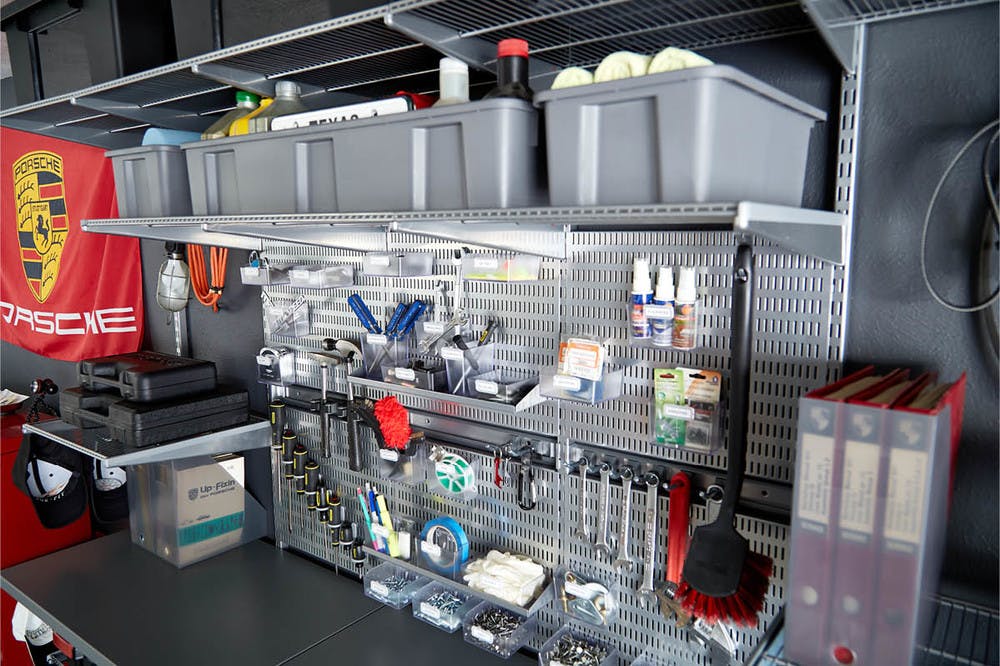 Featured Products: elfa utility Board Hooks and Boxes, Smoke Like-it Wide Magazine Holder
A variety of utility Board Hooks and Boxes were used to organize frequently used tools in plain sight on the six utility Boards.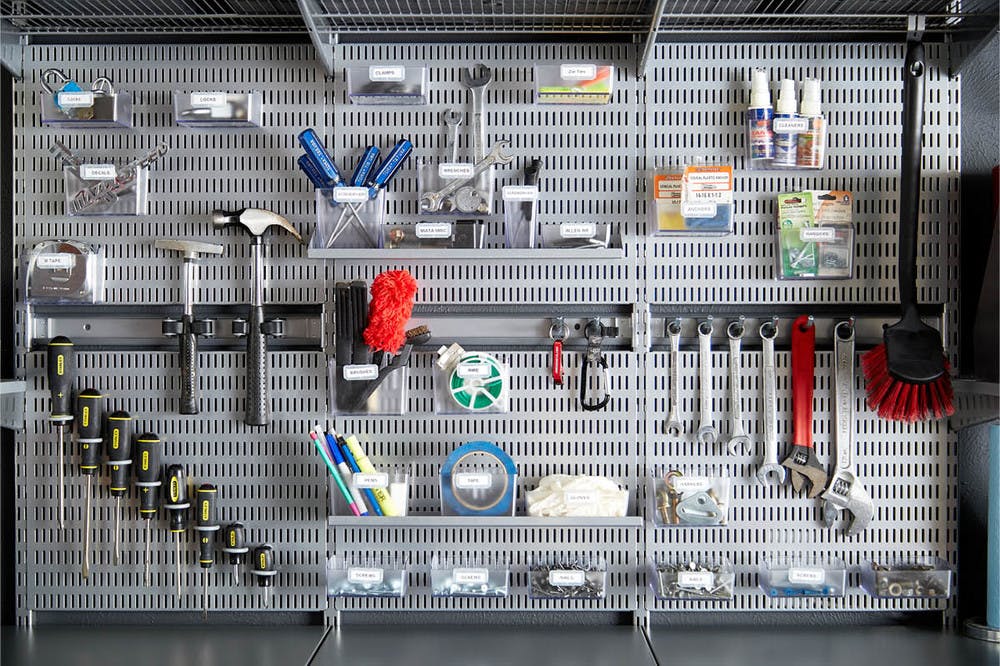 Featured Products: elfa utility Boards, elfa utility Board Hooks, elfa utility Shelf/Trays, elfa utility Board Trays, elfa Label Holders, elfa utility Boxes, elfa utility Tool Holders, elfa utility Accessory Hooks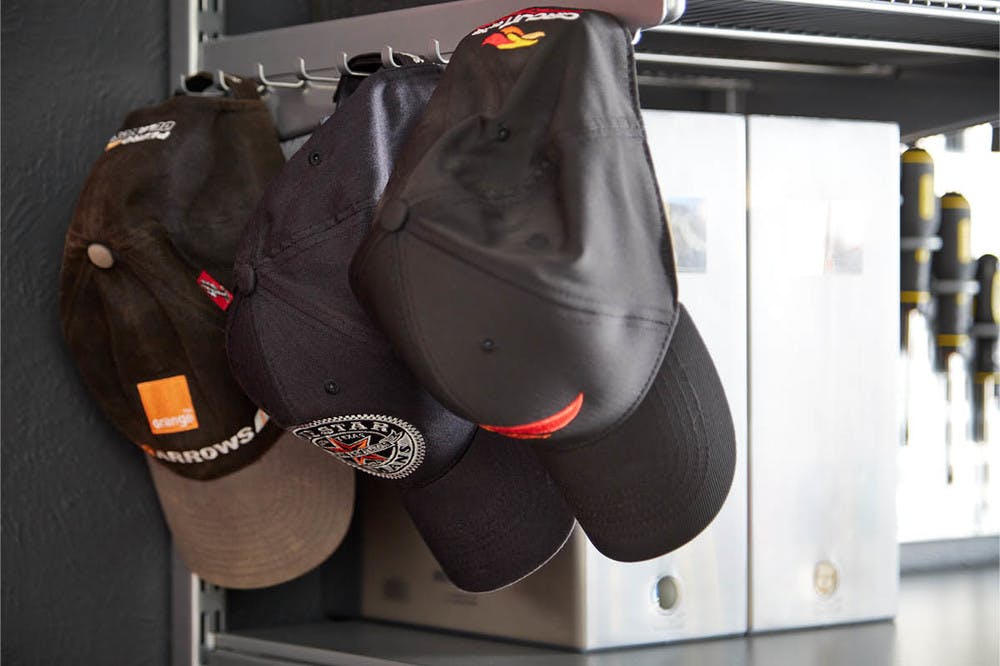 Featured Product: elfa Wire Shelf Bracket Hooks
elfa Wire Shelf Bracket Hooks on either end of the solution keep hats and lanyards tidy.
The new space leaves plenty of room for a new bright red Brabantia trash can, the large red Craftsman tool chest and multiple car jacks and stands.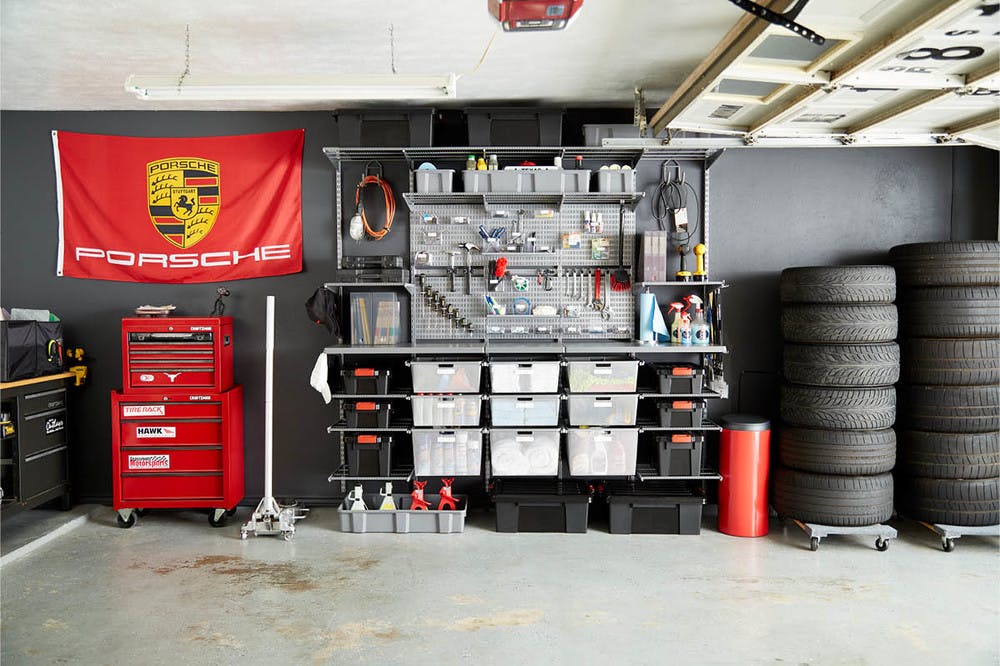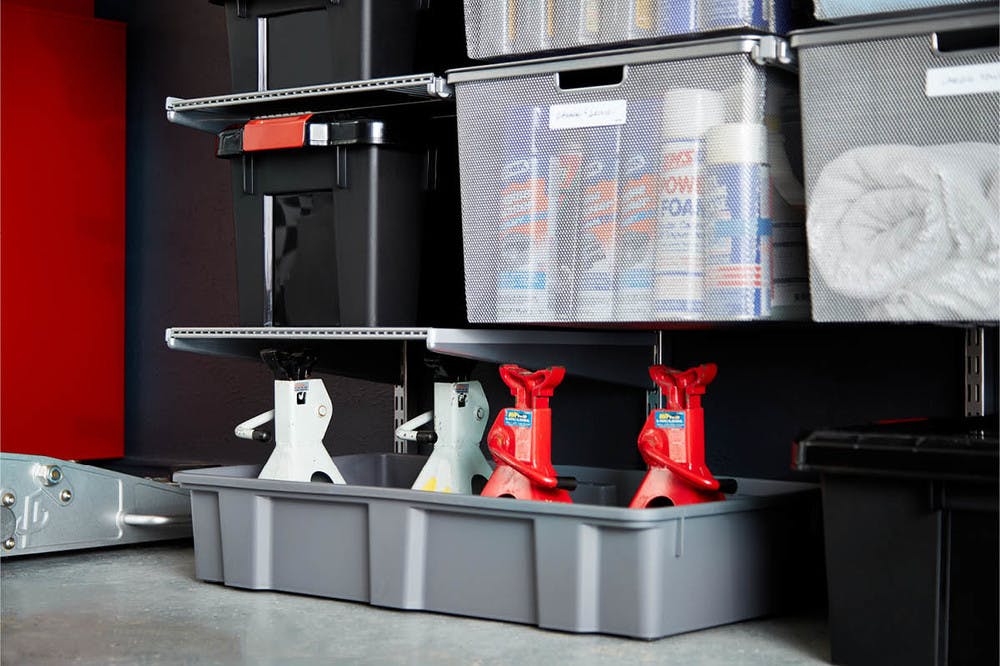 Featured Products: elfa Ventilated Shelves, elfa Mesh Drawers, Store-it-all Totes, Utility Trays, Magnetic Erasable Labels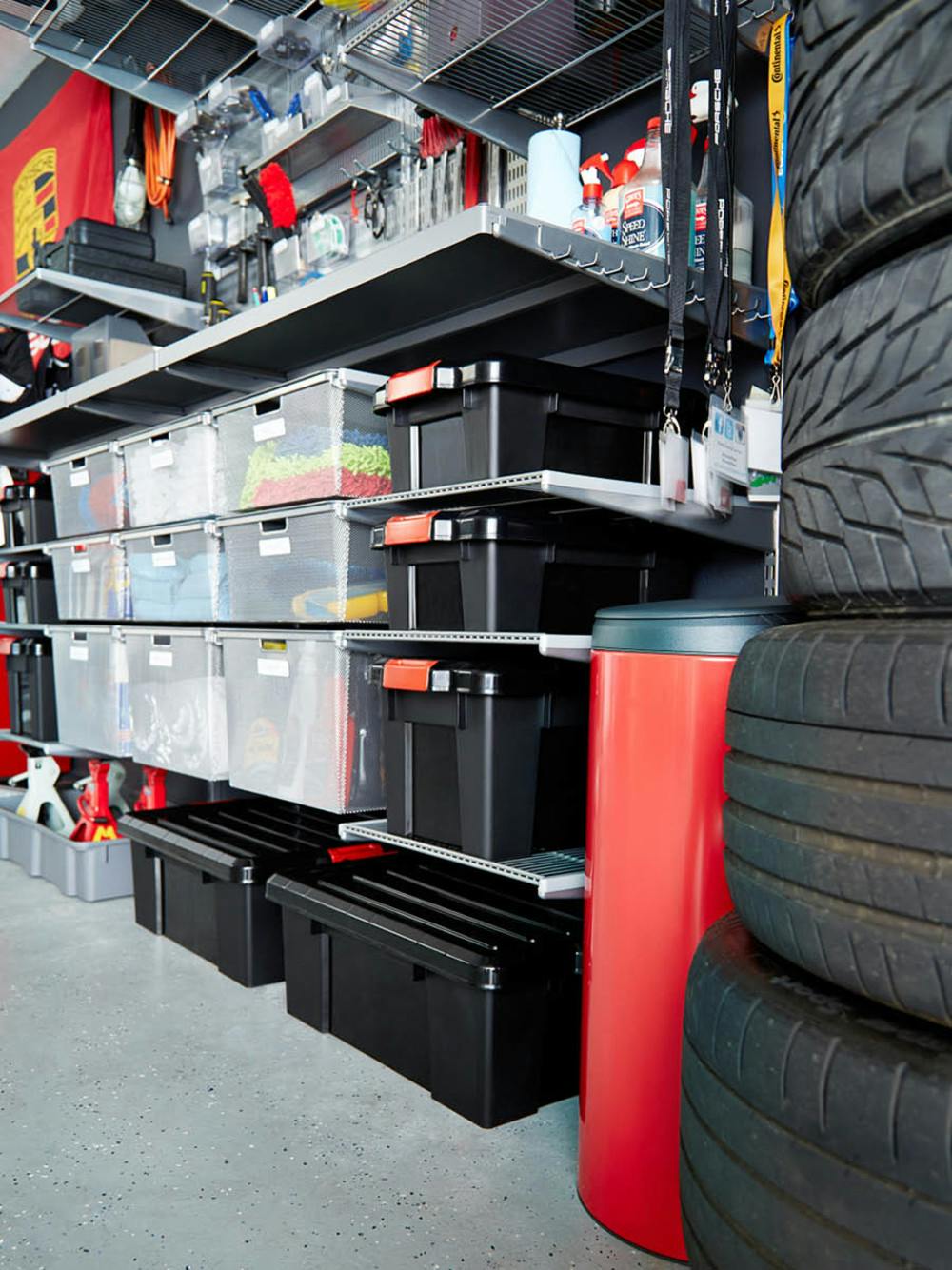 Larger utility Hooks hold belts and extension cords, while Store-It-All Totes conceal other supplies on Ventilated Shelves. The tires were restacked on new pallets in the corner, leaving even more room to park Michael's beloved cars.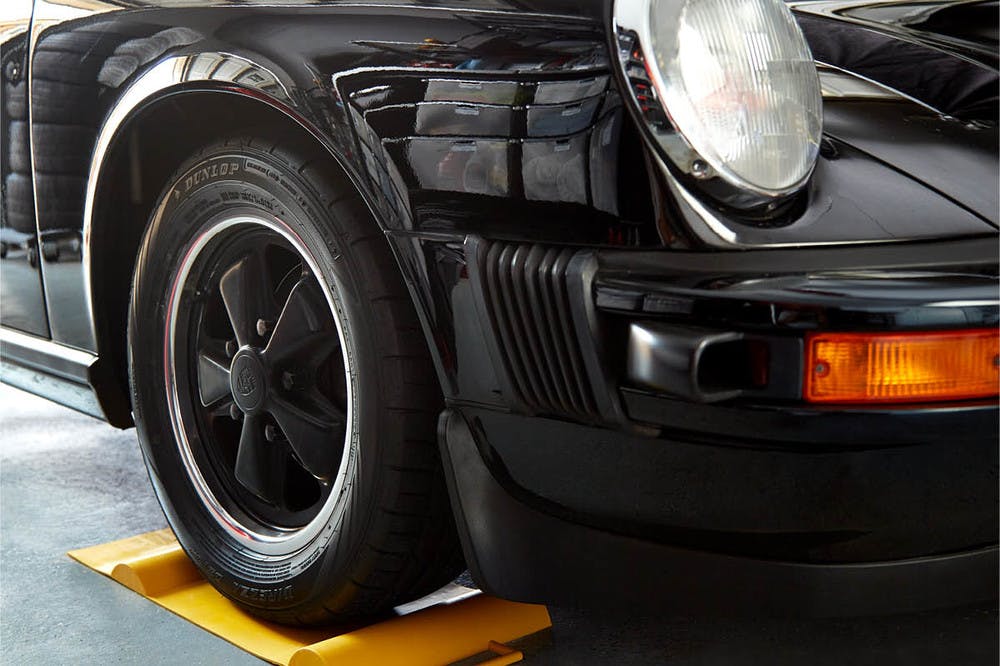 Featured Product: Pro Park Precision Parking Guide
A parking guide mat ensures Michael's baby is in precisely the right spot.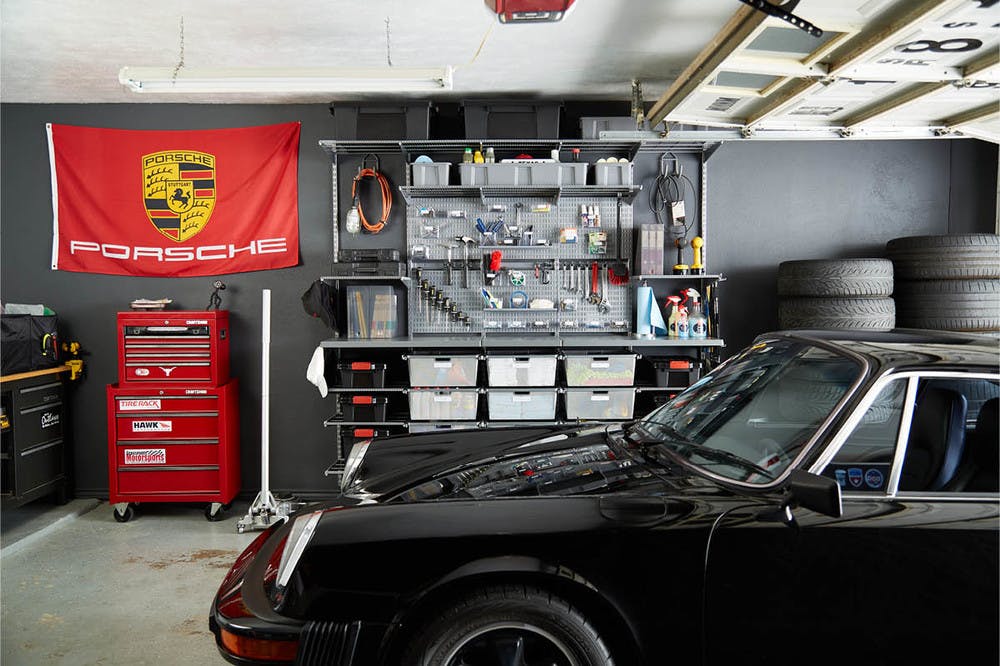 The final transformation took the couple's breath away.
"I can't believe how great this is! I knew it would be better, but really wondered where everything would go and how it all would work. This is incredible! My car friends are going to be so jealous!" said Michael.
His wife loved the space, too.
"I'm into cars almost as much as Michael, but I never imagined things could be this organized. I love all the magnetic labels. It makes me want to do all our closets with elfa," said Shanna.
"I can't decide if my favorite part is the work surface or the drawers. All I know is I can't wait to get out here and work in my new space," said Michael.
And that's exactly how we want all of our customers to feel when they get their new elfa space!