We can help! Click here
to chat with an elfa expert.
You know you really want to organize your closet with elfa, but you don't know when you'll have time to install it. Relax. Our professional Installation Service will come to your home and install your elfa - and you'll be enjoying your organized space in no time!
Let Us Do The Work For You!
Our professional Installation Service is 25% of the regular price of your elfa purchase (or a minimum of $180 plus applicable taxes) and includes the following:
Removal of up to two shelves and two closet rods per wall, plus related touch-ups with flat white paint.*

Installation of all purchased elfa products.

Courteous installers who will clean up thoroughly when they are finished.

Delivery of your elfa is an option with installation for an additional fee.
All personal items must be removed from the space before the installer arrives.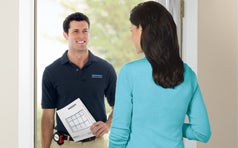 Our professional installers will visit your home at a time convenient for your schedule.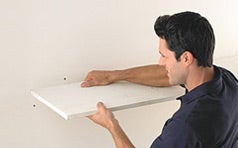 We will remove existing shelving and closet rods, then patch, sand and touch up your walls.
Your elfa space will be beautifully installed based on your customized design.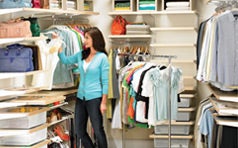 Place your personal items back into your closet transformed with elfa!
Get started today!
To schedule your installation, please call 888-202-7622 or fill out the form below.
*Removal of any additional existing shelving (such as shoe shelves, built-in dresser shelves, cabinets or drawers) or special paint requests will require an additional fee. A fee of $3 per mile (one-way) will be charged for installations more than 20 miles from the nearest store. Please call for details.