You know we are always up for a good jewelry organization project. But when we heard about Dallas non-profit, The Akola Project, we knew this particular opportunity to provide storage solutions would be more far reaching and impactful than our typical closet challenge.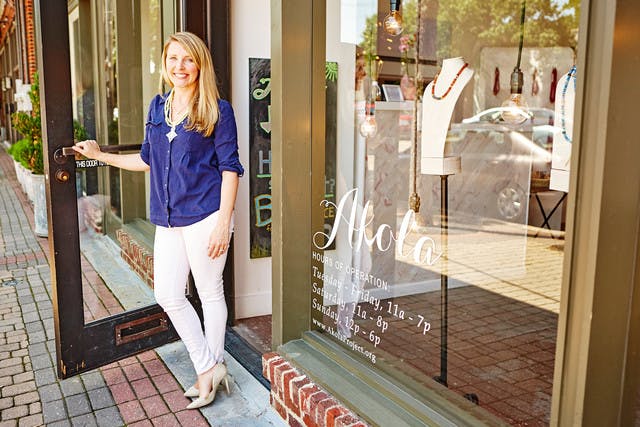 The brainchild of Brittany Merrill Underwood, the Akola Project provides life-changing opportunities for unskilled women in both Africa and in Dallas by teaching them a trade and employing them so they become self-sufficient providers for their families. This beautiful organization that Brittany started in 2007, now includes a flagship retail and warehouse space in the Deep Ellum neighborhood of Dallas and more than 400 retail partners across the country that offer the gorgeous handmade jewelry lovingly crafted by truly amazing, empowered women.
(To read more about Brittany's journey, Akola's mission head over to our culture blog whatwestandfor.com).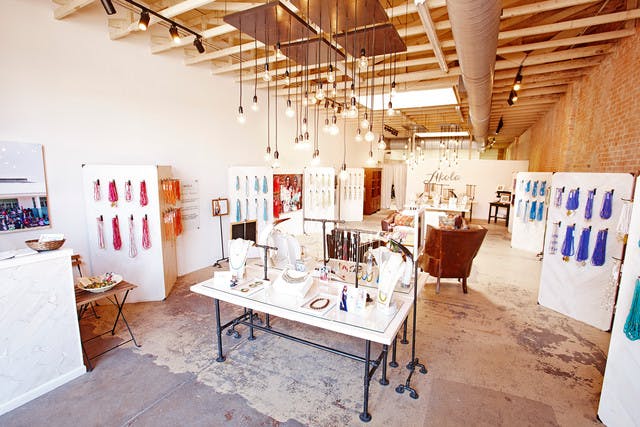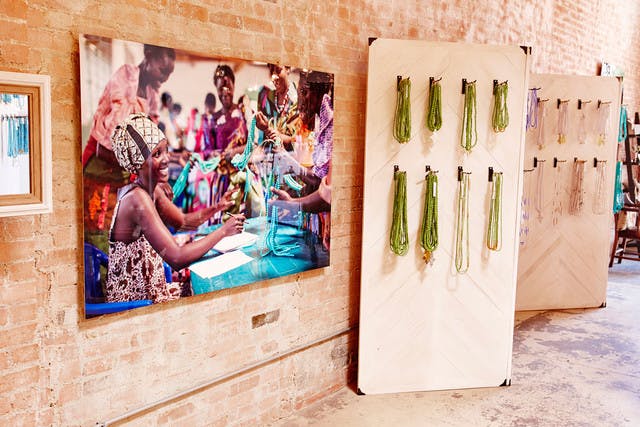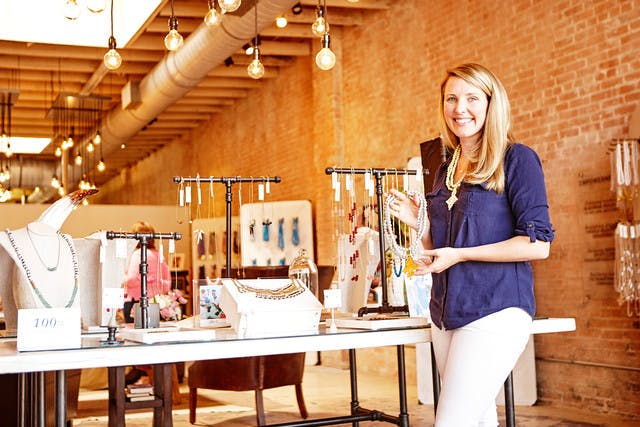 "Our retail space operates as a place of community for our customers, donors, and partners. We want them come in, hear the Akola story, and become a part of our mission," says Brittany.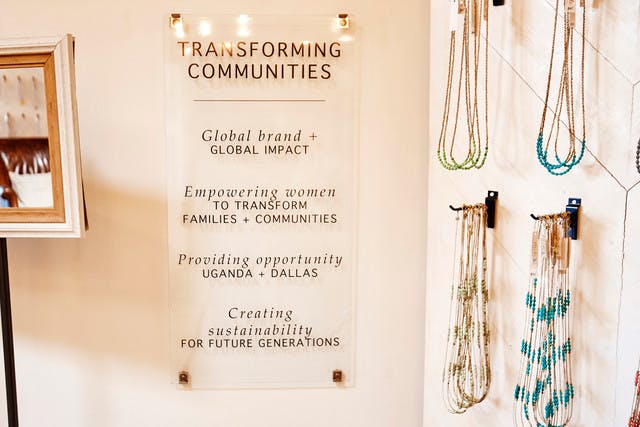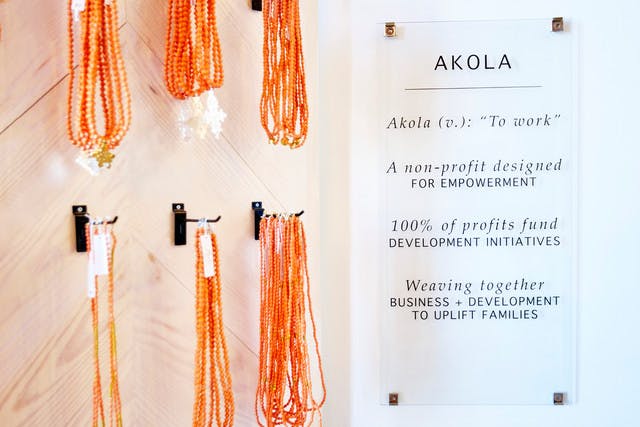 The front of house was definitely reflective of the beauty and spirit of the Akola brand and mission, but the behind-the-scenes warehouse space was in desperate need of some storage and organization love.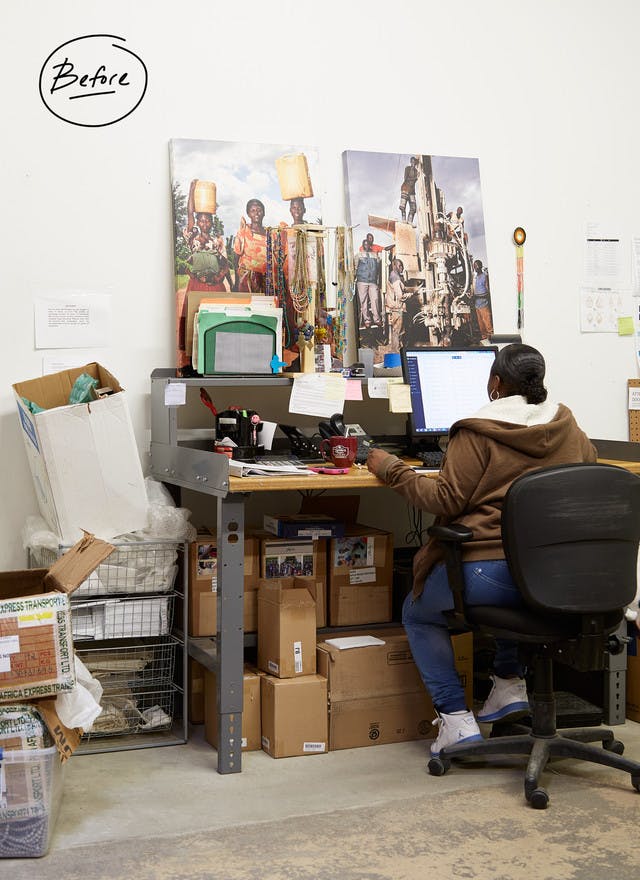 "Before, we had cardboard boxes and crates all over the place and had a way to organize our products by collection. Sometimes we did not realize that we had products in stock because it would be at the bottom of the cardboard boxes. We made it work when we operated under a smaller scope, but now we are expanding so quickly, it's hard to maintain!" said Brittany.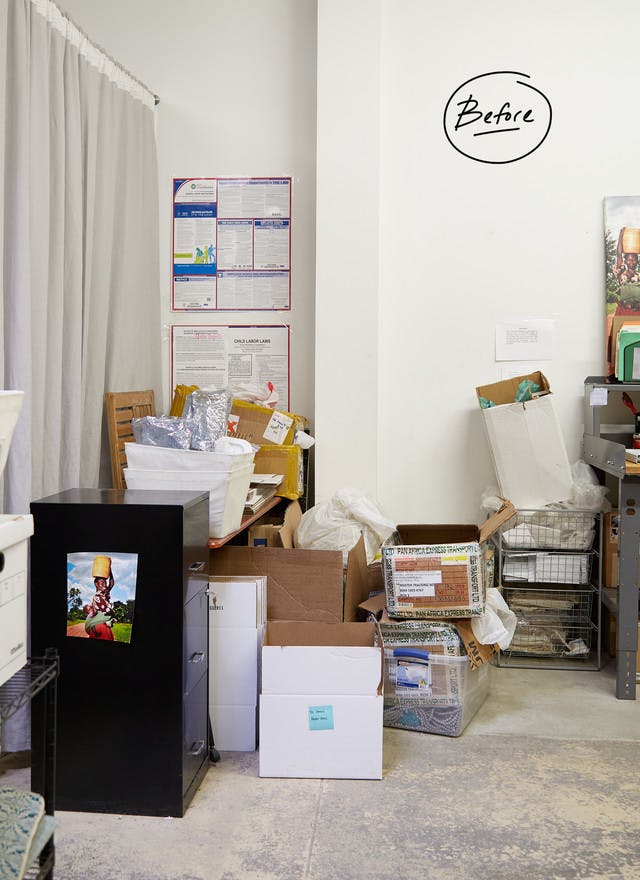 So with the expert help of our Contained Home professional organizer, Alison Thompson and our Distribution Center Operations Analyst, Timberey Meeks, the Akola space was transformed into a more efficient, productive and inspiring space.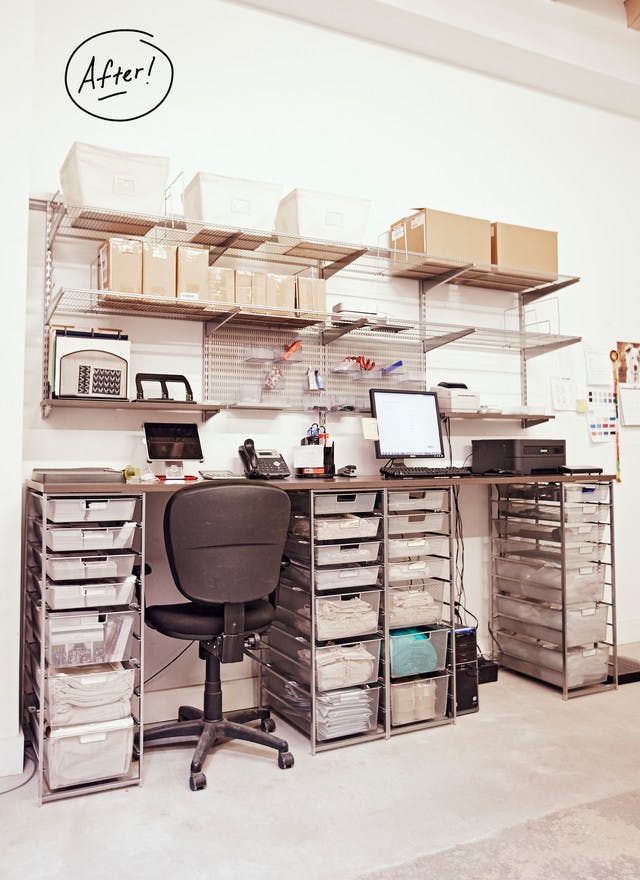 "First order of business was to assess the separate areas: receiving, back orders, storage, display and work space," says Timberey.
elfa shelving and drawers were the superstar solutions of the space. The Akola team loves how elfa has helped them streamline their production and manufacturing processes with more visibility, functionality and organization.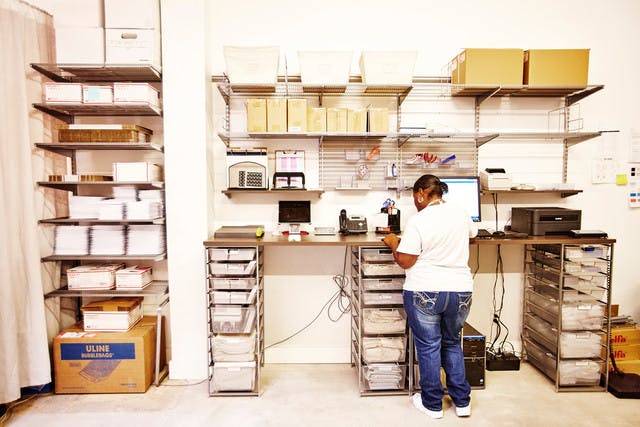 Vertical space was maximized on all levels in the warehouse space, and an intuitive layout and design made every aspect of the operations from shipping orders to inventory allocation more intuitive and efficient for Akola's incredible employees.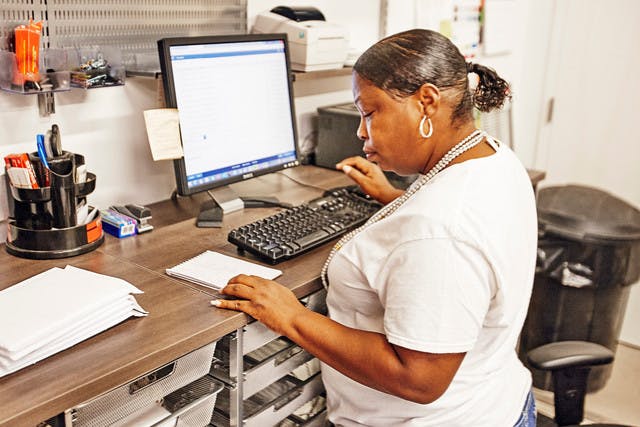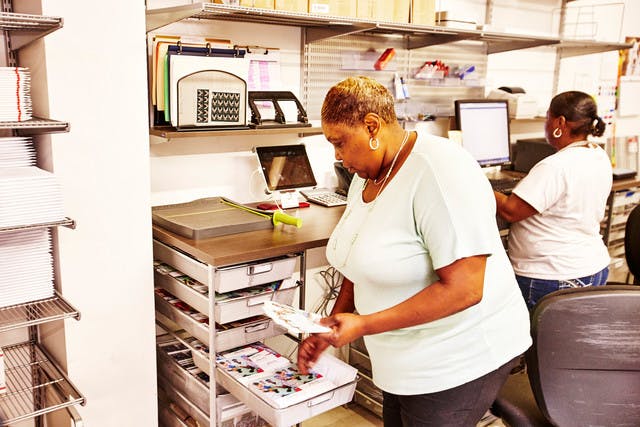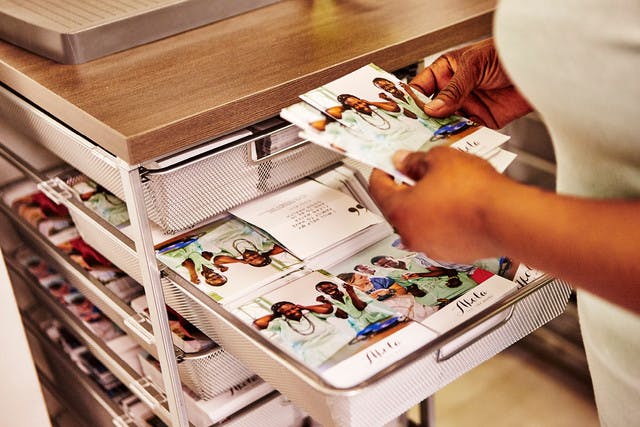 "Next order of business: make the employees that worked in that area happy! From there, it was all about making clean lines of separation, utilizing their vertical and horizontal space wisely, clearing the clutter and making inventory easy to access, count, find and store," Timberey continued.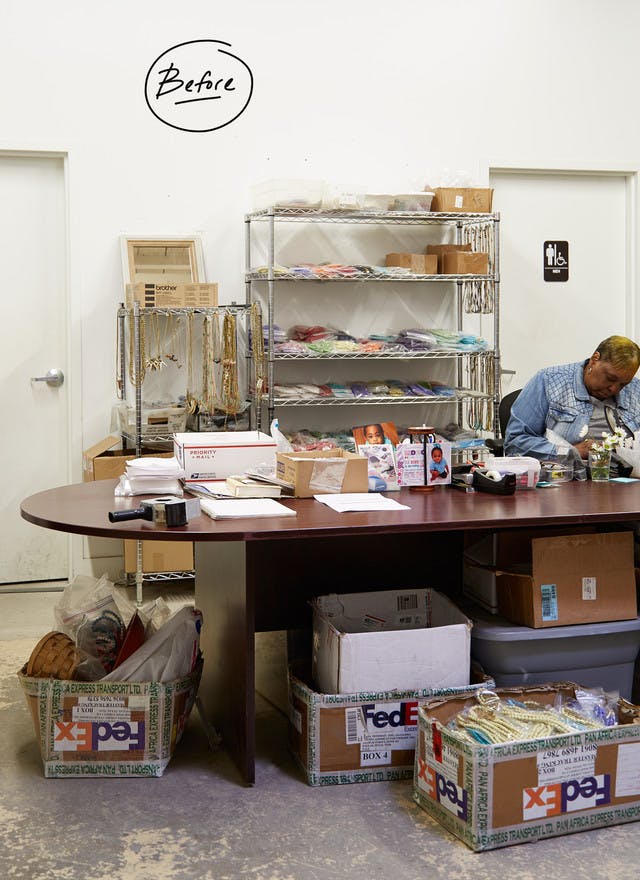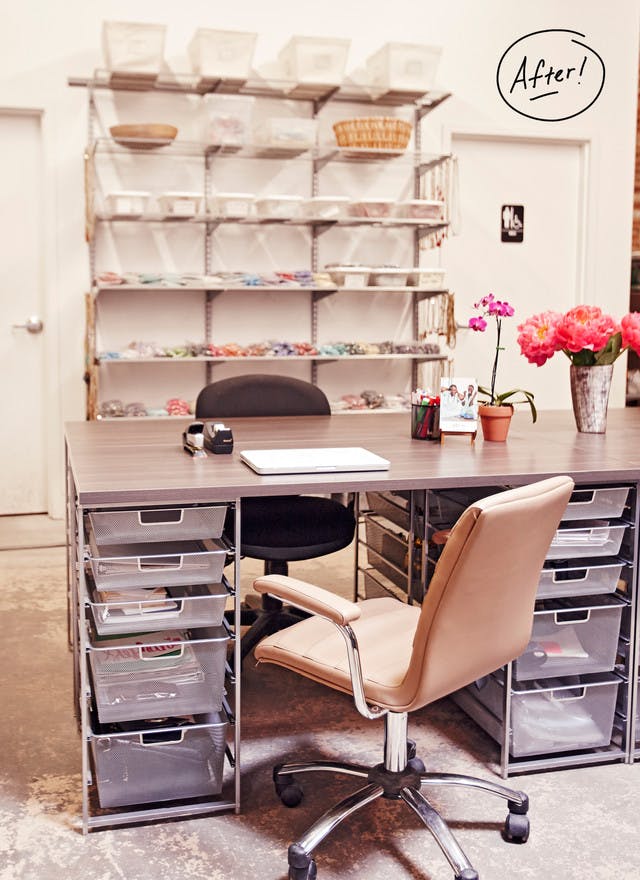 Clutter-free workspaces and bountiful elfa shelving and drawers have made a huge difference in the day-to-day processes and procedures.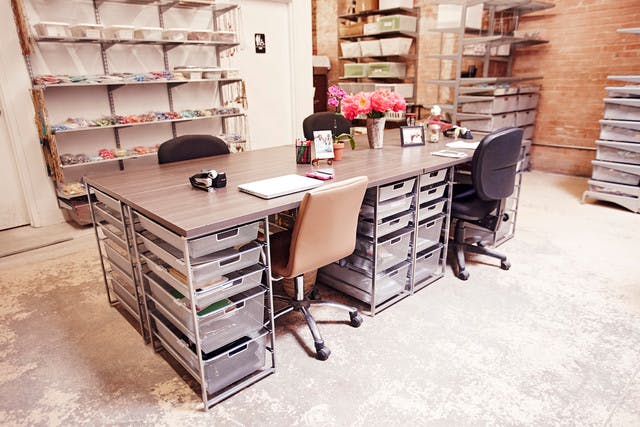 "The flow of their work wasn't really supported by the organization of the room," says Alison.
"They were printing an order at one spot, getting product at another spot, packaging it at another, etc. so the work flow was inconsistent. We designed the Elfa to support a natural work flow and gave them both a standing and sitting height workstation," she continued.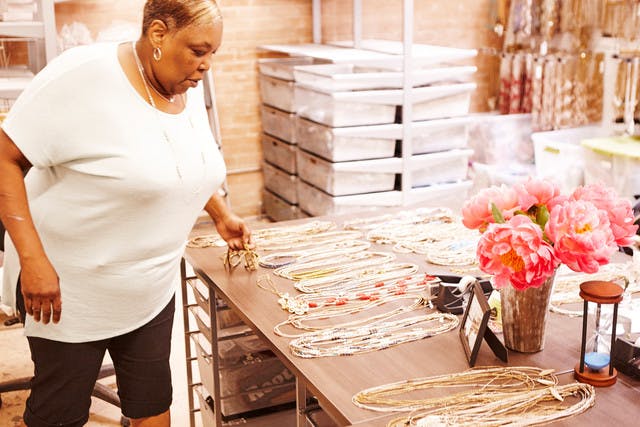 "Our favorite feature about the new organization system is that it created more functional space to be utilized. Annette and Stephanie love having their own desk and personal space to work," said Brittany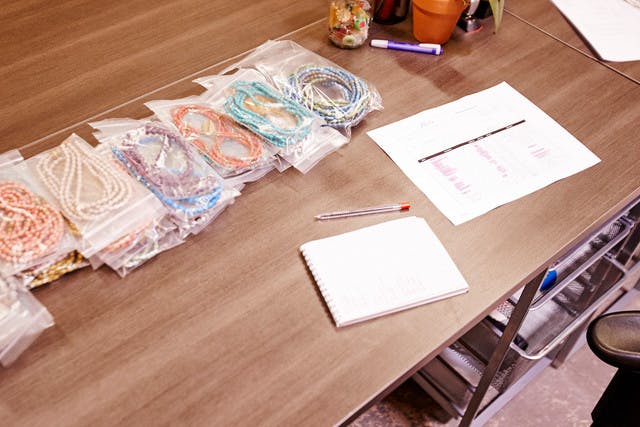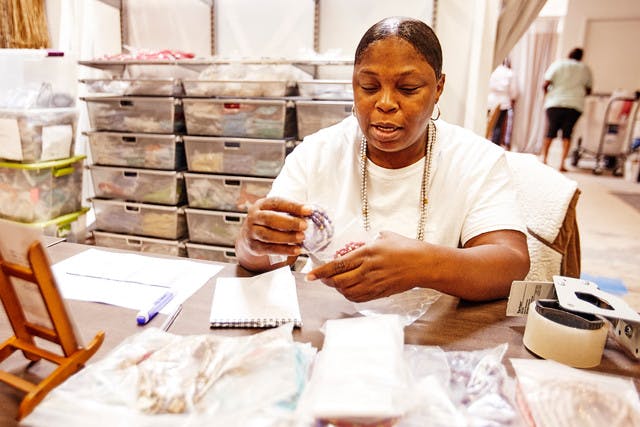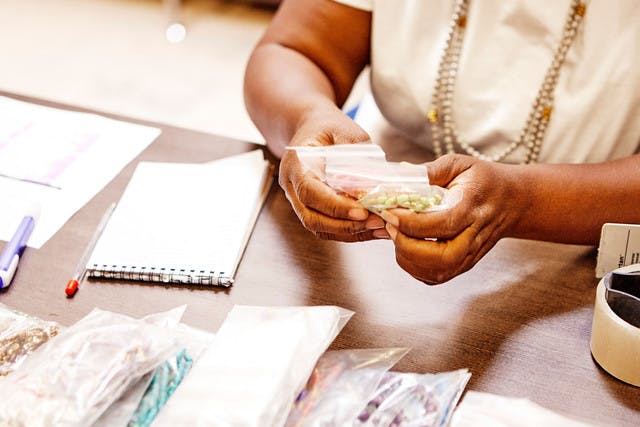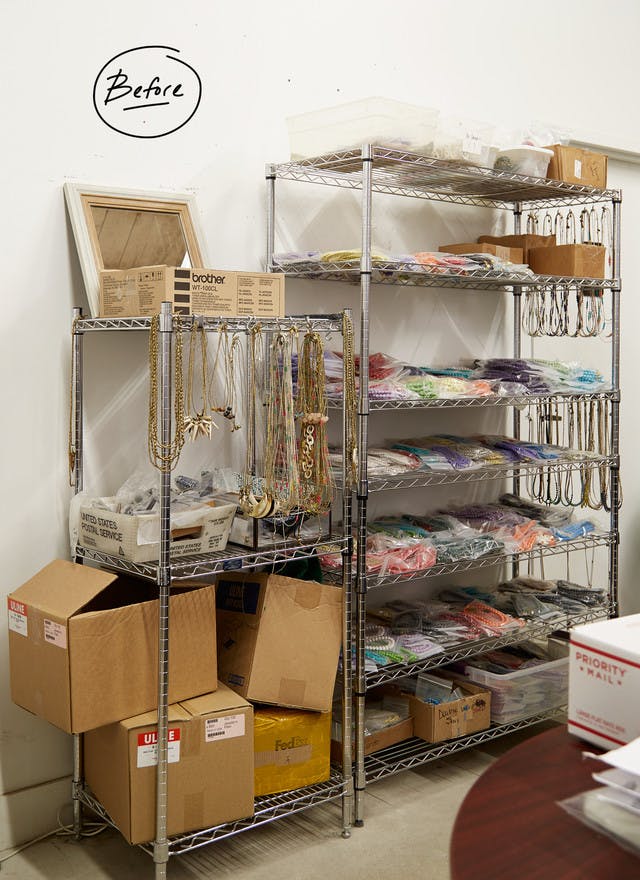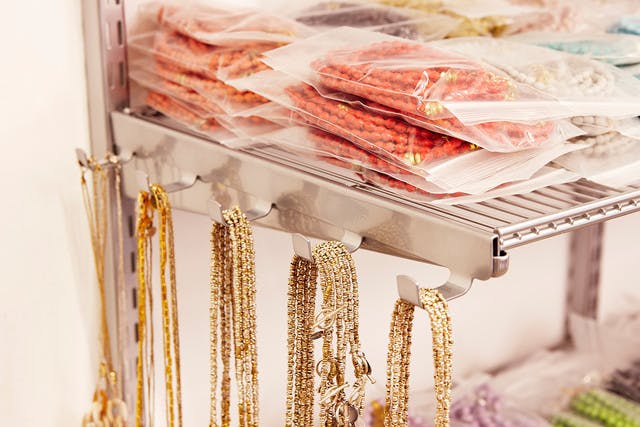 A mix of hooks, shelves and bins ensure that each collection is stored and organized with purpose and intent. Employees can now see everything and process orders even more quickly and accurately than before.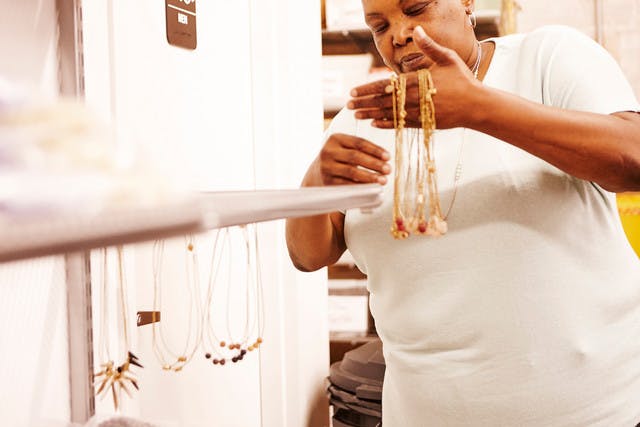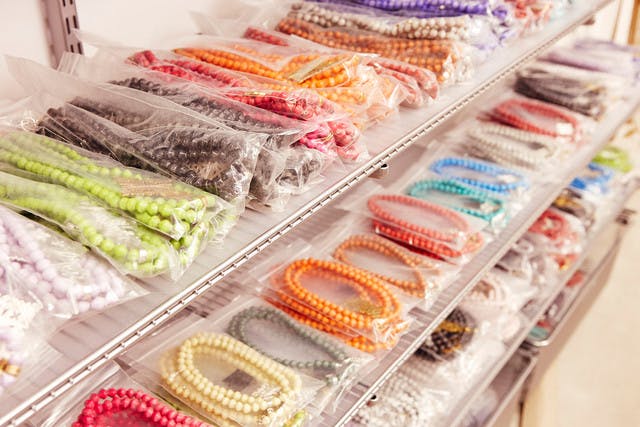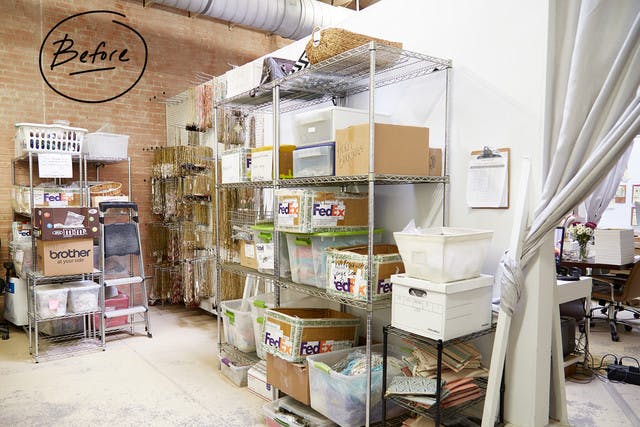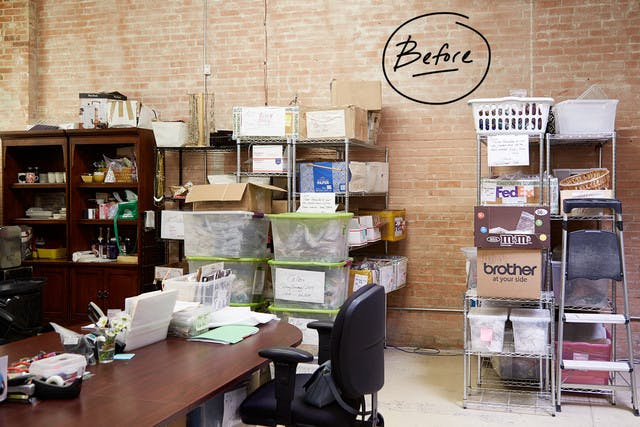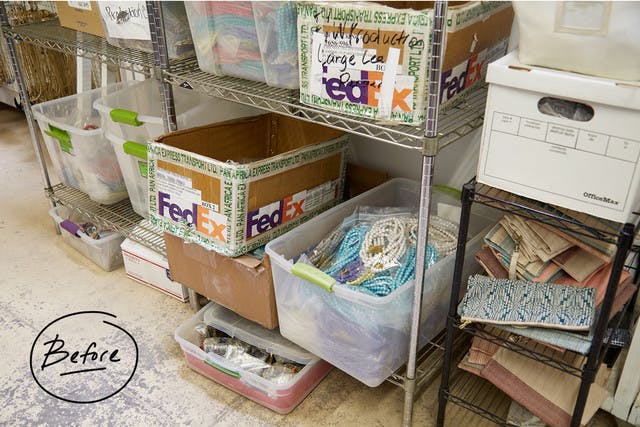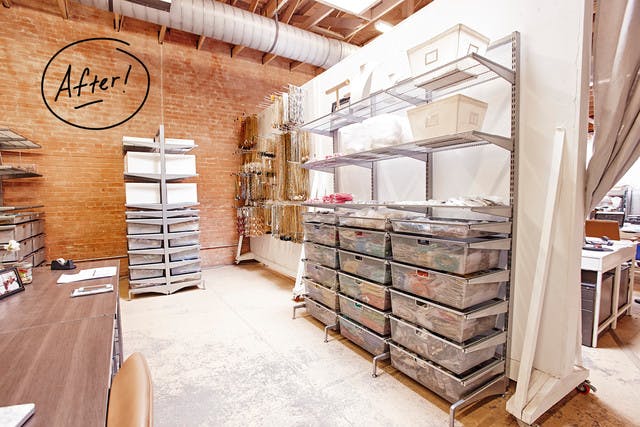 Rows of elfa drawers provide fabulous organization for everything from beads to tags to marketing material to the lovely finished jewelry products.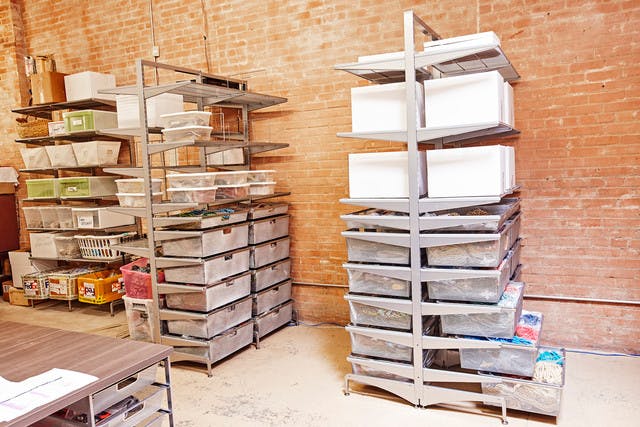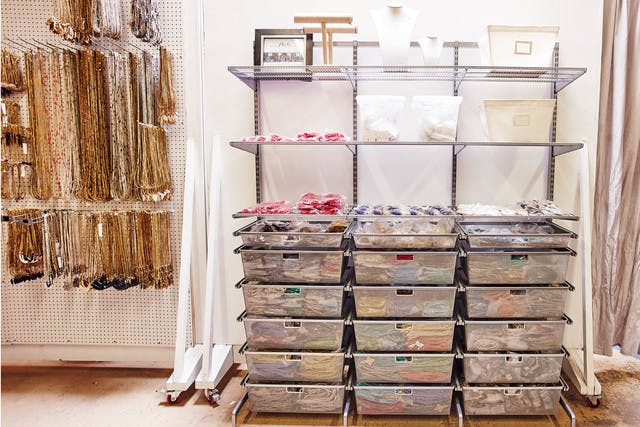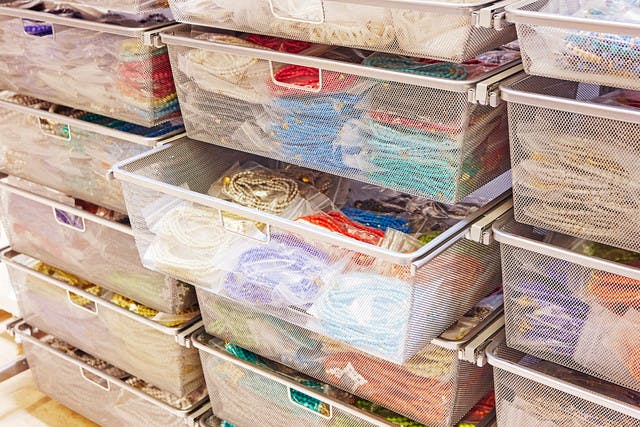 "Drawers!! As soon as I saw the amount of product that Akola had I knew labeled drawers would be the answer. Each item needed it's own spot that was easily accessible and visible. And voila! Elfa mesh drawers!" says Alison.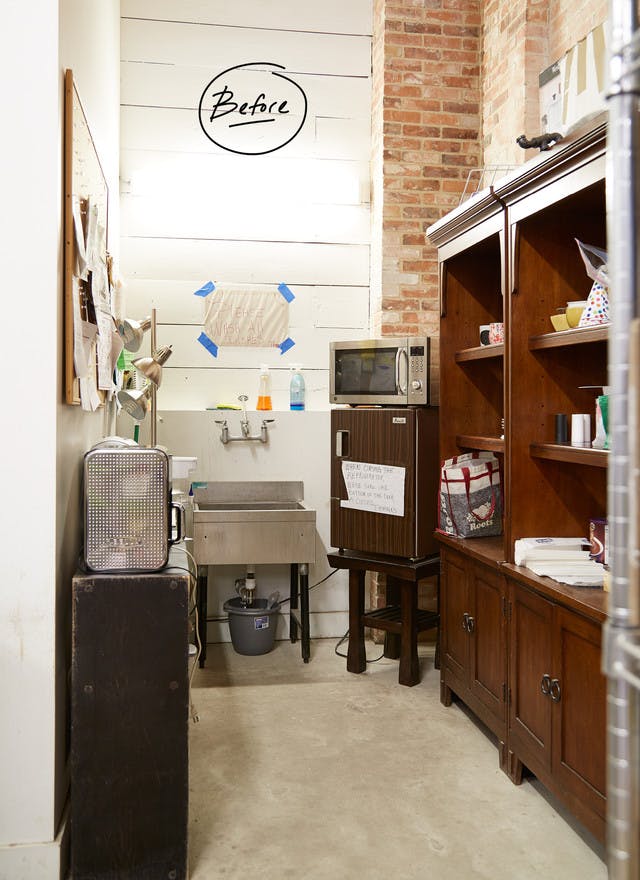 Even the kitchen area was expertly organized with a mix of elfa shelving and functional bins and boxes.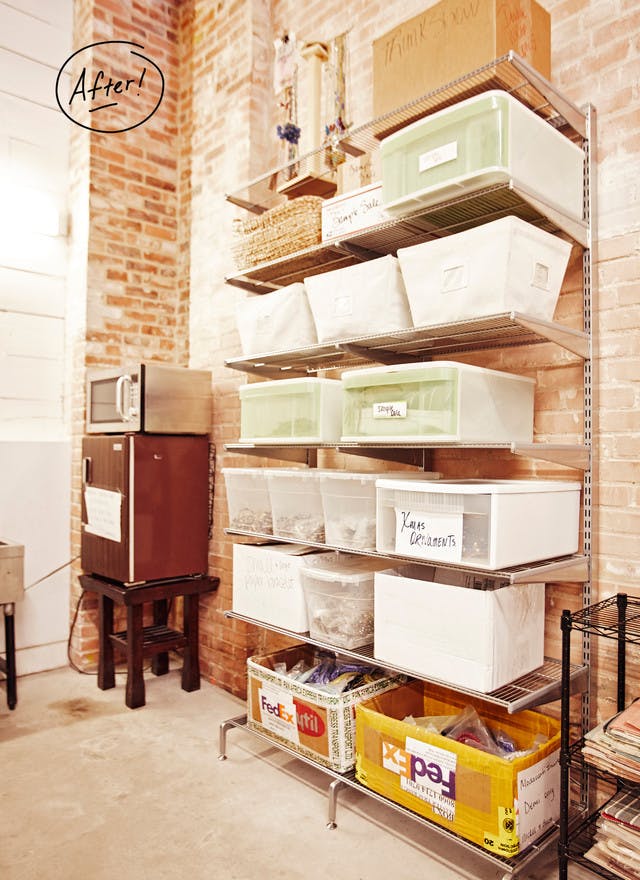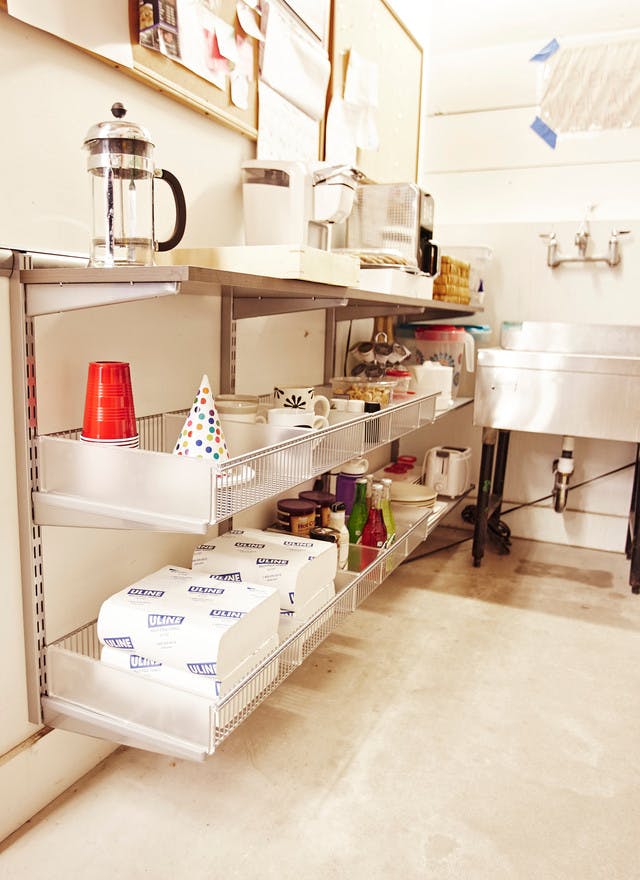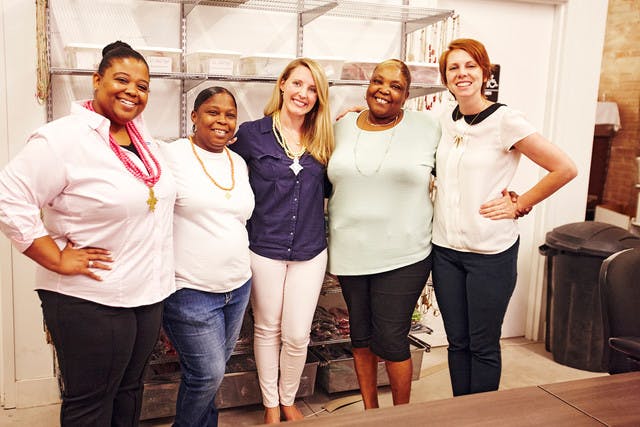 Well done ladies! Now, the space that was already full of pride and love is now over-the-top organized!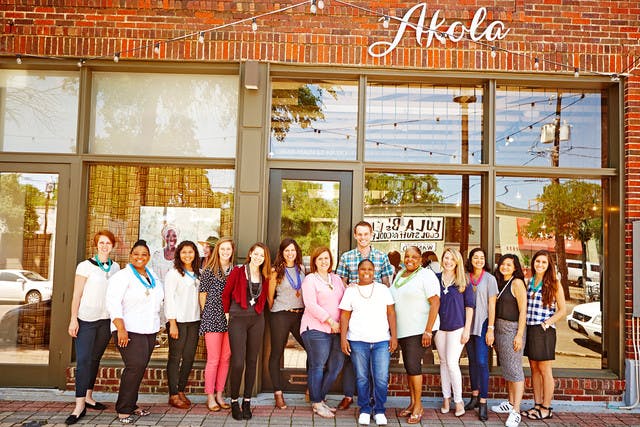 As part of their new Hope Not Hate campaign, the Akola Project is asking for folks in the North Texas to write down their one hope for the community and place it in jars available in 25 locations around the Dallas area. Akola will share these responses via Twitter and Facebook with the hashtags #hopenothate, #onedallas and #akola. To learn more about how you can get involved visit Akola's website http://akolaproject.org/
James Bueti, Photographer
Kristan Vinzant, Stylist