Have you planned an absolutely spook-tacular Halloween party but are finding yourself coming up short on drink options that fit the theme? No need to be a scaredy-cat, we've put together some quick and easy Halloween drink recipes from clever cocktails for the grown-ups to mocktails for the kiddos!
Feel free to double these recipes depending on your party needs, and Happy Halloween from all of us at The Container Store!
Featured Products: Grey Giara Water Bottles // Avery Decorative Removable Chalkboard Labels // White Fine Tip Chalk Markers
Magic Potion Punch (non-alcoholic) This punch is great for the kiddos! With a deliciously crisp lime and lemon flavor, it's as fun to make as it is to drink.
Materials
2 packages (3 ounces each) lime gelatin
1/2 cup sugar
1 cup boiling water
3 cups cold water
1 quart non-carbonated lemon-lime drink, chilled
1-1/2 quarts lemon-lime soda, chilled
Dissolve gelatin and sugar in boiling water; add cold water. Transfer to a punch bowl. Stir in lemon-lime drink and soda. Makes about 20 servings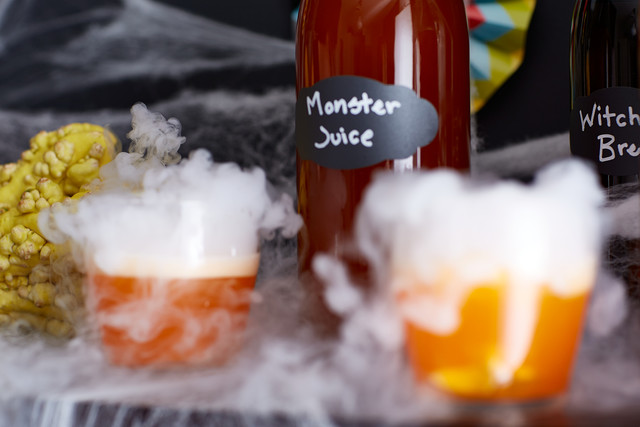 Monster Juice (non-alcoholic) This is another kiddo friendly drink recipe that creates a Hawaiian vibe with crushed pineapples and Hawaiian punch. Don't forget the gummy bugs that add a frightful and fun treat!
Materials
3 packages lemon-lime Kool-Aid
3 cups sugar
3 20 ounce cans crushed pineapple
1 46 ounce container green Hawaiian Punch
3 2-liter bottles lemon-lime soda
Gummy bugs
Mix everything except bugs together in a punch bowl. Let bugs float on top. Serve over ice. Makes 10 servings.
Featured Products: Grey Giara Water Bottles // Avery Decorative Removable Chalkboard Labels // White Fine Tip Chalk Markers // Pink & Orange Stripe Reversible Gift Wrap // Orange Interlocking Circles Treeless Gift Wrap // Orange Matte Raffia Ribbon //
Vampire's Blood For the adults at the party, try this peach and cranberry filled sweet sip that packs a punch.
Materials
2 fluid ounces vodka
3/4 fluid ounce peach schnapps
3/4 fluid ounces cranberry juice
Shake ingredients together with ice. Pour into a tall glass. Yields one serving. Multiply recipe as needed to make in large quantities.
Witch's Brew This tasty drink recipe takes cues from our Magic Potion Punch and adds a little vodka and ginger ale to the chilled treat.
Materials
1 (6 ounce) package lime gelatin
2 cups boiling water
3 cups chilled pineapple juice
1 (2-liter) bottle chilled lemon-lime flavored soda or 1 (2-liter) bottle ginger ale
2 cups chilled vodka (optional)
Pour the gelatin mix into a large bowl
Slowly stir in the boiling water. Stir at least 2 minutes, until the gelatin is completely dissolved
Stir in the pineapple juice, the entire 2-liter of soda and the vodka
Let cool to room temperature
Makes 12-16 servings
Looking for even more ideas on how to take your Halloween party over the top? Check out our Easy DIY Decorations for a Super Spooky Halloween blog story.