When Julie of The Design Twins decided to transform her son Julian's room, she knew she had to be careful about which closet solution she chose. "Since this room used to be a gym, there is no built-in closet," she explains, noting that the space previously only had a garment rack, dresser, and shoe rack for his clothing storage. "The solution we chose would have to be functional as well as stylish, and the Elfa custom closet is so good-looking I was happy to have it showcased out in the room itself." Julie's twin sister Jodie had previously utilized Elfa for her own son's homework station, so the choice ultimately seemed like a no-brainer!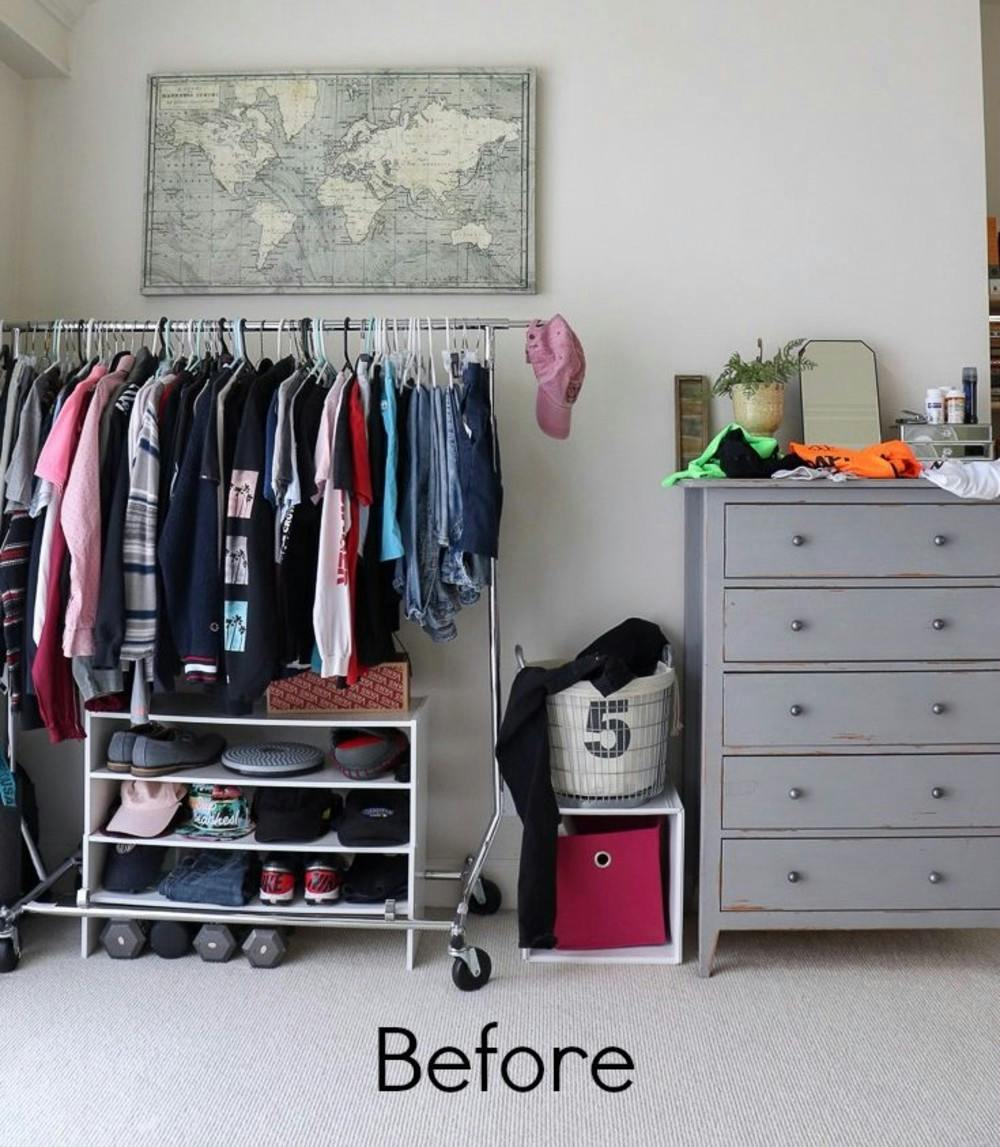 After clearing out the space, Julie and her twin sister Jodie met with one of The Container Store's premier Custom Closets designers to get started on an Elfa space. "We loved every part of the process," Julie says. "Even though Jodie and I spend a lot of time decorating, we are not experts in closet design, so we were extremely grateful for the patience and expertise of the design consultants at The Container Store. They are very knowledgeable and great to work with!"
After measuring the space and discussing the various options with her designer, Julie was ready to go. The Container Store's Custom Closets installers did an excellent job setting up the space, and the result was truly inspiring!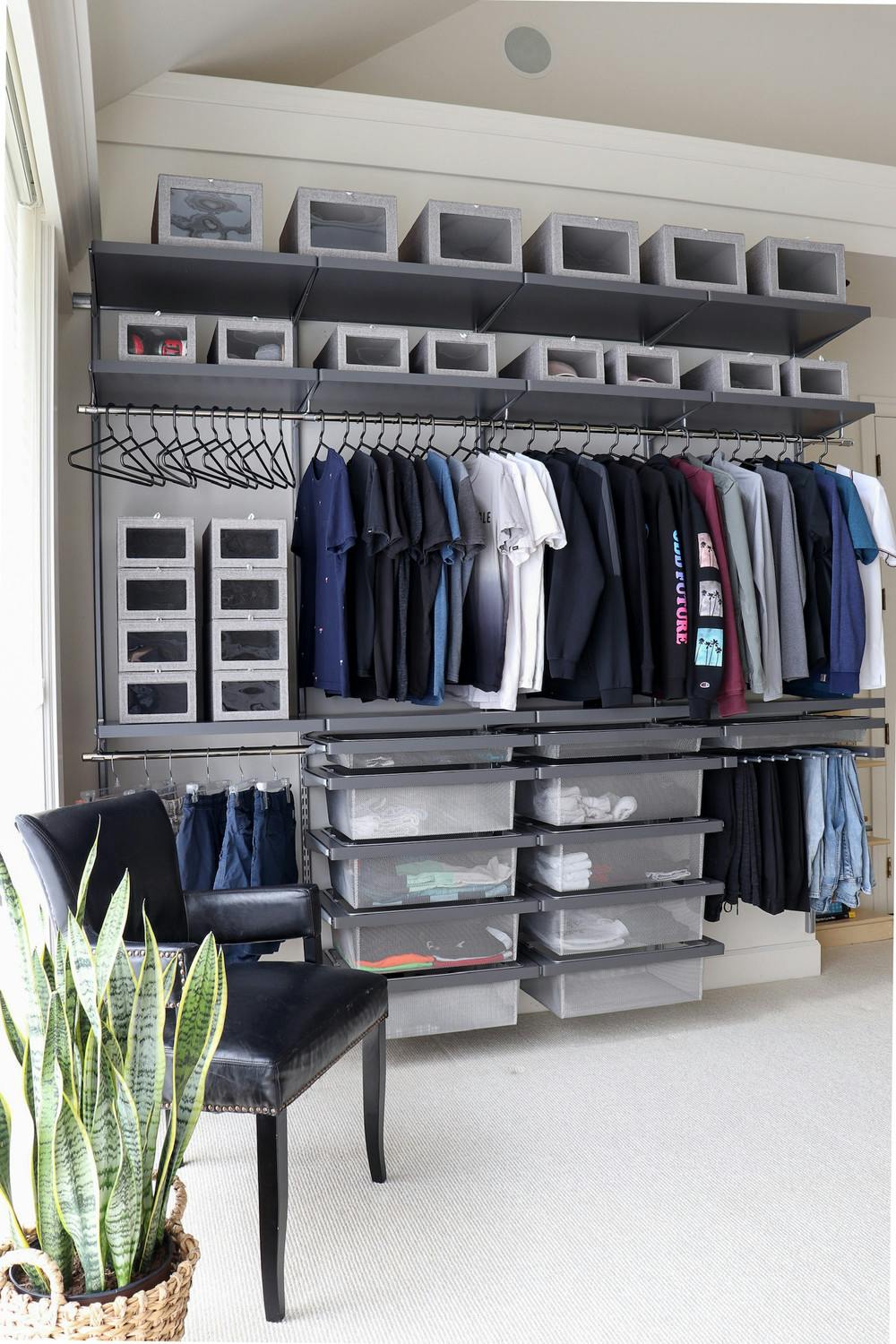 Julie chose our beautiful new grey Elfa Decor components for Julian's room. On the top two rows, she placed Grey Drop-Front Shoe Boxes to store his caps and hats.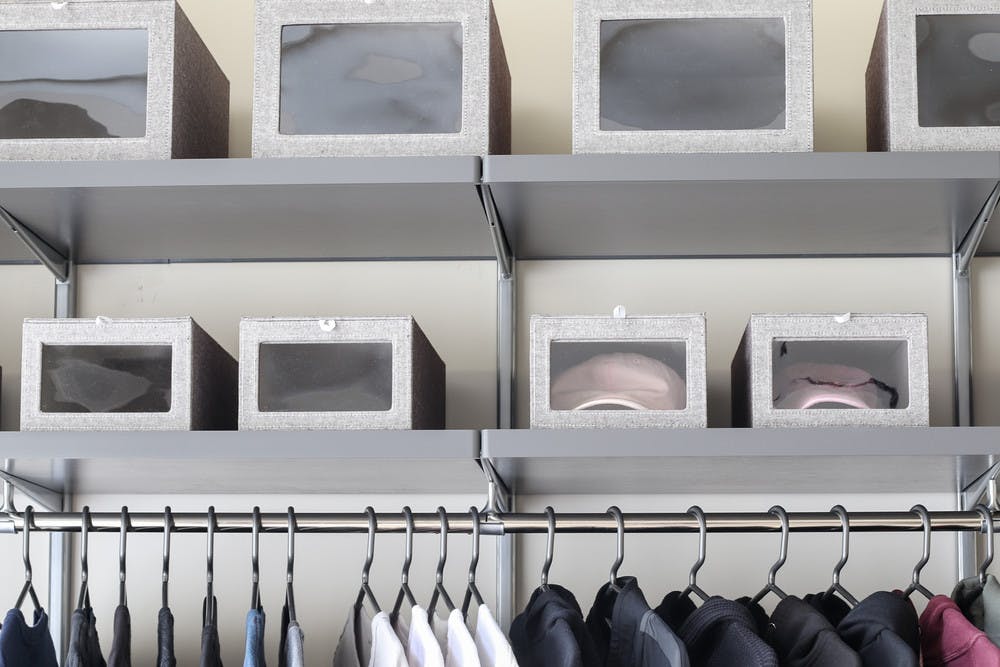 Below that is a row of hanging space for Julian's shirts--carefully arranged from short-sleeve to long-sleeve, of course. The bottom section features drawers for his folded clothes and belts, flanked by more short hang space on either side. On the left side hangs Julian's shorts, and the right side features a Gliding Pant Rack for jeans and slacks.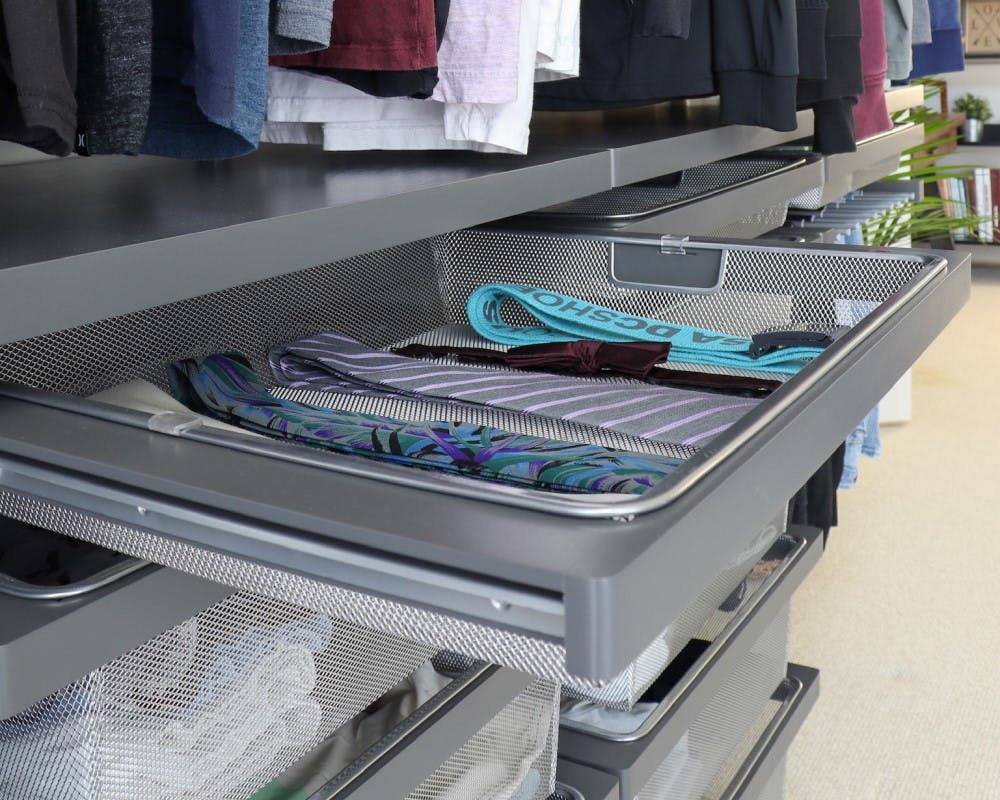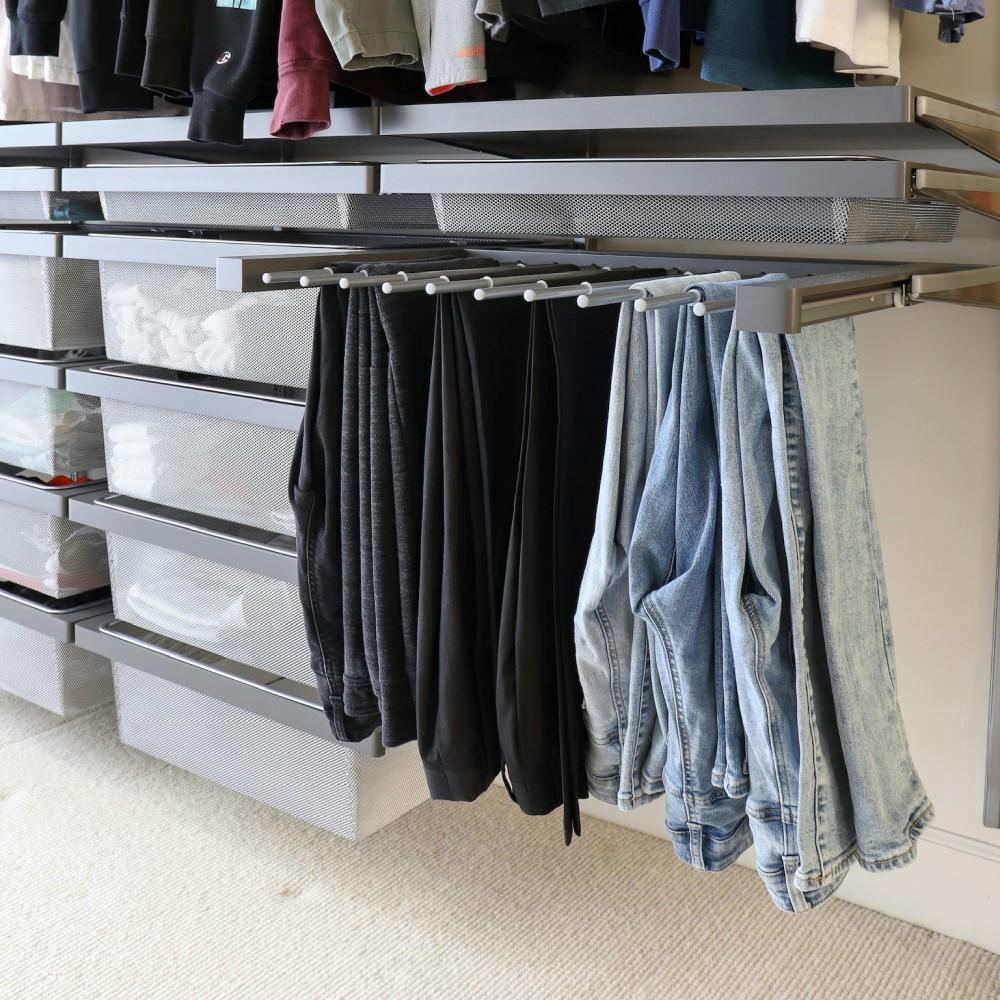 Julie instantly fell in love with the finished space. "The Elfa system made such great use of this space. It gives my son's room a modern, loft-like feel," she says. "Not only is the Elfa system customized when you design it, but it has the ability to be easily adjusted when your storage needs change. All the shelves can be moved around and the system can be reconfigured as needed. We love that our custom closet can evolve with us because we are always evolving too."
"We waited five years for this room to have a proper closet space, so good things come to those who wait!" she adds. "The Container Store's design experts and helpful installation crew made our all of our custom closet dreams come true!"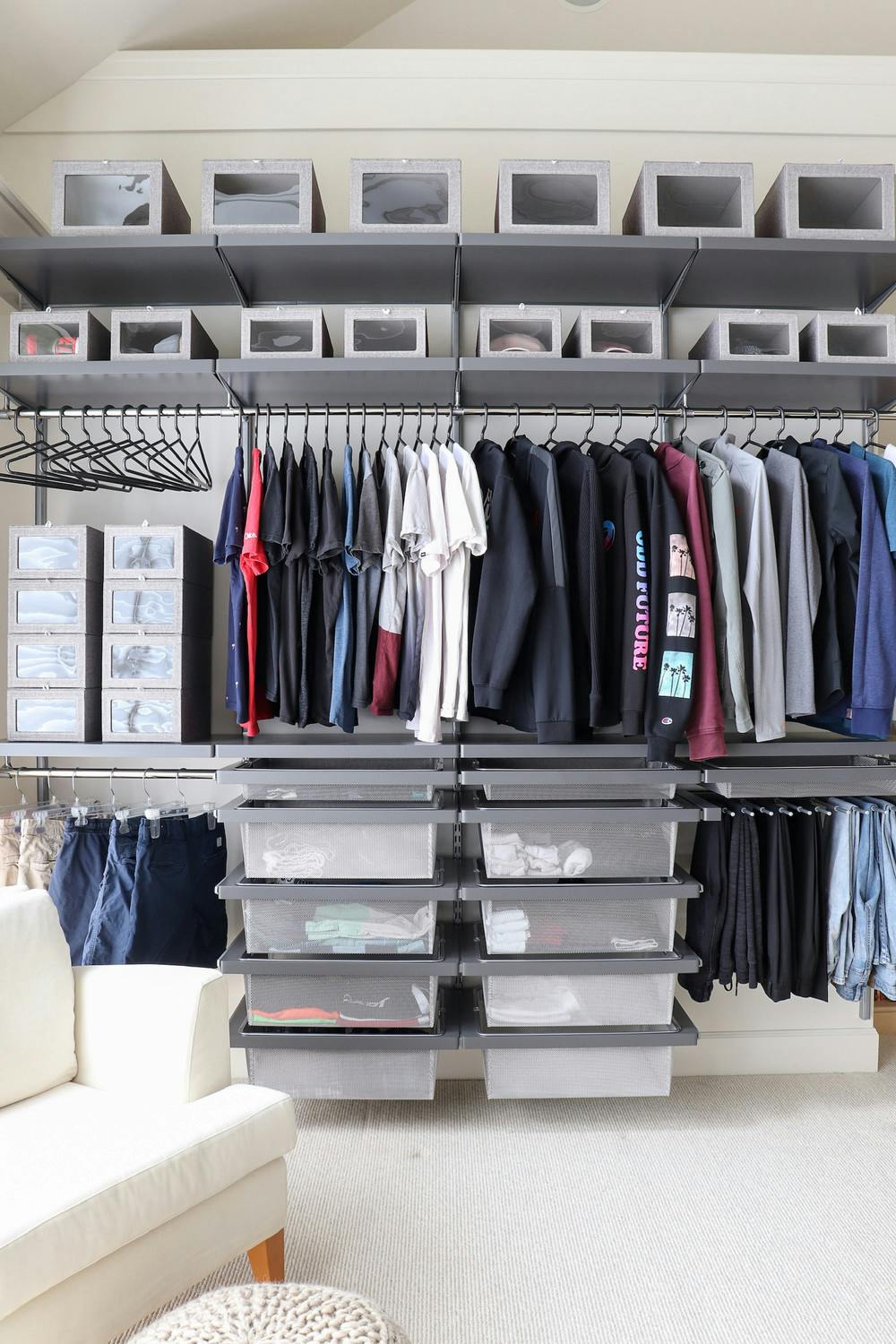 (Check out more on The Design Twins blog.)