Protect Garments from Fabric-Damaging Pests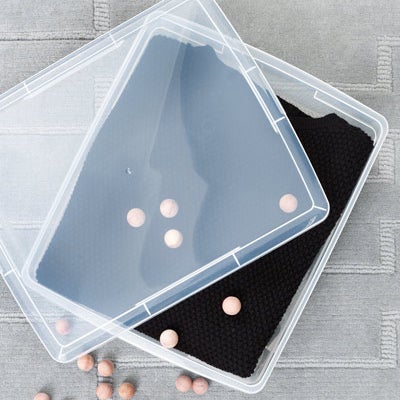 You've made a significant investment in your wardrobe, so it makes sense that you'd want to protect it. Clothes need protection against bugs and dust, as well as heat and humidity that can cause mildew and fading. Insects can cause the most damage and should be your number one concern. There are three simple steps to protecting your wardrobe:
Clean
Repel
Contain
(If you currently have a pest problem, you should first use an insecticide to eliminate the bugs before following these steps.)
The first step in protecting your clothes against pests is to clean them. Moths and carpet beetles, the primary pests that can cause damage, are attracted to natural fibers like wool and cotton. They also feed on organic stains within synthetic fibers.
Even if you don't believe you currently have a moth problem, if the pests have laid eggs, you won't be able to see them because they are so small. Always clean your garments first before following the next steps.
Use all-natural cedar to repel pests. When used correctly, cedar is very effective in preventing damage to your wardrobe from pests.
The essential oils in aromatic cedar give off a scent that people and pets love, yet repel adult moths and carpet beetles. A general rule of thumb when considering how much cedar to use: when you can't smell it, the pests can't either. Cedar is also renewable. When the scent fades, a quick rub with sandpaper or a mist of cedar spray restores its potency.
There are other herbal products that are environmentally safe and effective natural repellents. Moth Away® is made with a blend of natural herbs and comes in easy-to-use sachets. The sachets last 3-4 months and are an effective deterrent against pests.
3. Contain
Contain your clothes in a freestanding closet, storage box or bag to deter pests. If you're using a natural repellent, storing clothing in an enclosed container also helps preserve the effectiveness of the repellent.
An insecticide is recommended in instances where you have had a known infestation or believe you may have one. It is also effective for silverfish control.
We offer insecticides made with para-Dichlorobenzene rather than the naphthalene found in old-fashioned mothballs. It takes only one-fourth the amount of para-Dichlorobenzene vapors to produce the same results as naphthalene. Plus, it leaves no clinging odor and will not stain fabrics. Clothes may be taken from a closet or storage, exposed to fresh air, and worn immediately.
When using products made from para-Dichlorobenzene, you should place them as high up as possible in your closet or storage space. The vapors are five times heavier than air and will drift downward.
Once you have eliminated known pests, it's a good idea to clean your garments, contain those garments that can be placed in storage bags or boxes, then maintain a pest-free zone with all-natural cedar or herbal repellents.
If you have additional questions about protecting, storing and organizing your clothes, our highly trained experts will be happy to assist you. Visit us in store or call 888-CONTAIN (266-8246).