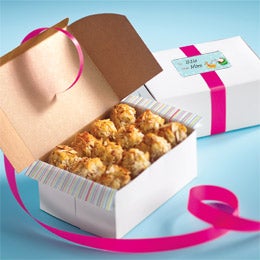 (Each box will hold up to 24 cookies)
Shown:
Lemony Almond Macaroons
from
Hands-On Time: 5 minutes
Total Time: 1 hour (includes cooling)
Makes 24 cookies
Ingredients
1 14-ounce package sweetened shredded coconut
1 cup sliced almonds
3/4 cup sugar
1 teaspoon grated lemon zest
1/4 teaspoon kosher salt
4 large egg whites
Directions
Heat oven to 325° F. In a large bowl, combine the coconut, almonds, sugar, lemon zest, and salt. Mix in the egg whites.
Drop mounds of the mixture (each equal to 2 tablespoons) 1 1/2 inches apart onto parchment-lined baking sheets.
Bake, switching the baking sheets halfway through, until the edges begin to brown, 20 to 25 minutes. Cool slightly on the baking sheets, then transfer to wire racks to cool completely.
Store in an airtight container at room temperature for up to 1 week.