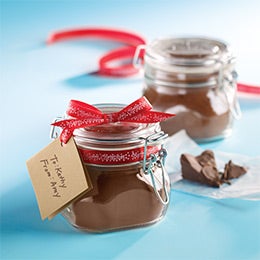 (Each canister will hold approximately 2 1/4 cups of hot cocoa mix.)
Shown:
Chocolate Chunk Hot Cocoa Mix
from
Hands-On Time: 5 minutes
Total Time: 5 minutes
Makes 4 1/2 cups
Ingredients
2 1/2 cups unsweetened cocoa powder
1 cup sugar
8 ounces semisweet chocolate, chopped
Directions
In a medium bowl, combine the cocoa, sugar, and chocolate.
Divide the cocoa mix among airtight containers. Keep at room temperature for up to 4 months.
Include these instructions with your gift: "In a small saucepan, whisk 1/4 cup cocoa mix with 3/4 cup milk. Bring to a bare simmer. Serves 1."