What Will I Need?
Use Small Moving Boxes for heavier household items such as books, periodicals, CDs and photo albums.
Use Medium Moving Boxes for mid-weight items like cookware, small appliances and decorative accessories.
Use Large Moving Boxes for bigger, lightweight items like linens, pillows and shoes – don't be tempted to load up a large box with heavier items...you won't be able to lift it!
You'll need several rolls of 2" box tape, a tape dispenser (or two) and plenty of cushioning materials like bubble wrap, packing pellets and foam.
You can use newspaper to wrap and protect delicates, but it can leave ink smudges. Use it to cushion items that are already protected. Unprinted packing tissue is a favorite of professional movers and keeps items clean.
Don't forget scissors, a box cutter, labels and several permanent markers.
For delicate and oddly shaped items, you'll need Specialty Corrugated Boxes for safely moving things like lamps, dishware and framed artwork.
It's always better to have more packing materials on hand rather than not enough, so you don't have to make any last-minute trips for more supplies. Below are some general guidelines for the boxes needed to pack an average home...you may need more or less, depending on the contents of your home.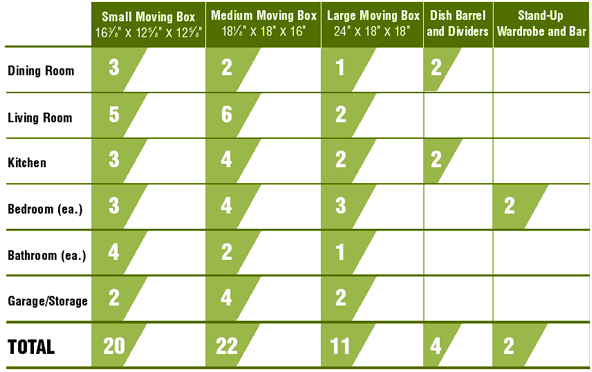 • One roll of Large Bubble Wrap
• One roll of Mini Bubble Wrap
• One 12 cu. ft. bag of Pellets
• Five to six rolls of tape
• One (or more) Permanent Markers