The season of holiday party after holiday party is about to be in full-force, and there's no better way to toast every wonderful host and hostess in your life than with the gift of wine and liquor! But anyone can just give the gift, it's the presentation that makes it just that much more special. So, we've partnered with Total Wine & More for the second year in a row to help you pair their wonderful wines and spirits with our fabulous totes - perfect for everyone on your host and hostess list. See our pairing choices, below!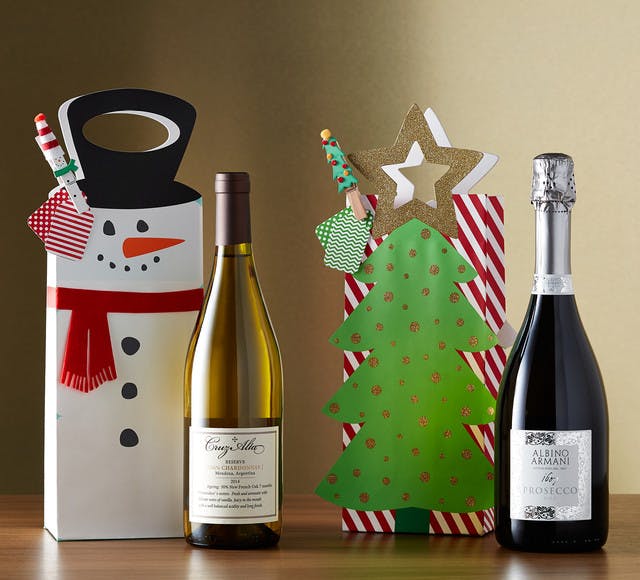 The Jolly Soul and the Shining Star
Pair our Snowman Tote with the Cruz Alta Chardonnay Reserve because what could make a jolly, happy soul even happier? Deliver this lively, fragrant Argentine Chardonnay in a Frosty tote and hearts, at least, will melt.
Your gift will be the star of the party when you present our Tree with Gold Star Tote with Albino Armani Prosecco inside. Like the tree-topper portrayed here, Armani Prosecco is golden and sparkly, the pinnacle of any holiday gathering.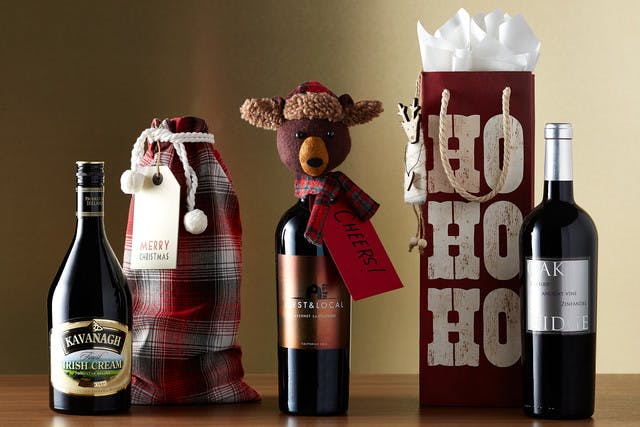 The Fireside Chatter, The Woodsy One & The Big Personality
Pair our Plaid Bottle Sack with Kavanagh Irish Cream. This holiday classic is a blend of delicious dairy cream and smooth Irish whiskey, a sipper to enjoy on the rocks or in coffee. Leave a bottle in this fun and flannel carrier out for good St. Nick!
Pair our Plaid Bear Bottle Cover with a First & Local Cabernet Sauvignon. It's a full-bodied, easy-drinking California red they can enjoy around the campfire or the kitchen table.
This cute and clever Rustic Ho Ho Ho Tote is the perfect pairing for a big personality and a wine with big flavors. This classic Zin from California's Lodi region comes from old vines that provide robust flavors with notes of blackberries, cola and smoke.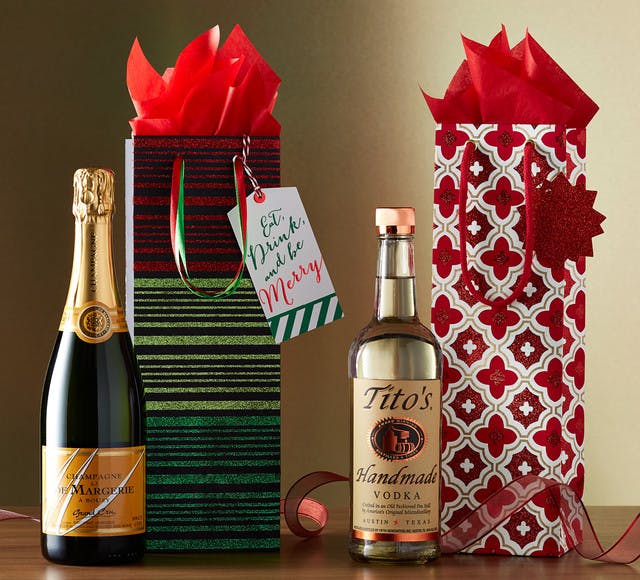 The Sparkling Personality & The Sophisticate
Our Glitz Ombre Bottle Tote pairs perfectly with a De Margerie Grand Cru Brut Champagne. Who do you know that's bright, lively and always the toast of the party? De Margerie Grand Cru Brut Champagne, packed in this glittering tote of holiday colors, will be a perfect match for your bubbly friend.
The chic print and clean lines of our Glitter Marrakesh Recycled Tote will speak to those who crave a clean, crisp drink - like one made with Tito's Handmade Vodka, the micro-distilled, gluten-free spirit that's a favorite of cocktail of the most sophisticated connoisseurs.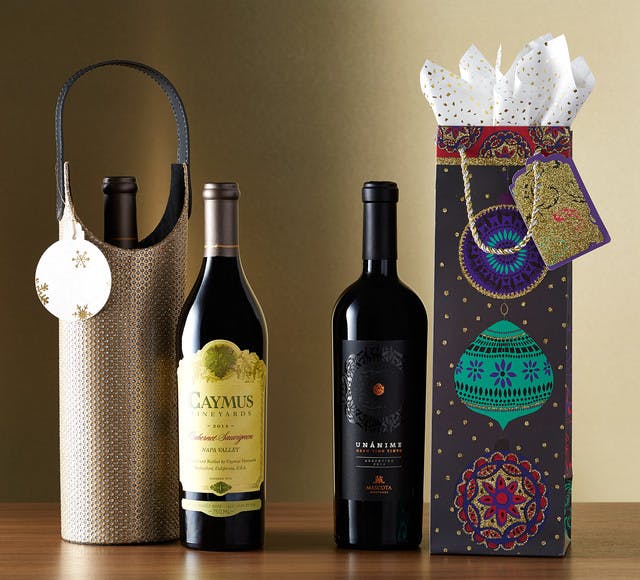 The Glamour Girl & The World Traveler
Have an always-glamorous friend in your life? Pair our Gold Sparkle Carrier with a Caymus Cabernet for a beautiful gift. No wine is more at home in the spotlight that Caymus Cabernet Sauvignon, the acclaimed red wine that helped define the ripe, full-bodied style of the best Napa Valley Cabernets.
For the world traveler, pair our Ornate Ornaments Bottle Tote with a Mascota Vineyards Unanime. Your globetrotting pals may have been to Paris or Mumbai, but unless they've sipped wine at the foot of the Andes, they've never experienced an intensely flavored, fruit-filled Cabernet like Mascota Vineyards Unánime from Mendoza, Argentina.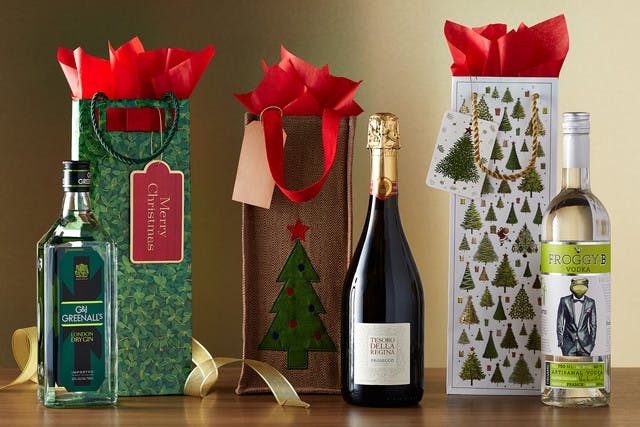 The Naturalist, The Tree Topper & The Green Thumb
Pair our Boxwood Bottle Tote with G&J Greenall's Gin for the naturalist in your friend list. This lovely tote with a pattern of budding vines is the perfect wrap for G&J Greenall's, a highly rated London Dry Gin made with a unique blend of eight appetizing and aromatic botanicals.
Our Brown Herringbone Cotton Tote with Tree pairs perfectly with Tesoro della Regina Prosecco. The combination of this rustic patchwork tote and the Tesoro della Regina Prosecco, creates a vibrant Italian sparkler with lively effervescence and fresh flavors. A perfect gift for your host at a tree-trimming party!
This top-shelf vodka is perfect for any cocktail aficionado. Froggy B is distilled from the finest wheat in France's Cognac region. Tuck a bottle into our Festive Holiday Tree Bottle Tote, and watch folks hop to it!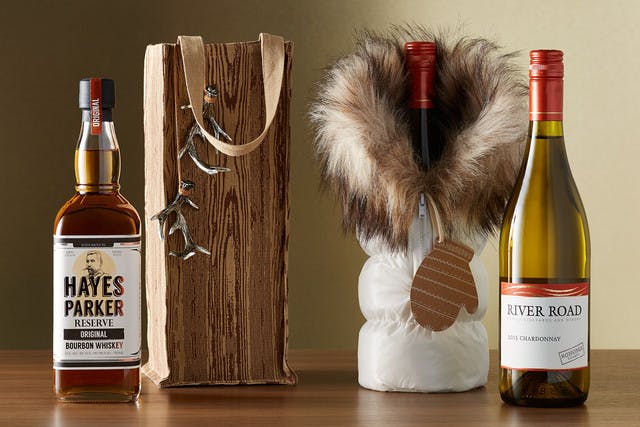 The Handyman & The Snow Bunny
For the handyman in your life, pair our Canvas Woodgrain Bottle Tote with Hayes Parker Bourbon, an ultra-smooth and mellow Bourbon. Complete the gift by including suggestions for tasty Bourbon cocktails inside the tote!
Just like a snow bunny, River Road Chardonnay prefers to be chilled! This tasty Sonoma County white wine is ideal for a crisp winter day. Bundle it up in our Bottle Parka with Fur Cuff for a perfect après-ski presentation for every snow bunny on your party list.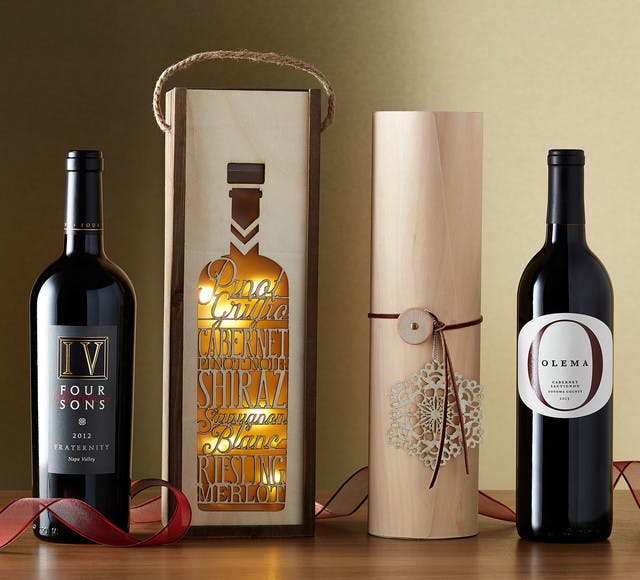 The Collector & The Designer
How best to wrap a wine that's a work of art? In our innovative Light-Up Wine Caddy that doubles as display case. Fill it with Baldacci Four Sons Fraternity, a Cabernet Sauvignon-based blend from the Napa Valley that showcases jam-like flavors and an endless finish.
Our sleek Birch Veneer Wine Bottle Cylinder wraps up a wine that's also beautifully structured: Olema Cabernet Sauvignon, the highly rated Sonoma County red that offers notes of dark fruits, spice and a smooth finish. A perfect pairing for any designer on your list.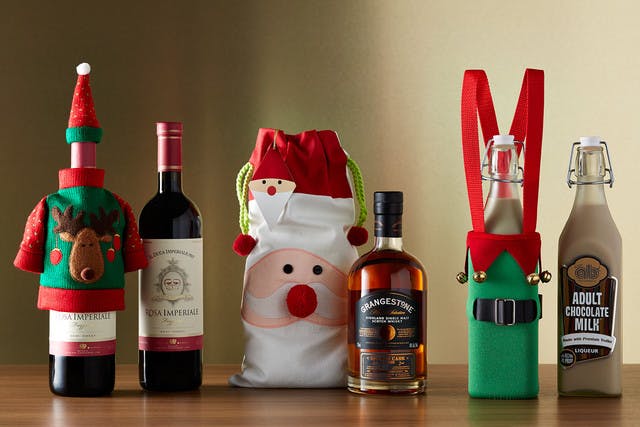 The Ugly Sweater Afficionado, the DIY-er & The Funny Friend
Ugly sweater aficionados who are also fine wine aficionados will find their hearts warmed by Rosa Imperiale by Il Duca Imperiale, a semi-sweet, lightly sparkling red wine from Italy with finely knit flavors of strawberry and raspberry. Pair it with our Sweater Reindeer Bottle Tote for a funny and festive gift.
The DIY-er spends every weekend building, fixing and making things nice. He or she deserves a delicious Grangestone Single Malt Scotch, aged in Bourbon barrels for added smoothness and sweet vanilla flavor, wrapped in this crafty DIY-style Santa Cotton Bottle Sack.
Creamy, sweet Adult Chocolate Milk is prefect for the grownup with a not-so-grownup sense of humor. A bottle (or two) wrapped in these goofy Elf Carrier will put a smile on the face of your funniest friend.
Found some ideas for your favorite host and hostess? Let us know in the comments, and find even more ideas for the perfect pairing with our Toast Your Host post!