When we heard that incoming Texas Tech freshman roommates Hanna (on right), and Audrey (left), were going to get to take a test drive in their dorm room this summer before actually moving in, we wanted to hear all about it. After 37 years of helping to send our college-bound customers off with organized dorm solutions, we know a thing or two about those tiny little rooms. But we wanted to see the experience through the eyes of these two. We also wanted to hear all about how they have planned their room, and learn about some of their fears and concerns about living large in such a small space. Below, Hanna takes some time to chat with us. And we've thrown in a few of our favorite solutions that might solve some of their dorm room dilemmas.
What kind of communication did the college provide about your room prior to your on-campus visit/move in?
We went online and researched. The Tech website provides dimensions and pictures of the different dorm rooms.
What is your roommate situation? Selected by the school, or did you know her prior? Tell us about her.
Audrey, my roommate, is a friend from high school. We have a lot of similarities, and get along extremely well. She also loves clothes so both our closets will be maxed out. I know we'll be a good team during our freshman year.
When did you begin planning the look and feel of how you imagined your dorm room?
I started planning my dorm at the beginning of my senior year of high school. A lot of my inspiration was from Pinterest. I also had friends who moved into a dorm the year before and they sent pictures. Our biggest challenge was trying to determine the color scheme for the room. We plan to purchase a lot of decorative items that coordinate with our color scheme of black, gold and blue.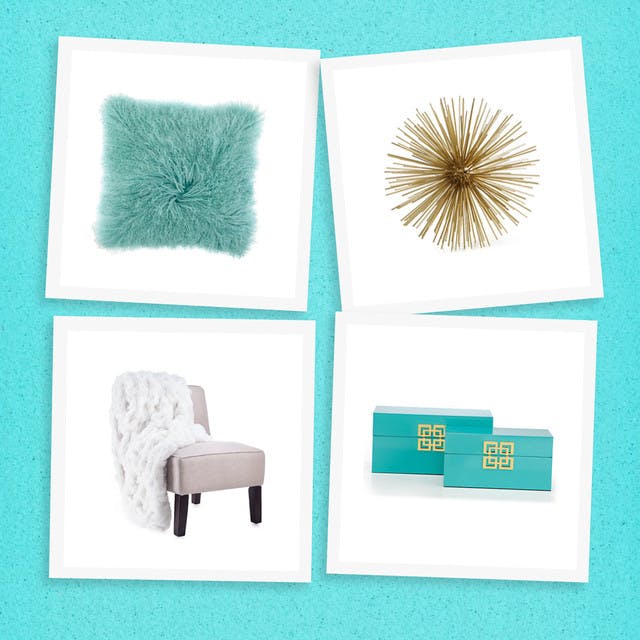 Did you coordinate with your roommate as you put together the boards? Anything you had to compromise on? Styles, etc.
I'm really lucky because Audrey and I have similar tastes. A couple of weeks ago we went shopping with our moms and started to fine-tune what the room will actually look like. Originally, we thought the color scheme would be pink and orange. But after visiting several stores, we decided black, blue and gold would be better. At first, we wanted to load the room up with pillows and accessories, but once we saw the actual size of the room, we realized we couldn't go overboard. Too much stuff will make the room feel claustrophobic.
Tell us about your on-campus sleepover in your dorm room this summer prior to your move-in.
My campus sleepover went very well. It was a lot of fun, and got me extremely excited for college. Everyone who attended the orientation was really nice. Plus, I think Texas Tech is a great school. Orientation confirmed I've made the right decision. The only downside was the uncomfortable mattress.
Anything that surprised you when you were there in-person? Things you had planned that you might change now…more or less space than you thought? Anything that will change based on your original plan?
Well, the website definitely made the rooms look bigger than they actually are. It was quite a shock when I visited the dorm for the first time since the space is much smaller than my current room. I had planned to bring a bunch of decorative pillows, but there is no place to put them. Less will definitely be more in the dorm room. The room is darker than we thought and we are going to take that into consideration when we decide what to place on the walls. I was pleasantly surprised by the bathrooms because they were recently remodeled.
Unfortunately, my closet door slides so I'm not able to use my over the door shoe rack. YIKES!
I will need a lighted makeup mirror.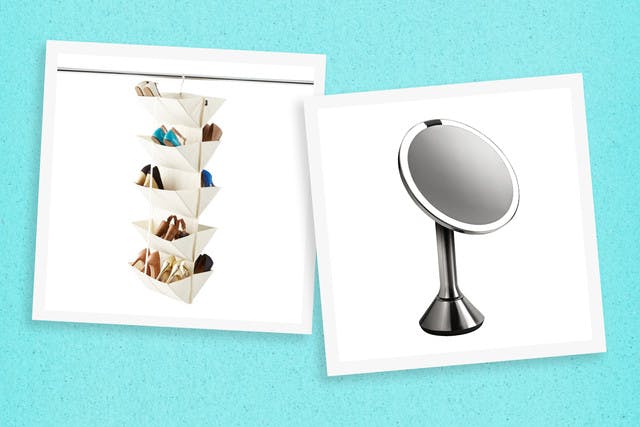 TCS Tip: A hanging shoe organizer might be a great option since over-the-door racks are out of the question. And, our Sensor Mirrors will be a great choice for Hanna's need for a lighted makeup mirror.
I'm glad my room is only on the 5th floor. I learned that move-in gets very complicated when you're located on the top floor since there are huge lines for the elevator.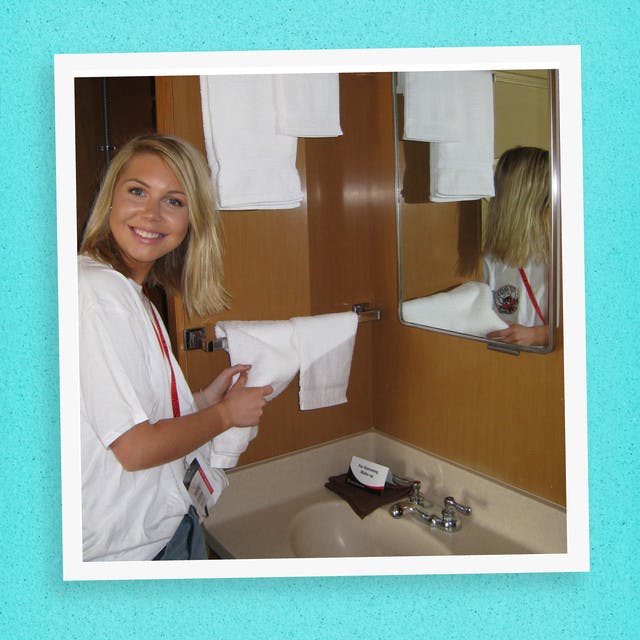 Are you sharing a bathroom with more people other than your roommate? If so, how many? What's the counter space and storage situation like in the bathroom - pre move-in?
We have a sink in our room; however, we have to share a bathroom with the other girls on our floor. We have a single sink with a mirror above it. There is very little counter space. Probably enough room for a toothbrush and soap.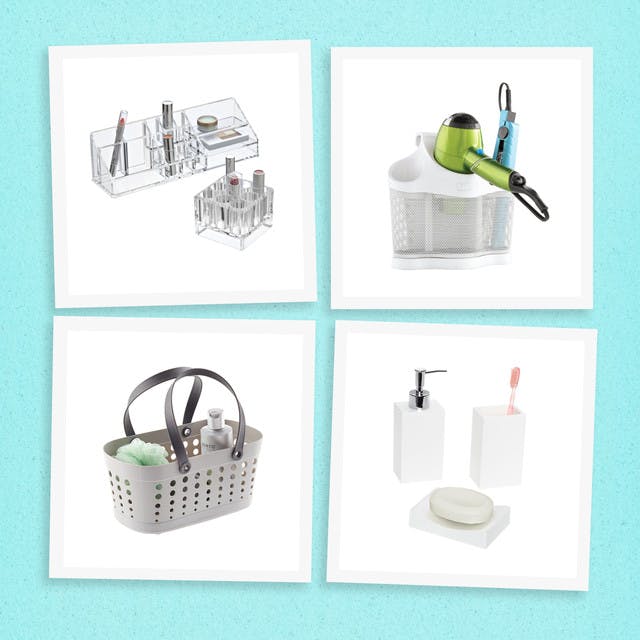 TCS Tip: With counter space at a minimum, the girls will have to choose carefully. We love our modular acrylic makeup organizers that can be used beyond their days at school. They don't have to be stacked on the sink but maybe on the desk or on a stacking drawer system. Finding unique storage opportunities is key in the small sink area. The Style Station Organizer has a myriad of compartments for ever-important styling tools and other bathroom accessories. Place it in a cabinet or on a counter, mount it on a wall or hang it from a towel bar. And with a shared bathroom down the hall, a shower caddy with drainage holes is a must to transport items to and from the shower.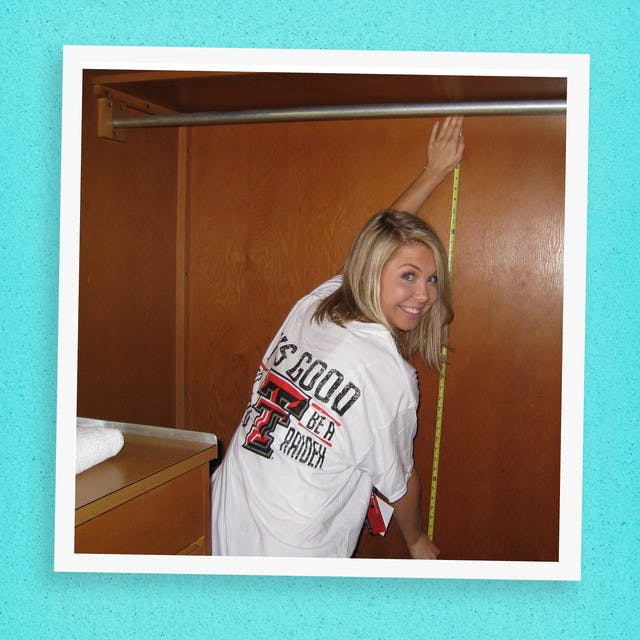 You mentioned you both love clothes and your closets will be maxed out. Tell us about your closet space in your dorm room.
Yes, my wardrobe will be severely edited. I'm going from a walk-in, to a closet that is 42 inches wide. This should be interesting. I do have some drawer space below my bed though, which will help with storage.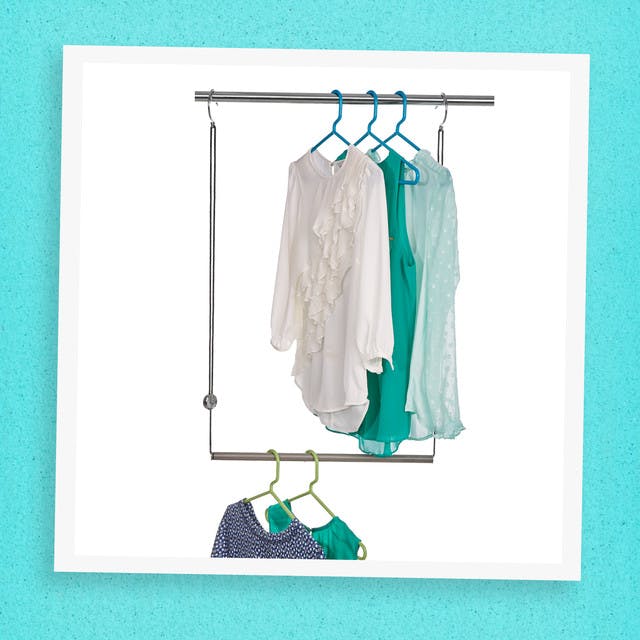 TCS Tip: A closet rod doubler divides the small closet space, allowing for the girls' treasured (and large) wardrobes.

What does the existing desk area/study space look like?
The desk is also very small. I'm not too worried about the size of the desk since I plan to do most of my studying in the library.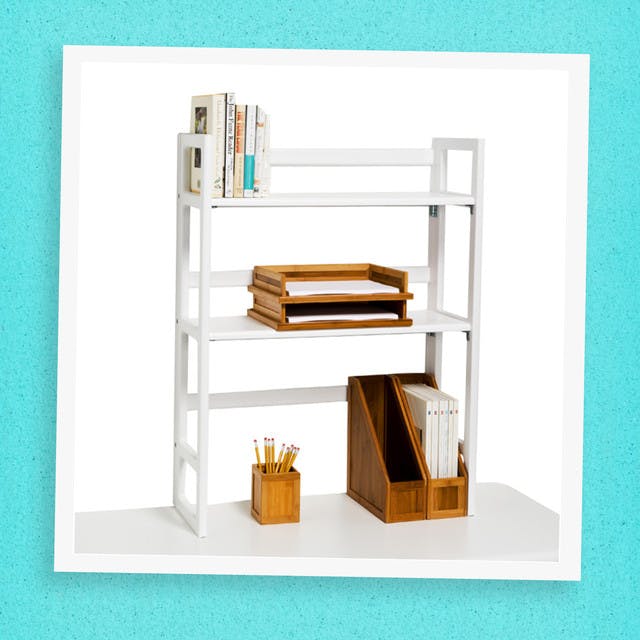 TCS Tip: Even with a small desk, you can take storage vertical with a hutch that sits on the desktop. Even if they are going to opt for the library to study versus the desk, it will provide some extra organization for projects, makeup and other necessities.

What types of electronics are allowed in the room (microwave, fridge, TV, computer, etc.) - What of those are you going to bring?
We plan to bring a fridge, microwave, blue tooth speakers, laptops and a Keurig machine. We were going to bring a printer but there isn't enough room. Instead, we plan to use the Texas Tech wireless kiosks to print papers (they are located all over the campus). We'll also have cable available which will be nice for the TV.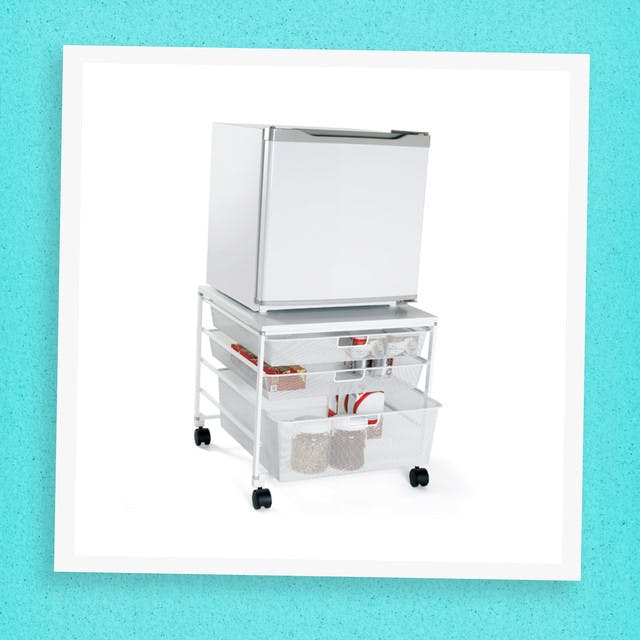 TCS Tip: Our Elfa fridge cart is a tried and true must-have for every dorm. Great for fridges, microwaves or printers, the drawers underneath the solid top are great for general storage. Casters allow it to move around the room when needed.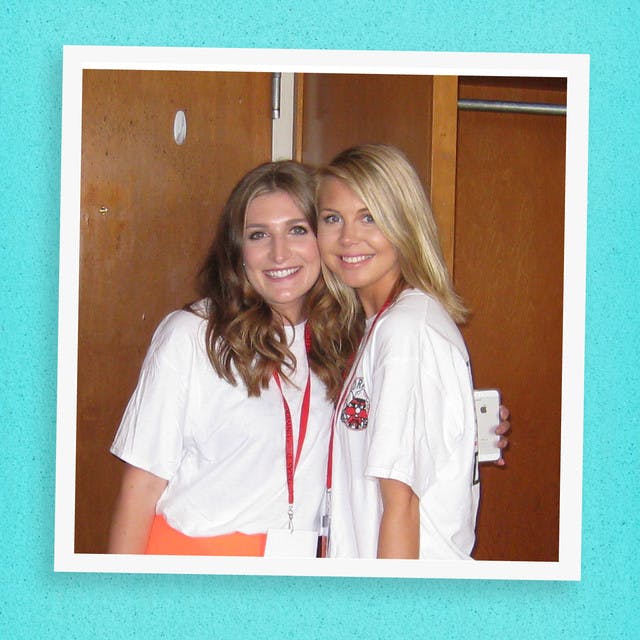 What is your biggest concern in moving into a dorm room from home?
I've never shared a room. Plus, I've always had a walk-in closet. The closet will probably be the biggest adjustment. I'm used to a lot of storage, so this will definitely be challenging.

What is something from home that you are going to bring no matter what, to make you feel like your dorm is your home away from home?
This is going to sound silly, but I have a white noise machine that I have to sleep with every night. Luckily, my roommate also sleeps with one, so it will definitely be an addition to our room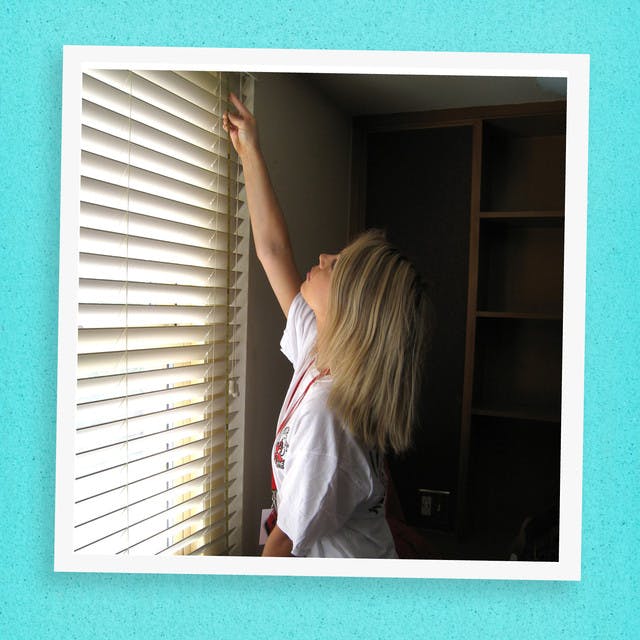 We were going to put up curtains but were advised that they just get in the way. Instead, we're going to put monogram letters on the wall around the window.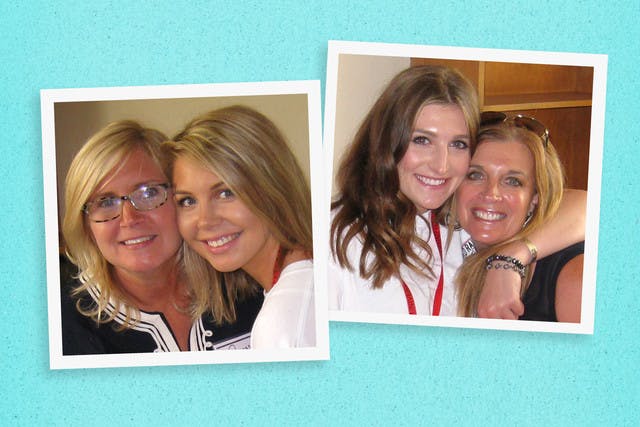 What's mom's biggest concern?
I'm a little messy. Mom is worried this will drive my roommate crazy.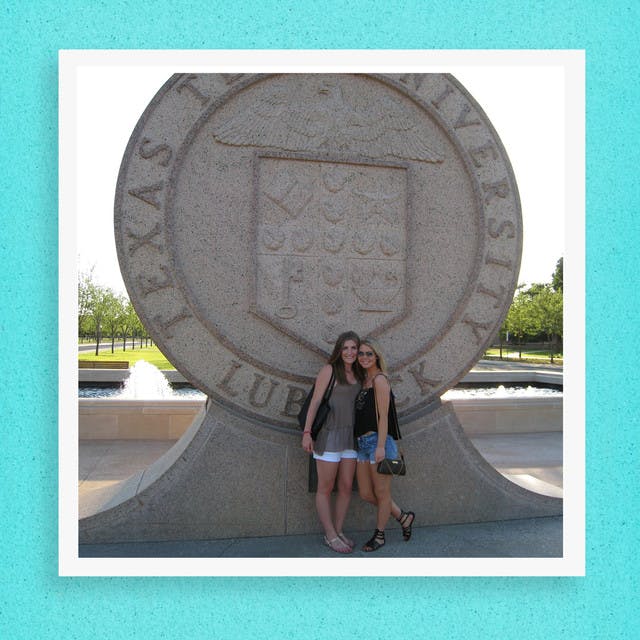 Well, we're pretty sure that Audrey and Hanna are going to be just fine and their room is going to be fabulous and functional. We can't wait to see it after move-in! Check back for the "after" reveal. If you're a college-bound student or parent, take a look at our college checklist to help make the move to college as easy as theirs! And tell us what your own dorm challenges are - we'd love to give you some personal tips!