The season of holiday party after holiday party is about to be in full-force, and there's no better way to toast every wonderful host and hostess in your life than with the gift of spirits.
So, we've partnered with Total Wine & More for the third year in a row to help you pair their wonderful wines and spirits with our fabulous totes - perfect for everyone on your host and hostess list. See our pairing choices, below!
Pair our Gold Ornate Bottle Box with a Caymus Cabernet for the recipient that always does a little extra to make you feel special. It's quality construction with imprinted gilded design really takes the look up a notch.
Pair our Scarlet Flakes Gift Tote and Solid Red Tissue with a classic bottle of Veuve for those with the taste for the finer things in life. The tote is large enough to hold the wider design of a champagne bottle and the fluffs of tissue paper mimic the burst of freshly opened champagne quite nicely.
Our Gold Shimmer Bottle Sack is the perfect item to store oddly shaped bottles, like Chimay Ale, in. Simply pick their favorite craft brew or liquor out, place inside and cinch!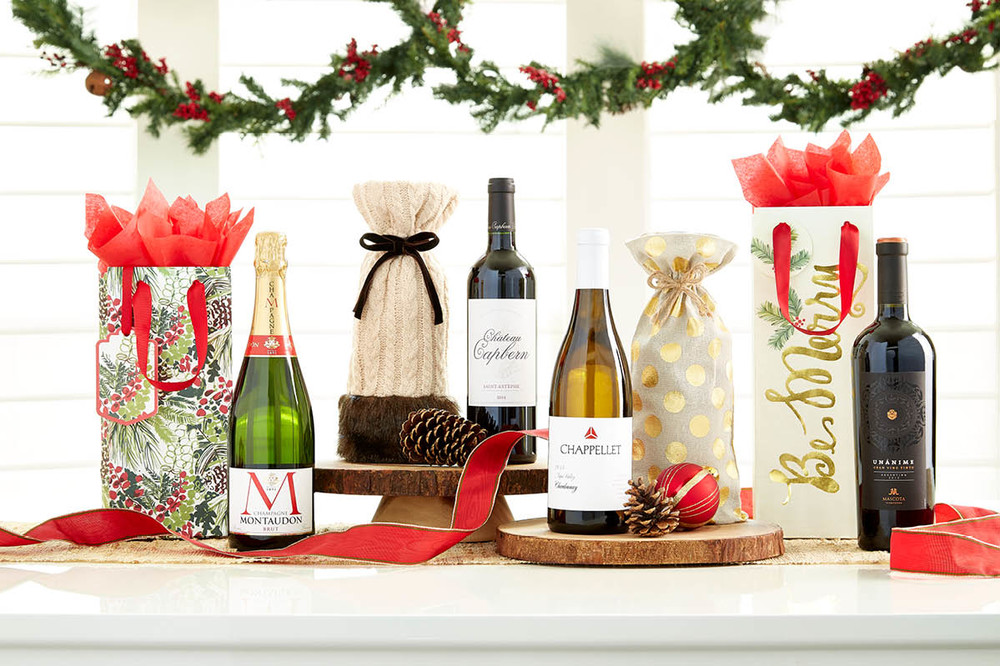 Our Pinecone Sprig Bottle Tote combines all the natural elements we love about the holiday into a generously sized tote. Solid Red Tissue paper ties in the color scheme with the bottle of Montaudon Champagne for a simple yet elegant presentation.
Pair our Knit Bottle Sack with Faux Fur with the full-bodied Chateau Capbern for the recipient with a taste for the finer things in life. This ultra-cute bottle sack is knitted in a classic cable pattern and its drawstring closure secures a bottle of spirits or your own gourmet creation. A faux fur base gives it just a touch of luxury.
Our Canvas with Gold Dot Bottle Sack's gilded details pair perfectly with the golden tone of the Chapellet Chardonnay. The white top of the bottle looks perfect peeking out of the top of the cinched holder.
Last, but certainly not least, our festive Be Merry Bottle Tote partners with the deliciously mysterious Umanime Bordeaux, full of all the flavors the holiday brings. Place a few sheets of our Solid Red Tissue in and you're done! Perfect for any of your unique friends and family.
Found some ideas for your favorite host and hostess? Let us know in the comments, and find even more ideas for the perfect pairing with our Toast Your Host post!