My name is Alisa Abecassis, creator of the travel blog The Explore All 50 Project. Twelve years ago my kids and I embarked on a family goal to visit all 50 states and in doing so, not only created a family history, but also learned more than we could have ever imagined about our amazing country. My personal goal and passion is to inspire others, particularly families, to do what we have done, creating memories to last a lifetime while exploring the diversity and uniqueness of every state in the USA. This year I am proud to say we will complete our last four states to say we have officially been to all 50!
Our odyssey started out in the Pacific Northwest 12 years ago when my three kids Lilia, Isaac and Joel were 7, 6, and 4. From then on we were hooked. As a parent, the most wonderful and unanticipated benefit was seeing how much learning was taking place, how my kids' education was coming to life right before their very eyes from history and geography, to science and even economics.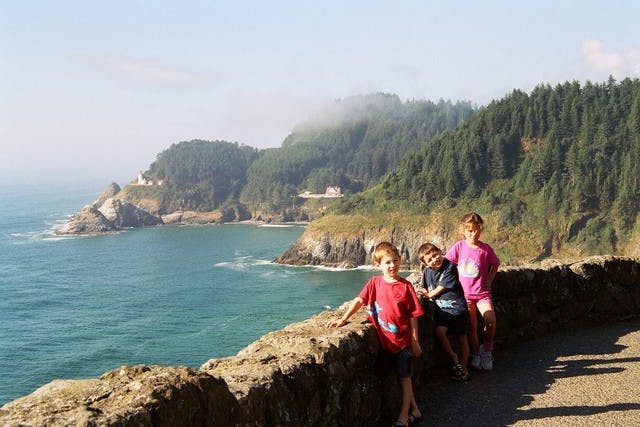 A typical trip for us is anywhere from seven to 13 days depending on our schedule and area we plan to cover. Our route usually consists of a large loop, driving no more than two to three hours per day on average and spending most nights in a different city. Each trip also has a unique theme that helps connect a lot of what we're seeing and experiencing. For example, our trip to Tennessee, Arkansas, Louisiana, Mississippi and Alabama covered Civil Rights and American Music (Fun fact-Did you know that Rock and Roll was born out of Gospel and Country Music?) We make it our mission to discover everything that makes a state unique from its landscape and natural resources, to its foods, accents, and culture.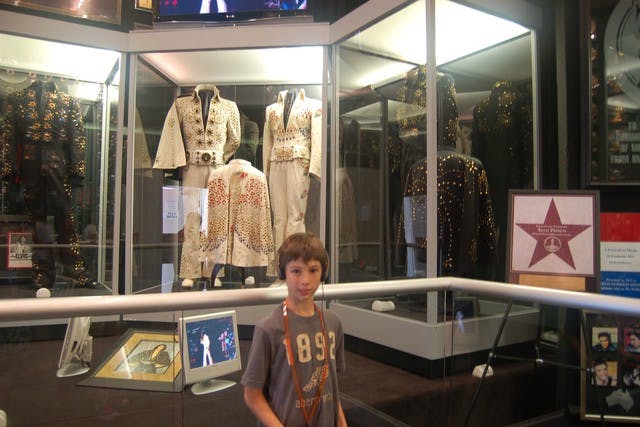 Traveling with a bunch of kids on an epic adventure where I'm in a different city almost every day means two things…a) I have to travel really light and b) in order to make a) happen, I need to be insanely organized. I can proudly say I have mastered both of these by making some pretty funny and some not so funny mistakes. I happily share my tips and tricks with my readers on my blog and will share some of them here on Container Stories.
1. Identify your bag
Our bags of choice are rolling duffels, which are only available in basic colors. After nearly grabbing someone else's identical bag (can you imagine what a nightmare that would be??) I realized how important it is to make your bag unique. Over the years, I've seen crazy colored Pom Poms, even rainbow suspenders tied on people's bags but our go to's are large bright luggage tags on which we write our last name and cell phone number (No one needs your address especially when you are not at home).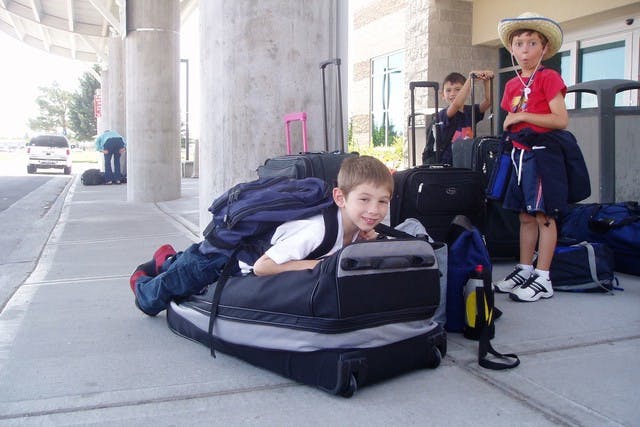 2. Pack less and do laundry on the road
When my kids were small we took two large bags for the four of us using stuffers for underwear and socks to keep things organized and accessible. Who's got time to dig around for a matching pair or socks and clean underwear when we've got tons of stuff to see? So how do you get four people's worth of gear for 13 days into two bags (and potentially save yourself $50 in checked baggage fees)? Take half the clothes you'd typically pack and do laundry. I recommend packing a large laundry bag like we do and throw everyone's dirty duds into it instead of putting them back in the bag with the clean stuff. When someone runs out of shorts or underwear, it's time to do a load.
3. Don't leave home without it!
There are a few absolute essentials that I never leave without because you never know what can happen out on the road. First up, I never travel with a purse. I use a waist pack or fanny pack. I don't care how uncool it looks, it is the ultimate in practical when you need to be traveling lean and mean. I put my essentials in there like ID, credit cards, and cash all secured in my small metal travel wallet to protect against scammers who might try to steal your personal info.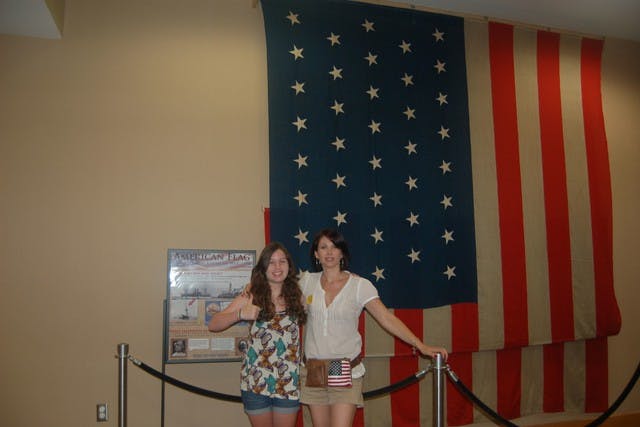 I also throw in a small flashlight- essential for bed bug inspections of any hotel room we check into. Next up, I always bring a small pack of toilet seat covers, hand sanitizer or antibacterial wipes. Out on the road you never know what kind of gross bathroom you might encounter when a kid (or adult for that matter) decides they've got to go. We've seen some doozies and thankfully we've been prepared. Of course these weren't of any use in the middle of the New Mexican desert when nature came a calling. Lastly, small rain ponchos are a must and are so easy to pop into your bag. I can't tell you how many times we got caught in a surprise summer downpour and these saved the day.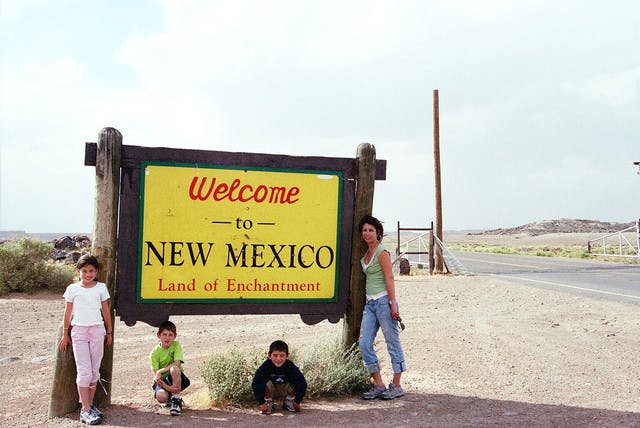 4. A place for everything, and everything in its place
This is my road trip mantra folks. If something is important, assign it a place and then always return it to that place. For example, whenever I get a parking garage ticket, it always goes in my back pocket, my phone charger always goes in the top pocket of my backpack, and my car keys always get clipped with a carabiner (my favorite piece of travel gear ever!) to my fanny pack - no if's and's or but's about it. Make sure everyone in your party knows where everything goes and returns it to that location - no exceptions! With this system you will never lose your keys, unless of course you leave them in the ignition and lock the car door….Hello!!!
5. Technology is great, but being old school can save the day
It never hurts to have a printout of airline tickets or hotel or activity reservations just in case the battery in your electronic gear dies or heaven forbid you lose your phone. I put all the hard copies into a book I call "the travel bible" which is organized by tabs for each day. Everyone can quickly see what we're doing and at the end, it makes a great record of your travels.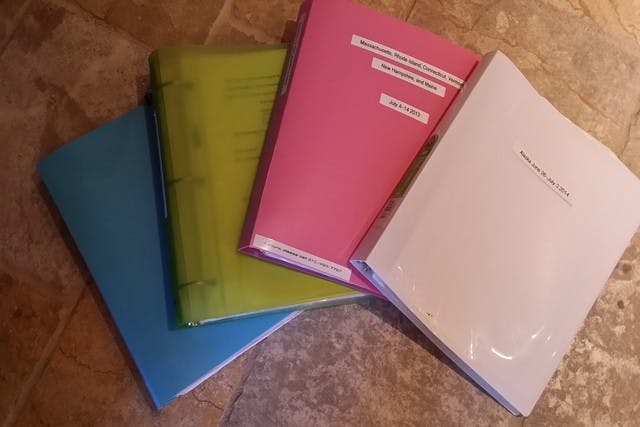 Traveling light is an art and it's easy to master, but the key is not to sacrifice your comfort or necessities. I'll be totally honest; I cannot live without my blow dryer and my makeup bag. Call me a diva if you want but I want to make sure I look good in the photos and videos. Let's face it…At the end of the day, that's all we really have left to memorialize our journey. That's why The Container Store is one of my favorite go to places to find fun and handy things to make traveling with my crew a breeze. They've even got great storage and display ideas for all the awesome souvenirs that we inevitably schlep home that become priceless mementos triggering a laugh and a great story back at home.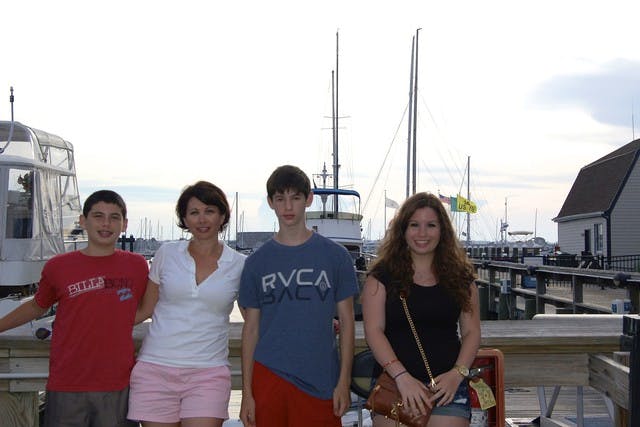 I've got tons more tips and road trip stories and hope to share them with you on upcoming editions of Container Stories. Until then you can also check out my travel blog at www.ExploreAll50.com.