We are such big fans of homemade gifts during the holiday season. And we were so taken by the sweet, creative ideas from Robyn Andrea, the blogger behind Runaway Apricot. Robyn's approach to food is soulful and imaginative with a focus on local, seasonal and healthy foods made from scratch. She invited us into her charming Harlem, NY, kitchen where she cooked up some of her favorite homemade gifts that are simple and affordable, yet inventive and fun. And just look at how she packaged them up in our products. So super-cute! You're going to love giving these tasty treats that definitely evoke the warm spirit of the holiday season!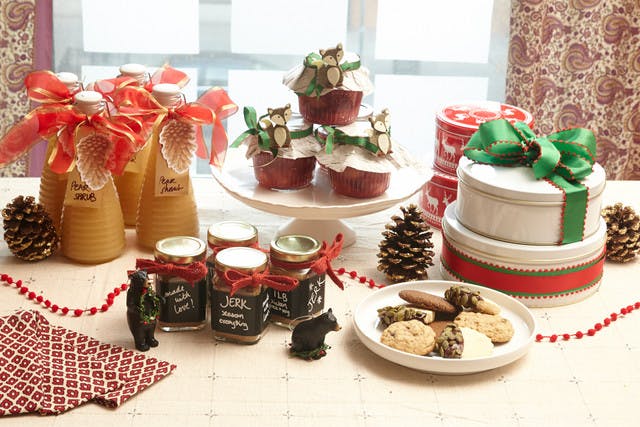 A Simple Cookie Tin - Filled with Love
Robyn says that next to dogs, cookies are a man's best friend. She grew up in a family that loved cookies and she has fond memories of her grandmother making them during the holidays and throughout the year. Her Spiced Chocolate-and-Pepita-Dipped Shortbread Cookies are showstoppers and will last in the tin for several weeks.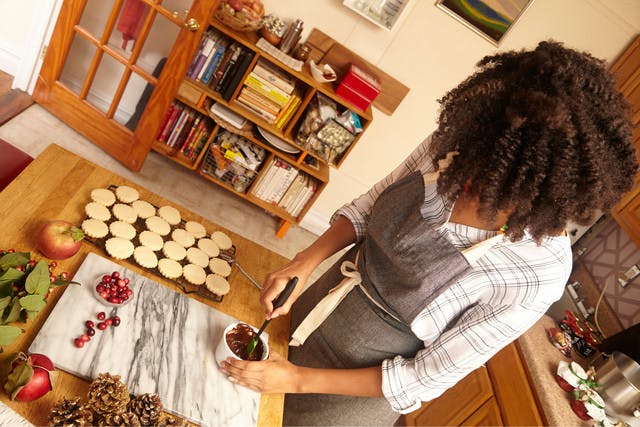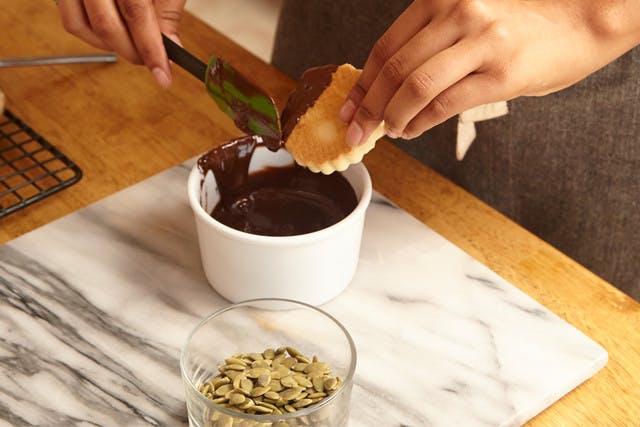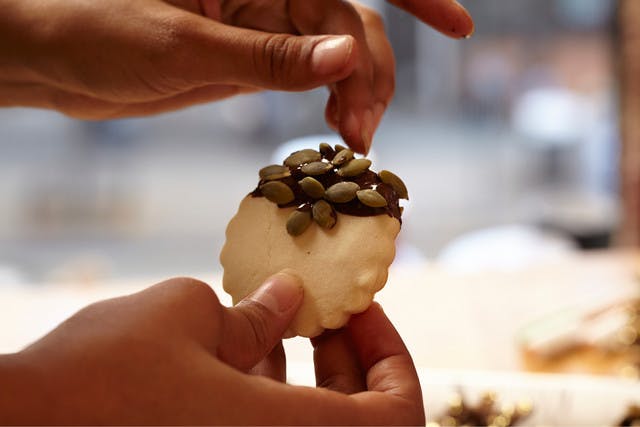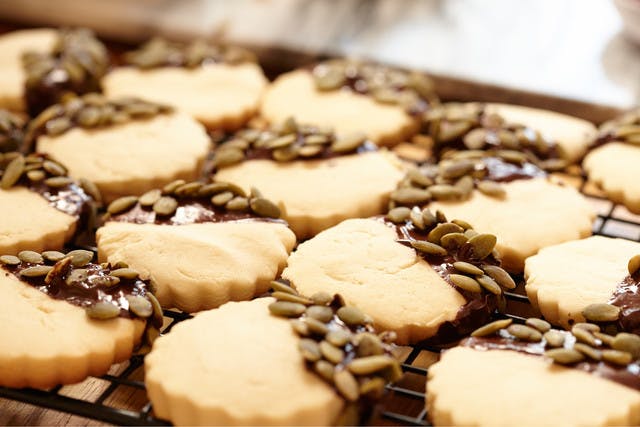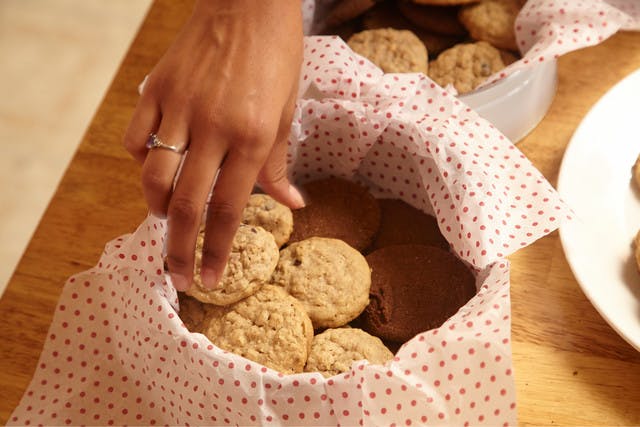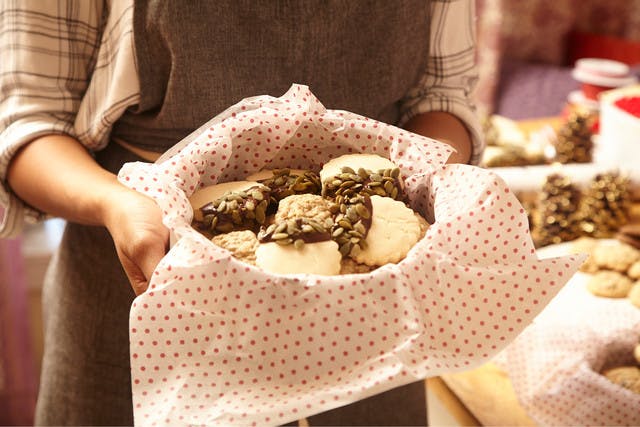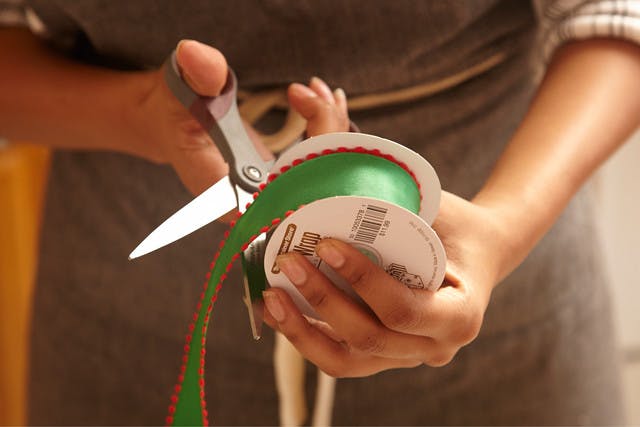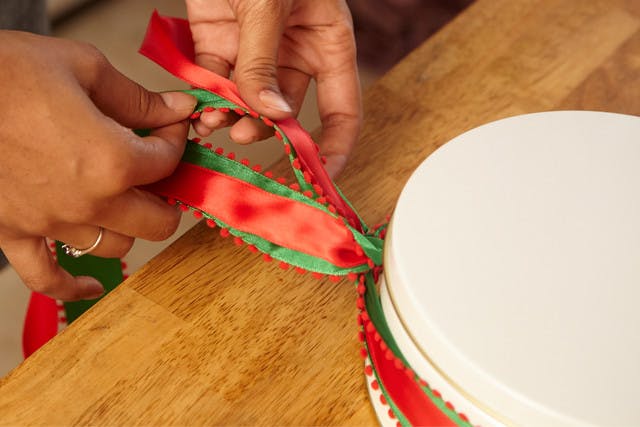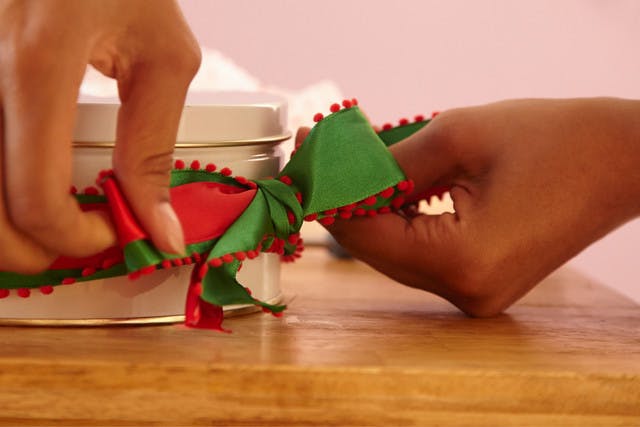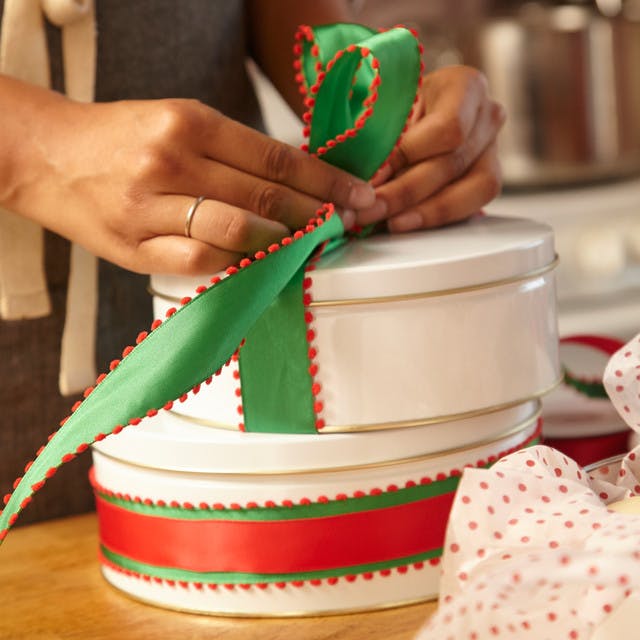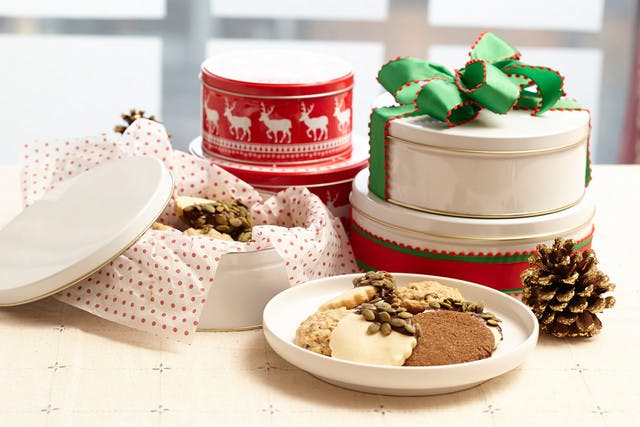 Spiced Chocolate-and-Pepita-Dipped Shortbread Cookies (Makes about 3 Dozen)
1 cup butter, softened
3/4 cup powdered sugar
1 teaspoon vanilla
2 1/2 cups all-purpose flour
1 cup semi-sweet chocolate chips
1 teaspoon ginger
1/2 teaspoon cinnamon
1/4 teaspoon nutmeg
1/4 teaspoon sea salt
3/4 cup pepitas (hulless pumpkin seeds)
Heat oven to 350° F.
In a large bowl, beat butter, powdered sugar and vanilla until smooth.
Stir in flour until just incorporated. If the dough is too crumbly, mix in up to 4 tablespoons of water, one at a time, until the dough comes together.
On a floured surface, roll out dough to 1/2" thick. Cut into small shapes with a cookie cutter or knife. Place cookies 1/2" apart on ungreased cookie sheet. Bake for 14-16 minutes, or until cookies are set and bottoms are light golden brown. Remove cookies to wire rack and cool completely, about 30 minutes.
Add chocolate chips and olive oil to a wide-mouthed mug or heatproof glass. Microwave for 30 seconds, stir, then microwave for another 30 seconds until fully melted. Stir in cayenne, coriander, cinnamon, sea salt and allspice.
Dip each cookie in mug of chocolate to coat half-way and wipe excess along rim back into cup. Then, dip in pepitas to cover chocolate. Set on wire rack to cool completely. Store for a few days in a tightly sealed container.
Other cookies pictured:
Christmas Morning In A Jar
Robyn says that many folks don't realize that during the holidays you can still go to the store and get fresh produce to preserve. Seasonal cranberries are a perfect example. She loves this compote because it comes together easily and can stay fresh for a number of months. Great for Christmas morning, it pairs perfectly with pancakes and French toast, and also would be great on pork tenderloin or as an alternative to cranberry sauce with the holiday turkey. She loves this gift for co-workers.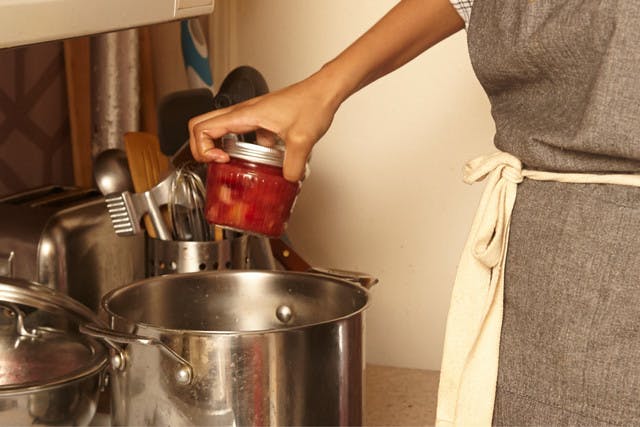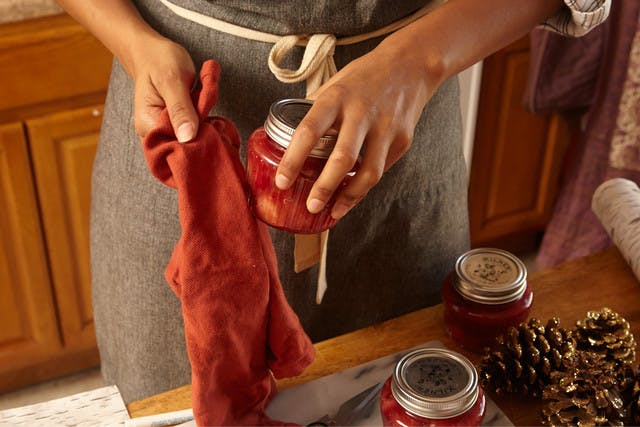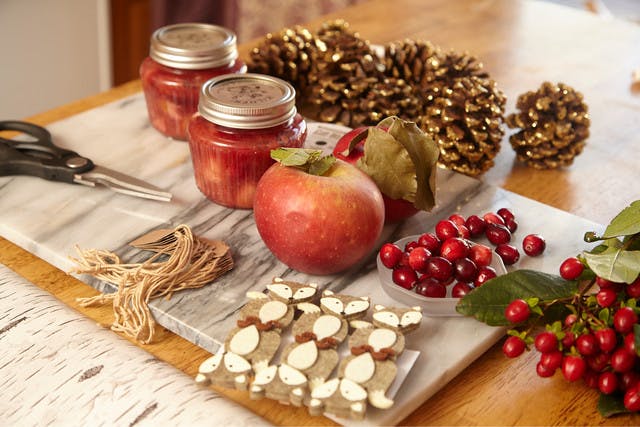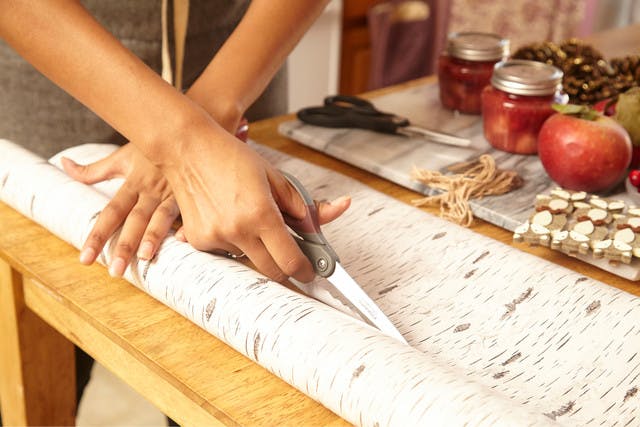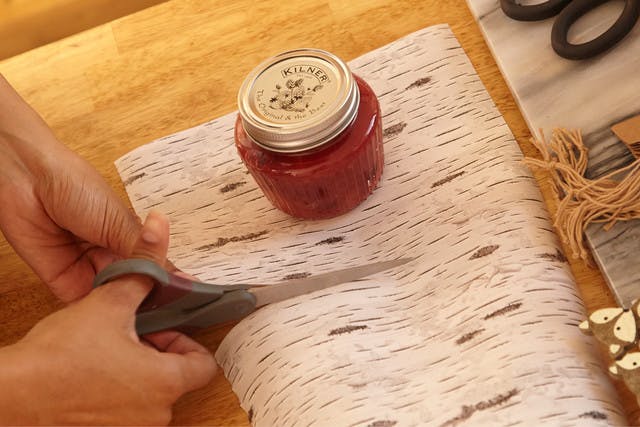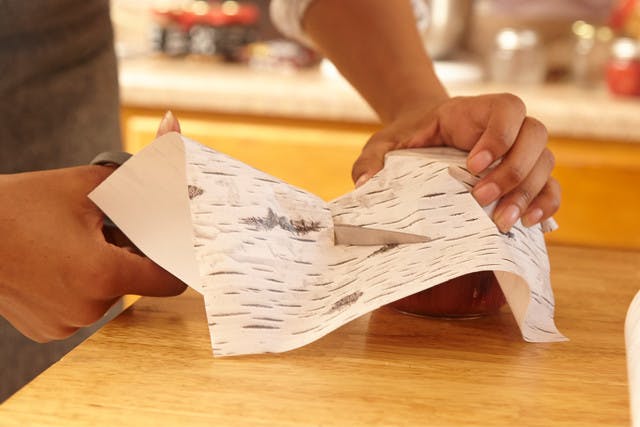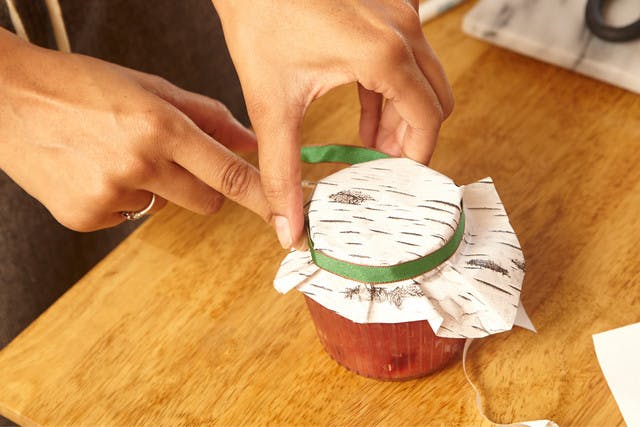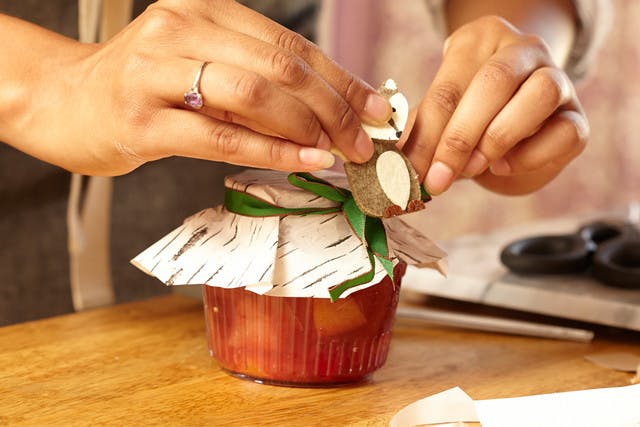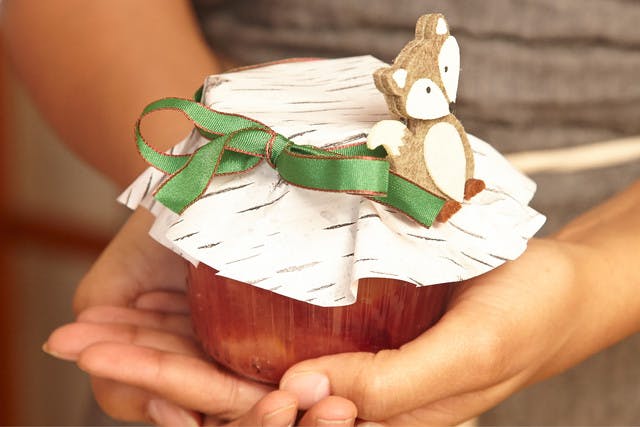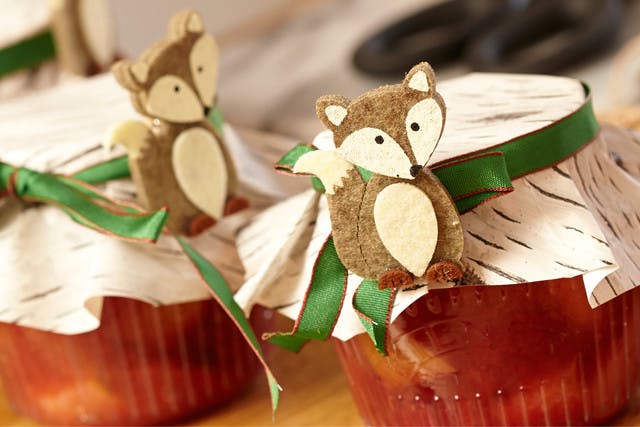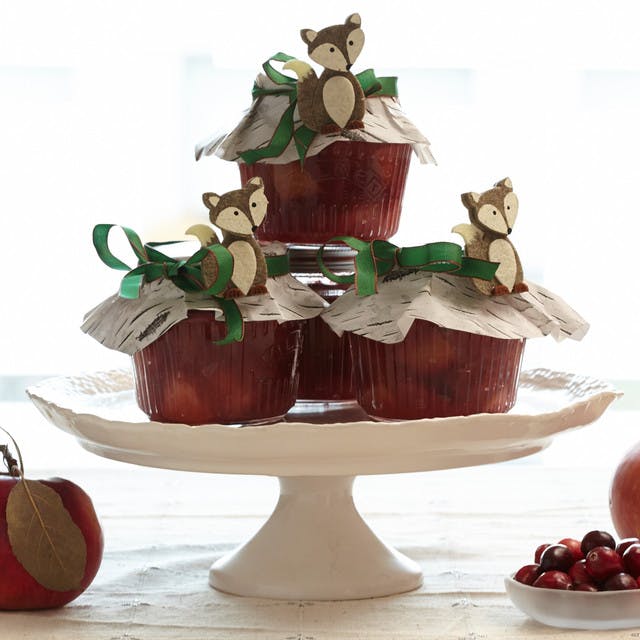 Cranberry Apple Compote
4 large apples, peeled, cored and diced
1 1/2 cups fresh or frozen cranberries, rinsed and picked over
1/2 cup fresh orange juice
1 cup granulated sugar
1 Tablespoon grated fresh ginger
1 teaspoon cinnamon
1/4 teaspoon nutmeg
1 lemon, for zest and juice
Wash four 8.5 oz. glass preserve jars and lids with warm, soapy water. Keep warm until ready to fill.
Combine apples, cranberries and orange juice in a saucepan over medium-high heat. Simmer, stirring occasionally, until the apples soften and the cranberries pop, about 5 minutes. Once most of the liquid has evaporated, add sugar, ginger, cinnamon, nutmeg, and the zest and juice of 1 lemon. Continue to stir and cook for 8-10 minutes until compote thickens and fruit is very soft.
Funnel compote into prepared jars, tapping against counter to remove air bubbles. Wipe rims clean and seal jars tightly with lids. Bring water to a boil in a large pot. Process the jars in a hot water bath for 15 minutes with a closed lid. Remove the pot from heat, remove the lid, and let the jars cool gradually. Once processed, compote will keep for a few months without refrigeration.

Spice it up!
Robyn says this is the best spice ever because it works well on almost everything. Great for all types of meats and vegetables, it's a great gift for anyone - especially the guy who likes to grill!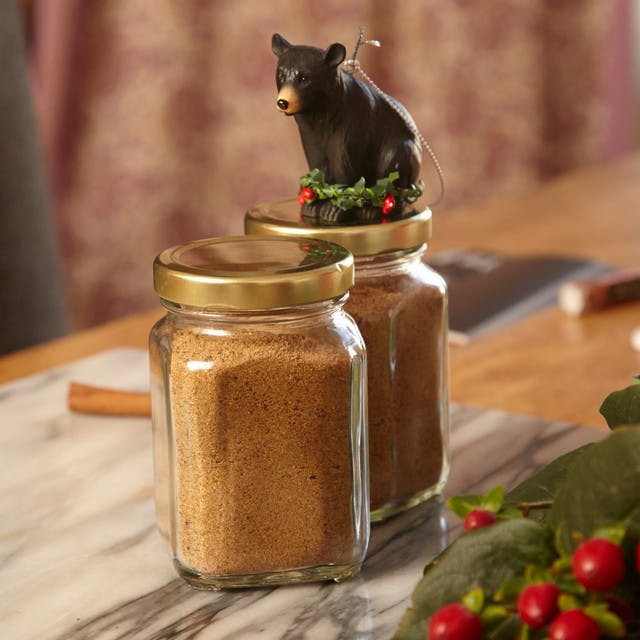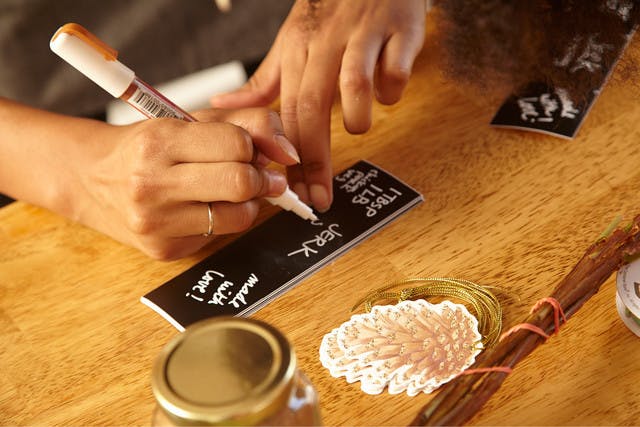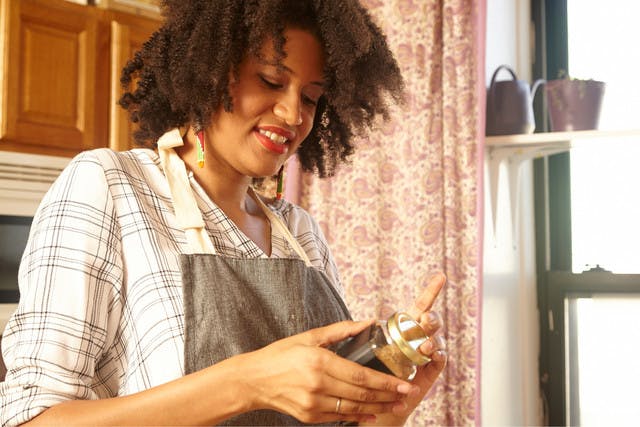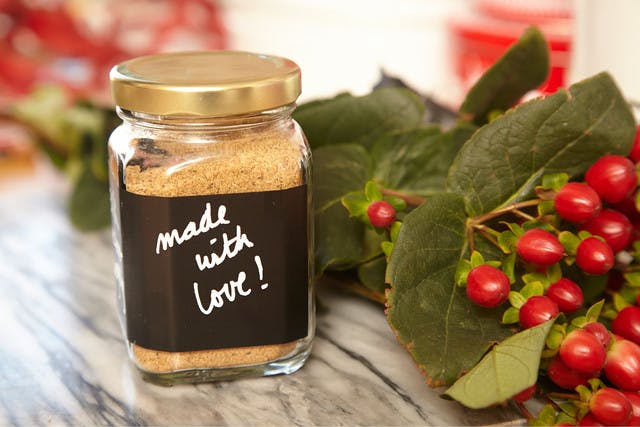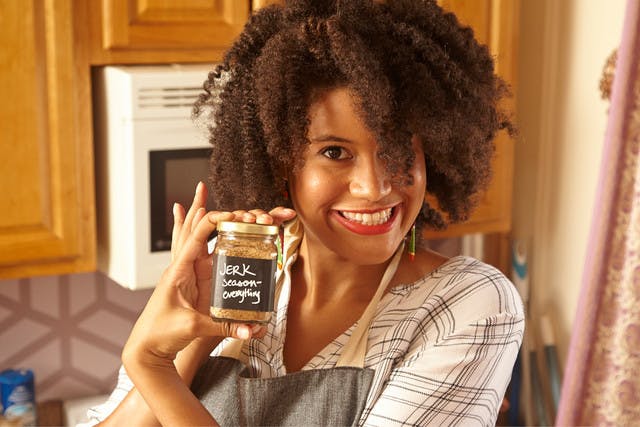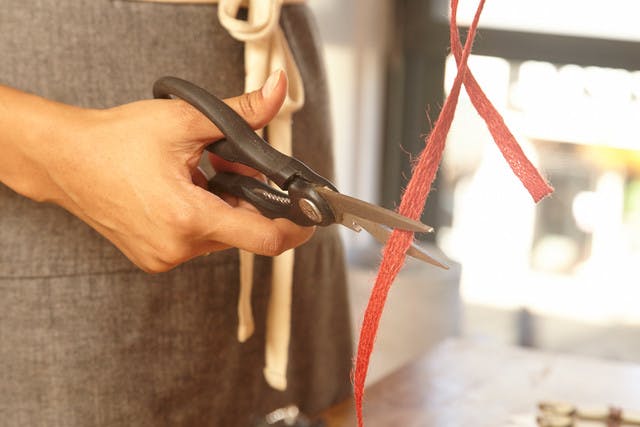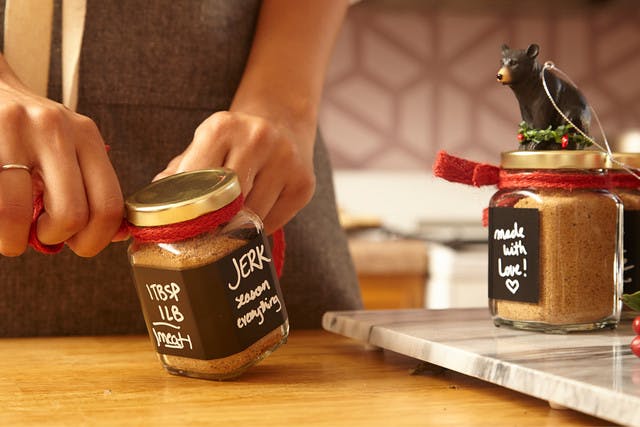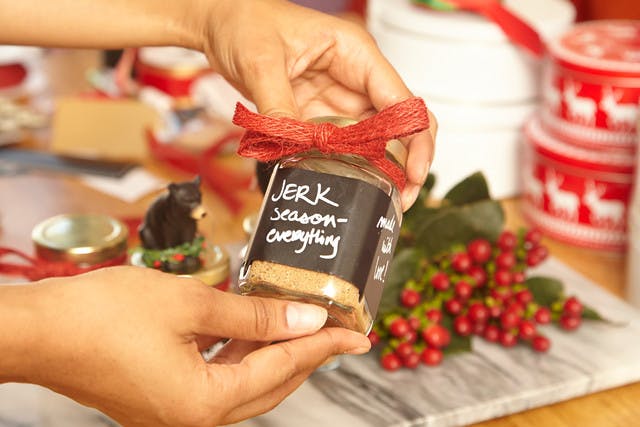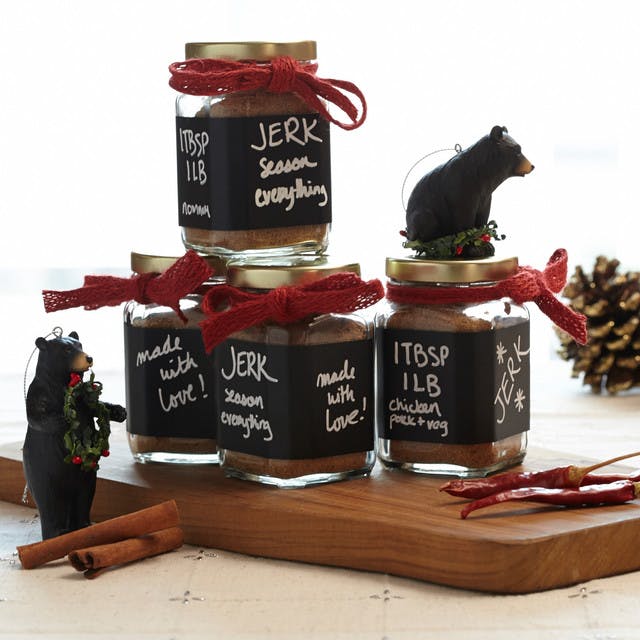 Jerk Season-everything
6 Tablespoons light brown sugar
4 1/2 Tablespoons salt
4 1/2 Tablespoons ground coriander
3 Tablespoons ground ginger
3 Tablespoons garlic powder
4 1/2 teaspoons ground allspice
4 1/2 teaspoons ground black pepper
4 1/2 teaspoons ground cayenne pepper
1 Tablespoons ground nutmeg
2 1/4 teaspoons ground cinnamon
Combine all of the spices in a large container. Whisk or close the lid and shake vigorously to combine. Funnel into four 6.5-oz. jars, or the equivalent, and seal tightly.
Use 2 Tablespoons per pound for chicken, pork and salmon. Use about 1 Tablespoon per pound for roasting shrimp, lighter fishes, potatoes, carrots and squash.
Here's one of Robyn's favorite recipes that incorporates the Jerk Seasoning:
An Out of the Box Hostess Gift - Bottled Up!
Robyn loves her Pear Ginger Shrub for a unique hostess gift. It's a great alternative to a gift of wine or champagne and is a fun substitute for apple cider. Shrubs are actually "drinking vinegars" that are great mixed with soda or with bourbon or gin for a cocktail. Robyn's pear version looks beautiful, tastes delicious, and will last in the fridge for several weeks. She says it's an unexpected gift for folks who are adventurous and loves to try new things.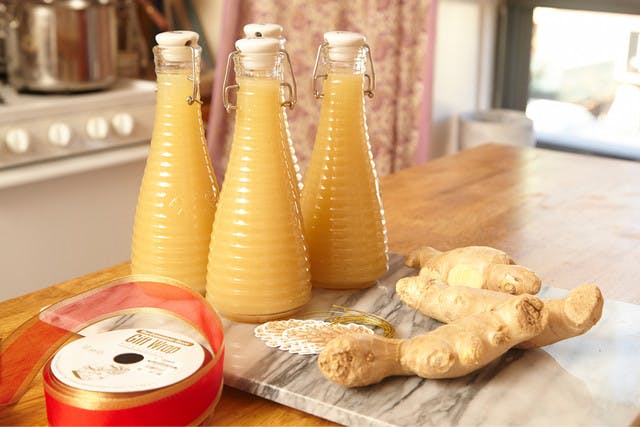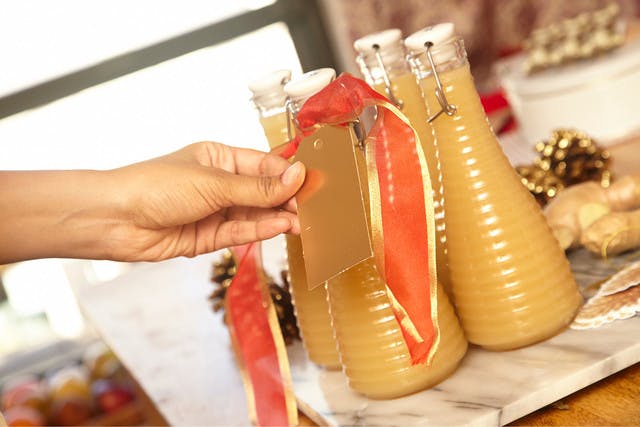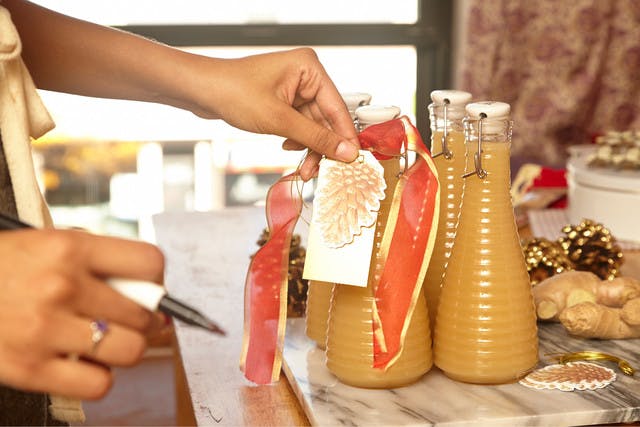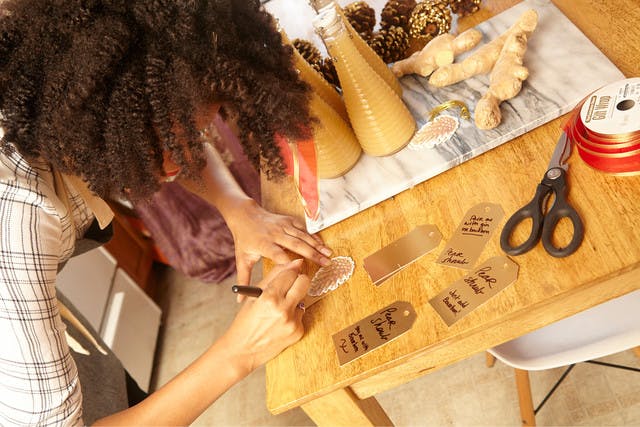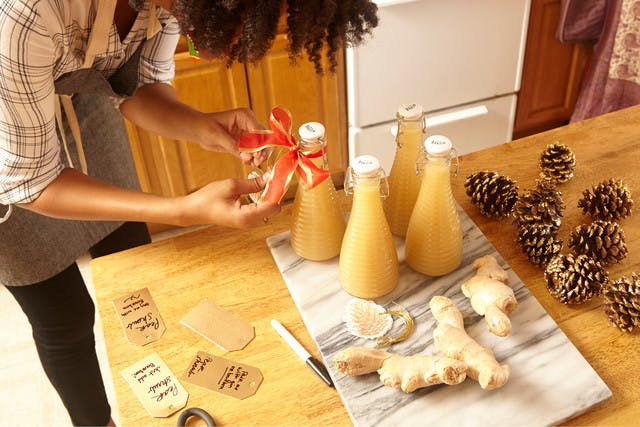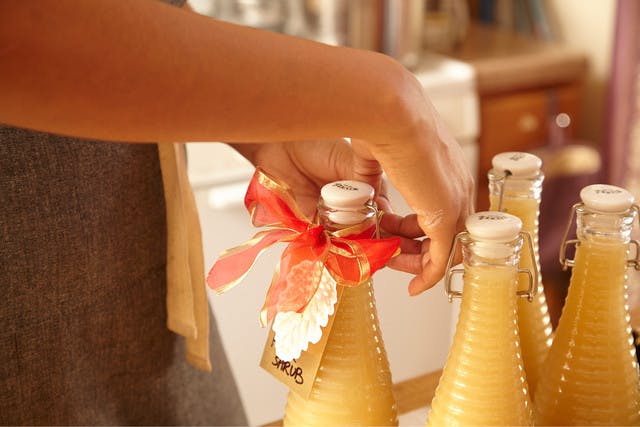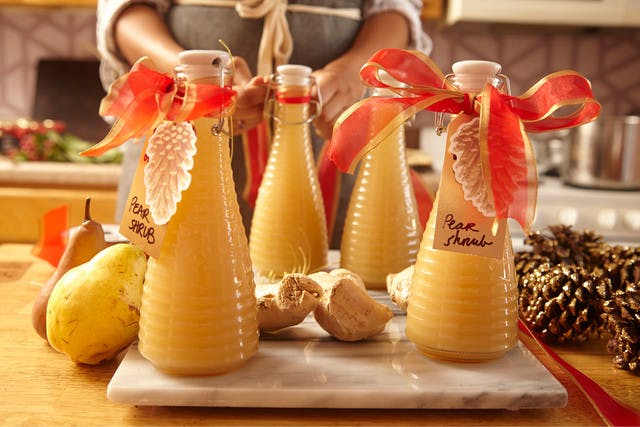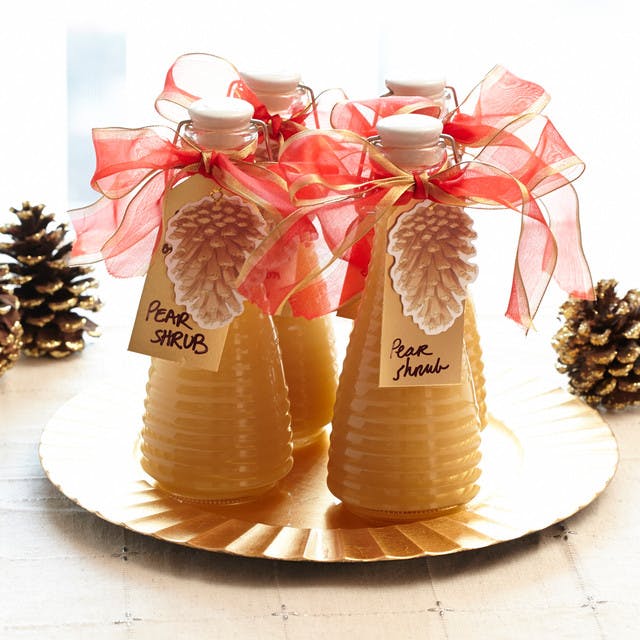 Pear-Ginger Shrub
4 pounds pears, bruised "seconds" are fine
1 cup grated ginger
8 cups sugar
8 cups apple cider vinegar
Wash the pears, core, and chop into small chunks. Combine with ginger and sugar in a large jar or non-reactive bowl. Crush the fruit and stir to combine. Move to the fridge and stir or shake every 4 hours (except when you're sleeping) for the first day.
Once the fruit is surrounded by juice and syrup, strain through a fine mesh sieve, pressing lightly on the fruit to expel as much juice as possible. Reserve solids for another use. Scrape any remaining sugar from the bowl into the juice. Add vinegar and whisk to combine until sugar is dissolved.
Funnel mixture into four clean jars, leaving a bit of room at the top of each. Seal, shake well, and refrigerate. Check the mixture periodically and shake to combine if any sugar settles on the bottom. Shrub will be best after at least 2 weeks and up to 2 months as the flavor will mellow with time.