Each holiday season, our collection of fabulous Stocking Stuffers arrives in-stores and on our site. Our Stocking Stuffer buyers and our President and Chief Merchandising Officer, Sharon Tindell, work year-round traveling around the world to find the perfect little tea infuser, tech-helper and kid-friendly toy for every loved one on your list.
This year, however, we've made these Stocking Stuffers even better with a fabulous two page spread of 10 "can't resist" Stocking Stuffers that we think are going to be perfect for that extra "hard to buy for" person on your list (we all have those people who just seem to have everything). Check out each product below!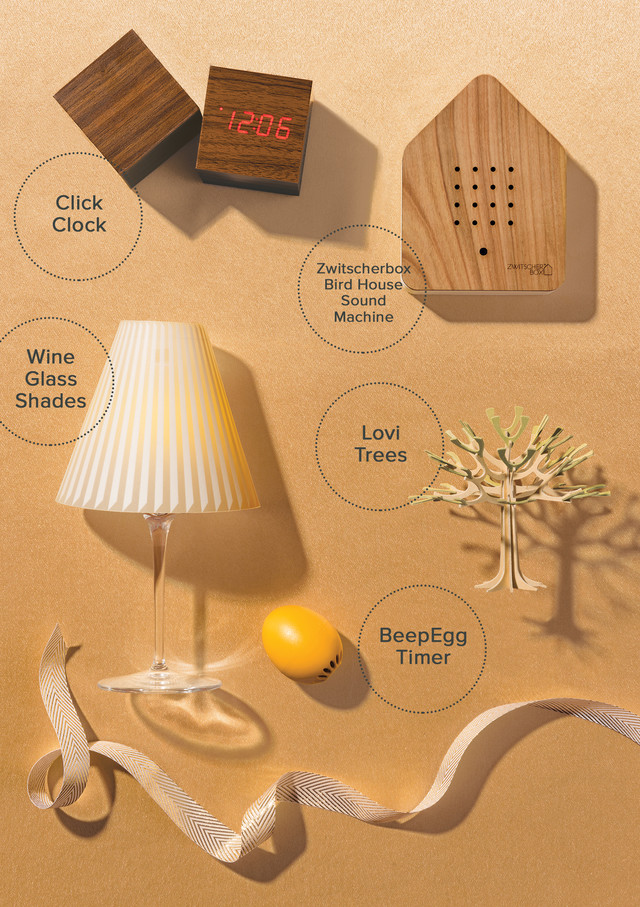 Click Clock A good night's sleep is becoming more and more important to everyone, and there's nothing worse than being disrupted by a glaring clock or smartphone when you want to check the time. We love this innovative clock that lets you know the time, date and temperature with a gentle tap, allowing you to fall back asleep easily.
Zwitscherbox Sound Machine This fun and whimsical Zwitscherbox Sound Machine is a great reminder to slow down during a busy day. As you pass by in a well-lit room, calming birds chirp and sing lightly, providing a moment of peace.
Wine Glass Shades Create an elegant party setting in any environment, even at a picnic, with our Wine Glass Shades. Just add a votive candle to any stemmed wine glass and top it with this "lampshade," and voila! You've set the mood for a lovely evening. It's the perfect gift for any of the wonderful hosts and hostesses on your list.
Lovi Tree We love the idea of bringing a touch of nature inside. This beautifully proportioned miniature Birch Lovi Tree from Finland is at home on your desk or on a shelf to provide gentle inspiration of the symmetry of nature indoors. It's an elegant, do-it-yourself project as you put the tree together. Plus, a portion of the proceeds goes towards tree-planting efforts in Finland.
BeepEgg Timer We think that a perfectly cooked egg makes for a perfect morning. By simply dropping this clever timer into boiling water with your eggs, it will play "oh Susanna" when soft boiled, "Take Me Out to the Ballgame" at medium boiled and "Hail, Hail, the Gang's All Here!" at hard boiled. A sunny way to start the day.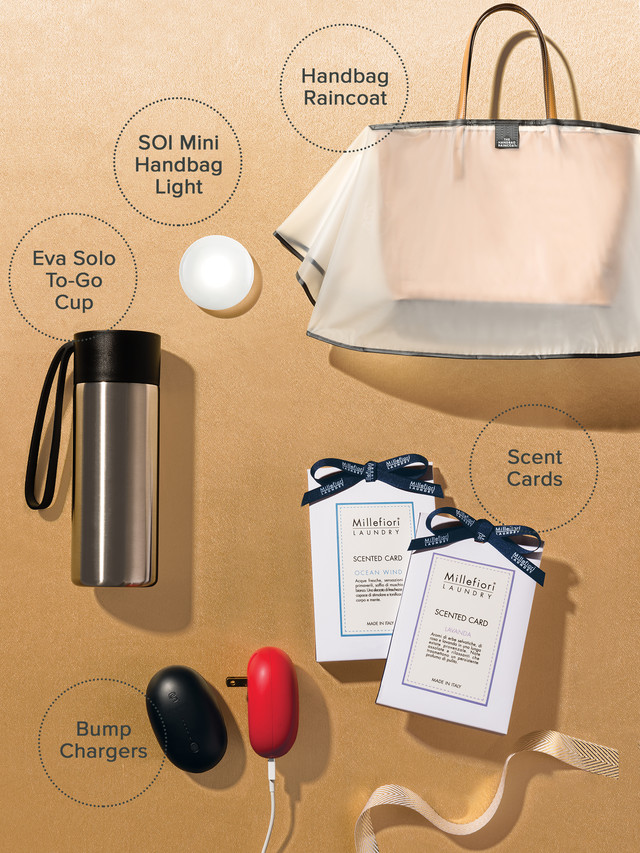 Sol Mini Handbag Light Need a little help finding things that always get "lost" in your handbag? This beautifully shaped disk of light softly illuminates the interior of your bag with the movement of you hand. After 10 seconds, it turns off automatically so you don't waste any battery.
Handbag Raincoat For those who invest in a great purse, and want to ensure that it carries well throughout the years, we have the solution! Never fear for your precious handbag in downpours with this smart accessory that unfolds and slips over your handbag's handles instantly.
Eva Solo To-Go Cup Your favorite friend's specially brewed coffee or tea is deserving of this beautifully Danish designed carafe. It's one-touch opening and unusually long lasting thermal qualities make this mug a joy to use every day! Plus, it's the perfect size for a car cup holder and its small strap makes it a breeze to keep your hands free.
Scented Cards If you like to give gifts that make someone feel ever-so-pampered, you'll adore these cards that are infused with signature scents form the Italian fragrance house Millefiori. They're perfect for dresser drawers to brighten each morning.
Bump Charger We've loved the designs of Karim Rashid for years and his signature touch takes function and form to a higher level with this smart phone charger. The Bump Charger provides up to 1.5 times rechargeable power to your device, and the prongs fold flush within the ultra-sleek, pebble like shape when not in use.
Let us know which Stocking Stuffer is your favorite, below! And let us know who you're buying what for.