Everyone has that "small space" that they just don't know what to do with. For some it's an oddly shaped pantry that has an insane ability to store everything just imperfectly, or a guest closet that has the potential space to work well, but built-ins are getting in the way. For most, it's probably because their space is just a bit too small.
It can be hard to know where to start when trying to make the most of any small space, but we've made it a little easier for you by rounding up our 10 favorite products that work to maximize every inch of space throughout your home. Check them out and shop, below!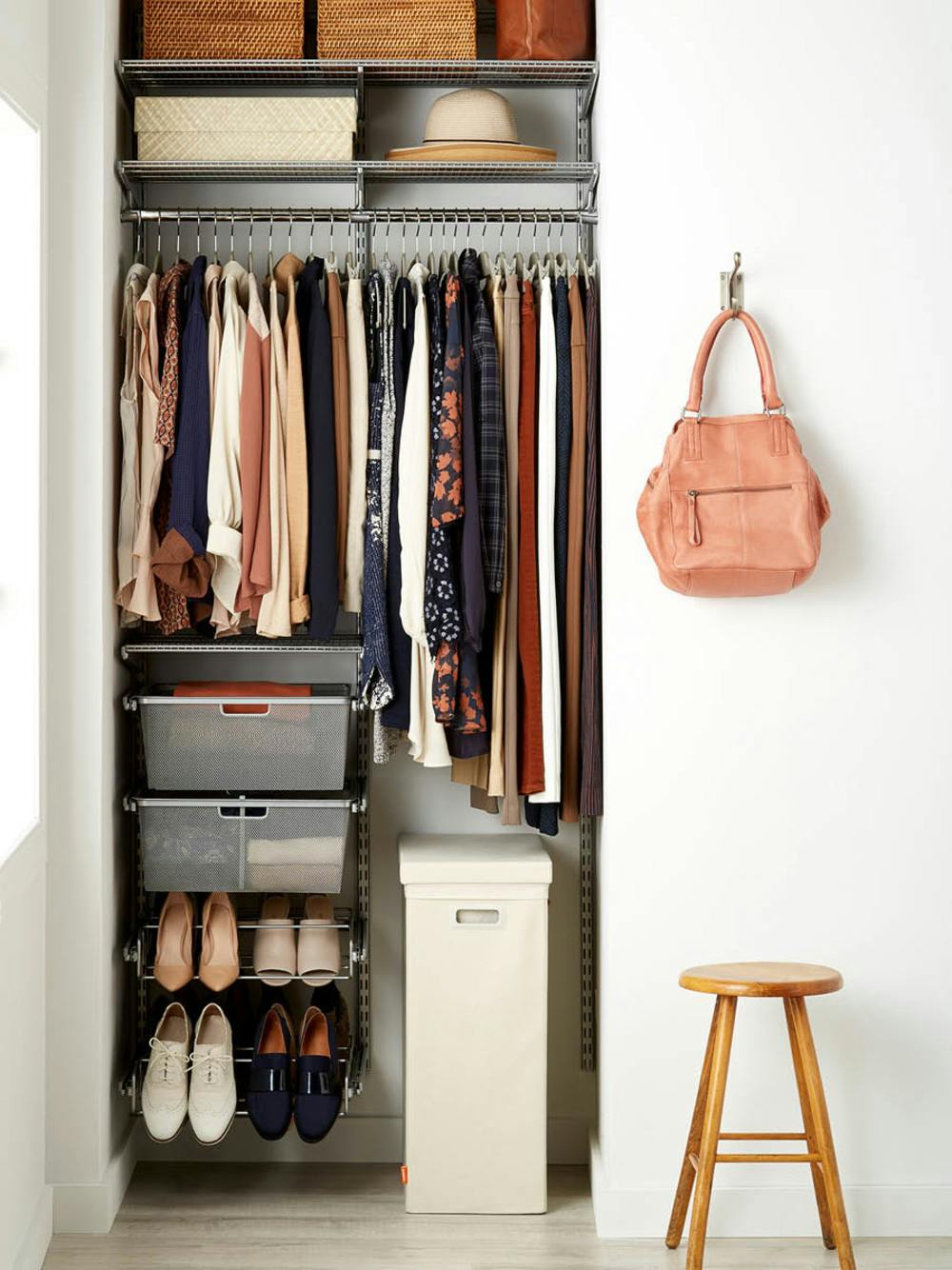 1. A 3 Foot Closet That's Big On Space
This small but mighty closet can store short- and long-hanging clothing, folded sweaters, shirts and undergarments, heels, tennis shoes and flats and have enough space for a subtle laundry hamper. With the help of our Platinum elfa Closet, making the most of the width, and especially the height of this space, was easy. Optional dividers within the Mesh Drawers create even more organization where it counts. Plus, our Linen Poppin Laundry Hamper not only holds all of your dirty laundry, it also looks quite nice within any space.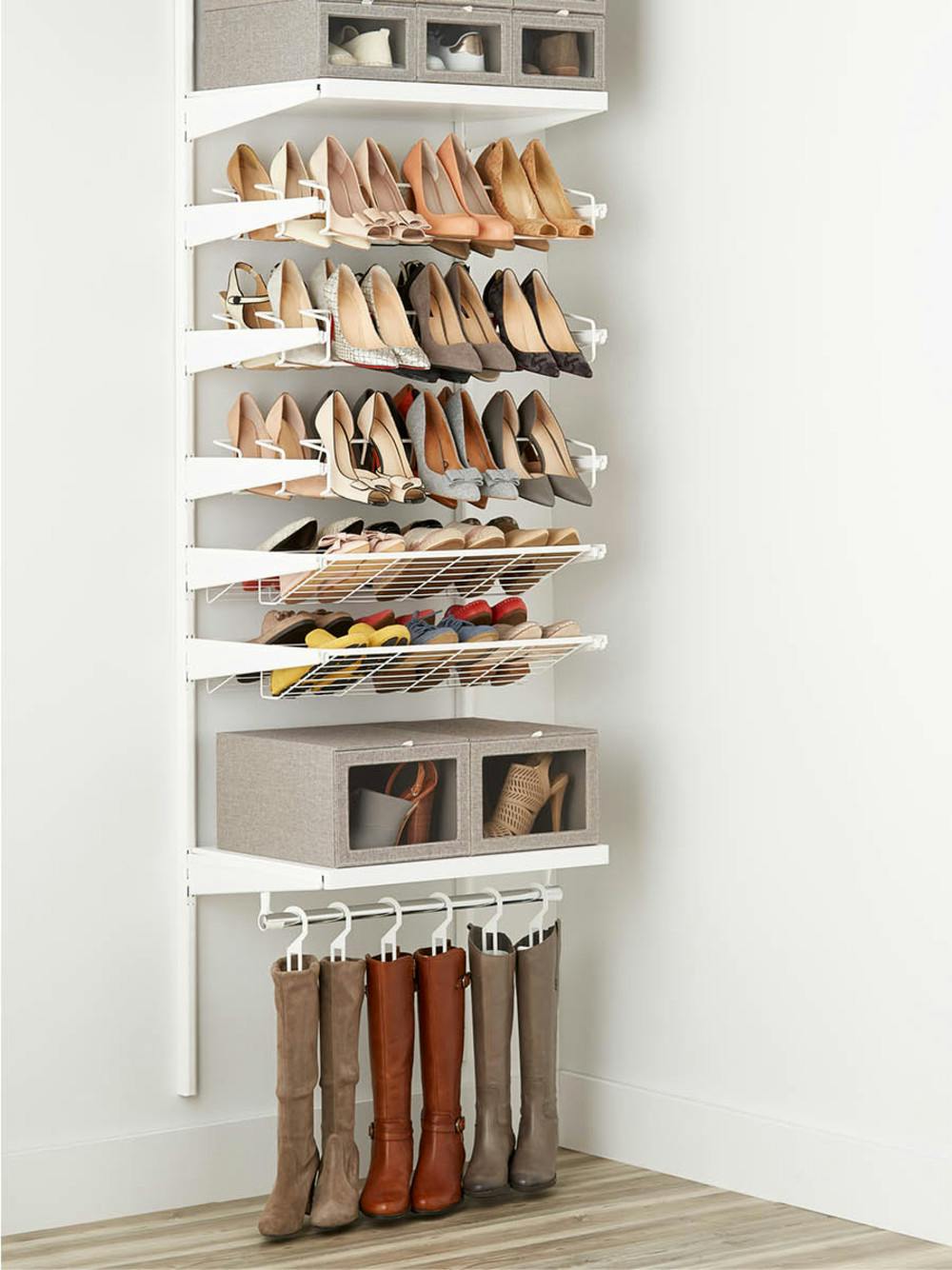 2. A Shoe Wall that Works
This shoe wall can accommodate over 40 shoes of varying heights and widths within just three feet of space. Our White and White elfa decor Shoe Wall comes with Smooth Gliding Shoe Racks to easily access your heels, boots and flats that are working to save space in the back of the solution. Two open shelves are perfect to store our Grey Drop-Front Shoe Boxes on, and an elfa closet rod helps hang your boots to store vertically in order to better preserve their shape.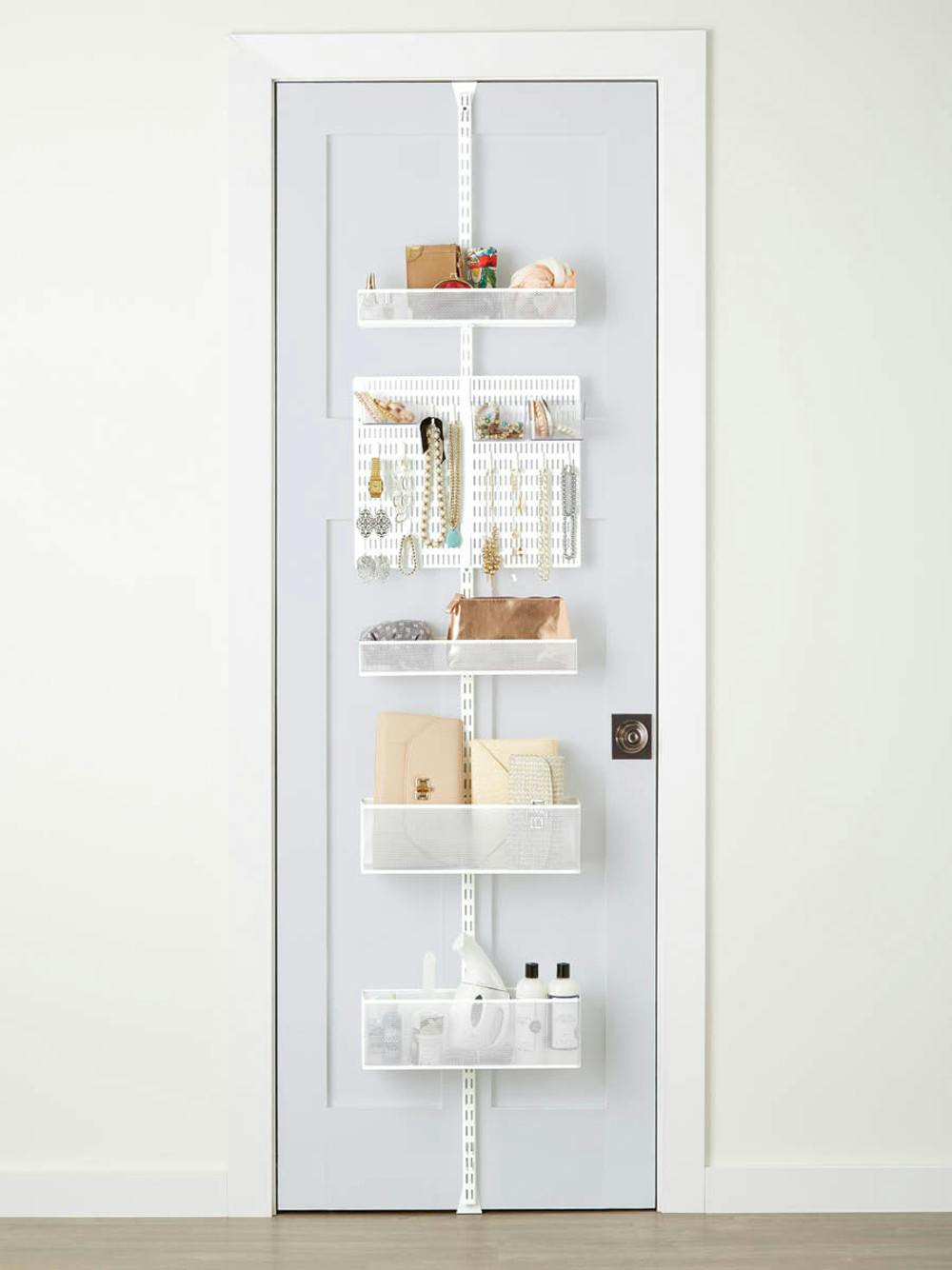 3. Store More Behind a Door
One of our favorite solutions is this clever elfa Door & Wall Rack. Though it can be used on the back of any door, for any purpose, our closet solution here is perfect for accessories and laundry necessities. Four mesh baskets in two sizes provide space for handbags, pouches - even lint brushes and garment care items. The Baskets and Hooks can be easily repositioned to fit your changing fashion needs, and it's easy to remove a Basket if you need to take your accessories to another area. You can also customize your own solution depending on your additional needs.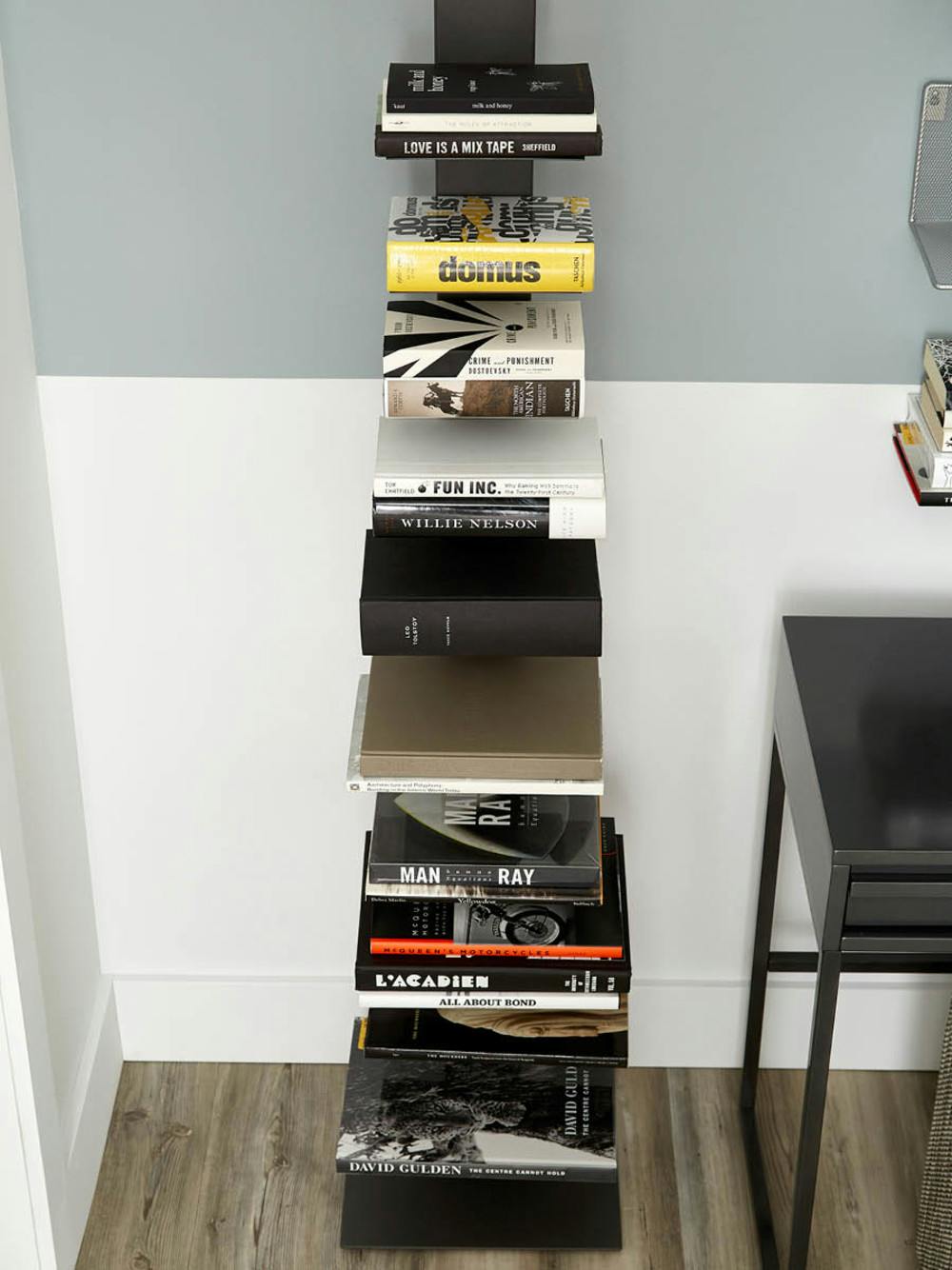 4. A Modern Bookcase
Store all of your books without the bulkiness of a traditional bookcase with our Italian-designed and manufactured Sapien Bookshelf. 10 shelves hold stacks of books horizontally to occupy minimal floor space. And, when fully loaded, the bookshelf virtually disappears behind the books for the ultimate expression of minimalism. An all-steel construction and weighted base keeps it looking beautiful even under strain.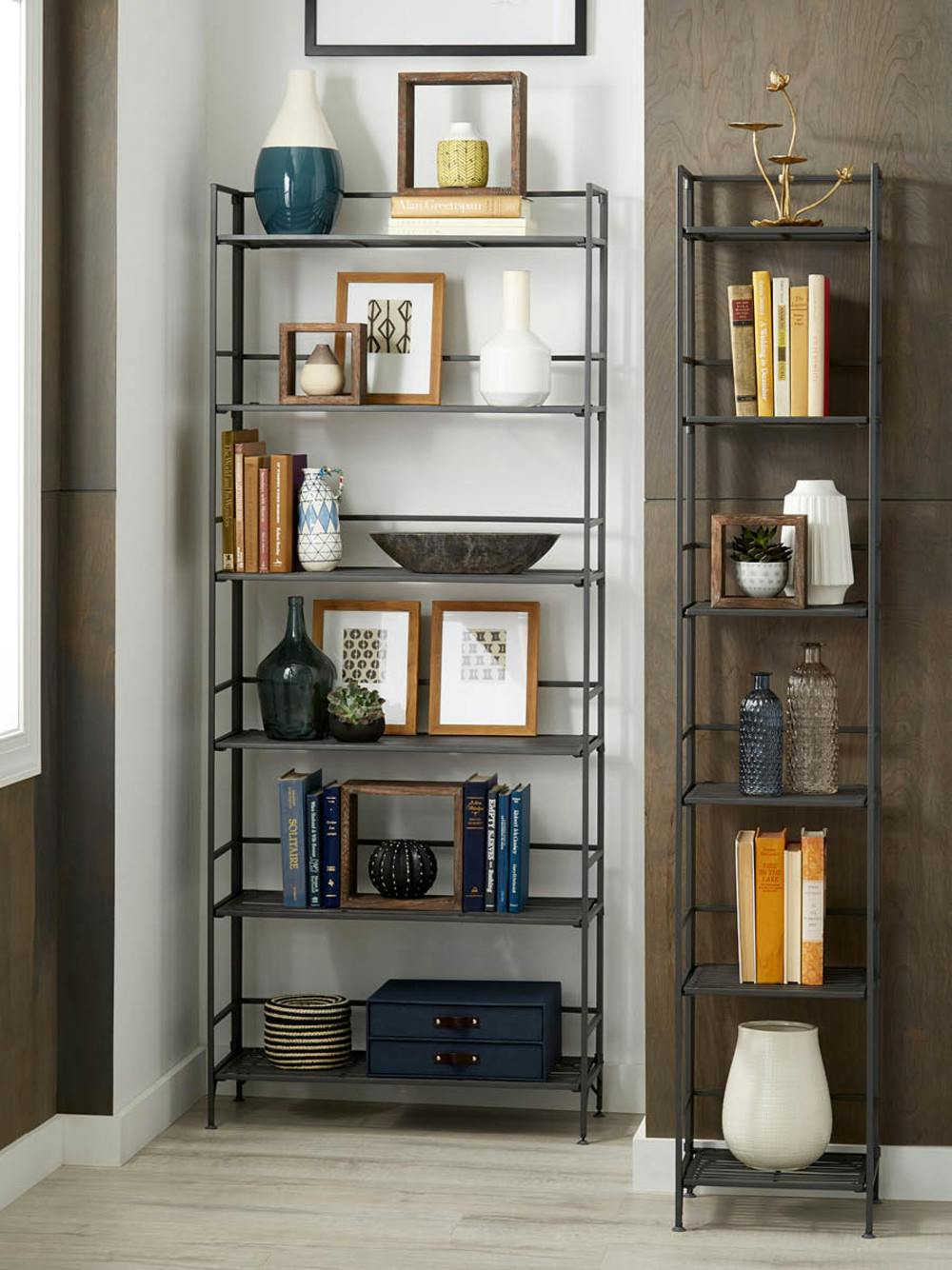 5-6: An Unforgettable Folding Bookcase
For the ultimate in "instant" storage anywhere and everywhere, look no further than our 6-Shelf Iron Folding Bookcase and Tower. Designed to our specifications for economical, attractive storage of books, magazines, tchotchkes, plants, canisters and cookbooks, or toiletries and cosmetics, our Bookshelf is an unbeatable value. It's easy to transport and store, folds flat when not in use and you can easily fold out to create a wealth of storage space in the den, library, dorm room, kitchen, bath, or bedroom in seconds.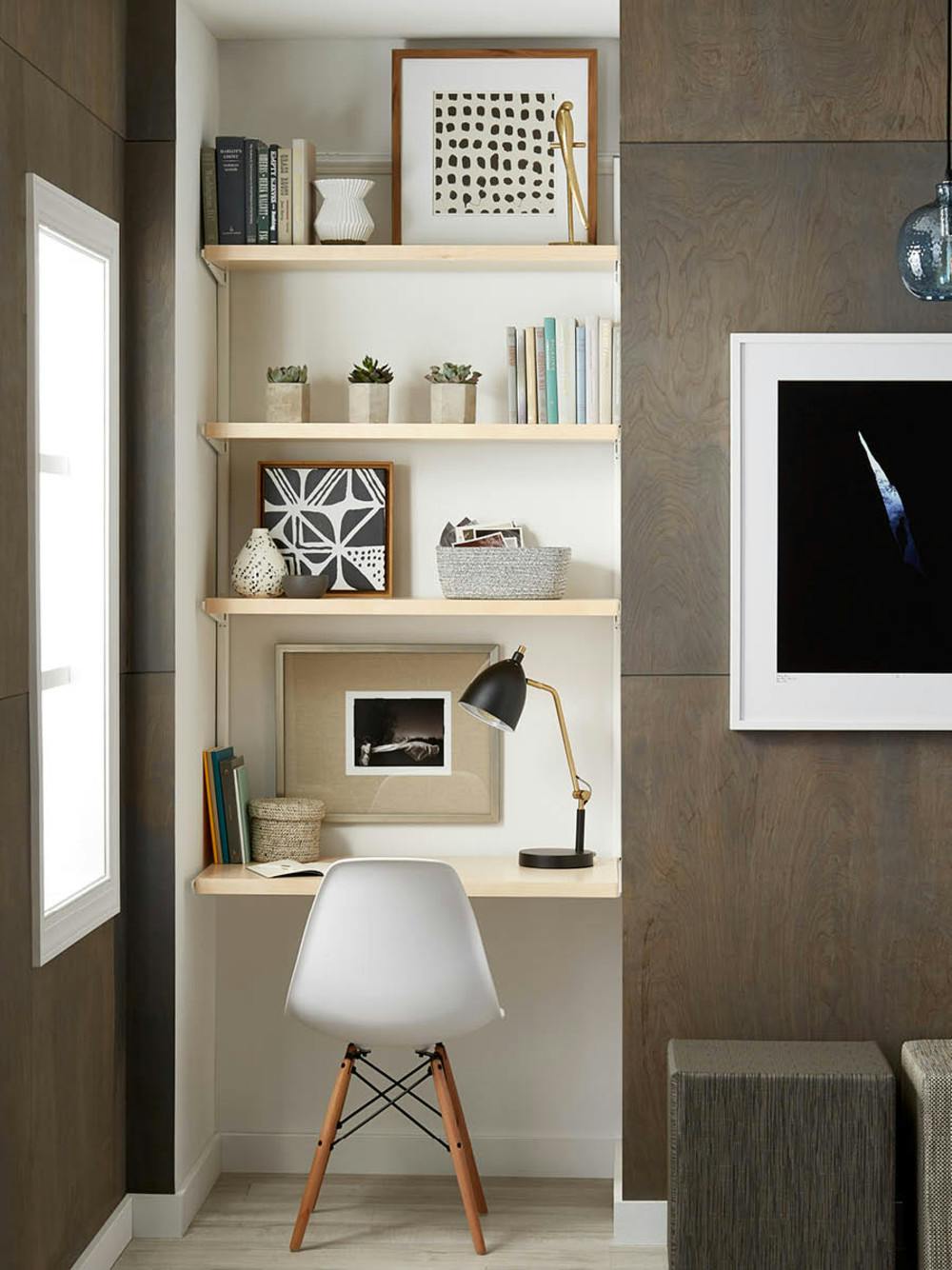 7. Office Anywhere
With just a few simple shelves, we created an office out of our Birch elfa decor shelving. Each shelf is easily adjustable with your changing needs and the solid construction means it can stand up to wear and tear. We finished out the space with our Jute Storage Boxes and Laguna Cotton Fabric Storage Bins for easily accessible storage that also looks great on any shelf.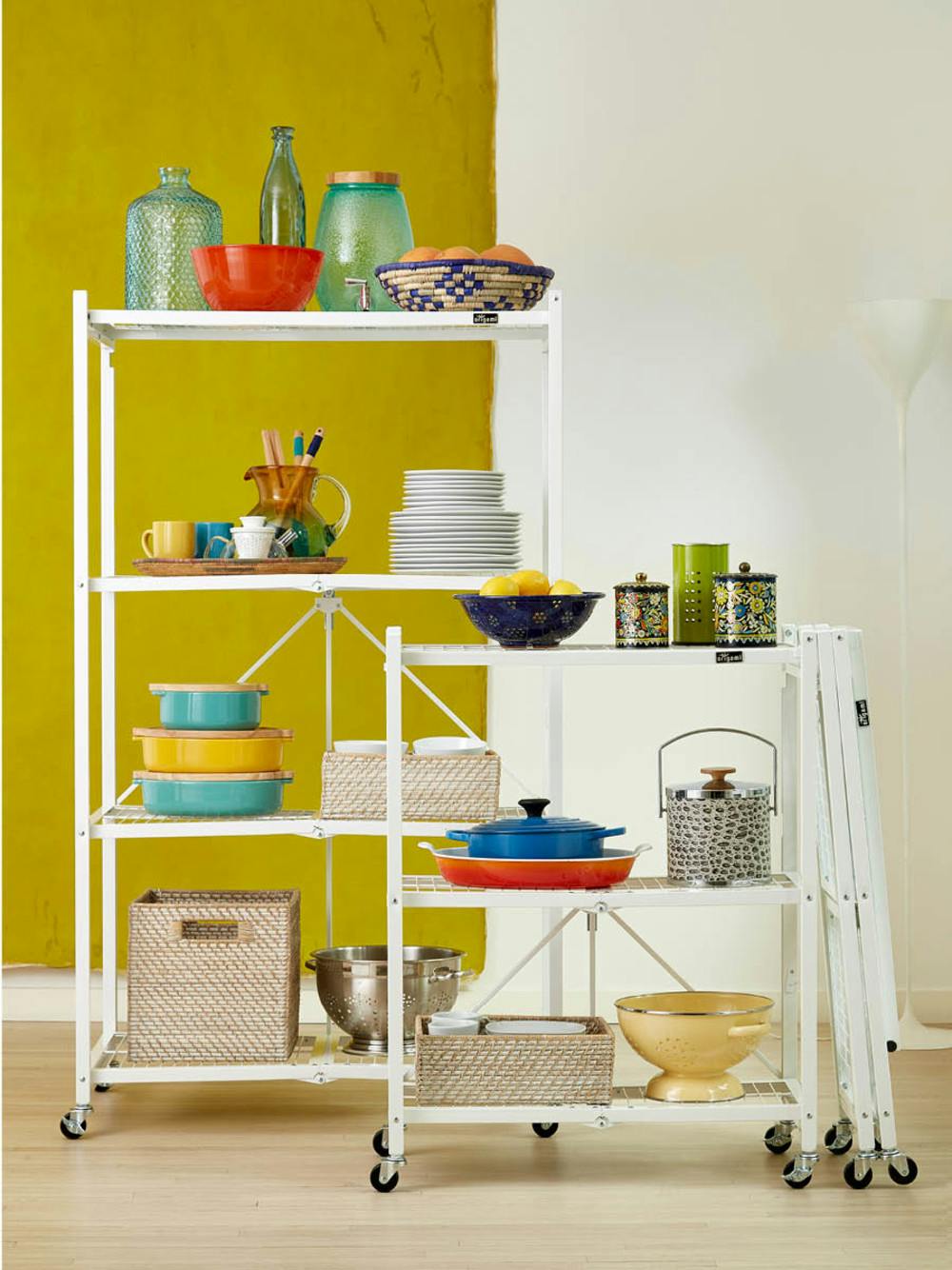 8-9: What Can Your Kitchen Cook Up?
Our Origami 3- and 4-Shelf Folding Racks bring both a delicate aesthetic and lasting design together in one compact place. Constructed of steel, this piece gets its origami name from the ability to fold down for easy storage when not in use so it's perfectly suited to use just when you need it, and store it away when you don't.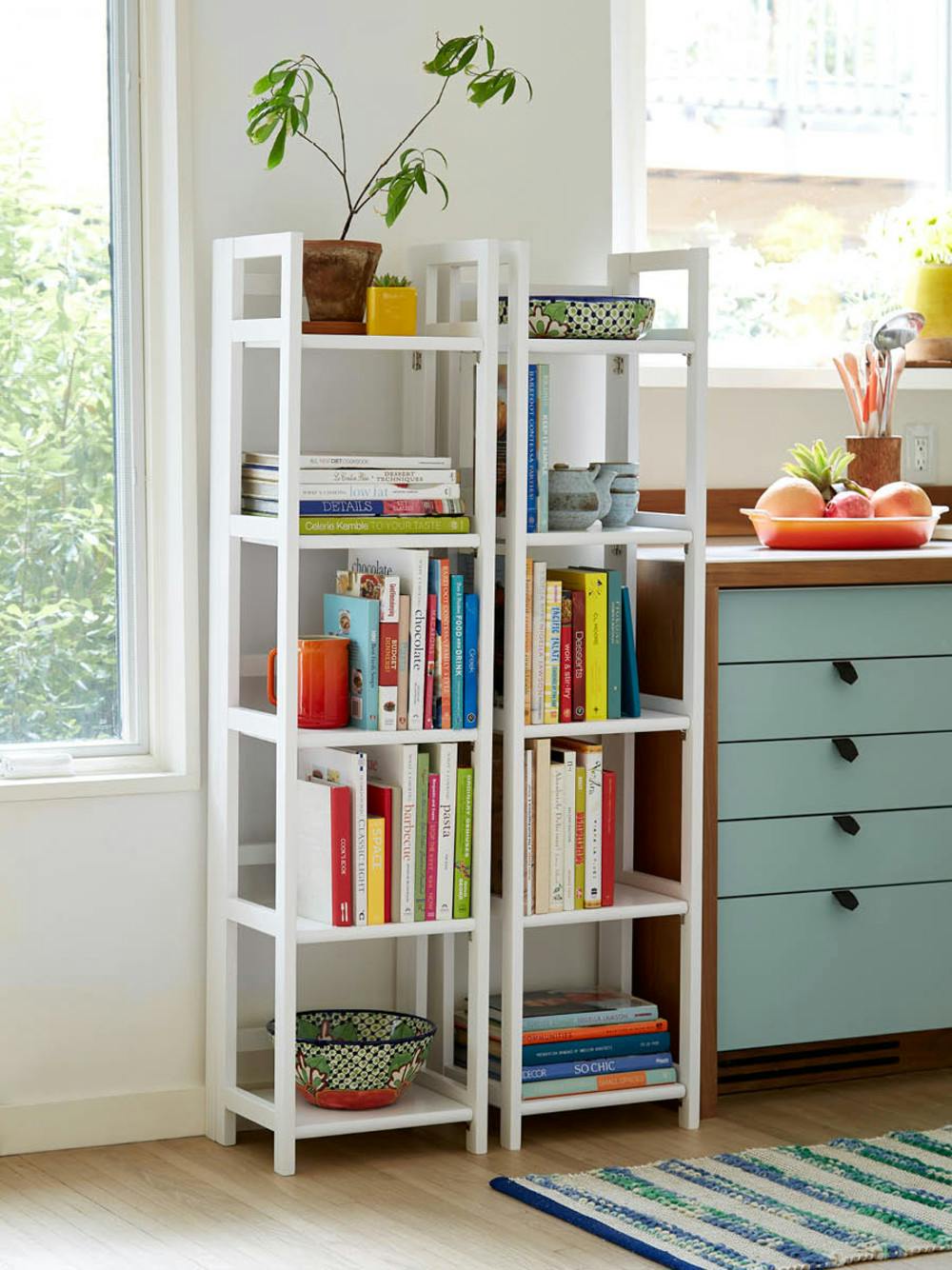 10: Solid, Simple Shelving
Go vertical for even the smallest of spaces with our White Solid Wood Folding Tower. An economical and attractive solution for knick knacks, towels, and general storage, it's also easy to transport or store as the tower folds flat when not in use. The tower features gently rounded corners for a soft, tailored appearance with a small-footprint design that's just at home beside a countertop as it is in a bathroom. Simply fold-out its' five shelves to create a wealth of storage space.
We hope you've found a few small-space solutions that fit perfectly for your storage needs! If you still want to look around, shop all of our shelving options here, 25% off now till the end of our Shelving Sale!