Going off to college or know someone who is? Taking that first step to get ready for dorm life can be a little intimidating. There are tons of rules as to what you can and can't bring, and it might be the first time you're living away from home. Those two things combined with the first year at a college can leave anyone frazzled.
But we're here to help.
If you're questioning where you should even start with your dorm organization or wondering what you even need, check out the space below and shop the room! It's all dorm approved and, we think, pretty stylish too.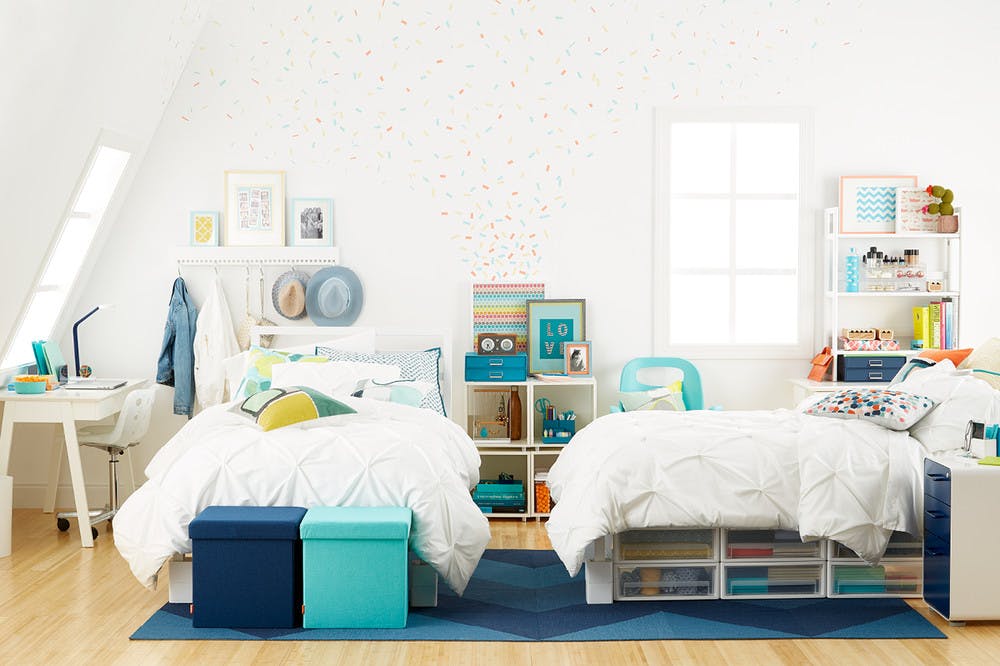 The key to making a dorm feel spacious is using those not-so-obvious areas to store and organize. Whether it's under bed storage, vertical and stackable solutions or products that bull double-duty as both seat and storage, we have the essentials you need to maximize your dorm's space.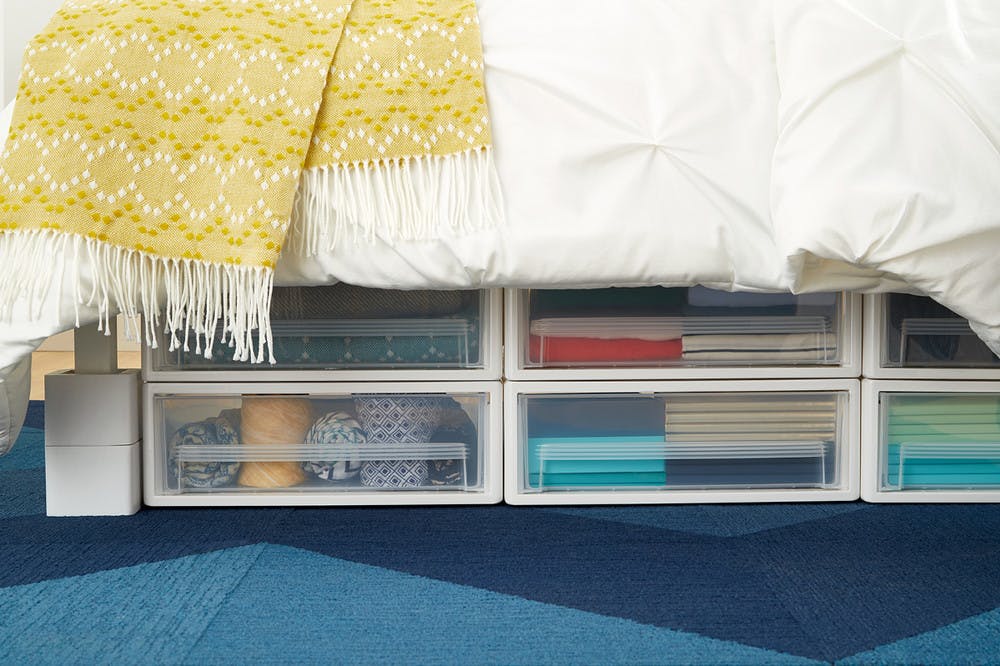 An oversized capacity makes our Under Bed Drawer an go-to solution for storing clothes, shoes, crafts, extra-blankets, sheets and more. The drawers glide smoothly, can easily be stacked and are clear for visibility - so you wont create any extra noise shuffling them around in the morning.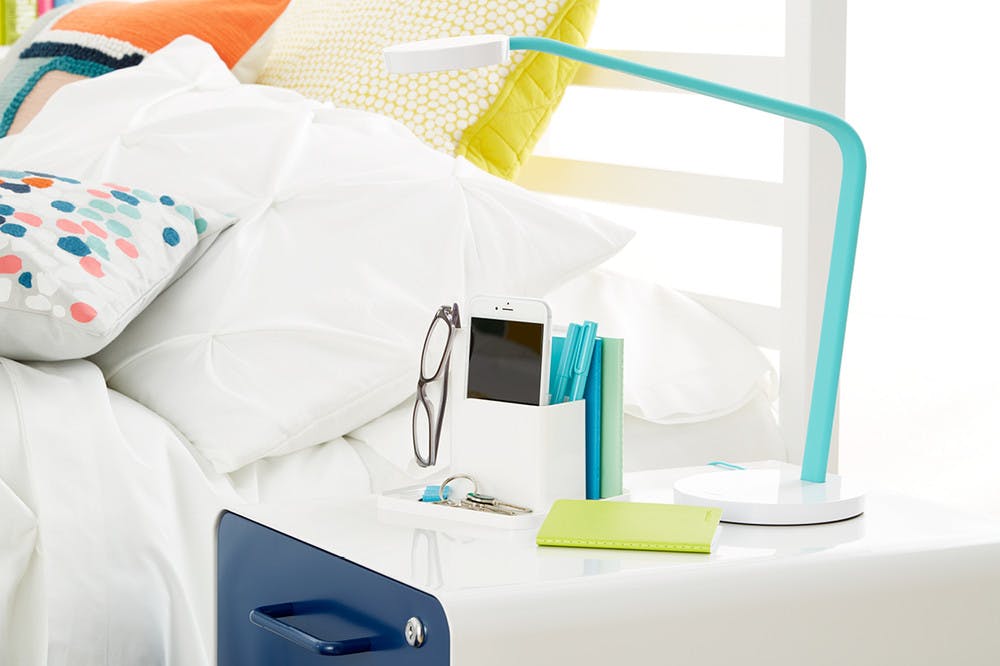 Named for its flexibility, our Poppin Limber LED Desk Lamp is the ultimate in sleek, practical lighting - and it's perfect for a dorm with a super-slim profile and several fun colors. With two fully adjustable flex points at the head and mid-arm, it bends many ways to illuminate any work surface. Plus, the USB port located on the base is the handy spot to charge up your phone.
Pick a product that does two jobs with our Poppin 3-Drawer Locking Stow Filing Cabinet. Constructed from powder-coated steel, this cabinet stands up to daily use, both as a file cabinet and a great surface as a nighstand. At 24" tall, it easily fits beneath most standard desks, yet also works next to a bed. The two utility drawers feature adjustable drawer dividers to keep supplies in order. The bottom drawer accommodates both letter- and legal-size hanging file folders for all your school and dorm room storage needs.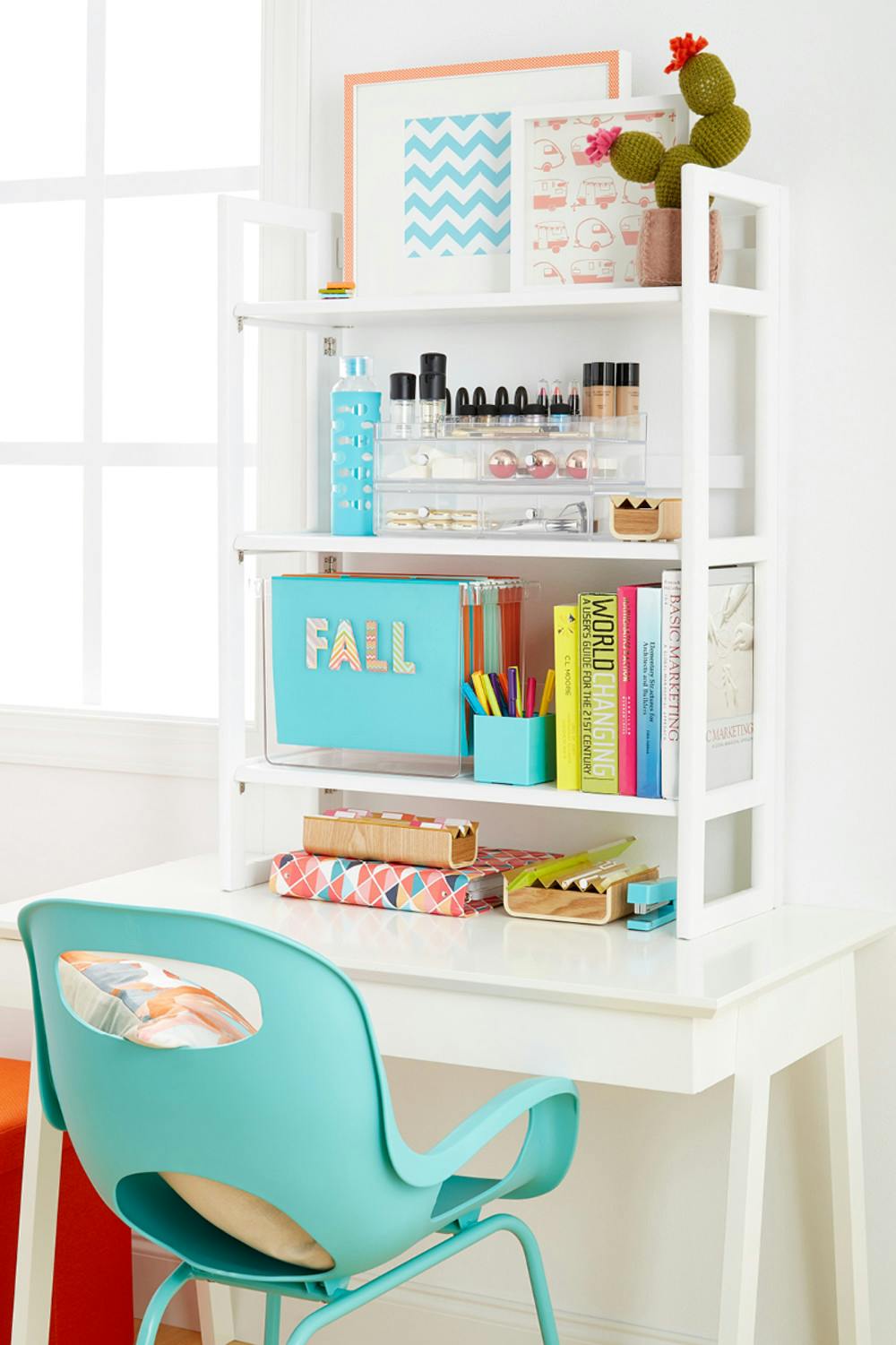 Most dorms don't have built-in shelving, and most don't allow you to mount any on the walls yourself. Our solution? Our Solid Wood Folding Hutch! Instantly create a wealth of storage for textbooks, binders and computer and desk supplies with this portable solution. It fits easily right on top of most standard-issue desks. Use it to hold your books, create a cute display or store your makeup on if your desk is also a place you get ready in the morning!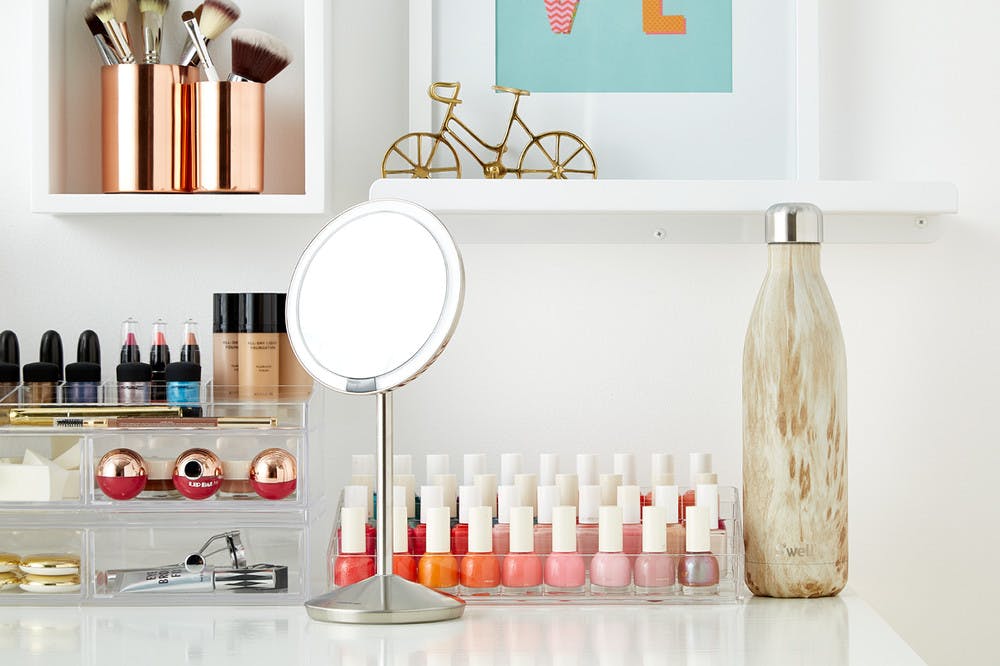 And, if you do get ready at your desk or at a countertop in the morning - think slim and think stackable. Our simplehuman 10X Sensor Folding Mirror is everything you love about our simplehuman Sensor Mirror, just with a slimmer profile. It features a motion-activated LED light that turns on when you approach. And unlike other lighted mirrors, the long-lasting LED light was specially designed to provide the best illumination for daytime use. And it's cordless. Once charged using any USB port or outlet, it works for up to five weeks, no matter where you choose to get ready! Plus, it folds compactly when not in use.
Make your entire polish collection shine with our 40-Bottle Acrylic Nail Polish Riser. It has four tiers that can each hold ten bottles of polish and can accommodate the bottles of all major brands. Made of strong acrylic, its tiered design keeps each bottle visible and easily accessible. Not everyone will have this many polishes - but if you like to switch them up often, this is the perfect way to store them!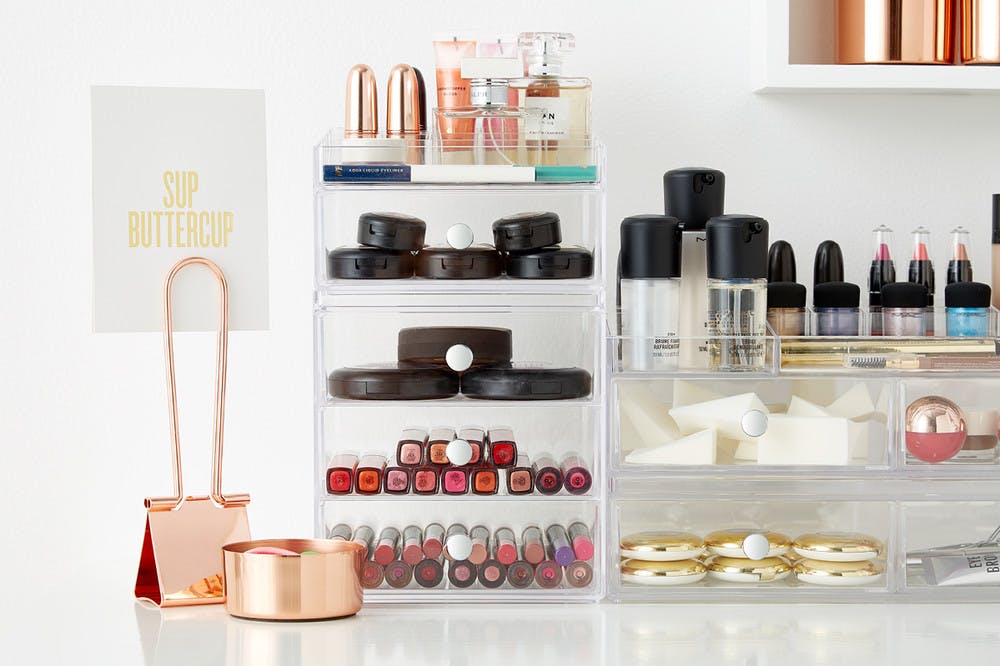 Our Clarity Stackable Makeup Storage Collection is made with a dorm in mind. The clear construction allows you to see which drawer you need to access, and they're each designed to stack on one another to save you counter space without sacrificing capacity. They really can go as high as your dorm or your collection will allow.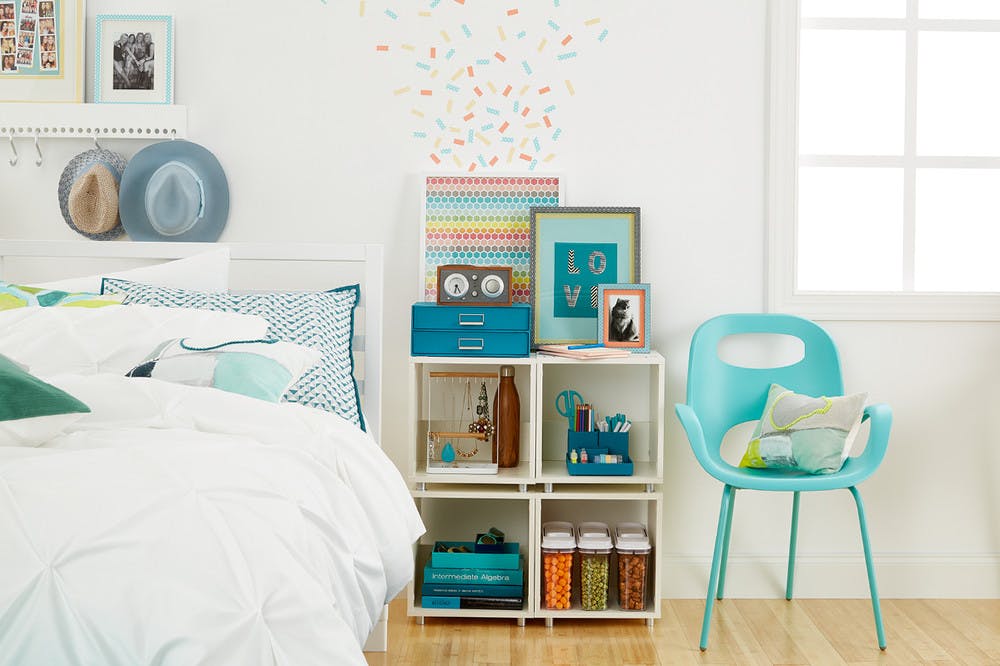 Our freestanding Vario Stacking Shelves are perfect for a range of storage needs, including snacks, books, gadgets, jewelry and collectibles. A small partition on the back of each shelf keeps contents in place, provides ventilation and allows electronic cord access. Create your customized dorm solution by stacking or combining to suit your needs and space. You can even use the top as a surface to display your artwork, favorite pictures and more.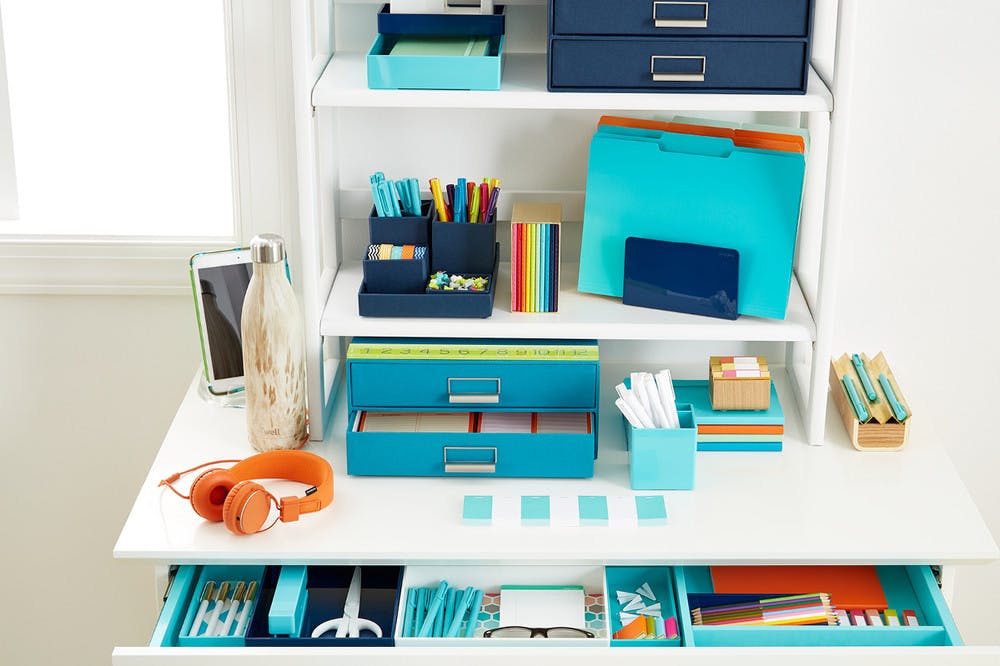 For those who love to color-coordinate, our Stockholm Desktop Collection can't be beat. Each piece in the collection is constructed using post-consumer recycled fiberboard which is 100% recyclable. You can shop anything from pencil cups to letter trays to desktop files depending on your study and storage needs. Mix and match the almost endless selection of colors for a one-of-a-kind solution.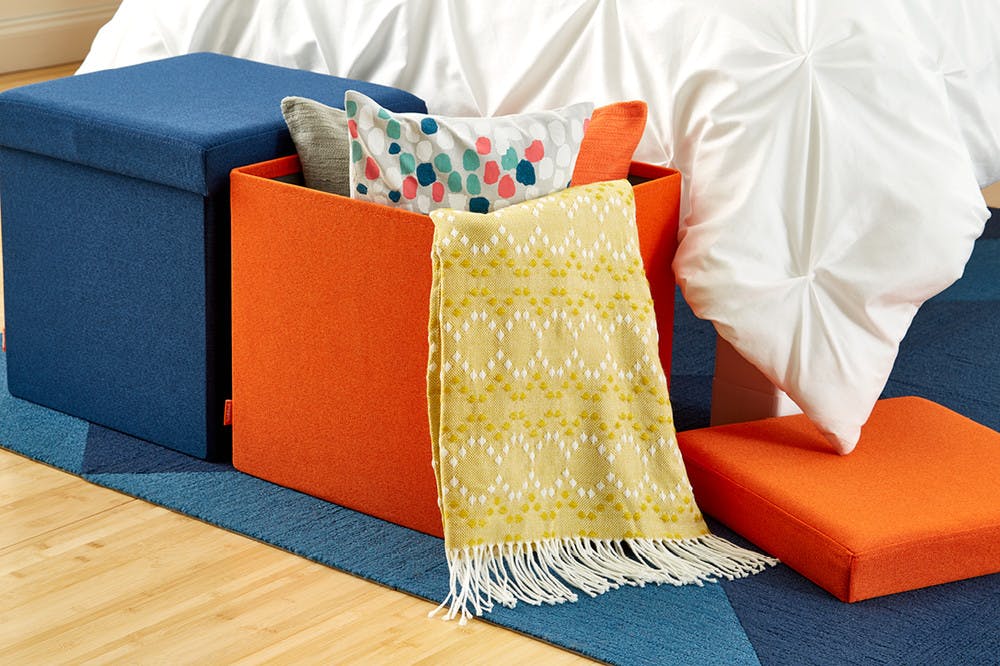 The best solution for any small space? Our Poppin Box Seat! Beneath its colorful lid is 4,096 cubic-inches of storage space, yet it's strong enough to accommodate up to 275 pounds. And because it collapses flat, it's perfect for portable clutter control and impromptu seating.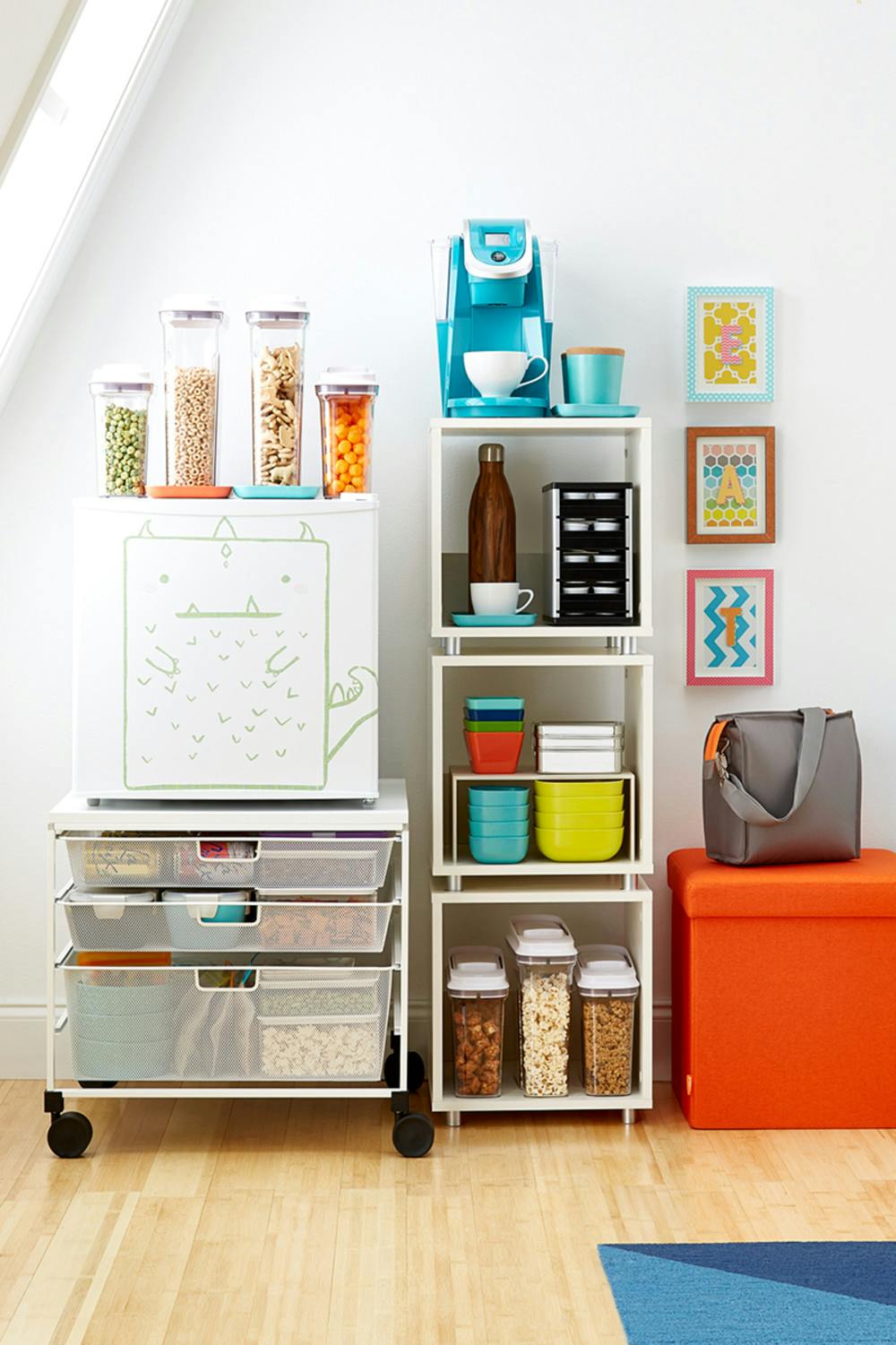 Snacking is a VERY important part of living in a dorm. Make it easy to snack smarter and cleaner with a few of these solutions. Our exclusive White elfa Mesh Compact Fridge Cart makes the perfect accessory for a mini refrigerator in a dorm room or small space. It features two 1-Runner Mesh Drawers and one 2-Runner Mesh Drawer for holding snacks, napkins or plates. The tight mesh and closed corners of the drawers prevent smaller items from falling through. The Melamine Top and four heavy-duty casters support most dorm-approved mini fridges.
Use our Vario Cubes we referenced earlier to create a makeshift pantry and coffee station. Our OXO Good Grips POP Cereal Dispensers will keep your cereal and snacks fresh and our YouCopia CoffeeStack Organizer will keep your coffee pods organized and ready to fuel you through late night study sessions and early morning classes.
We hope you've found a few new ideas for your new dorm or college apartment. Wondering about some of the other products in the space? Shop the entire dorm here!
College is an exciting time and we hope to make it a little more organized for even more fun this semester. Happy shopping!