Ok. I'm ga-ga over our colleague Brooke's craft room. I really don't even want to call it just a craft room.
It's simply magical.
The space is filled with some of our tried-and-true organization favorites and then stocked abundantly with sweet personal touches and time-savers. It truly is a reflection of so many things I love about Brooke, who I've worked with for more than 18 years. She's not only a colleague but has also become a "mom-bud" to me as we now live in the same Dallas area suburb, Coppell, where our company is headquartered and where our kiddos go to school. She's a gal who always seems to have it together - but in a totally realistic way. Does that make sense? She's a "pile-er" (like me!) not a filer and is super gracious, thoughtful and one step ahead of things with a card "just because" or with a token of appreciation (this I aspire to be more consistent with!).
Anyway, you'll see what I mean when you peek behind the curtain of this gorgeous space in her home that is packed with all the makings of things that eventually will bring a big smile to others.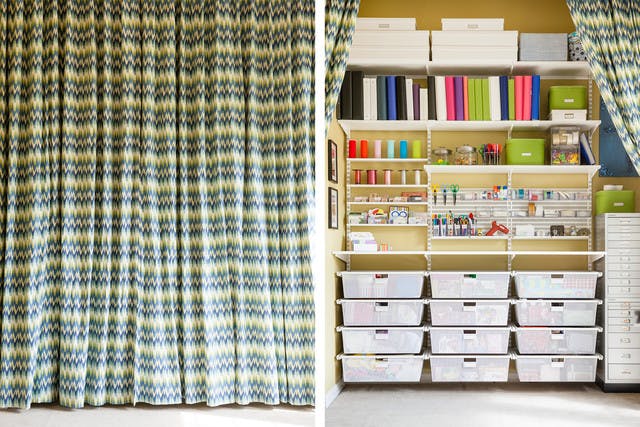 When Brooke, husband Scott and kids Grace and Sam, moved into their home, the space was originally planned as an office space. Brooke wanted to convert it into a craft/scrapbook room for her and the kids - but it also had to double as an office.
The room is right off of the entry of the home, so she hesitated in making the transformation because she didn't want everyone to see it when they walked in the door. The fix? She had draperies made that closed it off! So when the drapes are together, it looks like a window.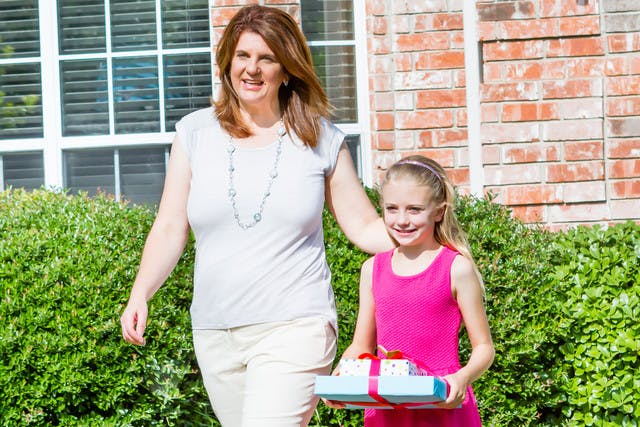 "I use the room to wrap gifts and work on projects with the kids. Between Sunday school, coaches, schoolteachers, dance teachers, birthday gifts, wedding gifts, and shower gifts - it seems like I wrap and package up things every week! I have become the resident mom in Sam and Grace's class that can "package up" the teacher gifts using all my fun things," Brooke says.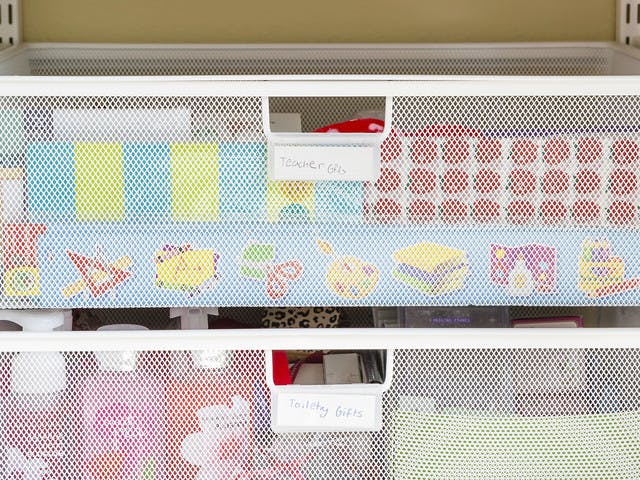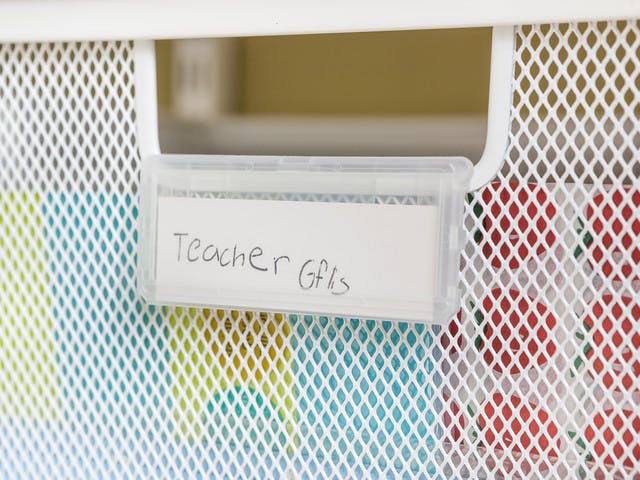 Once the basic elfa design of shelves and drawers was set-up, Brooke says her daughter Grace got very excited and wanted to help her organize and label. "At first I wanted to use our label maker so all the labels were the same and lined up, but I couldn't resist Grace's enthusiasm to help figure out all the categories we needed." This is what I was talking about before. That's so Brooke! I mean look at that sweet label!
Brooke confesses that she's "one of those shoppers" that, when she sees little gifts, buys them and stores them. That way, she's super prepared when the need arises. She has a drawer called "toiletry gifts" with lotions, and potions and gels, which always make great teachers gifts. There's also a drawer for baby gifts too. She also has a drawer labeled "specific gifts," which are gifts she buys for people throughout the year. She labels them with their future recipient's name with a little Post-it until they are ready to be gift-wrapped. And she has a drawer labeled "arts & crafts" where the kids know they can get ANYTHING out of there when they want to paint, draw, craft with duct tape, etc. The other categories include "containers, tissue & crinkles."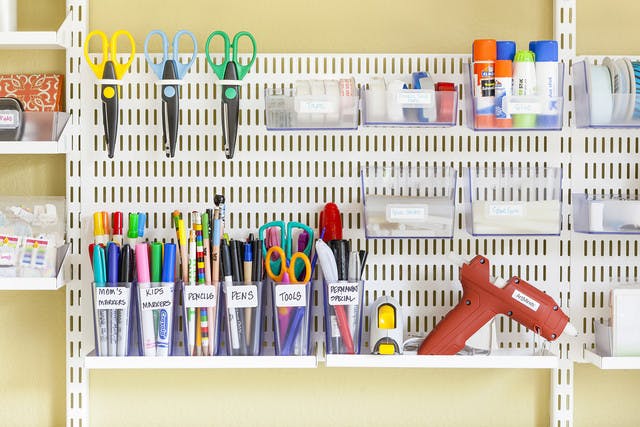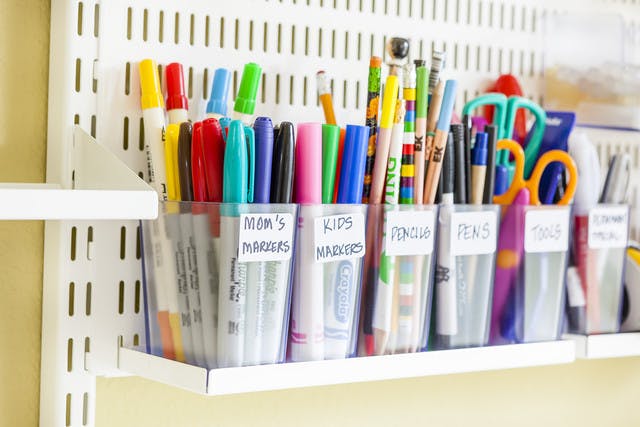 Our elfa utility boards and accessories are hard at work in the space for tools and things that Brooke needs at her fingertips and within easy reach. "After setting up shop, I soon realized that I needed to separate the markers. For Mother's Day last year, the kids gave me a full pack of Sharpie markers. I felt like a kid on the first day of school getting a new pack of crayons - wanting to protect them for my use only." So Brooke decided to separate all the bins, designating places for her beloved markers and the kids' markers. She says that by having that simple labeling system "mom's markers," it does cause them to pause and think twice before going in for the grab. She also has a bin for tools and permanent markers, which she finds very handy when working on gift-wrapping or when the kids need to create a poster for school.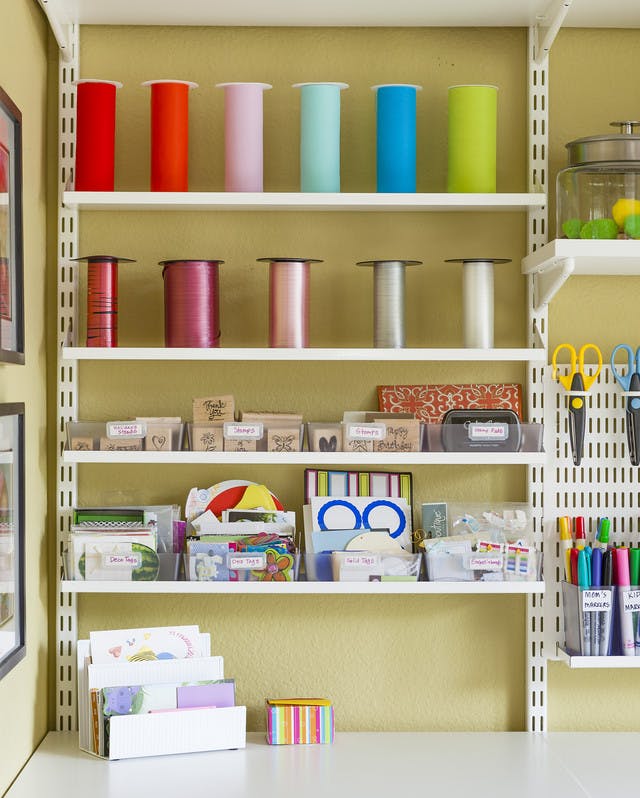 Ribbon, ribbon and more ribbon! As you can see, Brooke loves using tulle as her "go-to ribbon," because it's easy to use and always looks festive. Curling ribbon is also a personal favorite. She stores it all on the shelves so she can see what colors she has on hand.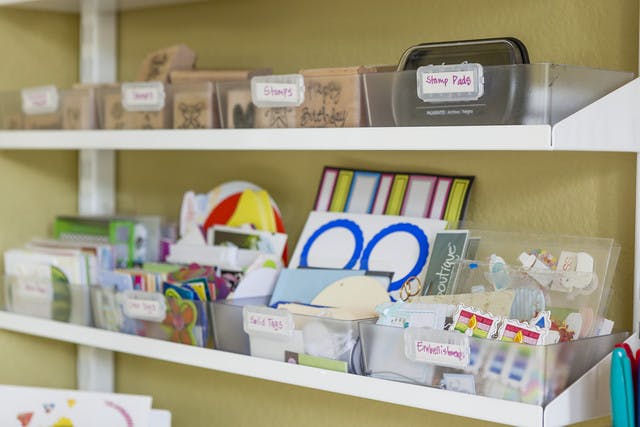 Brooke adores fun little gift tags and has them divided by those with prints and designs, and ones that are blank and solid so she can personalize using her myriad of stamps, or decorate with little embellishments.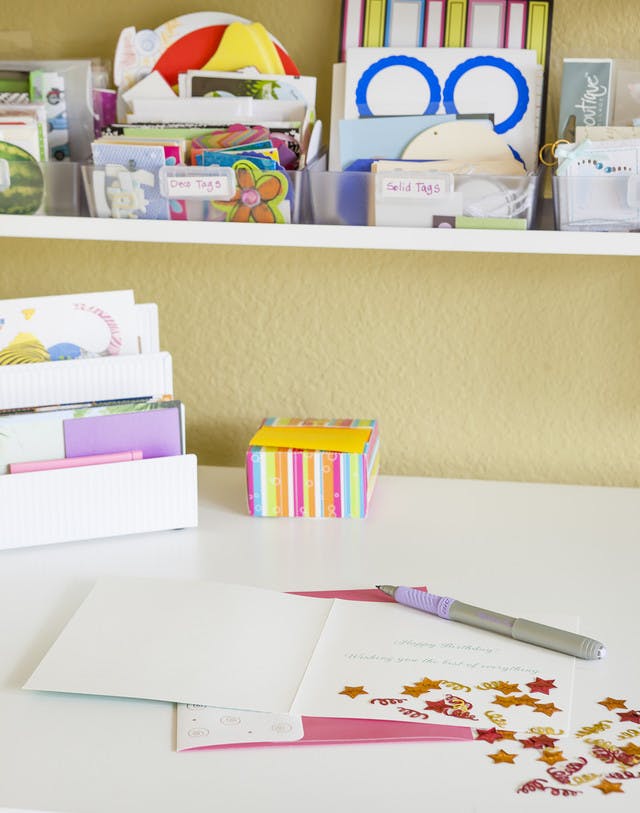 The solid desktop incorporated into the elfa shelving system is integral to the workspace's functionality. Its design is a space-saver because it hangs off of the wall.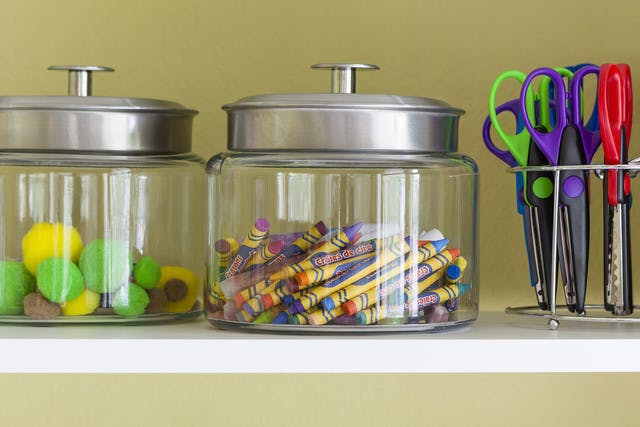 Brooke uses clear glass jars for craft supplies like pipe cleaners, eye balls and fuzzy balls, and groups them all together for the kids to easily see what they have available for the next project.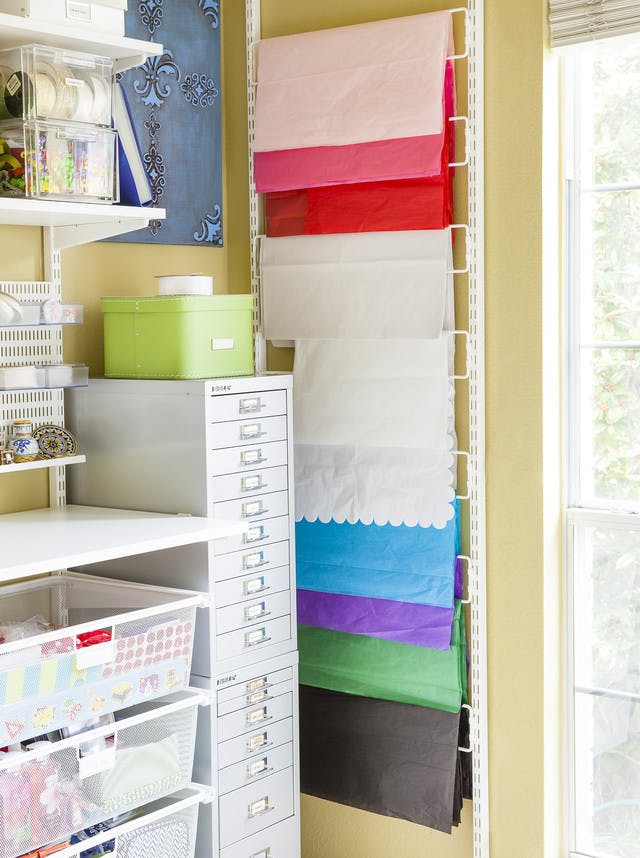 I need a tissue just looking at this tissue organization! It's just so fantastic it makes me a little teary that I don't have my own! The use of our elfa hanging standards and elfa utility double rails to store this paper is just genius.
"I LOVE THIS!!! I can see the tissue easily, it dispenses easily and I can see when I need to get more of a color. It uses that little space that would've been left blank," Brooke says.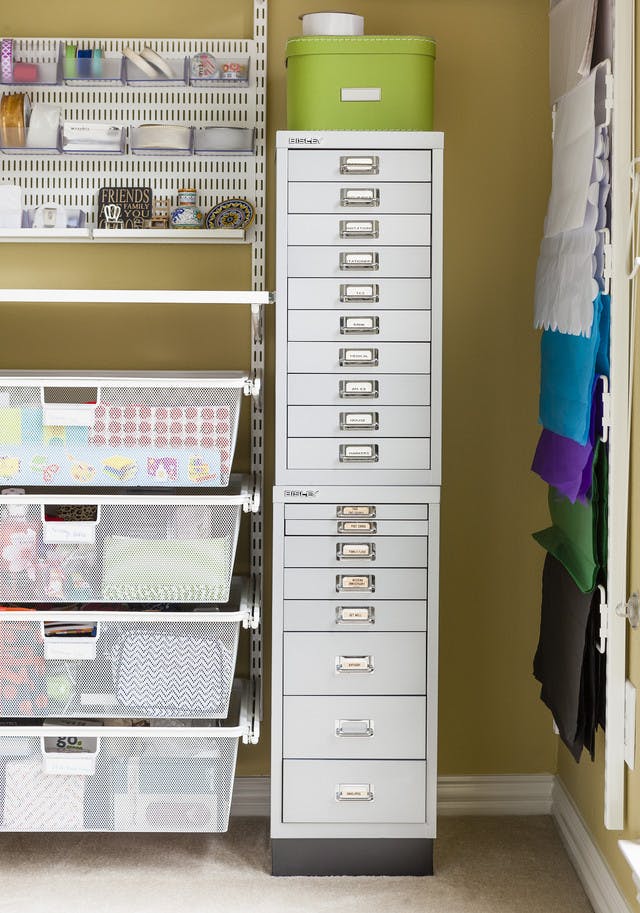 Brooke has had these Bisley filing cabinets for more than 15 years. Yep. They are good stuff! Great quality. Super multifunctional and come in a variety of sizes with various inserts to choose from based on what you are storing inside. Here, there are two cabinets stacked on top of each other. Since this is also her office area, Brooke has drawers dedicated to bank, house and work stuff.
"I am not a big filer, I am a "pile-er" and the drawers allow you to put things in there easily. And because the drawers are skinny, it also forces you not to put too much into them." The other Bisley cabinet is filled with all kinds of greeting cards - birthday, family, thank you, wedding, etc. Brooke says she tries to buy cards as often as possible so that she always has one on hand that's perfect for the occasion.
Well, I need a thank-you card right now to tell Brooke how much we appreciate her sharing her lovely, inspiration-filled room!
Like Brooke's space? Check out her family drop zone here.