Mary and Devon are an artful couple living in Claremont, California. Devon ran an architecture and construction company for 35 years in Claremont before retiring recently and now does consulting work, helping companies reduce their energy and other types of waste. Mary is a working artist and sculptor who also teaches art, ceramics and 2D design to college students. Most of their work is based out of their beautiful Mid-Century modern home.
They had a room off of the master bedroom with amazing nine foot windows that look out to a gorgeous outdoor garden. But the room was used as a catch all, with some desks and bookshelves, that only held about 1/10 of their impressive book collection of construction, art and travel tomes.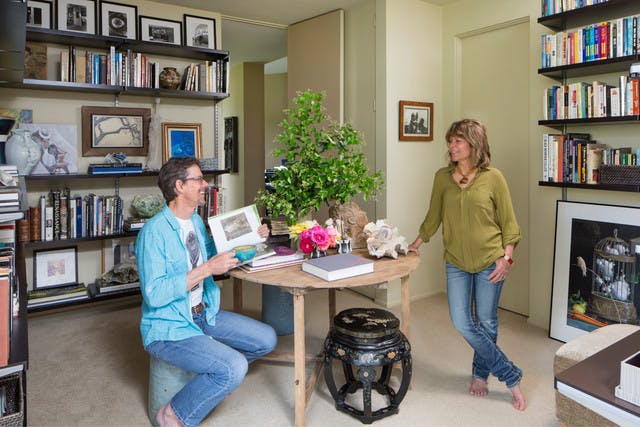 They dreamed of a library space that was a place of beauty. One that would be inviting for their art, books and friends. elfa decor shelving made their dream come true, transforming the room into a place of loveliness and delight.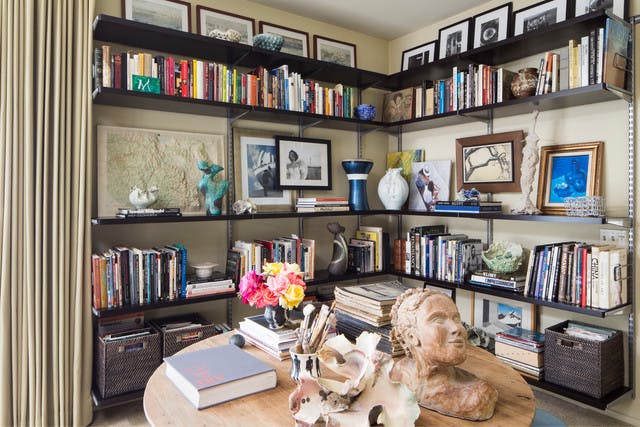 Now, the room functions as an entertaining area because of the round table and seating, which also provides an area for greater discussion. The table is home to many of Mary's art pieces. The big shell on the table is from Mary's Excavation Series that was exhibited and collected nationally.
"The Excavation Series is about transformation and exploration - peeling back the layers encrusted upon the surface, searching for what is at the core when all layers are chiseled off. It is about the desire to know what is inside and question the forces that drive radical change," says Mary.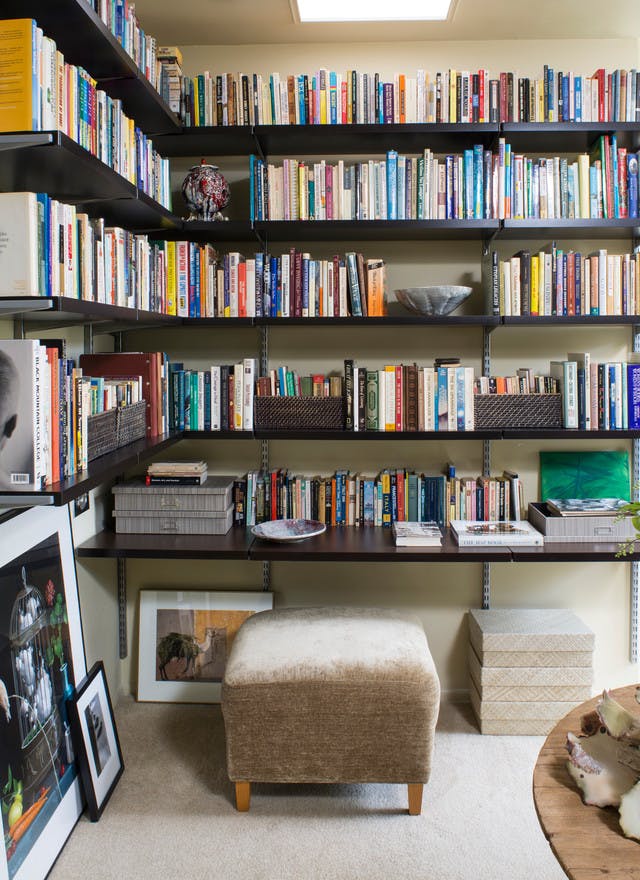 Devon works in the newly organized space all day long, typically standing at an elfa shelf, which is where his computer is normally situated. Mary can usually be found sitting on the floor or at the table looking at art books. They love that the space is now appropriately appointed and proper for client meetings.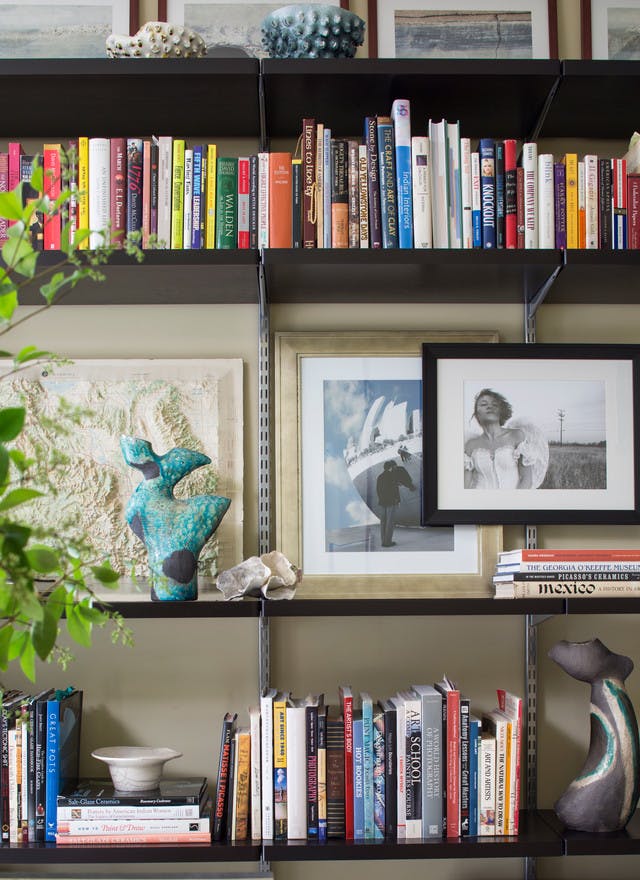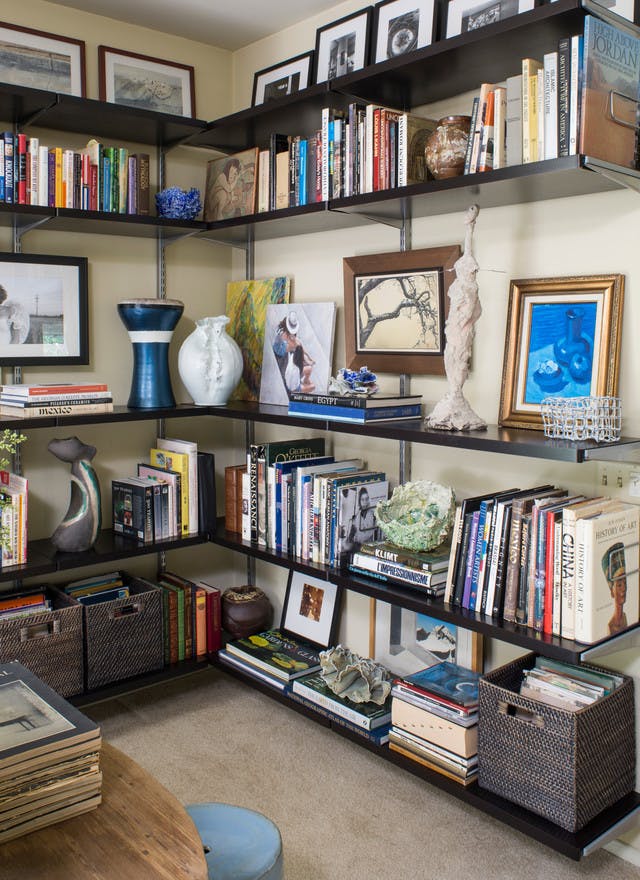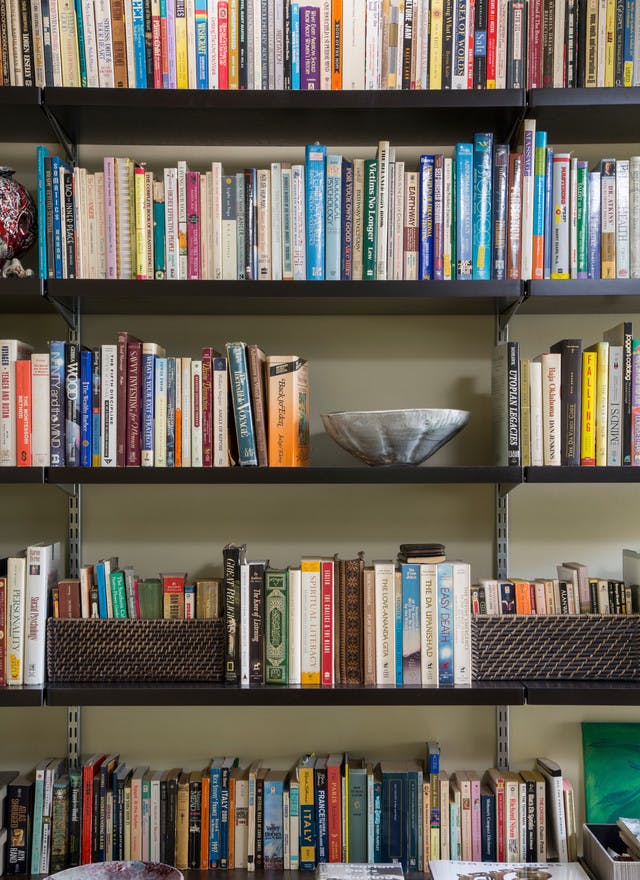 Blackwash Rattan boxes hold smaller research books that were often getting lost among the others on the bookshelves. Now they're all in one place and easily contained.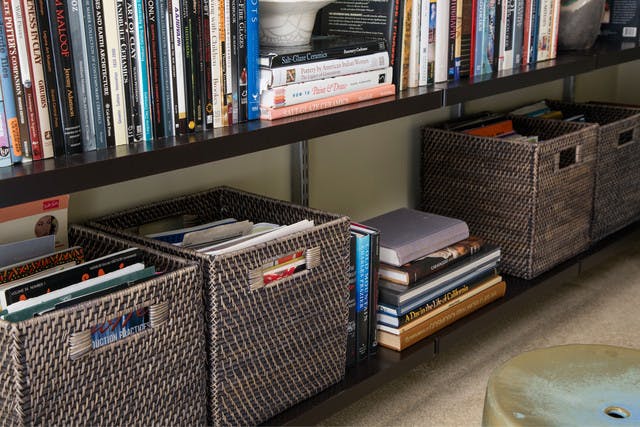 Our Blackwash Rattan Cubes hold historic copies of Architectural Digest from 50-60 years ago, as well as other contemporary magazines.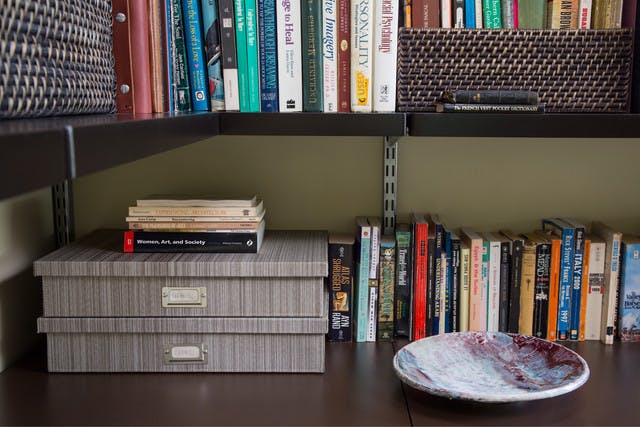 Latte Parker Document Boxes serve as a great place to store the couple's memories - photos and brochures from their various travels.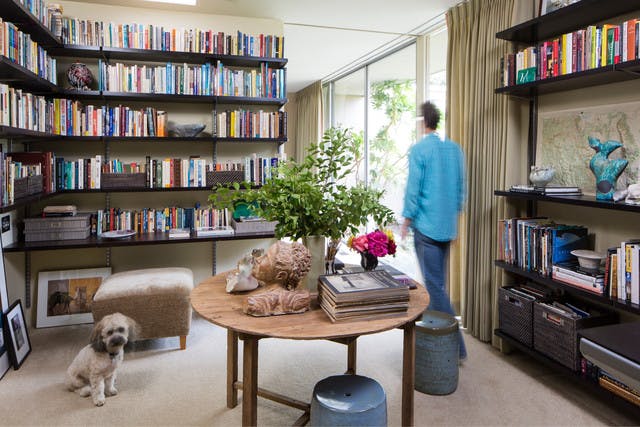 Their daughter's dog, Walter, is a poodle rescue dog that also likes to hang out in the space with them. They say he is the sweetest and most intelligent dog that enjoys following them around everywhere. We're with Walter - who wouldn't want to follow them around in this beautiful environment?
Stylist: Gena Sigala
Photographer: Meghan Beierle-O'Brien