There's something uniquely personal about a vanity space — it's the female equivalent of a man cave. Crowded with makeup brushes, hair tools and skin care products — this makeup haven can get a little messy. But it can be easy and rewarding to organize all your beloved beauty products in one place for a more efficient makeup routine, as well as add some glamorous personal touches as well. Here's how: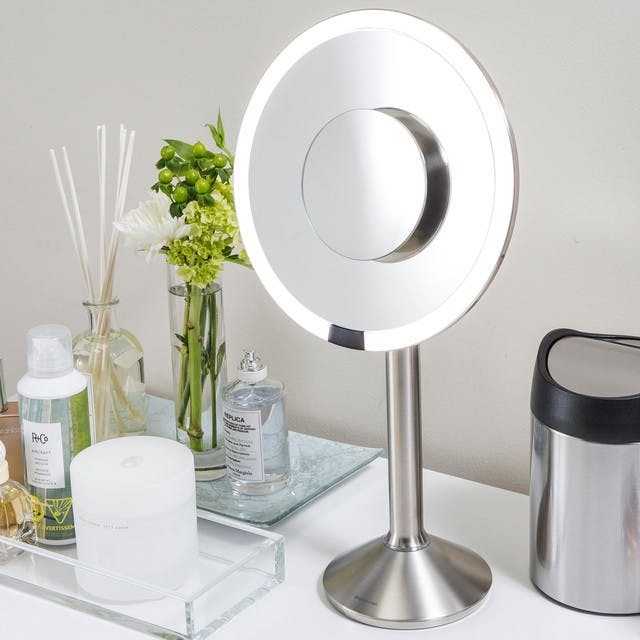 LIGHT, MIRROR … ACTION
A vanity isn't a vanity without a mirror — it's the most important part of your space. How else are you going to apply all of those new Smashbox eyeshadows that are scattered in your makeup drawer? And not just any mirror, but one that helps you see exactly what your makeup will look like in the world when you walk out the door, leaving no room for coloration or contour mistakes.
The simplehuman sensor mirror pro mimics natural sunlight for the brightest, most color-correct view. So even if your vanity is in a dim-lit room, you can still get the best lighting from the mirror. In addition, it's cordless and rechargeable so there's less clutter on your countertop.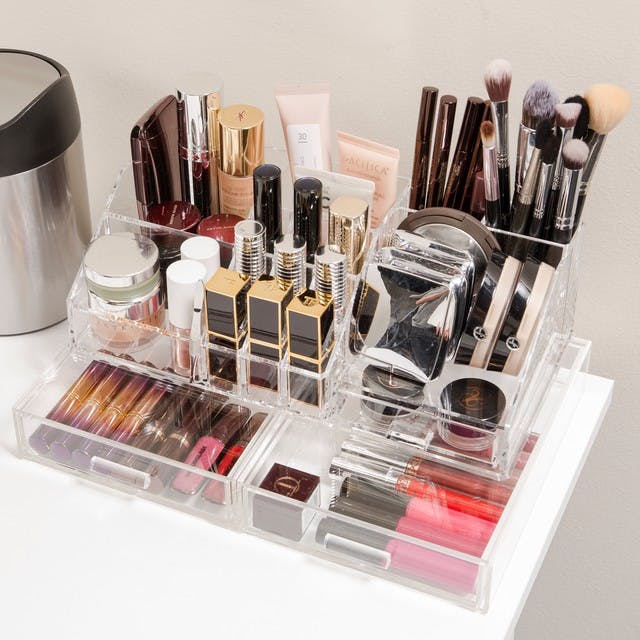 EVERYTHING IN ITS PLACE
Acrylic makeup organizers are your friends, especially ones with compartments that allow you to separate your makeup tools by category: brushes, lipsticks, eyeliners, etc. This allows you to see everything in clear view so you know exactly where to find your favorite blush without rummaging through one large disorganized drawer.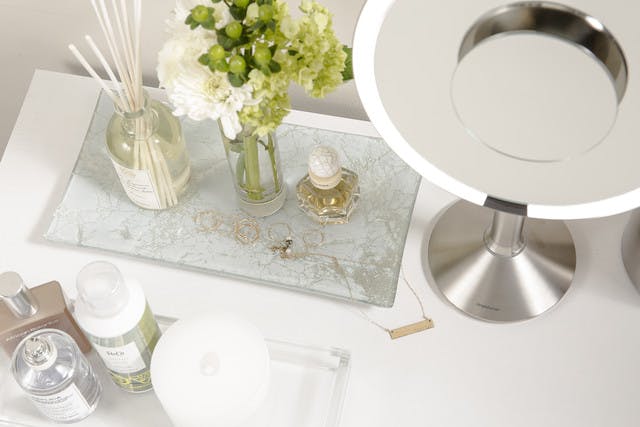 GET FRESH
Bring your vanity to life with fresh or silk flowers. This burst of color and beauty will transform your space and give it a charming touch.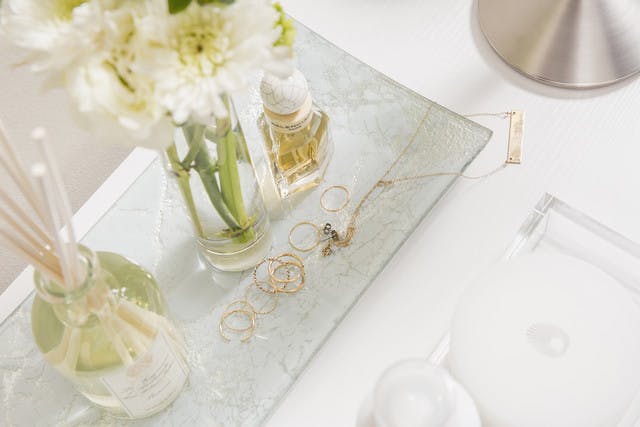 SHOW OFF YOUR GOODS
Rather than tangling your jewelry in a closed box, place your precious accessories on a decorative tray. This will provide more visibility to what's available for your night out. After all, if you can't see it — you probably won't wear it.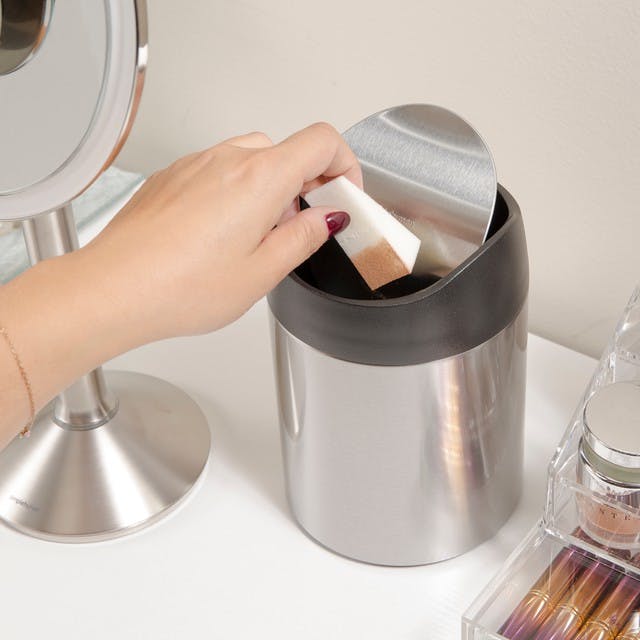 TIDY UP
Depending on your space, use a countertop can for quick and easy disposal of cotton swabs and makeup wipes. It's cute and convenient, and prevents smaller disposable items from piling up on your surface.
Getting ready in a clean, organized environment will help you start your day feeling both mentally and physically refreshed.
This weekend in select markets (below), visit The Container Store to meet the simplehuman experts and learn about the entire collection of simplehuman products! You'll also receive a special offer with any simplehuman purchase over $100!
Spend $100 receive $15 off
Spend $200+ receive $40 off
The Container Store event locations:

Saturday, September 17th 12 p.m. - 4 p.m.
Paramus
Chicago (North & Clybourn)
Corte Madera
Farmers Market
Austin
Sunday, September 18th 12 p.m. - 4 p.m.
Sixth Avenue
Oak Brook
Walnut Creek
Costa Mesa
Houston