Aren't girlfriends just the best? The ones you can pour out your soul with…laugh until your stomach hurts…cry until your mascara runs and they don't care. I wouldn't make it without them. And one thing we are real pros at - is doing brunch. It's always the perfect time to sip a perfectly chilled beverage and nibble on something a little indulgent. But beyond the food and drink, it's the perfect time to dish on the latest and greatest on work, kids, husbands and our last binge watch. We're wives who are real sans the real housewives brunch drama!
The idea of celebrating these gals in the comfort of my own home with a super girly, sassy, summery brunch makes me so happy. But it has to be simple and easy. Less time on the set up. More time for toasting.
It all starts with what I already have at home - my simple all-white plates and serving ware. From there, a bit of tying and labeling and a bit of "foofing" using modern takes on pinks and oranges, ribbons and flowers with a flutter of a butterfly are sure to impress the BFFs.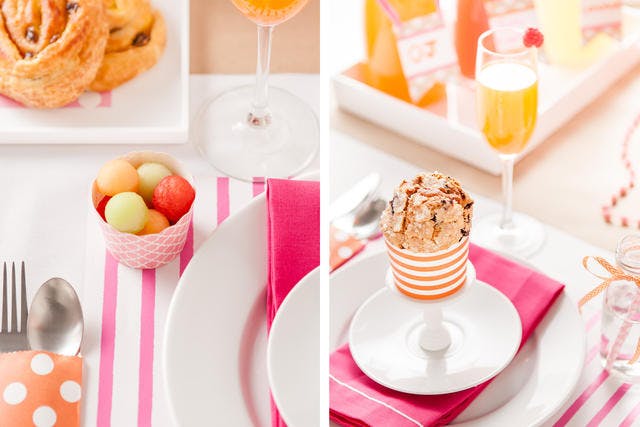 Fabulous gift wrap makes for an easy (yet impressive) table runner and placemats. Using it makes after-party clean-up super easy - no washing machine involved! Tuck your silverware into paper Treat Sacks to give your place setting a festive, fun touch.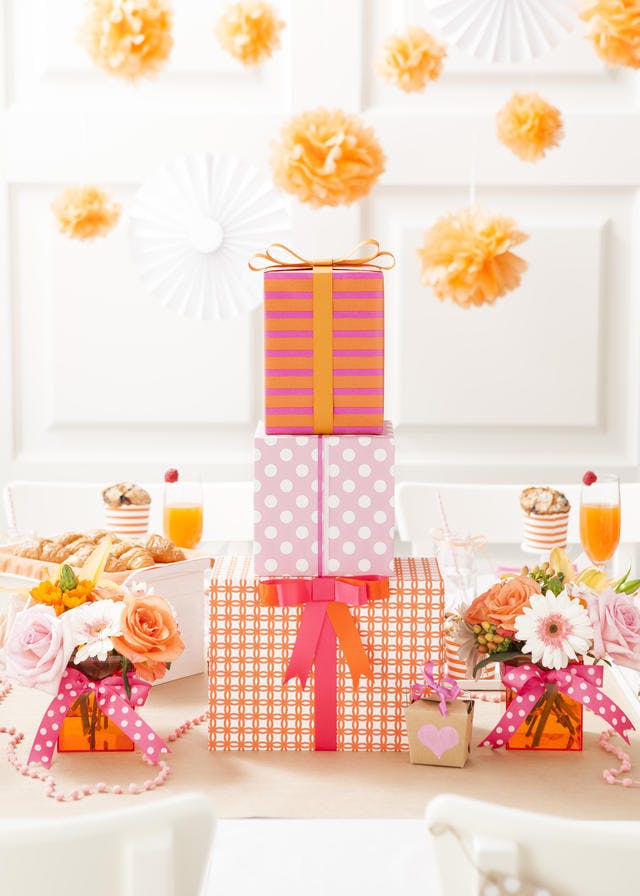 Same goes for an easy centerpiece. Just wrap up some empty boxes and add some simple ribbon. Reversible wrap is great for this - it does double duty.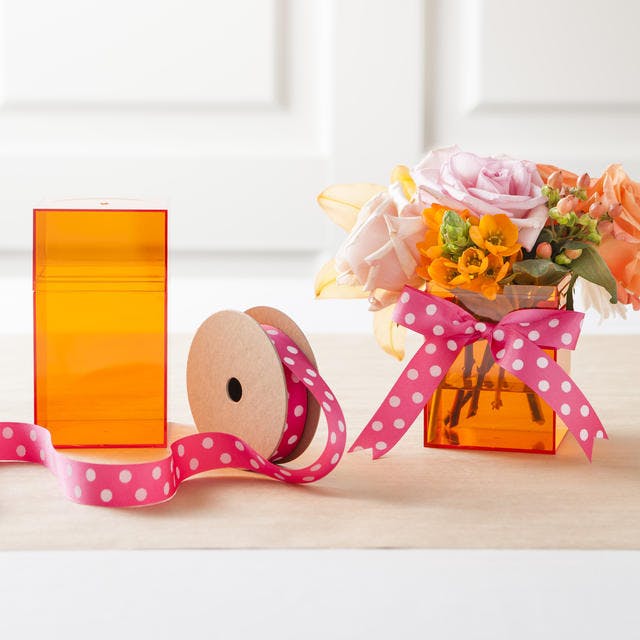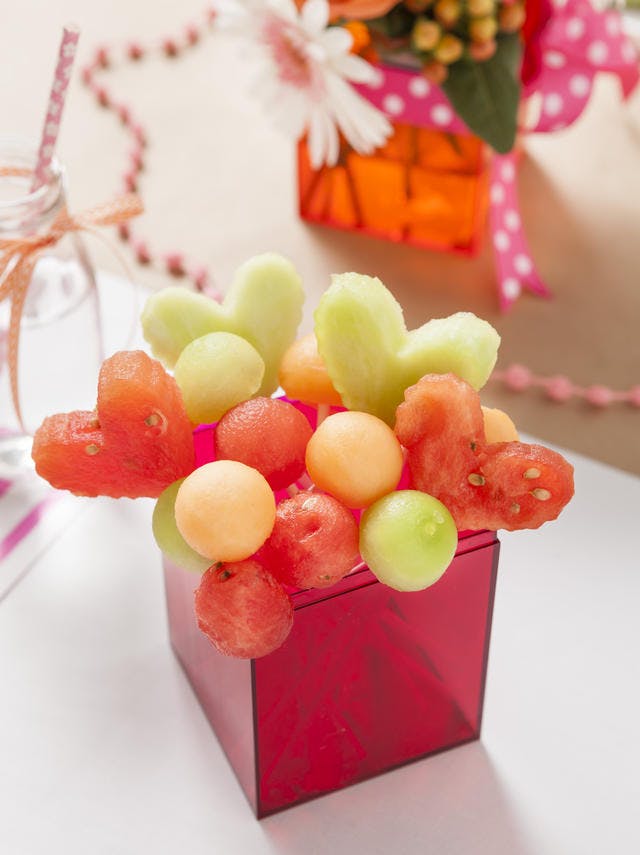 Flank your centerpiece with these easy floral arrangements. AMAC boxes are great for SO many things. Just tie a simple bow around the box with wired ribbon, put your flowers in and viola! AMAC also works great for cake balls, lollipops, jellybeans or any sweet treats.
Place your favorite candles around the centerpiece and you're done!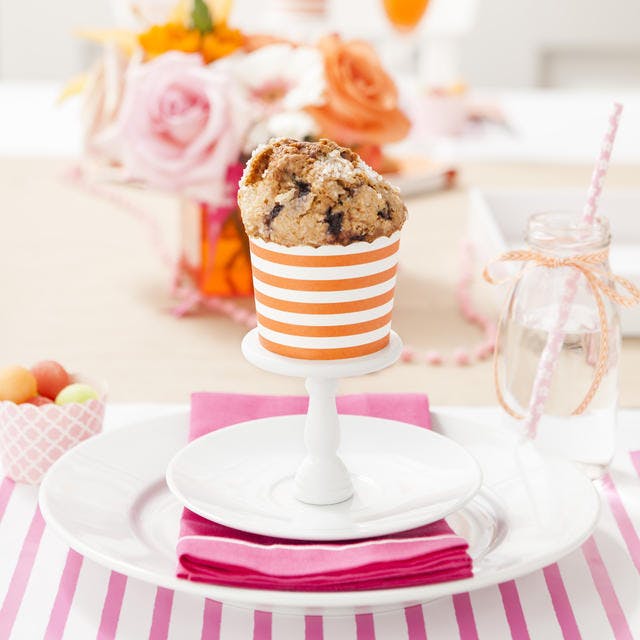 How sweet is this? Place a muffin in these decorative Large Baking Cups on top of this precious Wooden Cupcake Stand and your girls won't even notice you didn't bake them yourself! But you have to whip up a few things right? We love these easy, savory bites:
Bacon and Brie Quiche
1 package Deep Dish Pie Crust, Pre-baked if instructed
4 oz. Brie cheese (rind removed if preferred)
4 oz. Swiss cheese, diced
10 slices bacon, cooked crisp, drained and crumbled
6 large eggs
½ cups whipping cream
½ cups sour cream
1 teaspoon Worcestershire sauce
1 dash each nutmeg, salt, pepper
Crumble cheeses in the bottom of the pie. Spread crumbled bacon on top. Mix all remaining ingredients thoroughly and pour into the pie pan.

Bake in a preheated 375-degree oven for about 45 minutes, until a pick inserted in the center comes out clean. Cool slightly before serving.
Pull-a-Part Brunchy Bread
6 slices Hormel bacon, diced small
1/2 stick of unsalted butter
1 tube of Pillsbury refrigerated Grands Homestyle Butter Tastin' biscuits
2 eggs, beaten
2 tablespoons half-n-half
1/4 cup shredded sharp cheddar cheese
1/4 cup shredded Monterey jack cheese
2 scallions, finely diced

Preheat the oven to 350 degrees.
Cook bacon in a large skillet over medium-high heat until crispy, stirring occasionally, about 5 minutes. Drain on a paper towel and set aside.
Put the cold butter in a nonstick Bundt pan coated with cooking spray, and let it melt in the preheating oven.
While the butter melts, cut the Grands biscuits into quarters. In a bowl, gently mix the biscuit pieces, bacon, eggs, half-n-half, both cheeses and scallions together.
Once the butter is melted, give the Bundt pan a little swirl so the bottom is evenly coated. Add the biscuit mixture to the pan, sprinkling with any cheese and bacon pieces that get left behind.
Bake for 25 minutes or until golden. Run a dull knife around the edges to loosen. Turn out on a dish and enjoy!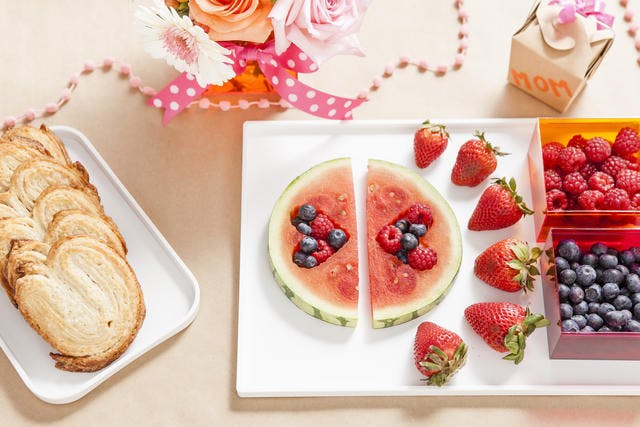 Baked goods and fruit stand out when you arrange them on various sizes of white trays. Again, AMAC is perfect for serving berries, granola and yogurt to make your own parfait. Pom Pom Garland effortlessly placed along the table adds a playful, girly touch to the table.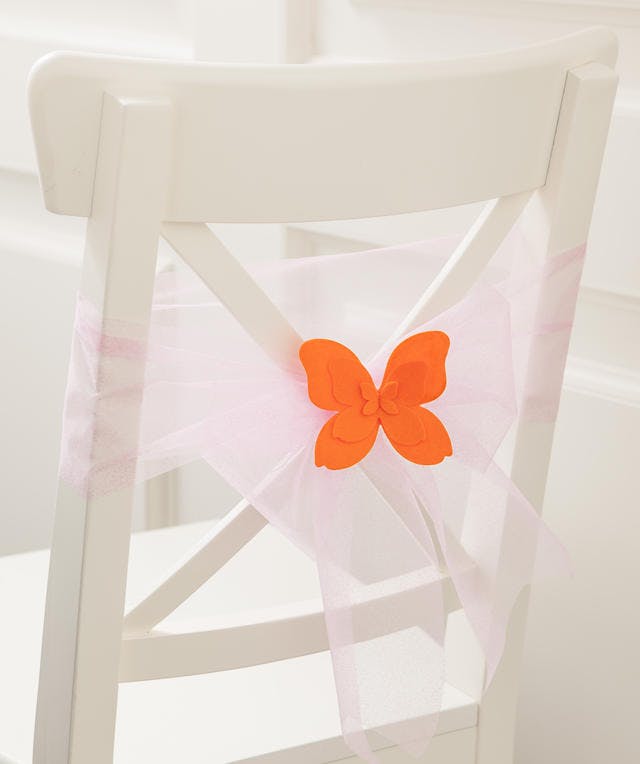 A simple tulle ribbon tied in a bow with a Felt Butterfly Gift Tie-On (no longer available) transforms your chairs and pulls the whole table décor together. SO Easy!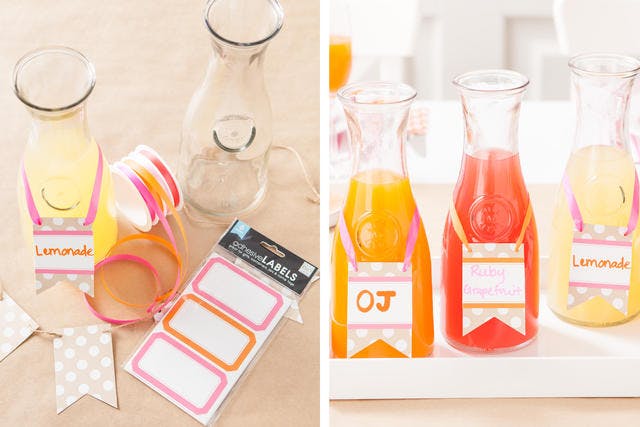 And perhaps the most important part of brunch - the beverages. Keep it simple with Glass Carafes. To spruce them up and to identify their contents, we took the individual mini banners off of the Paper Bunting and placed a coordinating Label in the center. We then looped Bright Curling Ribbon through the Mini Banner holes and tied them around the Carafe. Here are few favorite adult brunch beverages:
Rosé Lemon Spritzer
1 slice of lemon
1/2 oz. of St. Germain (elderflower liqueur)
4 oz. sparkling Rosé
Serve on the rocks


Prosecco-Pom-Pop (makes about 8 cocktails)
1 cup of Pomegranate Juice
1/2 cup of ginger ale
Chilled bottle of Prosecco
Mix juice and ginger ale together in a pitcher, divide equally between 8 champagne flutes and top off with Prosecco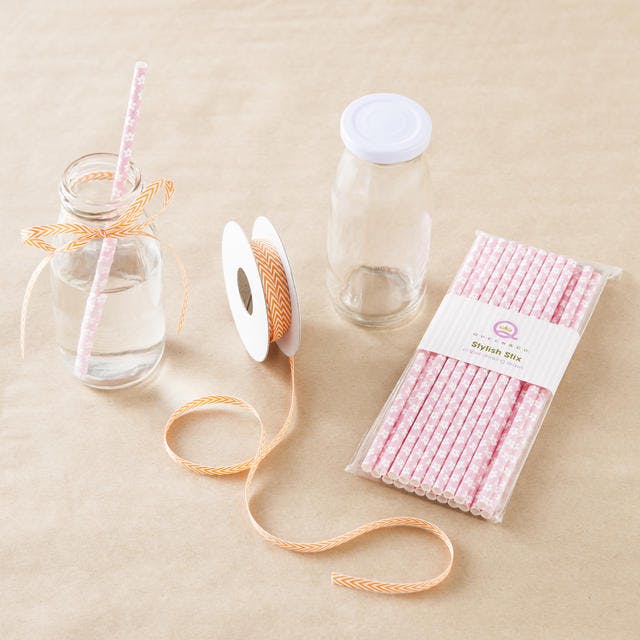 Glass Milk Bottles tied with a simple ribbon make a sweet beverage glass. Straws with floral patterns make the drink even prettier. Now all we need is a gaggle of girls. Cheers!