The Fourth of July is just around the corner and did you know that July is not only the month for those big red, white and blue celebrations, but it's also National Ice Cream month? We love the idea of combining a patriotic party with a good old fashioned ice cream social! Fourth of July decorations made up from a creative combination of containers, jars and trays, coupled with the magic of decorative tape, transform our Metro Commercial Chef's Cart into a sweet display worthy of fireworks!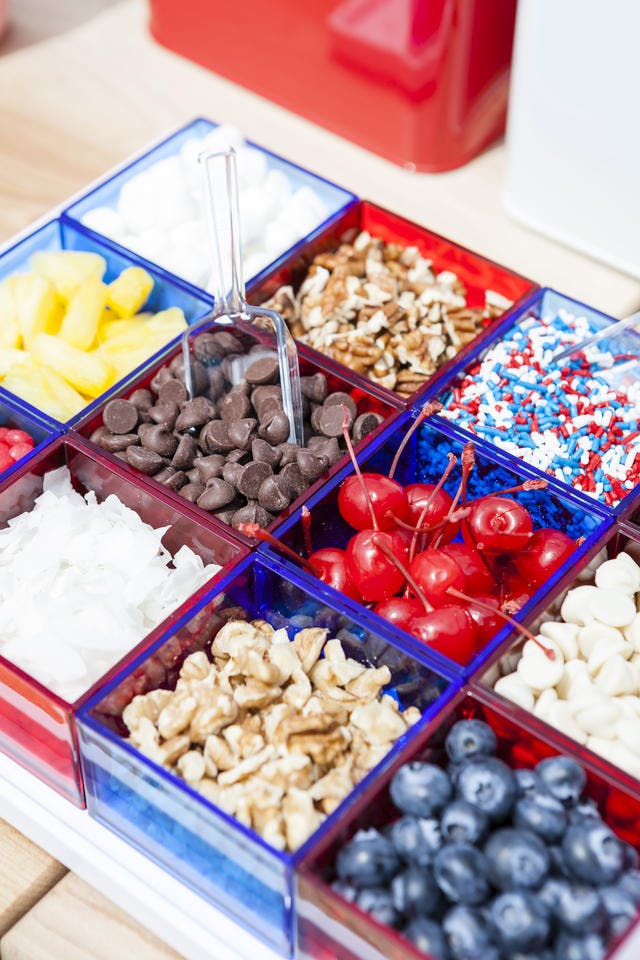 Display all your toppings and fixings in a checkerboard pattern made up of red and blue Square Acrylic Trays. Twelve squares fit perfectly on the Large Poppin Slim Tray.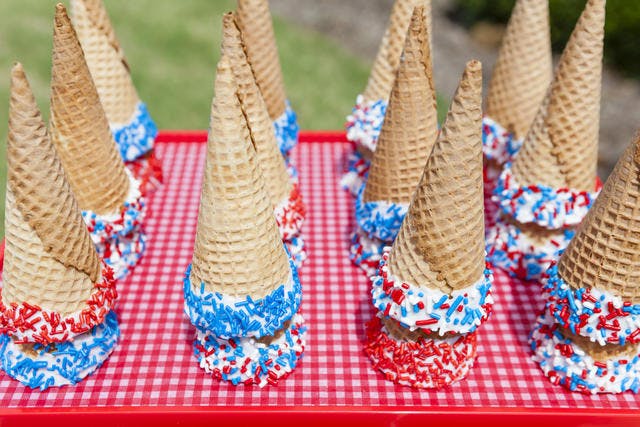 After lining another Large Poppin Slim Tray with Red Gingham Waxed Tissue, we loaded it up with festive sugar cones. To create them you'll need white chocolate chips and red, white and blue sprinkles. Melt the chocolate chips according to the package directions. Then, using a basting/pastry brush, paint the top inch of the cone with the melted chocolate and immediately put on the sprinkles over the sink or a paper plate. Place cones on piece of wax paper upside-down until dry.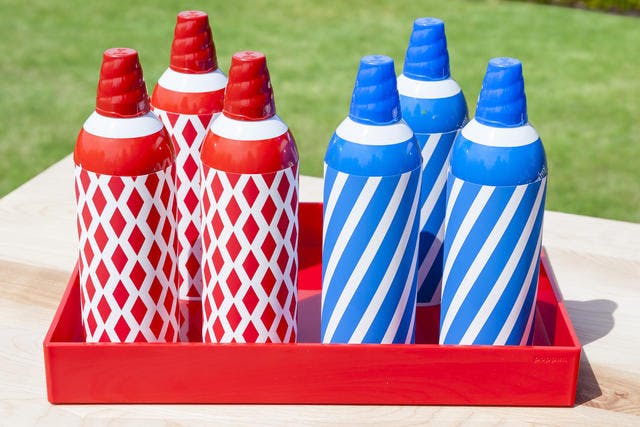 Using our Red Diamonds and Blue Diagonal Treeless Wrap, we covered the outside of our store-bought whipped cream bottles. Think of it like wrapping a gift; cut a piece of wrap wide enough to cover the writing, and, using double stick tape, roll the paper around the bottle.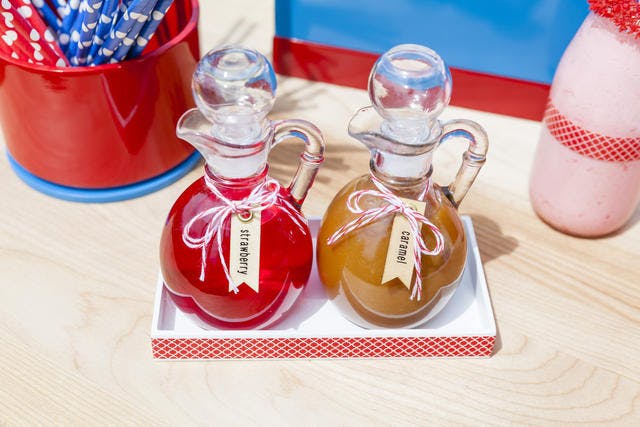 Whether you make your own, or it comes straight from the grocery, ice cream sauces like strawberry preserves, chocolate or caramel will look cute in these Glass Cruets. Using a label maker, type up and print out the name of your ice cream sauce. Then, apply the label to Natural Wood Tags, and use our Red Bakers Twine to tie them around the cruets. To corral the sauces, we used the lid of a Lacquered Rectangular Box and wrapped red Decorative Tape around the edge.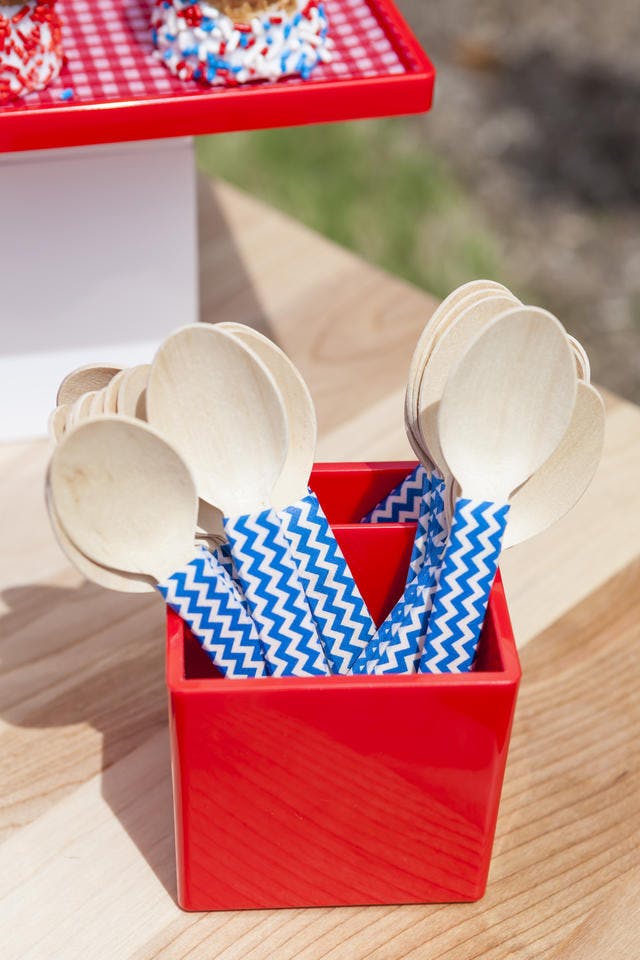 Add easy flare to Wooden Cutlery, by taking a piece of Blue Chevron Decorative Tape, and sticking it length-wise to the handle of the spoon. It adheres easily, and fits the width of the spoons. Pop them in a Red Pencil Cup for easy access!
No basic ice cream bowls here! Using a 4-inch piece of Blue & White Stitched Ribbon, we wrapped the outside of our Red Ice Cream Pints and secured each end with our Red Check Oval Labels. Label the guests names or a 'Happy Fourth' message prior, or you can leave them blank as a cute embellishment.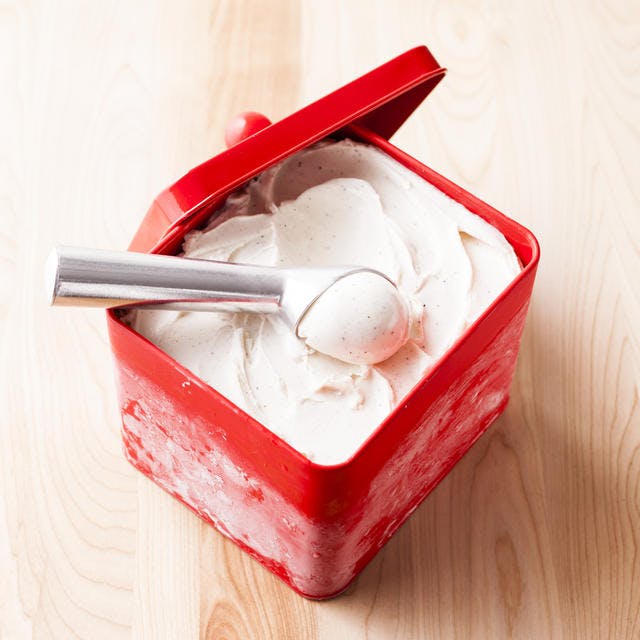 Transfer your homemade ice cream (or impress your friends by transferring grocery-bought carton ice-cream) to Square Tins. The tins are freezer-safe, and the color of the tins can help color code the flavors. Just remove the lid and serve!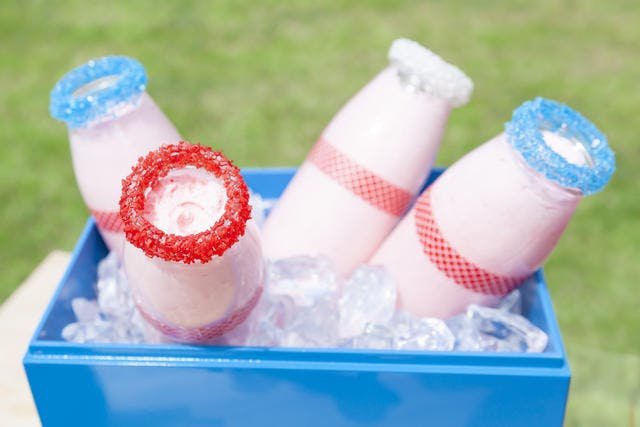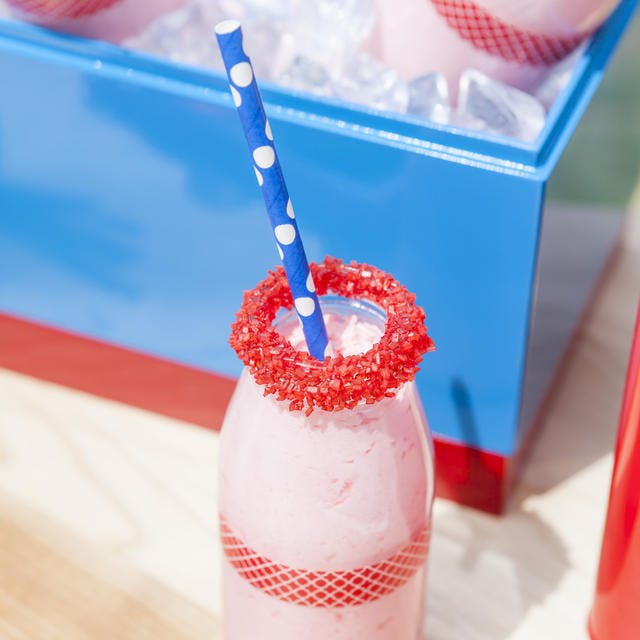 Milkshakes are a fun and unexpected addition to the ice cream bar! Make them extra-yummy by dipping the rim of our Glass Milk Bottles in water or simple syrup to dampen. Then dip the damp rim into a small dish of your choice of sprinkles. Add an extra touch by wrapping a piece of our Decorative Tape around the outside of the bottle. Mix up your favorite milkshake recipe and pour into rimmed bottle and keep them on ice in a Lacquered Box to prevent melting! And don't forget to top it off with a Paper Straw when serving!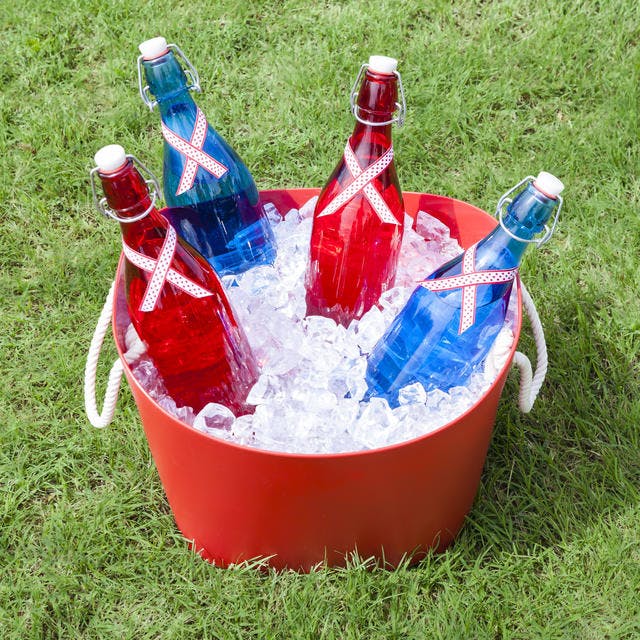 For your party beverages or for Root Beer or Cola floats, wrap an 8" piece of Reversible Dot Ribbon around the neck of our Giara Bottles. To secure the crossover of the ribbon on the front of the bottle, use a small piece of double stick tape, then finish by trimming the ends of the ribbon so they are even. Fill a Large Classic Balcolore Tub with ice to keep them cool.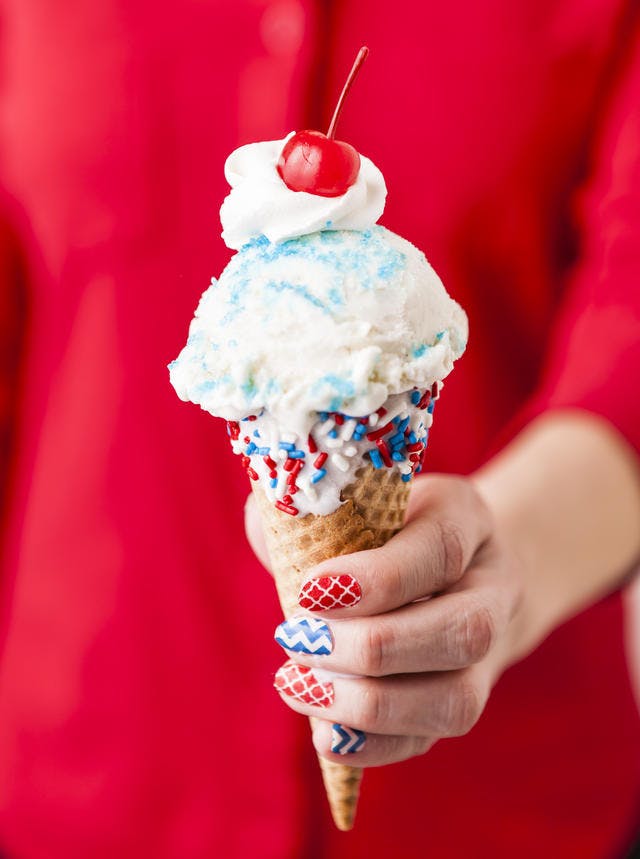 And for the hostess with the most-ess manicure - Red and Blue Chevron Decorative Tape applied to your nails will definitely be a fun conversation piece as you enjoy a double-dip of your favorite flavor!