We've seen a few cozy closets, tight quarters and unique spaces in our time. But the hallway outside of California teen, Sadye's bedroom was a fun and new challenge for us. You may remember us telling you about the Sobel family's Santa Monica home when we made over their home office recently.
The 1930s Spanish Mediterranean home came with some special design challenges that the Sobel's had to work with when they remodeled it. One being the rooms that included Sadye's bedroom and a guest room space.
"The former owner took the house and built an entire second story, with the intention for it to have three, en suite bedrooms upstairs and a fourth bedroom accessed by a hallway with stairs exiting outside the backyard. The hallway was supposed to be a guest suite or maid's quarters and was also once a safe room," says Sadye's mom, Marla.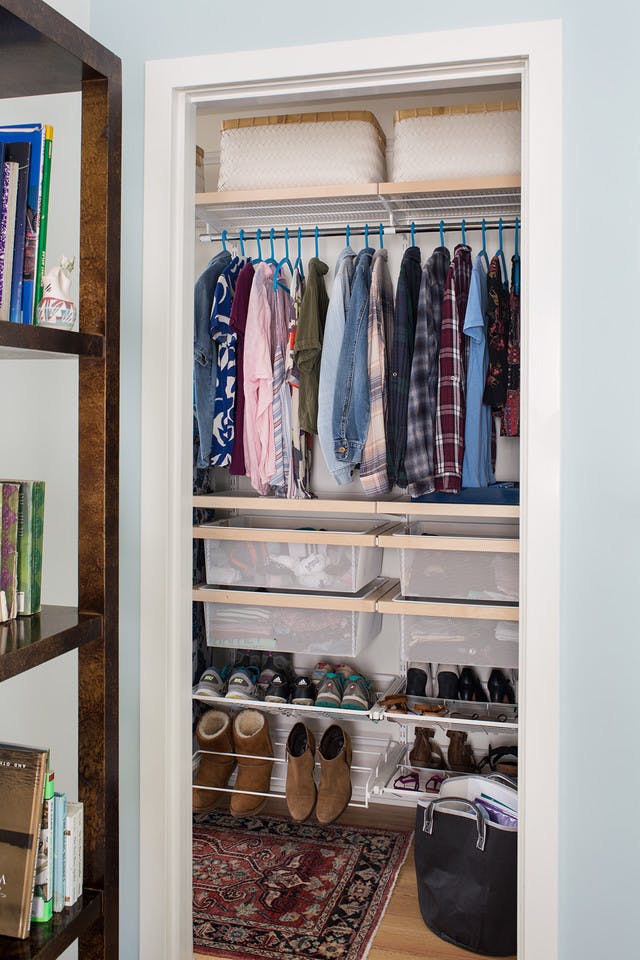 "We gutted the space and made it back into a hallway where you would have to go through Sadye's room to get to the back guest bedroom. The hallway has always been a place to store her clothes as they lost her "closet" when they gutted the walls in the space. Sadye used to throw everything on the floor or on an old chest of drawers that she inherited from relatives. It was a space where we would just shut the door and not see her junk," says Marla.
She says guests had to go through Sadye's room to access the guest room, so they were often quickly trying to clean up and place things in boxes before guests arrived. She says it was super challenging for Sadye to get dressed in the space in the morning noting that it was "high stress and high drama."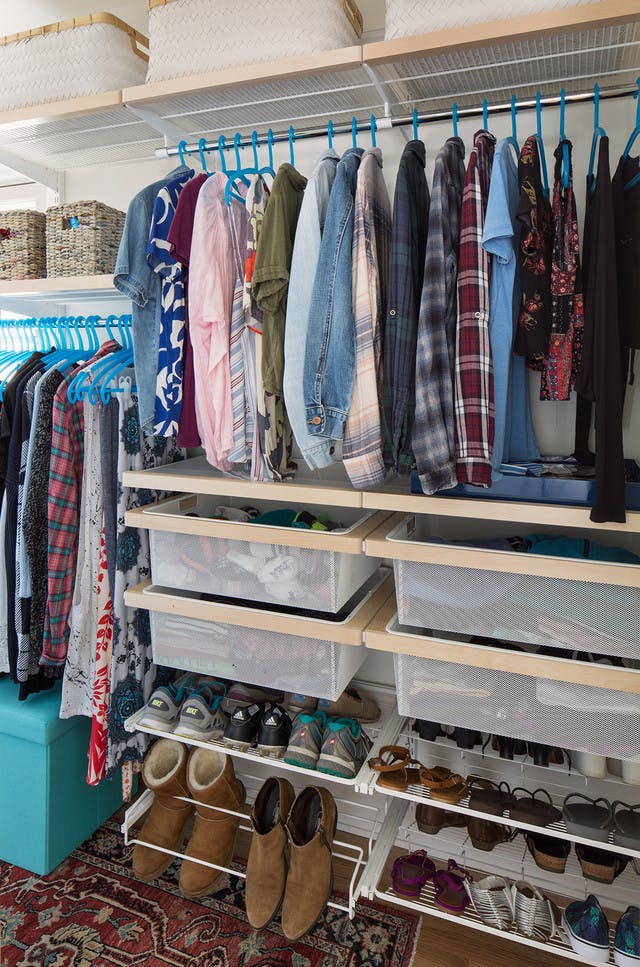 Featured Products: elfa // Blue Olka Hangers // Hampton Bins // Navy Lacquered Tray // Aqua Poppin Box Seat
A creative design of elfa shelving and drawers was the perfect solution to the challenging space because it is so multifunctional and flexible. Marla says that it has been "amazing and fabulous."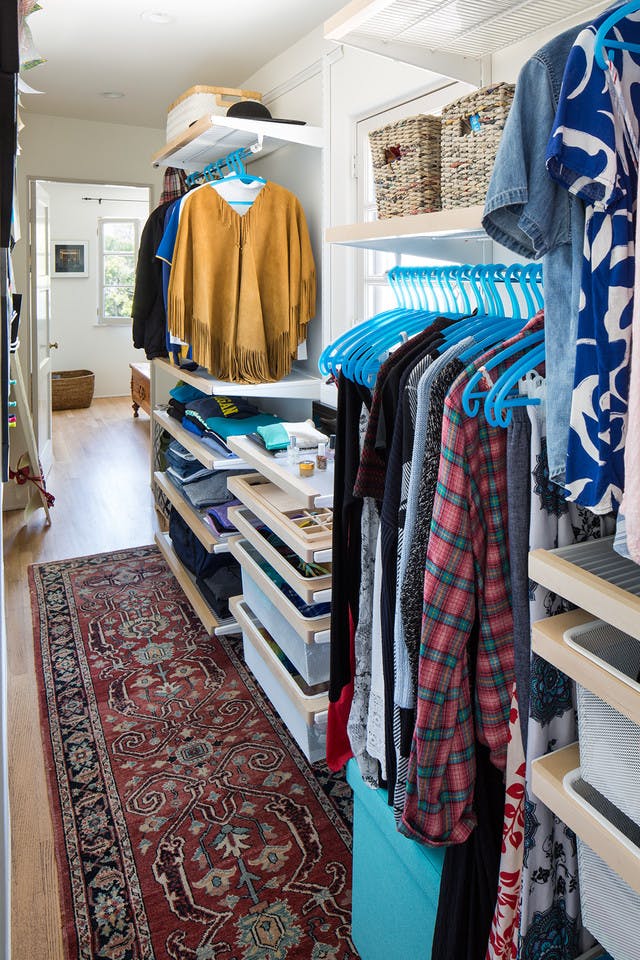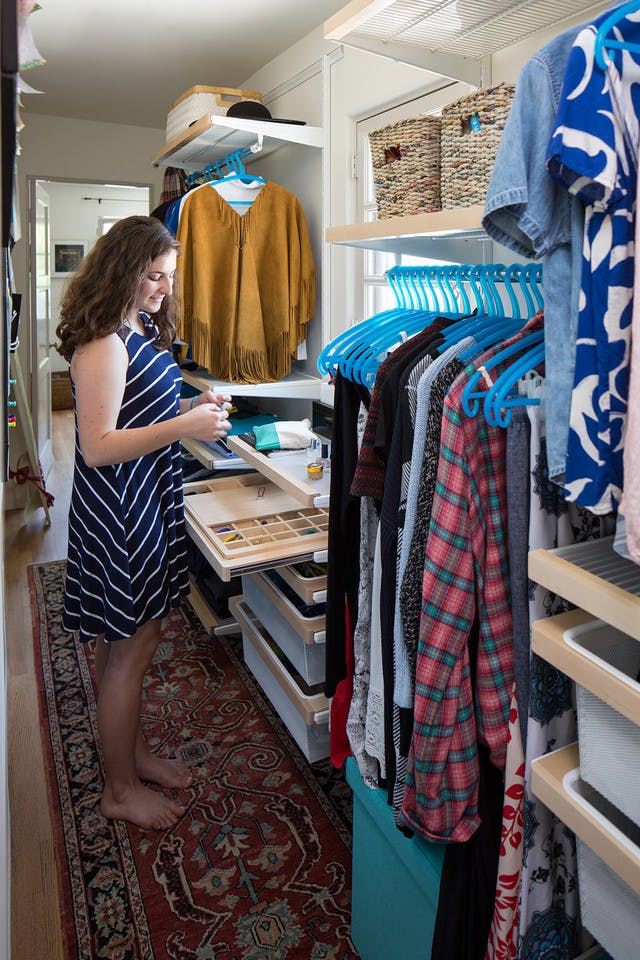 The busy high school junior is a singer, classical pianist and also recently picked up the electric guitar. Her mom says she has her own style and wears every piece of clothing she owns, so her new closet is perfect for her carefully edited wardrobe.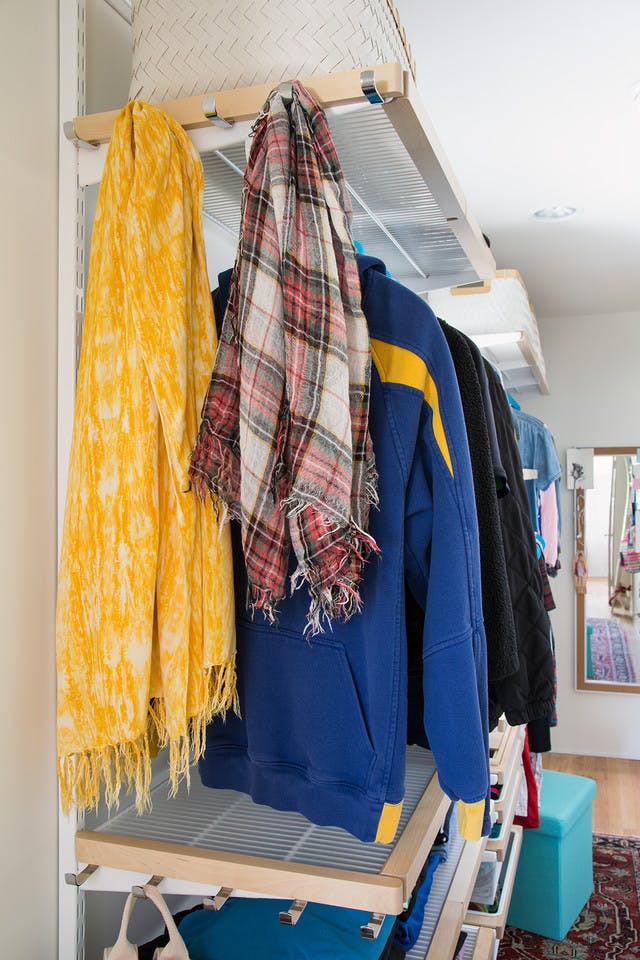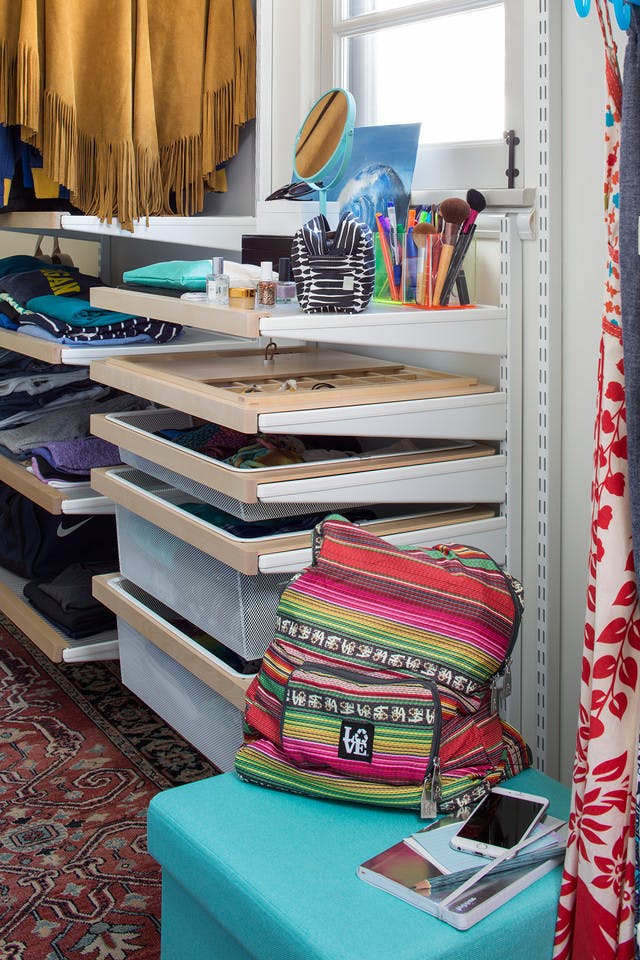 Featured Products: elfa // Aqua Poppin Box Seat // Love Blanket Stash It Backpack // Neon Orange Poppin Acrylic Pencil Cup // Neon Green Poppin Acrylic Pencil Cup // Black Stripe Cosmetic Bag // White Medium Lacquered Rectangular Box // Black Large Lacquered Rectangular Box // Aqua Canvas Colorblock Pouch
A vanity area placed under a window gives Sadye a lot of natural light when she is getting ready. Generous drawer space underneath holds her statement jewelry and other accessories.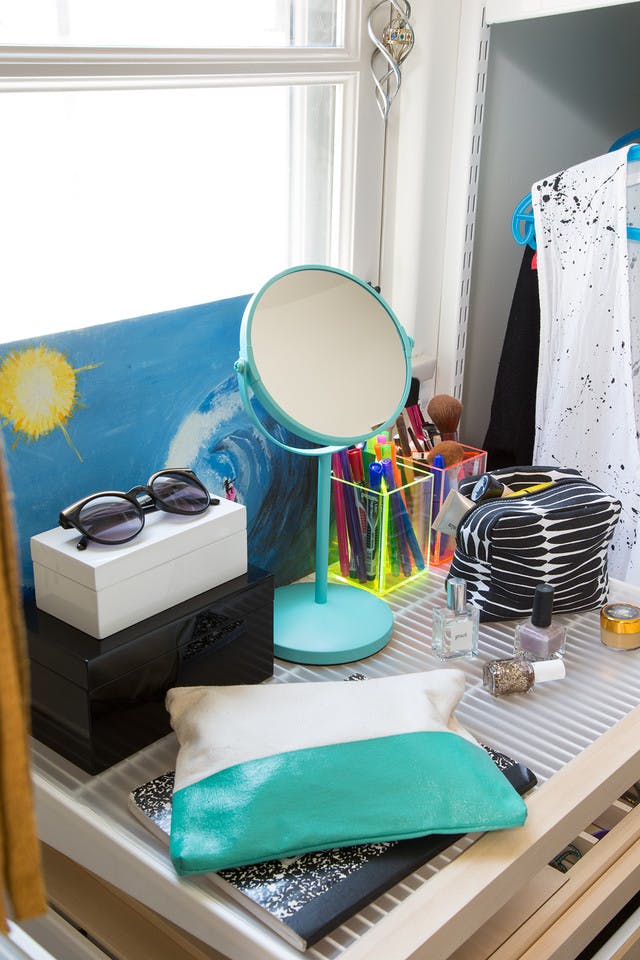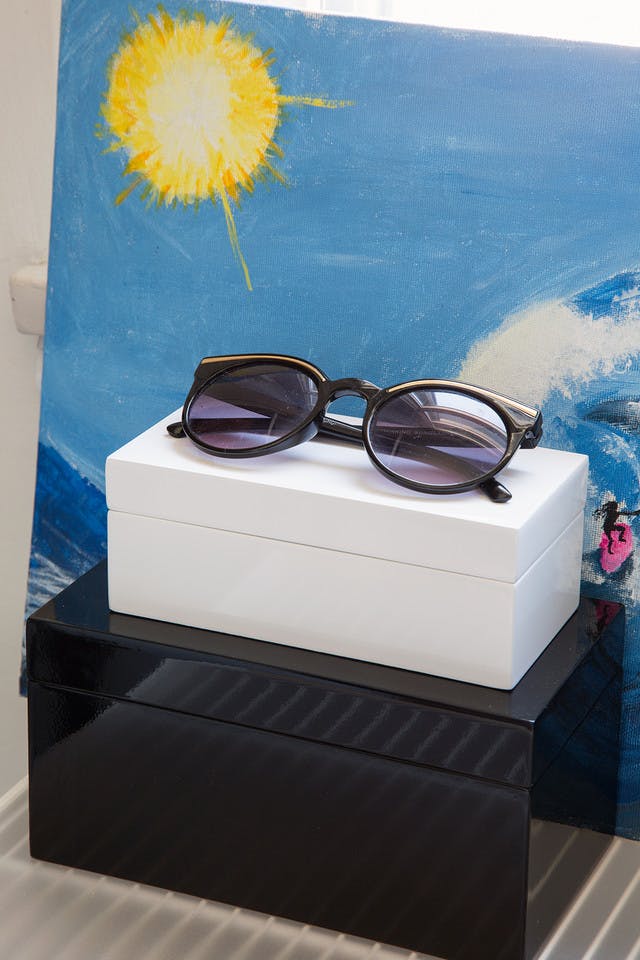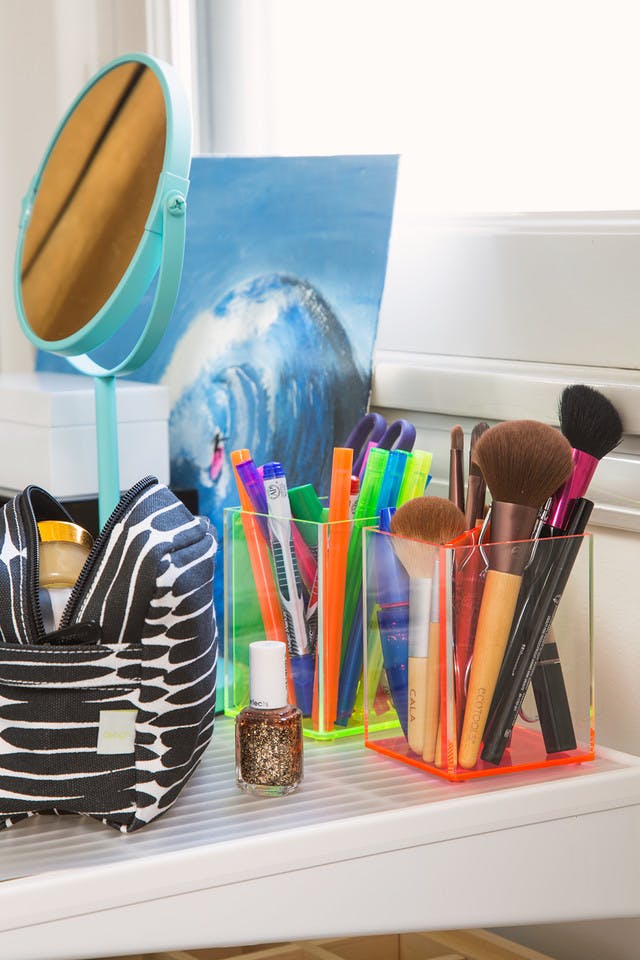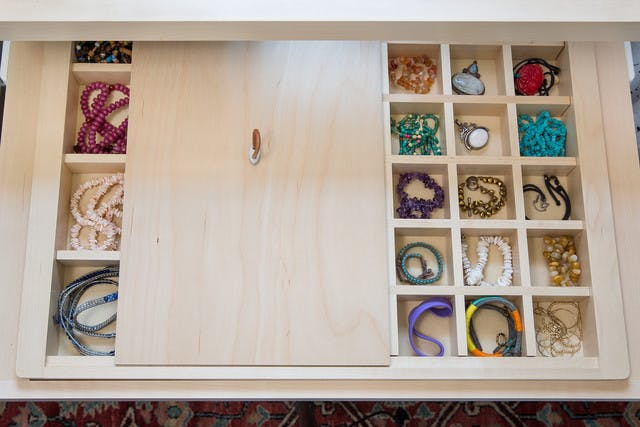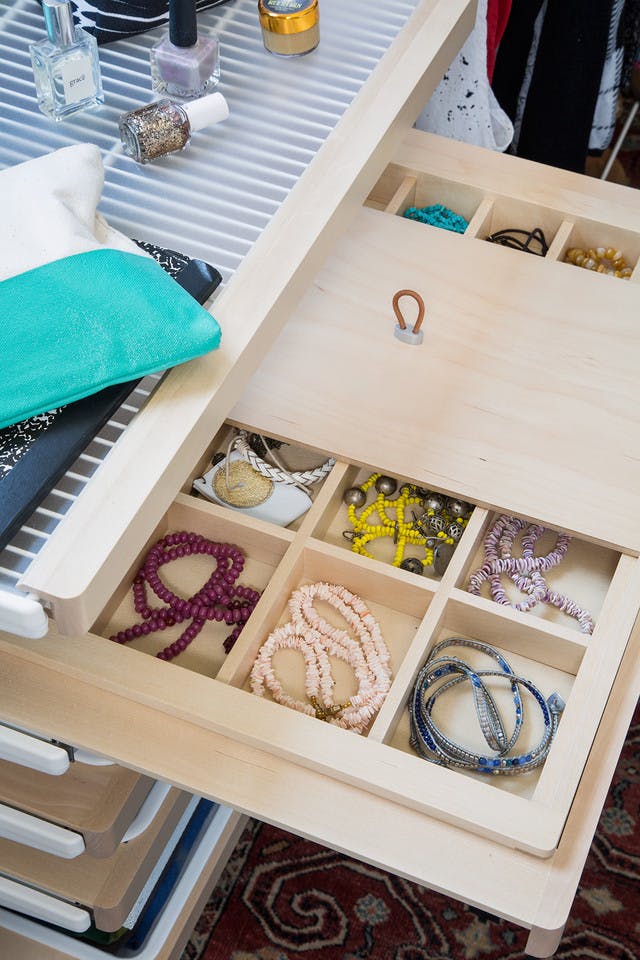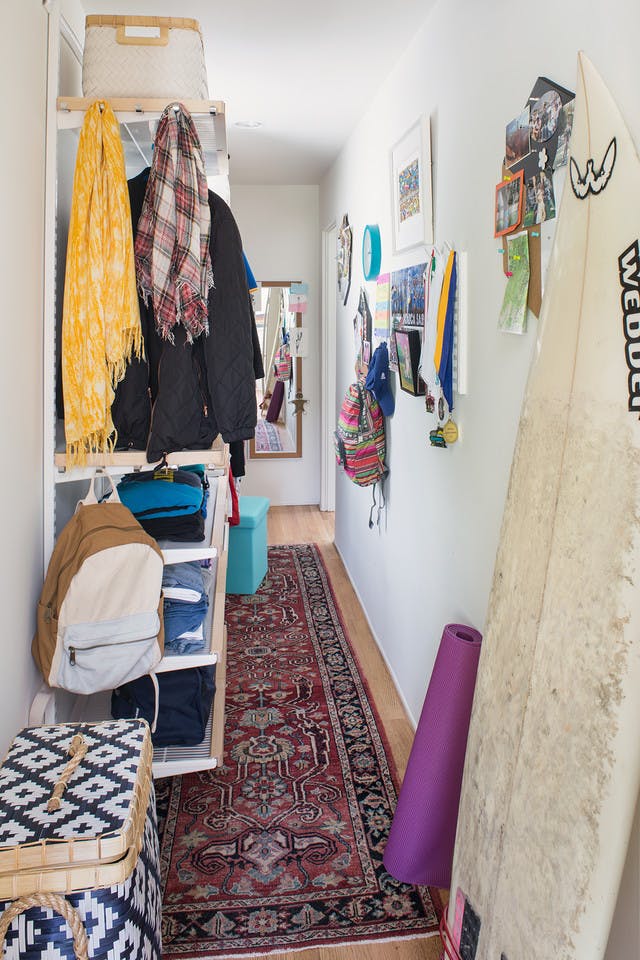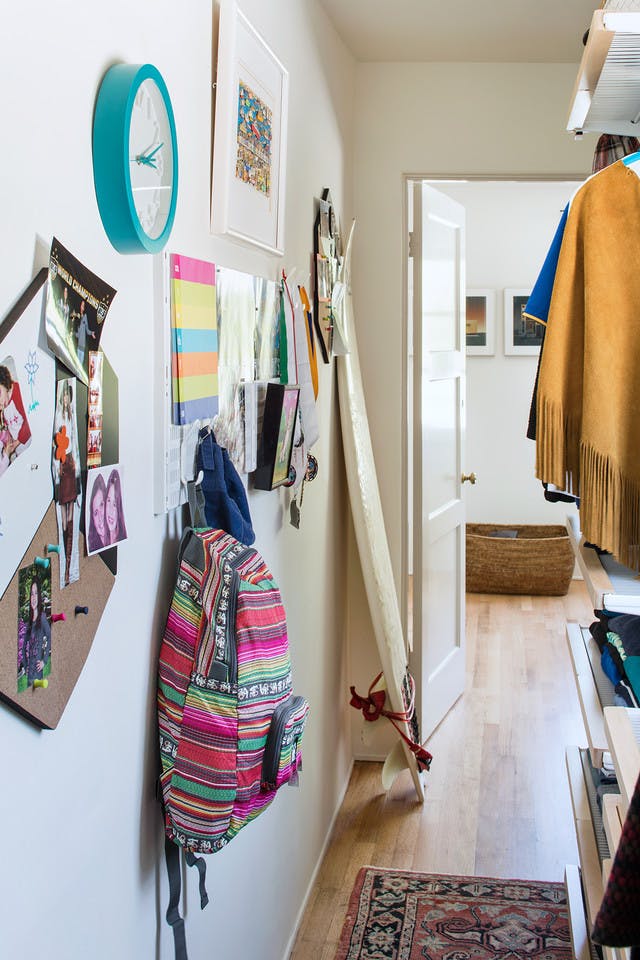 Featured Products: elfa utility // Diamond Boards by Umbra // Love Blanket Stash It Backpack // Lulalu Weekly Notepad
Wall space opposite of the closet is full of cork and magnetic boards filled with photos and memories, and a variety of hooks hold items like backpacks and medals from Sadye's soccer wins.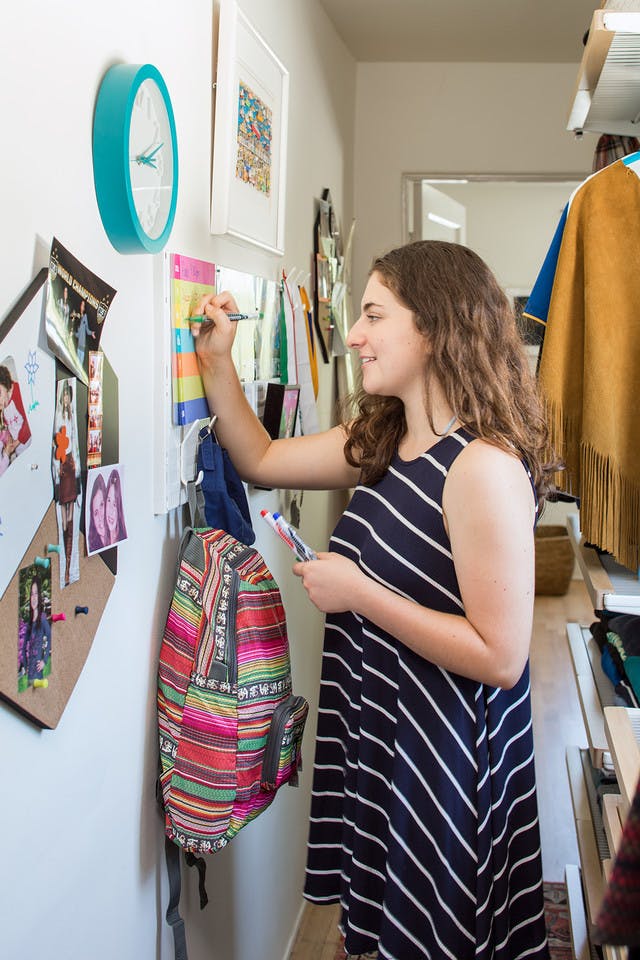 "It's extraordinary that when you walk through the space it's actually perfectly clean. Sadye now has a lot of pride in the space and knows exactly where everything is," says Marla. "She's no longer throwing things around as she has a system that truly works and functions for her needs."
Every mom's dream! A clean, organized teenager's space!