We know it all too well, but no one likes to speak about it, and we certainly don't like to think about it - you know, the dreaded under-sink kitchen cabinet.
That place where cleaners, towels, odds and ends go to never be organized and never to be found again. A dark (and sometimes damp) hole of sorts with pipes winding in such a way that it's a Mensa puzzle to figure out how to find room for even a sponge at times.
It's not exactly the most fabulous place in any home - but it can be organized, and that organization can give you a little more room for style - no matter what your budget is. To help you get started, we've put together five solutions below to help you with just that! Best of all - this project can be done in about the time it originally took for you to find that cleaner you were searching high and low for.
Under $16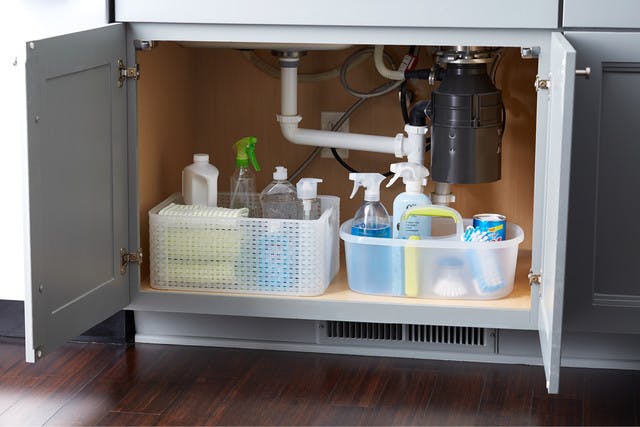 This solution is perfect for those with few necessities, and the entire solution is under $16.00! A few towels and several versions of your favorite all-purpose cleaners will do the trick to keep your organized, while the integrated handles on the Medium Basketweave Bin and the center carrying handle on the Rectangular Cleaning Caddy make them a breeze to take out and tote from room to room!
Under $19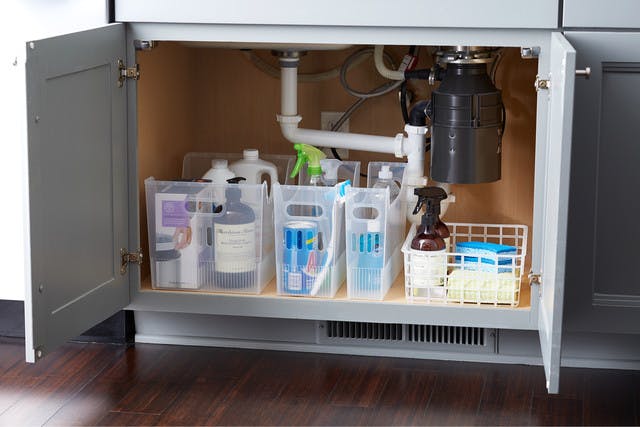 Keep it open and accessible for under $20.00! Our Extra-Large, Medium & Small Multi-Purpose Bins have small handles and completely open tops for you to easily pull out and grab what you need! If you, like many people, have pipes and disposals in the way, our Plastic Grid Basket is perfectly sized to hold smaller necessities without being squished.
Under $26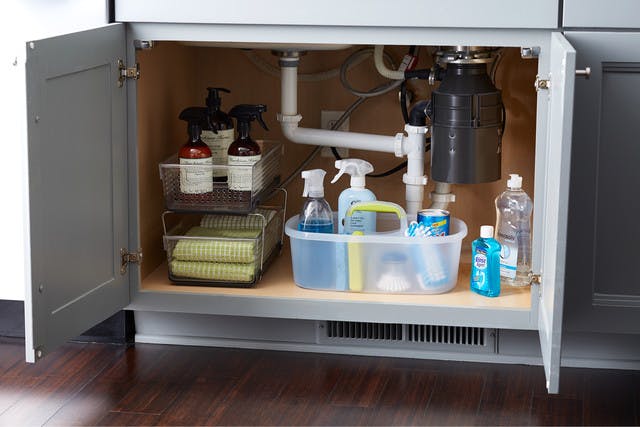 Take full advantage of vertical space with our 2-Tier Pull-Out Cabinet Organizer that slides so you can easily take what you need and go! A second appearance by our Rectangular Cleaning Caddy fits perfectly into the limited space left over. All for about $25.00!
Under $30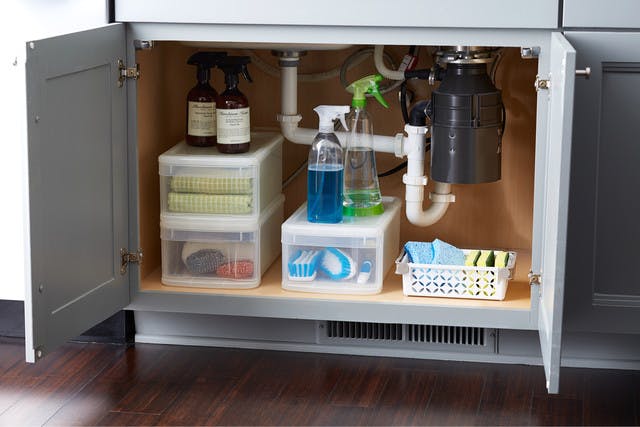 Semi-concealed and sliding - our Small Tint Stacking Drawers keep items together and protected from the dust and dirt they do so well to eliminate! Divide up your drawers by category and stack where you can. Our Small Stacking Basket makes use of your small space leftover. All at around $26.00
Under $35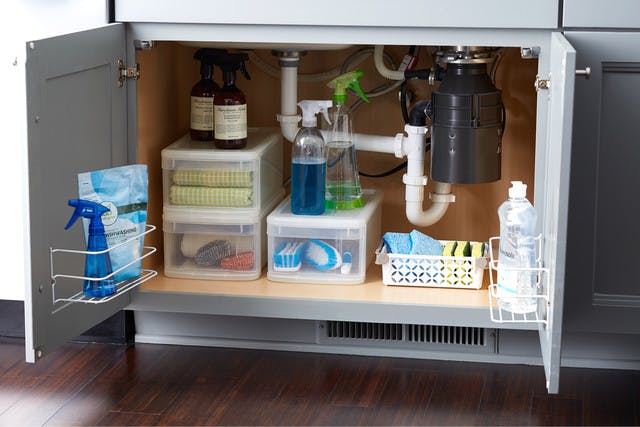 Why not store more behind your cabinet door? Cleanser Racks can be installed in minutes and immediately open up storage where there was nothing before! Again, our Small Tint Stacking Drawers keep items together by category and stack to maximize space, while our Small Stacking Basket continues to make use of that very narrow space. All under $35.00!