You can do a HO-HO-whole lot more with gift wrap than just wrap packages. Have you ever thought of using it as part of your holiday décor? With the various patterns, textures, shimmers and shines that you can find these days in paper, it's an unexpected twist on traditional Christmas decorations. And, it's a great way to use those extra scraps you always have after wrapping presents. Here, we've put together some easy and fun ways to use your gift wrap from our Gift Wrap Wonderland in festive ways around the house.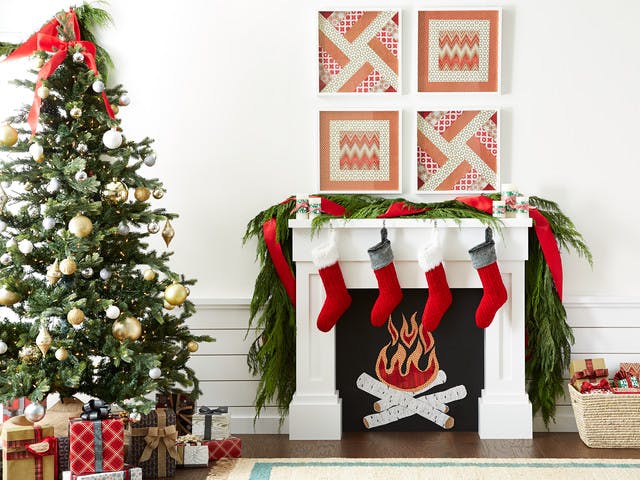 Yule Log All Season Long
You can keep the home fires burning throughout the entire holiday season with this whimsical fire scene.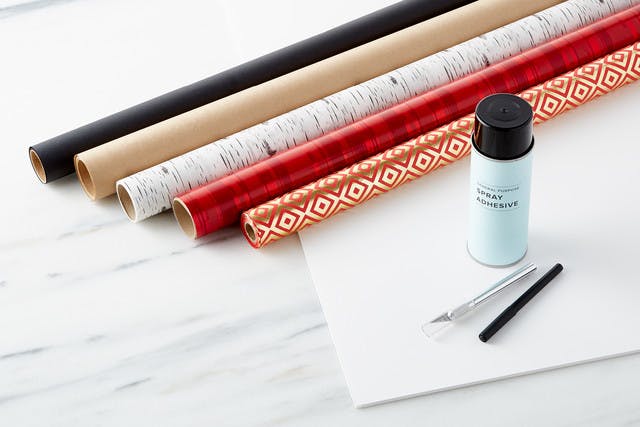 Supplies: Gift wrap, scissors or cutting tool, foam core, spray adhesive
First off, you'll need to measure the opening of your fireplace and cut a piece of foam core that will fit snugly into the space. Use spray adhesive to cover the foam core with black craft wrapping paper.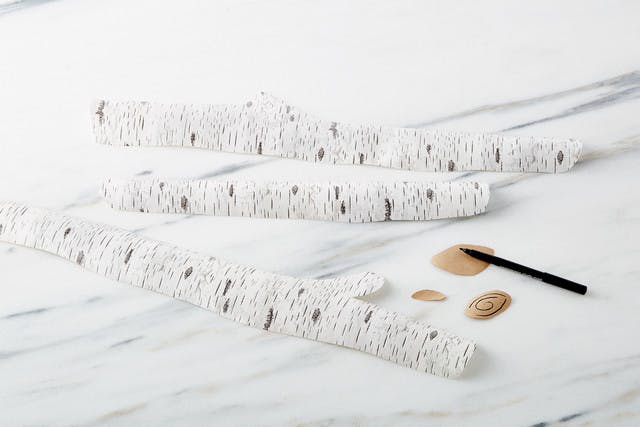 Use our Birch Bark Recycled Gift Wrap for the logs and Kraft Recycled Gift Wrap for the ends of the logs. Use our template to cut out the shapes of the logs.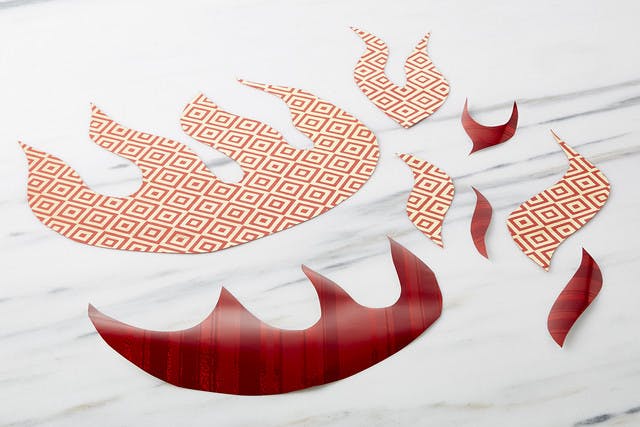 Choose two different types of red or gold wrapping paper for the flames. Use our template to cut out the shapes of the flames.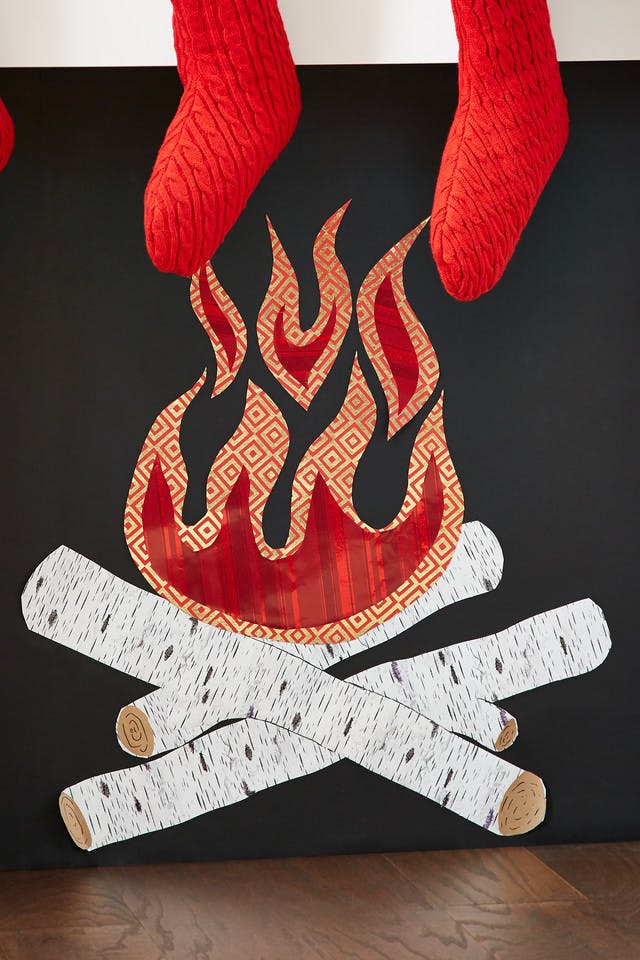 Attach the flames and the logs to the foam core using the same spray adhesive and voilà! You've warmed up your living room - no matches needed!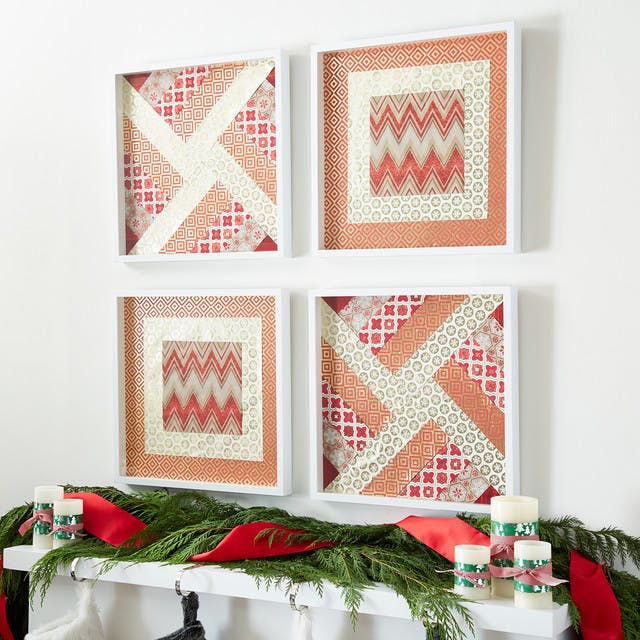 Gift Wrap Art
Framing up some of your favorite gift wrap is a great way to tie in your wrapping paper that you're using around your tree. Here, we created a grouping over the mantle. This is great way to put your leftover pieces of wrapping paper to good use.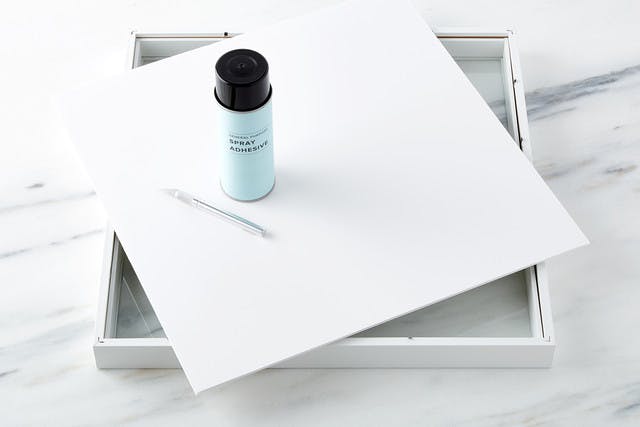 Supplies: Poster board, cutting tool, spray adhesive, gift wrap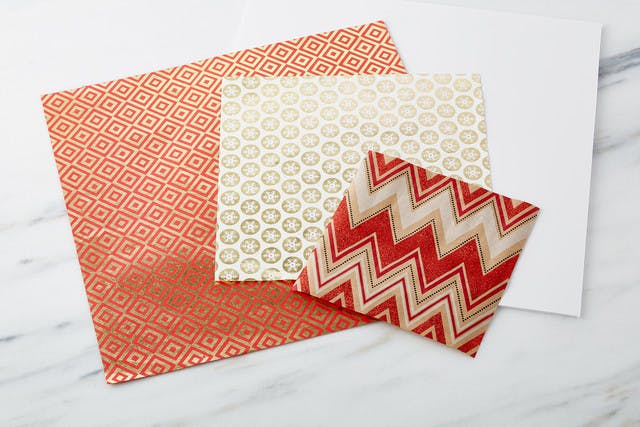 Choose three of your favorite wraps and four of the same frame. We used 20" x 20" frames, which determined our dimensions
Cut poster board to fit each frame
Cover two of the boards with the same wrap using spray adhesive
For our 20" x 20" frame, we cut the next wrap 14" x 14", and the next 8"x 8". This created 3" borders on each side.
Center each one and adhere with spray adhesive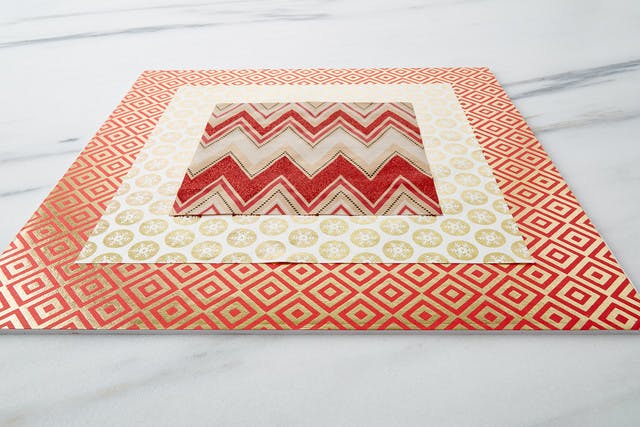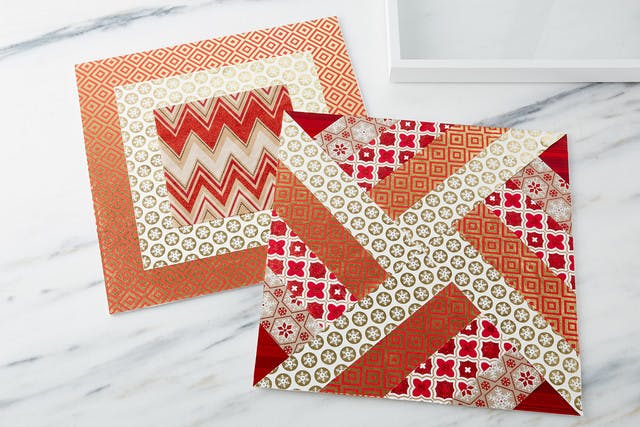 Pinwheel Pattern
Use the same gift wraps you used for the square pattern, or choose four new ones that coordinate.
Cut two poster board pieces to fit inside your 20" x 20" frame
Take each wrap and cut five strips into a 3" x 12" dimension
Using our Triangle Template, attach strips using one of each pattern with spray adhesive. Trim off any extra gift wrap on the ends
Repeat so you end up with four triangles of the exact same design
Attach the four finished trangles to your board to create the pinwheel design effect shown
Start with the first triangle's point facing the middle of the board, and turn each other triangle 90 degrees as you work around the board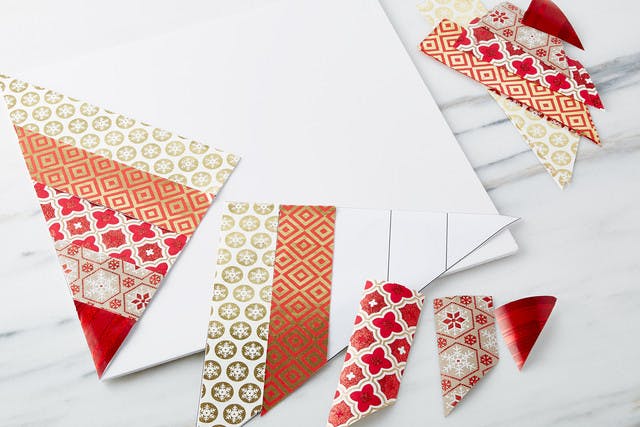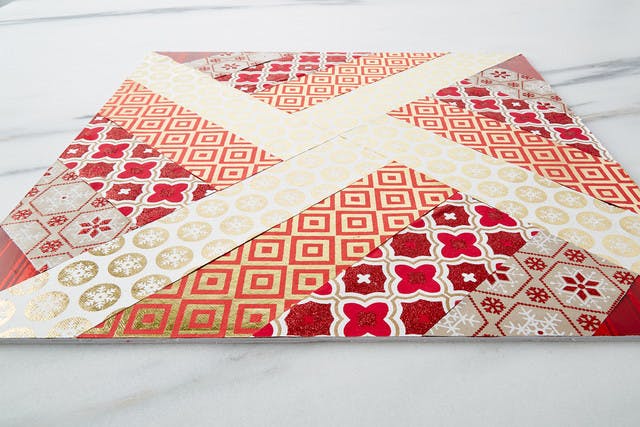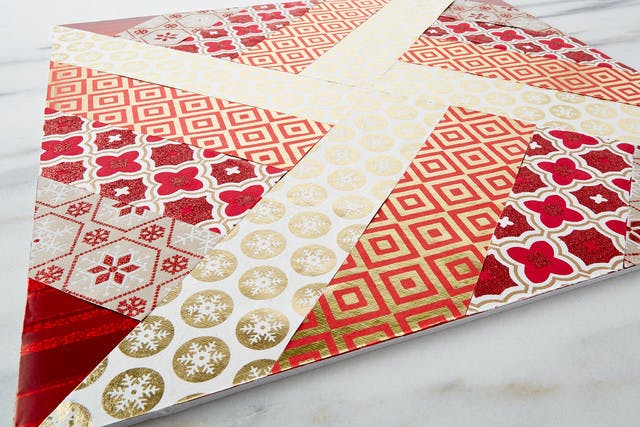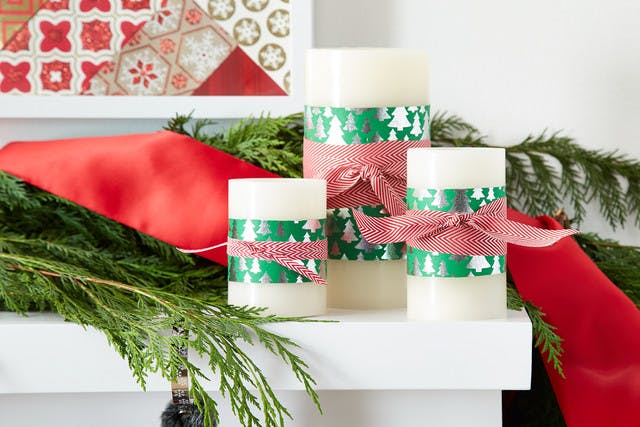 Festive Candle Sleeves
You can kick up your simple white pillar candles with these festive covers that are another way to pull in your gift wrap theme.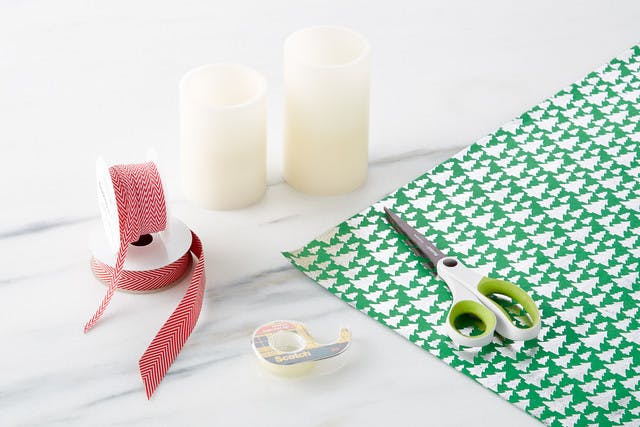 Supplies: Ribbon, gift wrap, scissors, double sided tape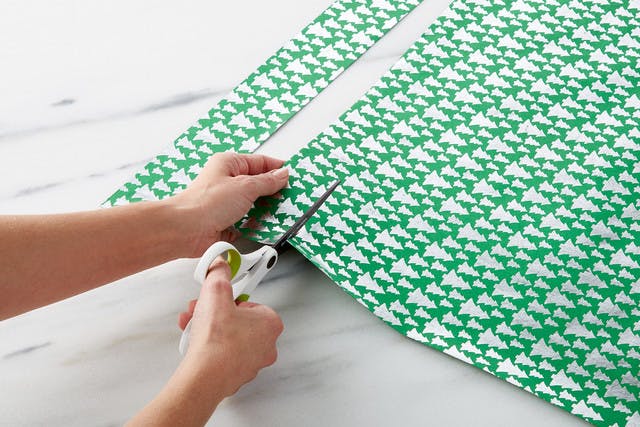 To determine the size of strips, measure the candle height and circumference. We used strips that were half the height of the candle for the width of our sleeve.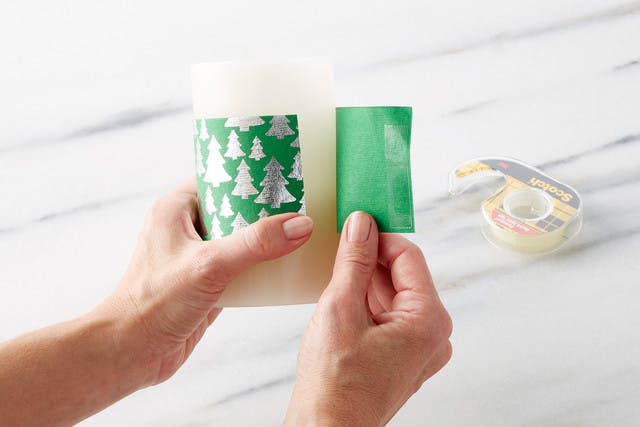 Attach the ends of the gift wrap with double stick tape.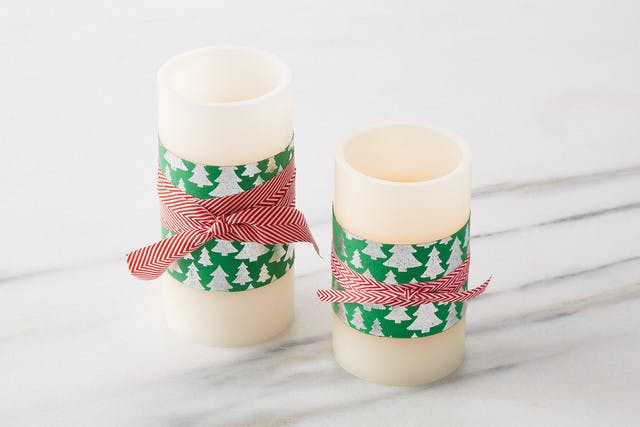 Finish the candle off with a ribbon or string tied around the candle with a bow or simple knot. If it's a simple knot, cut the ends at an angle to give it a "bow tie" effect.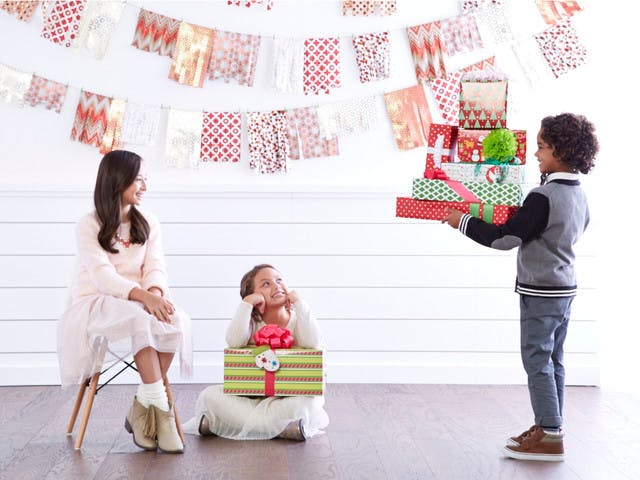 Gleeful Garland
This garland is a great way to spruce up a blank wall, a mantle or over a doorway. It's also another good use for those extra gift wrap scraps you find yourself with after wrapping gifts.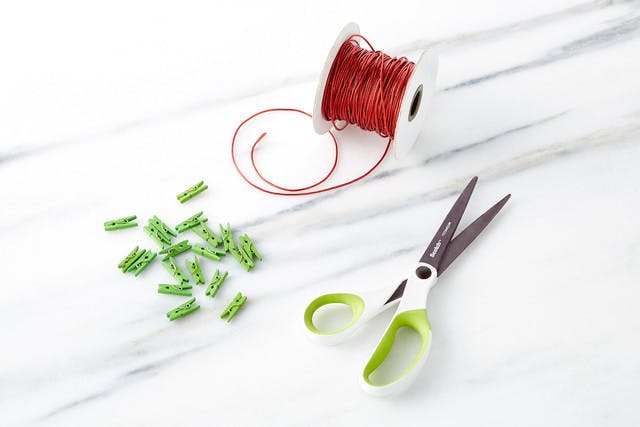 Supplies: Gift wrap, ribbon cord, small clothes pins
You'll need to decide how long you want your garland to be, and that will determine how long you cut your cord as well as how many fringe squares you'll make below. Cut five to seven of your favorite gift wraps into squares of varying widths. We used a variety of 4", 6" and 8" widths.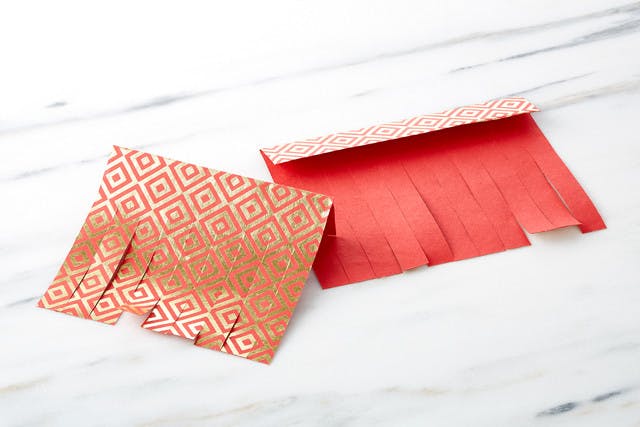 Fold one edge over one inch, which will later become the fold that will help you hang the squares over your cord.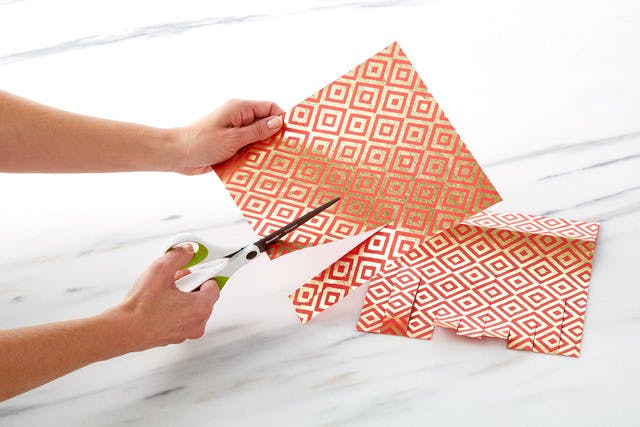 Cut the "fringe" in 1" increments along the entire square. Cut the fringe all the way up the square stopping before you get to the crease you made earlier.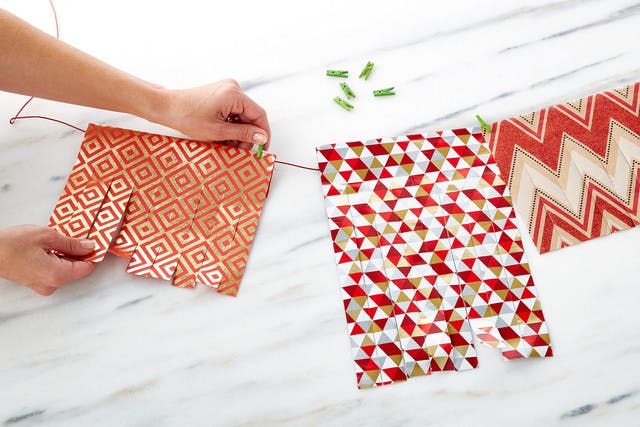 Fold each square over the cord. You can adhere the paper as you fold it over using double stick tape. Add miniature clothes pins to each end of the folded paper for an extra fun touch.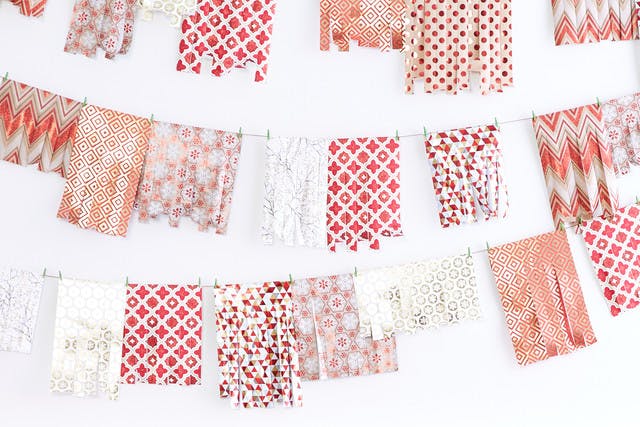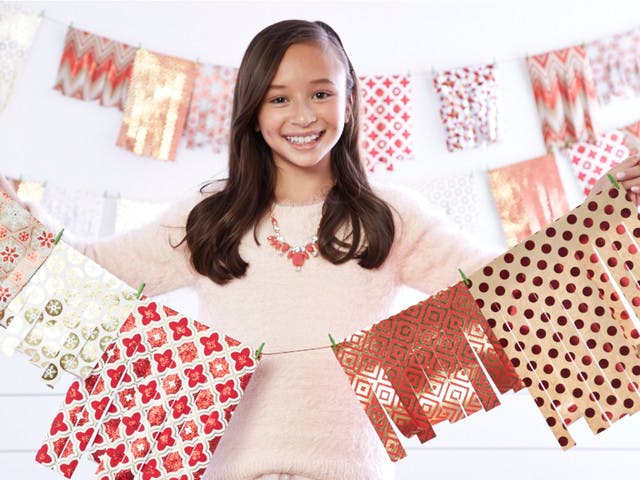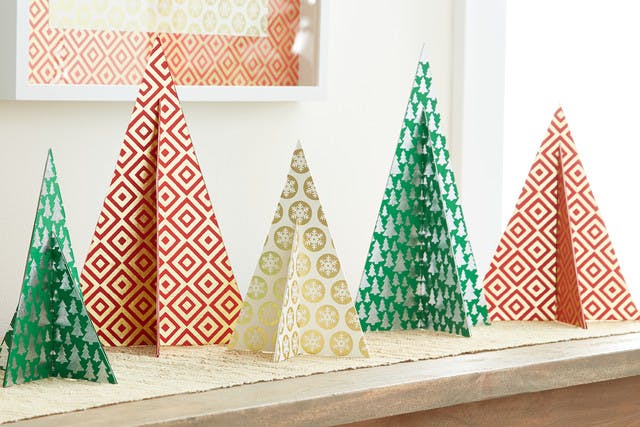 Glorious Gift Wrap Trees
You can create your own festive forest with these cute paper trees using a variety of different patterns and textured wrapping paper. They are perfect Christmas decorations for the mantle or for a centerpiece.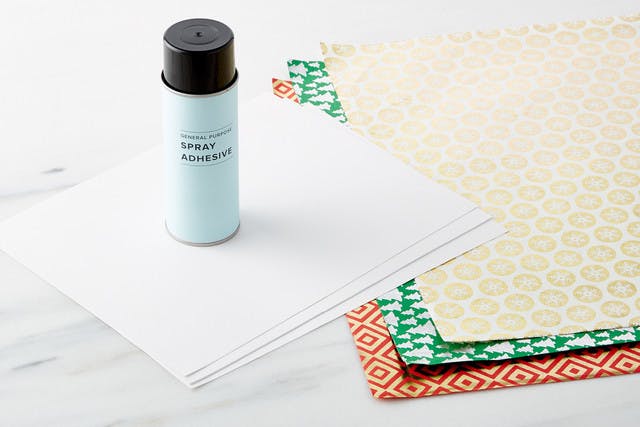 Supplies: Poster board, cutting tool, spray adhesive, gift wrap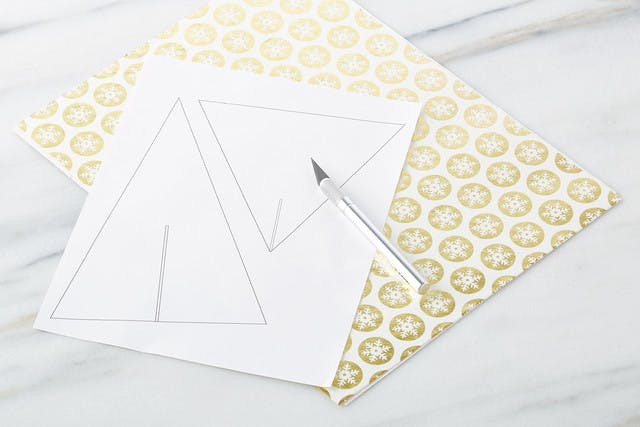 Use our Wrap Tree Templates for small, medium or large trees. Decide how many trees you want to make, and use the poster board to cut out your trees. Each template has two pieces - a top and bottom.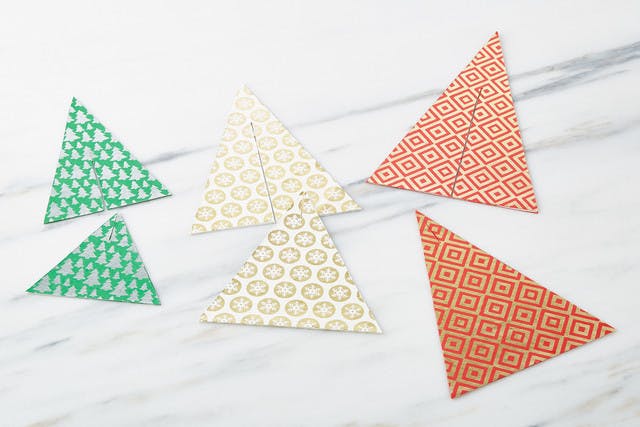 Use the same wrap for the top and the bottom of the tree, and use spray adhesive to cover the poster board cut outs.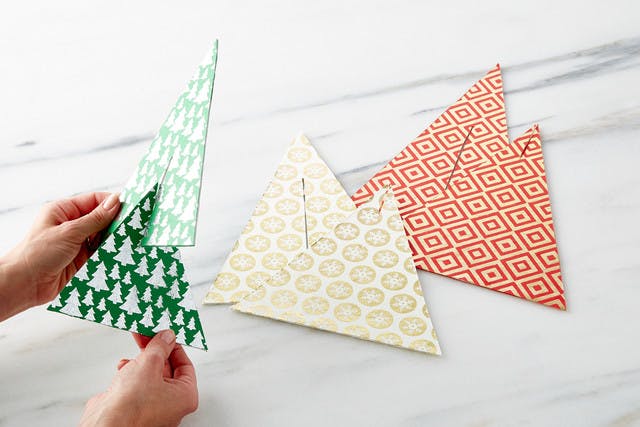 Assemble the top and bottom together by sliding the top of the bottom piece into bottom of top piece perpendicularly.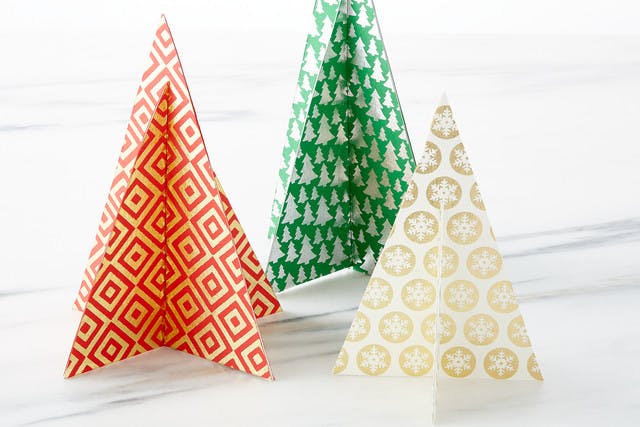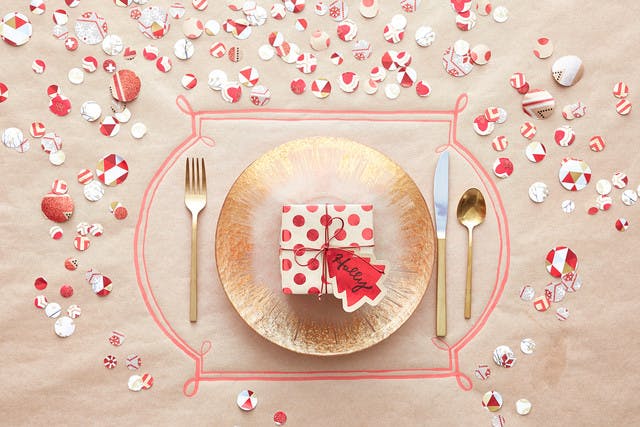 Table Setting with all the Trimmings
This table setting idea is whimsical and fun and will be an unexpected treat for your guests.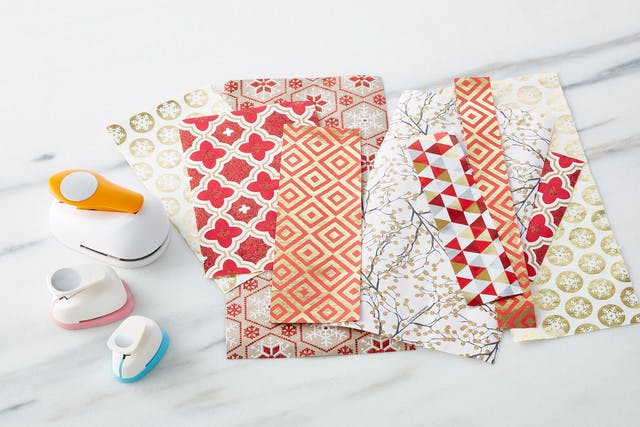 Confetti Supplies: Scraps of gift wrap, craft size hole punch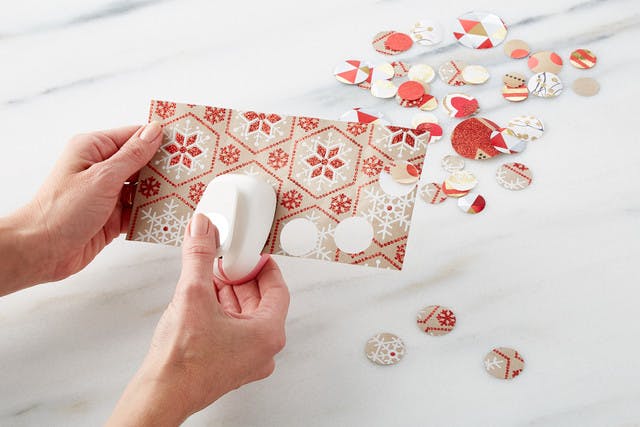 Punch circles of confetti out of the gift wrap with a hole-punch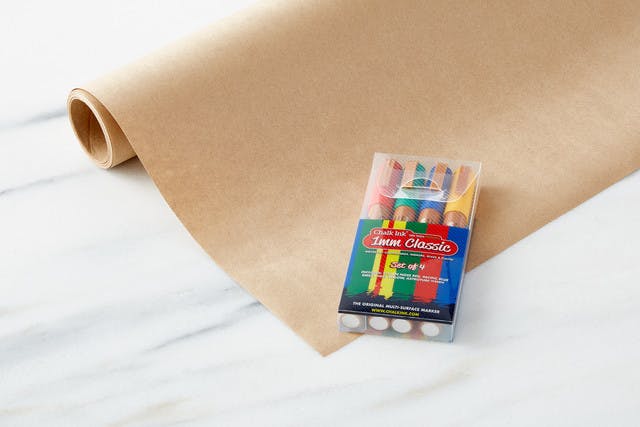 Placemat/Table Runner Supplies: craft wrapping paper, chalk markers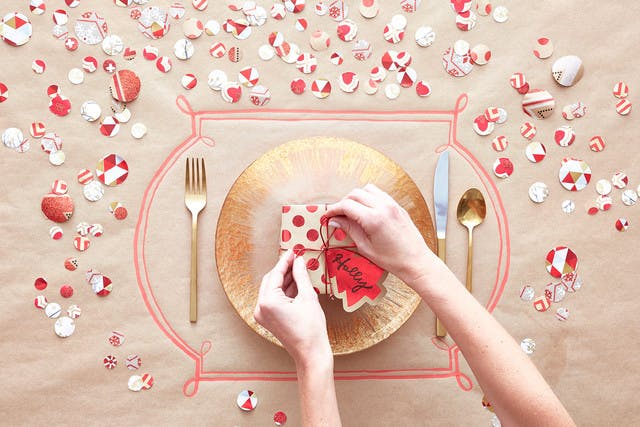 Cover your table with the craft paper. At each place setting, set your plates, silverware, etc., down so that you know the area you'll need around them to create the placemat. Either freehand a design around your place setting, or use an actual placemat and trace around it to create your design. To personalize each seat you can write your guest's name at each place setting.
Once your table is set, sprinkle your confetti around the table.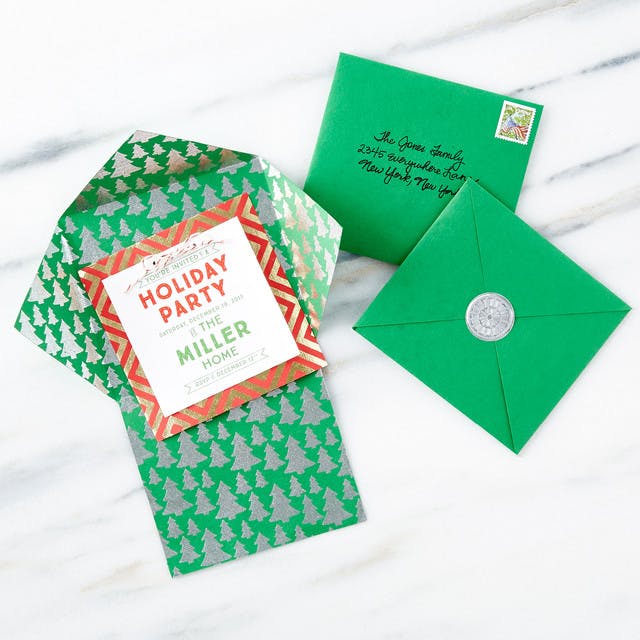 Now it's time to invite the guests over to see all of your gift wrap Christmas decorations! If you want to take the gift wrap DIY even further, use it to make your invitations.
Use our Invitation Template to cut and fold the envelope and square invitation. Use a home printer to print out invitation details on the squares. Punch a small hole in both square invitation pieces and tie together with string. Secure the envelope with seal, address them and mail!
Ok - you're officially a Wrap Star!