The Laundress New York is an eco-friendly line of detergent, fabric care, and home cleaning products that take excellent care of you, the things you love, and the environment.
We, Lindsey J. Boyd and Gwen Whiting, established The Laundress in 2004 after investing in our wardrobes only to be confronted with the frustration in maintaining them. We found ourselves replacing prematurely worn items like dingy white T-shirts and faded denim and paying painful dry-cleaning bills. Through our expertise acquired from studying fiber science at Cornell University, we discovered that 90% of items labeled "Dry Clean Only" were actually washable! Backed with this knowledge and having identified a major void in the marketplace, we saw an opportunity to advance the world of fabric care and turn a mundane domestic chore into a luxurious experience.
Each of our formulas consist of the highest concentration of active, biodegradable ingredients such as enzymes, color guard, and bleach alternative that preserve textiles while targeting stains. All are custom designed for individual fabrics, combining the most effective ingredients with unique and natural scents. Our mission? Clean one person and one household at a time. After all, everyone has dirty laundry!
With spring cleaning being oh so in season, we're sharing our Top 5 Tips on prepping your home for warmer weather and much spring/summer entertaining to come!
1. DEODORIZE AND SPOT TREAT STAINS ON RUGS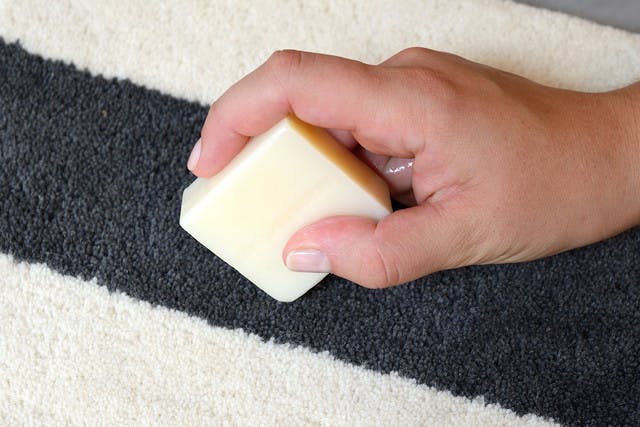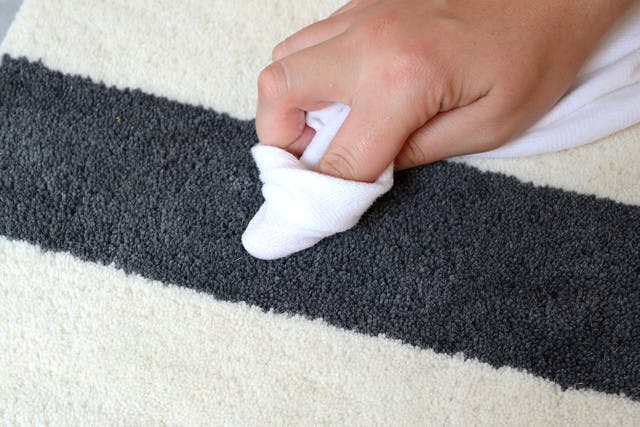 Rugs and other non-launderable items are often subject to high amounts of wear and tear from kids, pets, and day-to-day living. Dry-cleaning can be expensive, and some items cannot be taken to the cleaners. Here's how to remove stains and odors yourself:
Stains

Spot treat dirt and stains with The Laundress Wash & Stain Bar by lathering the bar with tepid water and gently working it into affected area(s). Lift the stain and soap by dabbing the area with a damp Lint-Free Cleaning Cloth. Do not use paper towels and certain sponges as they may leave behind lint or residue. Repeat this process until satisfied. Be sure all soap is removed!
Odor

Neutralize odor by sprinkling The Laundress All-Purpose Bleach Alternative on the affected area. Then vacuum. For overall freshening, sprinkle The Laundress All-Purpose Bleach Alternative on the entire span of the rug or spritz with The Laundress Wool & Cashmere Spray.
2. REJUVINATE CURTAINS AND DRAPES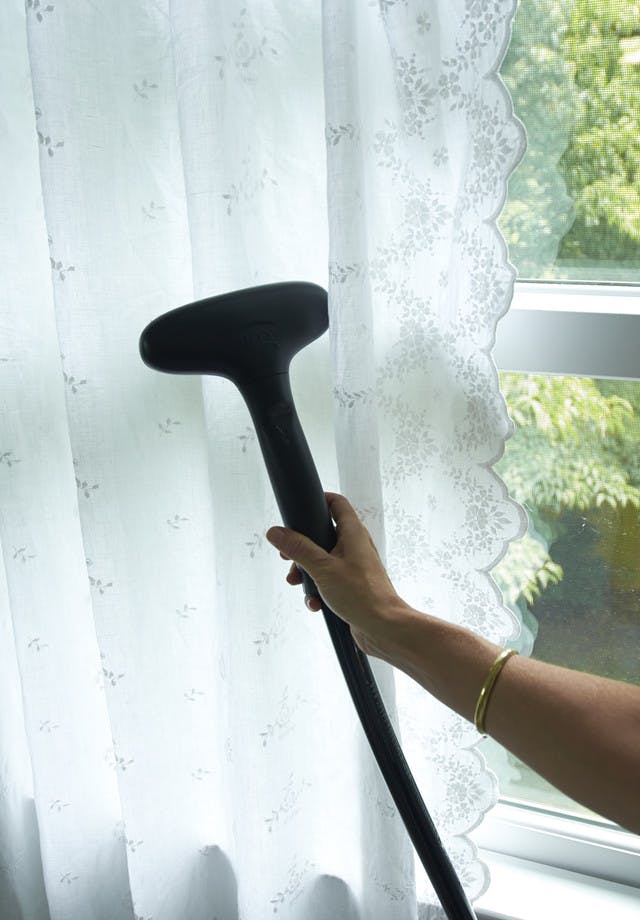 Curtains and drapes are often left unattended, but should be cleaned at least once a year. If the panel does not have a lining, you can launder according to the fabric content. If the curtain or drape is lined or has intricate pleating or hardware attached, it's important to perform a water test on both the lining and the outer fabric to ensure no shrinking or color bleeding will occur if washed. If you notice a change in hand or release of dye, the piece cannot be washed.
When laundering isn't an option, you should freshen curtains and drapes to rejuvenate fabrics. Steam to kill germs, bacteria, and allergens while releasing wrinkles for a natural finish. We recommend the Jiffy Steamer as its 5-½ ft. flexible hose allows for extended reach. Spritz regularly with allergen-free The Laundress 4 oz. Room & Fabric Spray.
3. FRESHEN MATTRESSES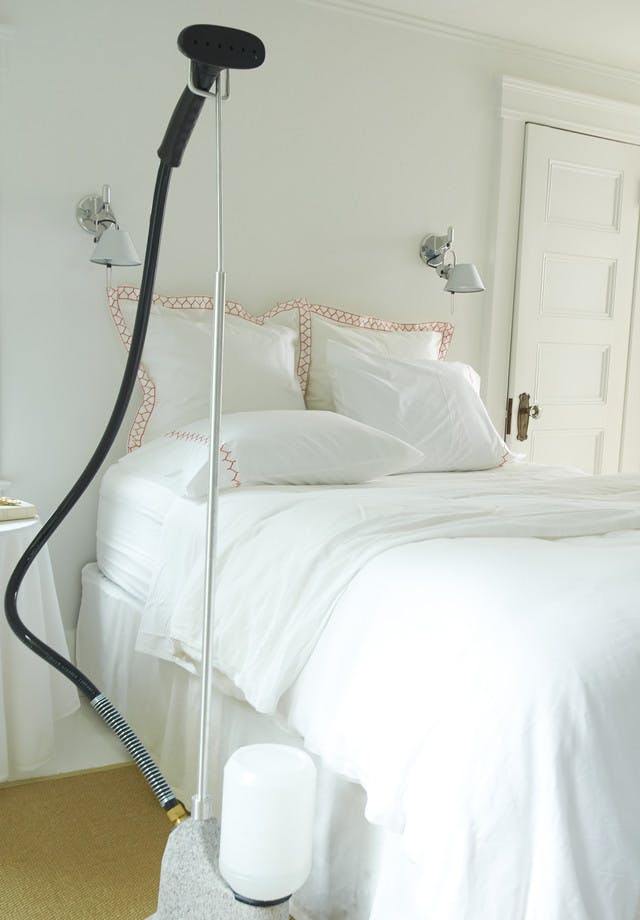 Flip, rotate, and steam your mattress at least twice a year to reduce allergen concentrations - especially during spring! A key to controlling allergic reactions is controlling the dust mite population in the home. Add 1 capful of The Laundress Ironing Water directly into the steamer's water tank to achieve a fragrant finish.
At this time, spritz your mattress, pillows, and comforter with The Laundress 4 oz. Room & Fabric Spray to freshen. And if you're feeling particularly ambitious, remove your bed skirt and machine wash according to the fabric content. For a photo-perfect finish, press the bed skirt while damp.
4. PREP SEASONAL DUVETS AND BLANKETS FOR STORAGE (OR SNUGGLING!)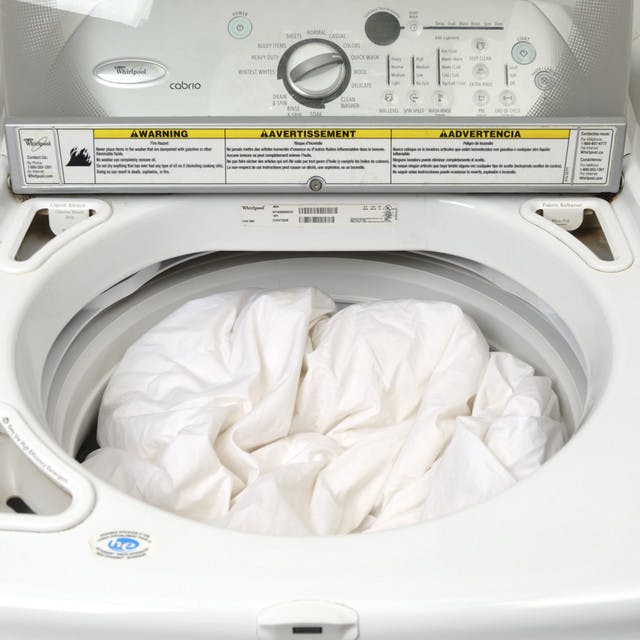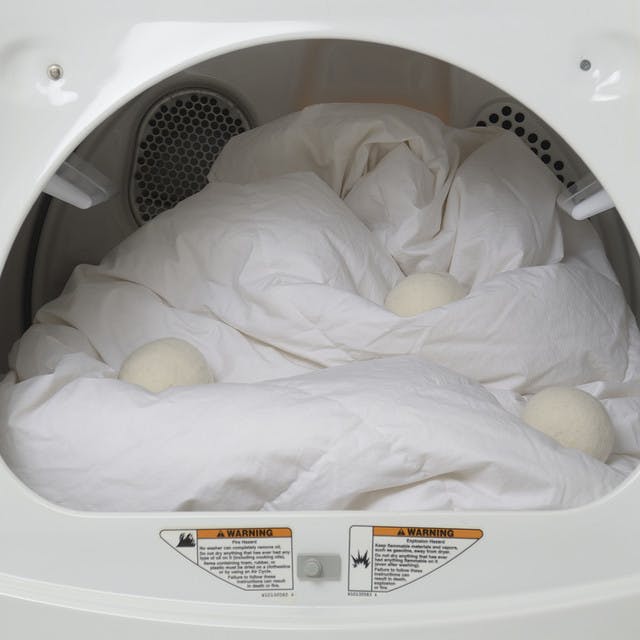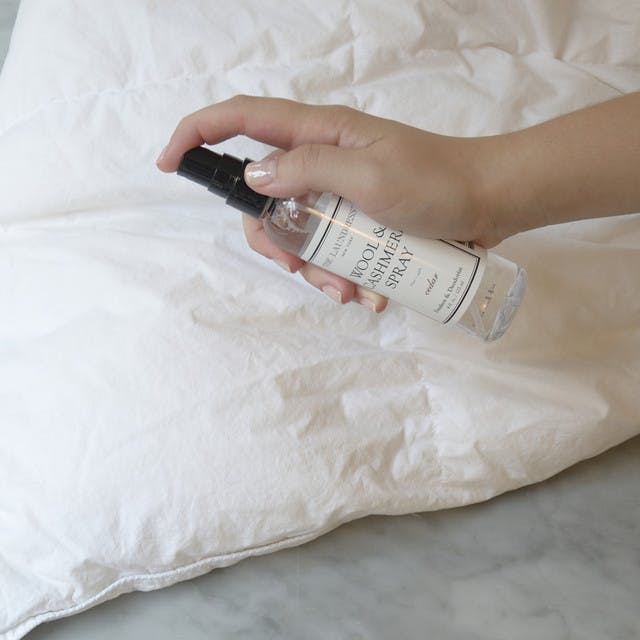 In with the light and airy, out with the heavy and fluffy. With change in season comes change in bedding, because who wants to sleep with a massive down duvet or winter layers in the summer heat?!
Before packing away seasonal duvets and blankets, it's important to launder to prevent the surfacing of any mystery stains while in storage. And if you protect duvet inners with a cover, the duvet inner should only need to be laundered during this seasonal transition. If you have pets or love eating breakfast in bed, you should launder more frequently.
Machine wash on the woolens or delicate cycle and make sure the water temperature is cold and spin is on medium or low. Add The Laundress Wool & Cashmere Spray considering the machine type. As it can be difficult for certain household machines to hold king size duvet inners, a trip to the laundromat may be required. They have industrial sized machines that can hold just about anything!
Getting duvet inners dry enough so that they won't mildew from the inside out is the most difficult part of the process. And if the filling clumps together, it means excess water is still present. The most successful finish is achieved by setting the dryer to low heat/low tumble cycle and repeating the drying cycle until all moisture is gone. To help redistribute and fluff up feathers and filling, add clean tennis balls or dryer balls to the cycle.
The final step: Spritz with The Laundress Wool & Cashmere Spray as the scent of cedar naturally repels bugs and moths.
If you're unpacking a lighter down duvet from storage to replace your winter bedding, you should steam to freshen before making the bed. If the lighter duvet wasn't washed prior to storage, now would be a great time to do so!
This bedding transition is also an opportune time to wash your pillows - yes, the actual pillows! Down pillows should be laundered periodically using the washing instructions for duvet inners listed above. While standard pillows (20" x 26") are fine to wash in your machine at home, anything larger may require a trip to the laundromat too.
Fluff and spray pillows with The Laundress Wool & Cashmere Spray when making the bed. Steam seasonally to kill odor-causing bacteria and remove allergens.
5. LAUNDER SEASONAL WARDROBES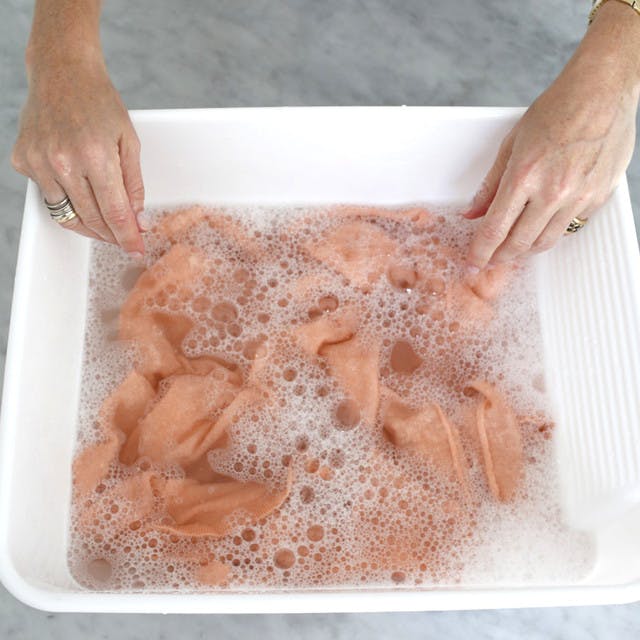 Washing your winter wardrobe before storing seasonally prevents mystery stains from appearing over time - even if no stains are visible we recommend including these pieces in your laundry load! Perfume, body products, body oil, food, and dirt can show up after some time and they are much harder to remove. Storing clothes clean also decreases the likelihood of a bug or moth attack.
Knits and woolens should be stored folded and it is best to pack in a breathable fabric, such as cotton or linen, with a zip closure. This will work to protect the fabric's integrity by shielding dust and critters - moths can't eat through cotton! We suggest opting against plastic bins and bags as plastic can cause textiles to discolor and yellow over time.
Love these tips and want to learn more from The Laundress experts? We'll be making special appearances in The Container Store locations throughout the U.S. armed with an arsenal of our laundry and fabric care essentials and ready to demonstrate our trusted stain removal how tos! Dates, times and locations are listed below:

Manhattan
April 23 - Paramus 12 - 4 pm
April 24 - Sixth Avenue 12 - 4 pm
Dallas
April 23 - Northwest Highway 11 am - 1 pm & Galleria 3 pm - 5 pm
April 24 - Stonebriar 11 am - 1 pm & Fairview 2 pm - 4 pm
Northern California/Bay Area
April 23 - Palo Alto 11 am - 1 pm & San Jose 3 pm - 5 pm
April 24 - Walnut Creek 11 am - 1 pm & Corte Madera 3 pm - 5 pm
Chicago
April 23 - Chicago 11 am - 1 pm & Northbrook 3 pm - 5 pm
April 24 - Oak Brook 11 am - 1 pm & Schaumburg 3 pm - 5 pm
Boston
April 23 - Chestnut Hill 11 am - 1 pm & Natick 3 pm - 5 pm
April 24 - Chestnut Hill 11 am - 1 pm & North Shore 3 pm - 5 pm
Denver
April 23 - Cherry Creek 11 am - 1 pm & Park Meadows 3 pm - 5 pm
April 24 - FlatIron Crossing 12 pm - 4 pm
Phoenix
April 23 - Scottsdale 11 am - 1 pm & Glendale 3 pm - 5 pm
April 24 - Phoenix 12 pm - 4 pm

Manhattan
April 30 - 58th & Lexington 12 pm - 4 pm
May 1 - White Plains 11 am - 1 pm & Yonkers 3 pm - 5 pm
Los Angeles
April 30 - Century City 11 am - 1 pm & Farmers Market 3 pm - 5 pm
May 1 - Pasadena 11 am - 1 pm & El Segundo 3 pm - 5 pm
Atlanta
April 30 - Buckhead 11 am - 1 pm & Perimeter 3 pm - 5 pm
May 1 - Alpharetta 11 am - 1 pm & Buckhead 3 pm - 5 pm
Miami
April 30 - Miami 11 am - 1 pm & Hallandale Beach 3 pm - 5 pm
May 1 - Boca Raton 11 am - 1 pm & Miami 3 pm - 5 pm