If you're anything like us, your beautiful silver pieces (no doubt handed down from at least one generation to another) haven't seen the light of day in well, many days.
And can you blame us?
Silver polishing has historically been hard work, and with current day parties filled with paper plates and plastic forks (though we love some easy get-togethers) - the timeless tradition of polishing and displaying the serving silver for all to see has gone by the wayside.
But this tradition should stay, and we think we can help. Let's create a reason to celebrate and decadently dine this holiday season - and best of all, let's make it easy with our quick and simple silver polishing how-to with our fabulous Hagerty products.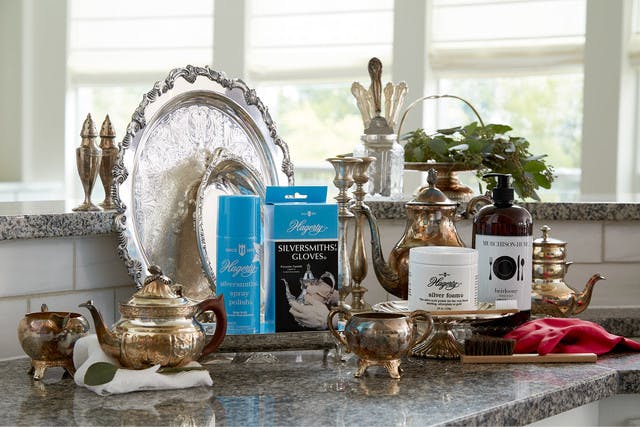 Using our 8.5 oz. Hagerty Silversmiths' Spray Polish, Hagerty Silversmiths' Gloves, 19 oz. Hagerty Silver Foam, 32 oz. Heirloom Dishwashing Liquid by Murchison Hume and WaterBlock Gloves by Casabella, we were able to polish our entire set of silver to perfection! Here's how.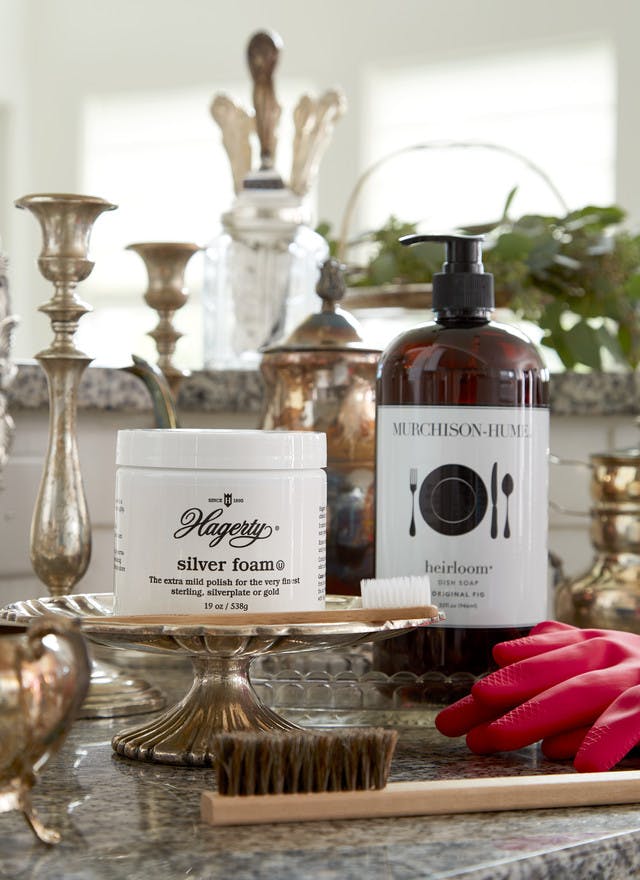 Our Hagerty Silver Foam washes and polishes not only your fine silver, but also gold jewelry or silver-plated serving ware in one step.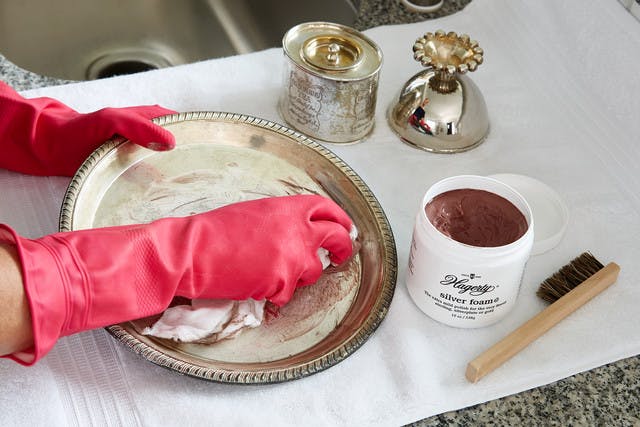 Using a sponge, apply Hagerty Silver Foam and wash thoroughly in warm water. Rinse off and buff your silver to a luster with a soft, dry cloth. If any nooks or crannies have not been thoroughly polished, use a small cleaning brush to remove the stubborn parts.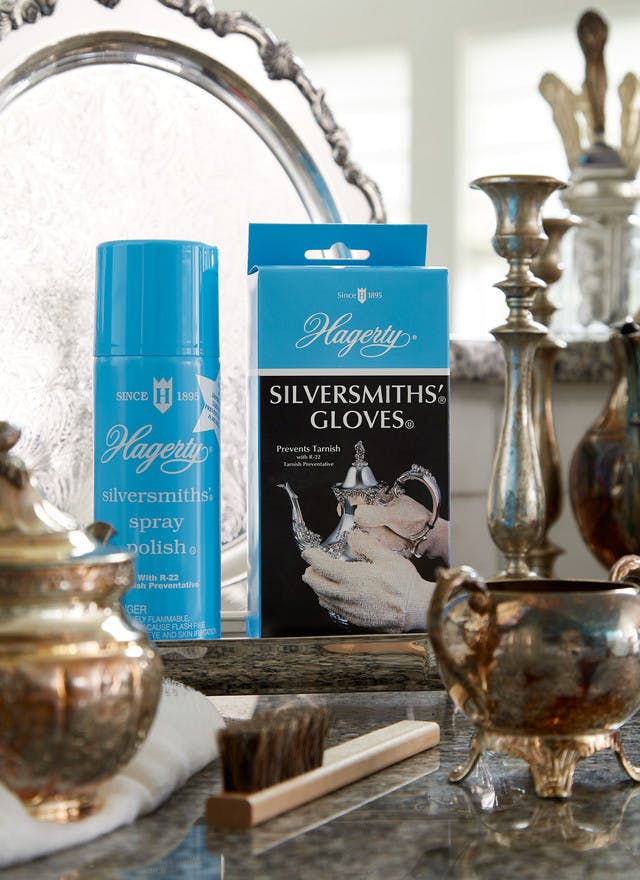 You can also keep your silver sparkling longer by treating it with a tarnish preventative such as Hagerty Silversmiths' Spray Polish. This timesaving and easy to use spray is particularly effective for removing tarnish in crevices and pattern work, and it now comes with an improved sprayer to eliminate any clogging. Silversmiths' tarnish preventative, R22, bonds with the silver surface and locks out tarnish 10 times longer than any ordinary silver polish. (Easier the next time you need to entertain.)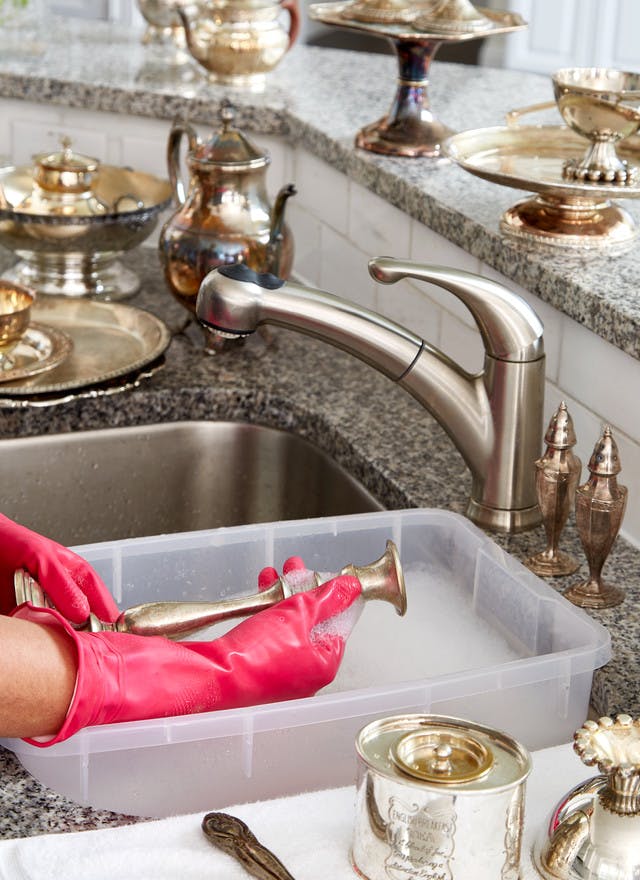 Once finished soaking, use our Hagerty Silversmiths' Gloves and simply rub any tarnish away. This is a low maintenance way to keep your silver clean. The gloves are made from heavy-gauge terry cloth coated with Dry Silver Polish so the pair helps keep your silver in tip-top shape while your hands stay unsoiled.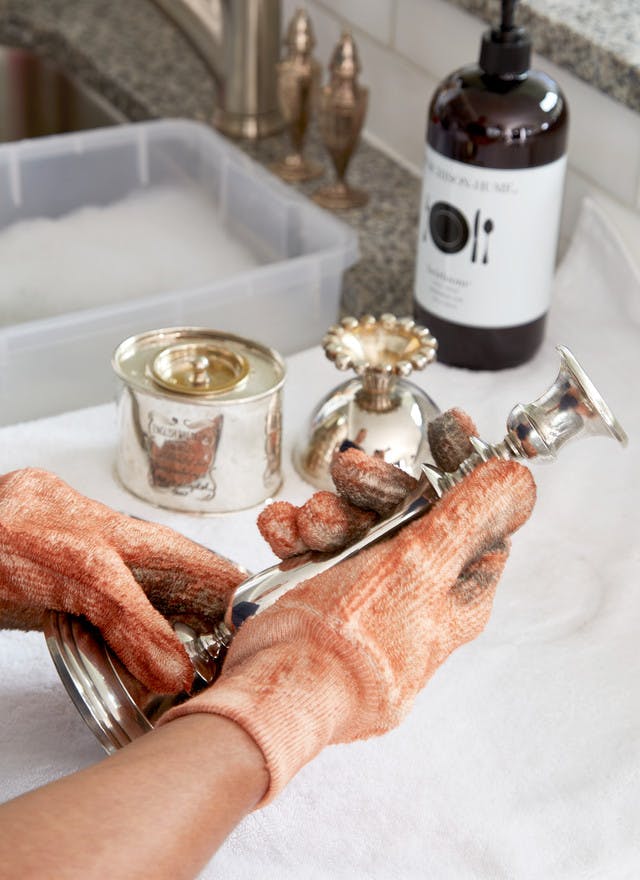 To polish candlesticks of every size and height, use our Casabella Gloves, Hagerty Silversmiths' Gloves and 32 oz. Heirloom Dishwashing Liquid by Murchison Hume. First using the Heirloom Dishwashing Liquid and warm water, soak the candlestick or the designed item for a few minutes. The Heirloom Dishwashing Liquid features an exclusive colloidal formula that cuts through grease to make polishing even easier. And, the lovely fig scent adds a nice touch.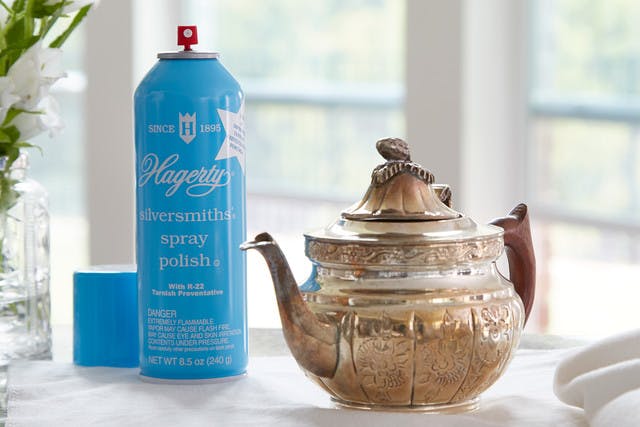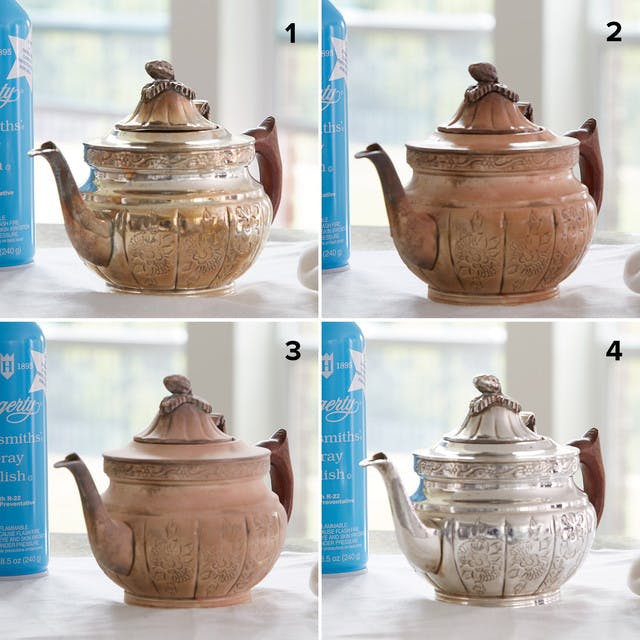 Talk about a before and after! Using our Hagerty Silversmiths' Spray Polish and cloth, we took this precious little tea kettle from lack luster to shining front and center! It was perfect for the crevices and crannies that this detailed kettle had.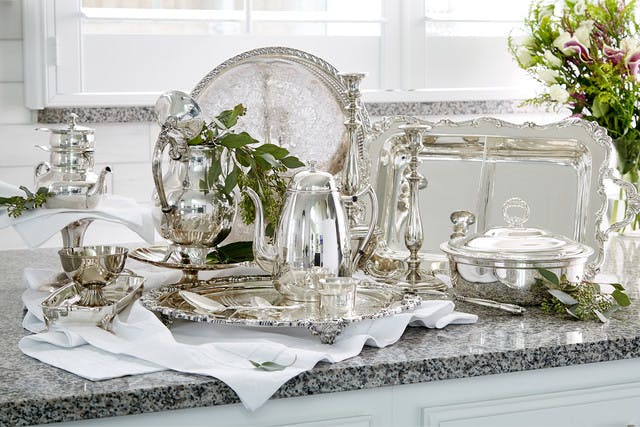 Now that you've polished every tray, candlestick, tea kettle and more - it's time to keep it pristine for the years to come.
Use our Hagerty 6-Piece Silver Place Setting Roll, Hagerty Silver Keeper Bags and Hagerty Silverware Storage Chest. Made from silversmiths' cloth, our rolls, bags and chests encase trays, dishes, flatware, and serving pieces with tarnish-resistant protection. We offer several sizes and styles to accommodate every need of your silver collection.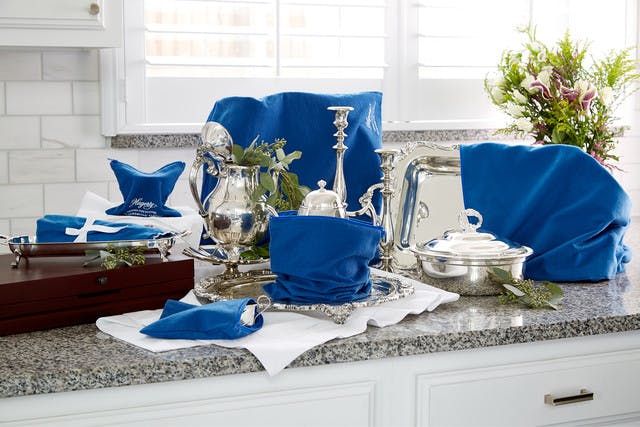 Now it's easier than ever to bring out the shining silver this year, and to keep it that way for the years to come!