School supply list shopped for - check. Registration forms all filled out - check. Shoes they HAD to have and perfect backpack purchased - check. The list is long for back to school, and soon all of those supplies, shoes, schoolwork and after school gear will be excitedly dropped at your doorstep as your kids whiz back home.
"Dropped" is the operative word here. Yes. They will drop it. Mine sometimes throw it actually. The key is - even if you don't have a built in mud room and only have a small space to create one - a designated "drop zone" will make getting out the door a lot easier. And it will keep all that "stuff" you checked off at the beginning of the school year orderly, instead of piling up like a landfill at your back door.
We loved our colleague Brooke's drop zone that is a super tight space right off the garage. Using our elfa shelving and drawer system, she's created an efficient area for her sweet elementary school-age kiddos Grace and Sam. The flexibility of the elfa system is awesome because, yes, your kids are going to grow and their activities will change. You can move the shelves and drawers to accommodate your family's needs.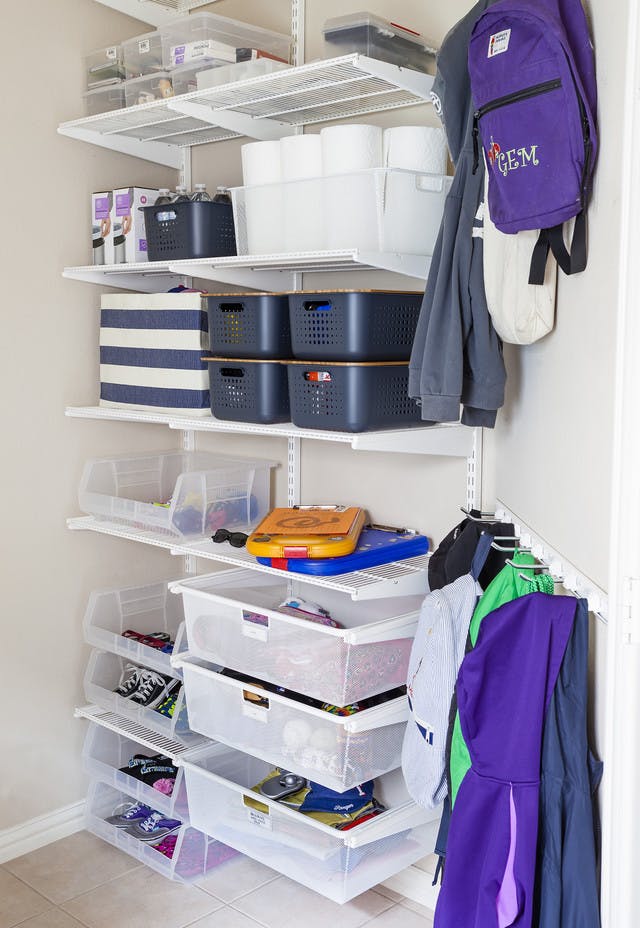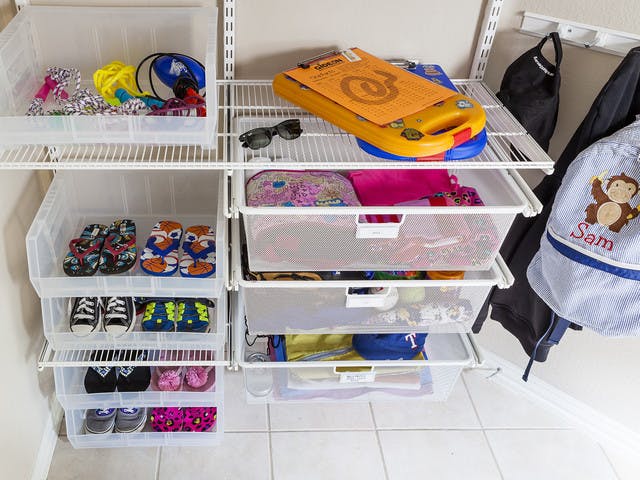 Shoes, shoes and more shoes. Where do all those shoes come from? We actually affectionately call our drop zone "the shoe area" at our house. It's the first thing that's taken off after school. Brooke has the shoe situation solved using AkroBins (discontinued). Originally developed for commercial parts handling, AkroBins are modular, stackable, versatile, durable and affordable.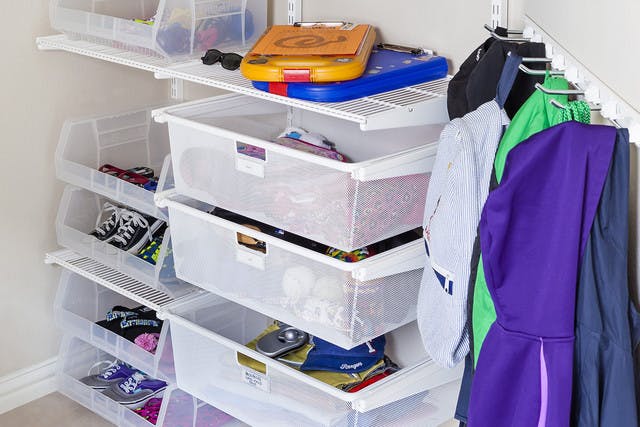 Brooke has created a drawer for Grace and Sam, each labeled with their name. Brooke says they "dump" anything that belongs to them when they come home like school stuff, sports accessories and the other myriad of things they somehow accumulate during their day. The mesh drawers give you a hint of visibility to what's inside, but for the most part make the "dump" look quite orderly once you close the drawer. Brooke avoids the "where's the umbrella?" rainy day dash by designating the bottom drawer for things like that - umbrellas, hats, gloves and scarves.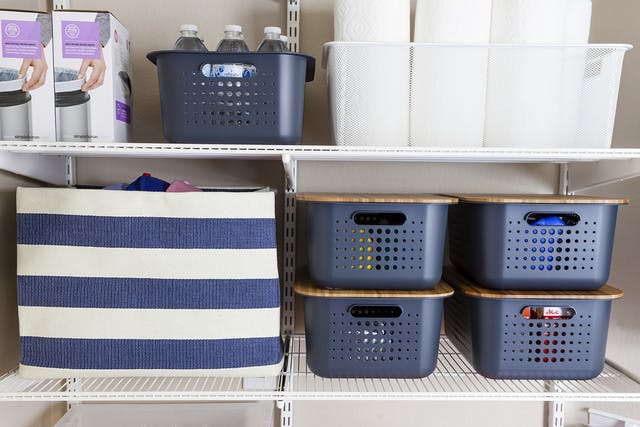 The drop zone is also a great place to keep extra school supplies, craft supplies and other items that you may need as you run out the door in the morning. We love the coordinated look of our Rugby Stripe Bins with our Nordic Baskets with Bamboo lids. Brooke uses the elfa shelves above for things like bottled water, paper towels, extra trash bags and light bulbs.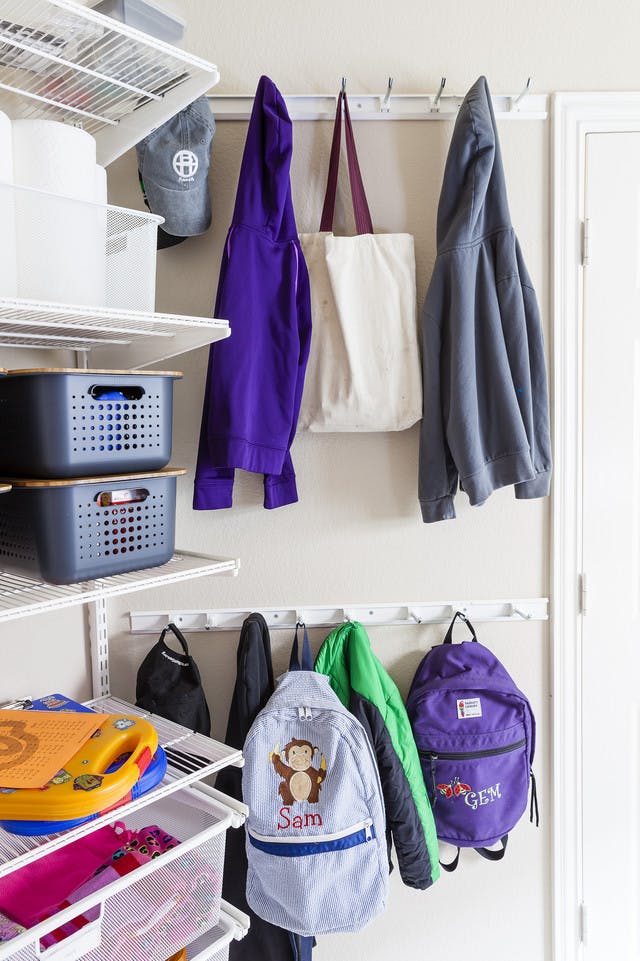 Featured Products: White elfa utility Track // White elfa utility Accessory Hooks
"THIS IS MY FAVORITE!" she says. Yes, that's how much she loves this tiny angled space in her drop zone. She used our elfa utility track and hooks. "The hooks are perfect! And spaced enough from each other for adult jackets too. The adjustability is great. So as the seasons change from bulky winter clothes to spring jackets, I can adjust the hooks. And this is also where I hang my handbag when I come in at the end of the day…(some of the time...not all of the time)," Brooke says with a smile.
We love her honesty there, because let's face it - our drop zones don't always look perfect after our little whirlwinds come in after a busy school day. But just by virtue of having one, your kids know that's the place where things go after school and where to find them, which makes mornings a little easier and mommies much happier.