Tis the season for festive toasts with holiday wishes and Auld Lang Syne. Is your home bar ready? Whether it's a planned cocktail party or just friends dropping by for a quick toddy - a well-prepped, well-stocked bar makes raising a glass over the holidays a lot easier.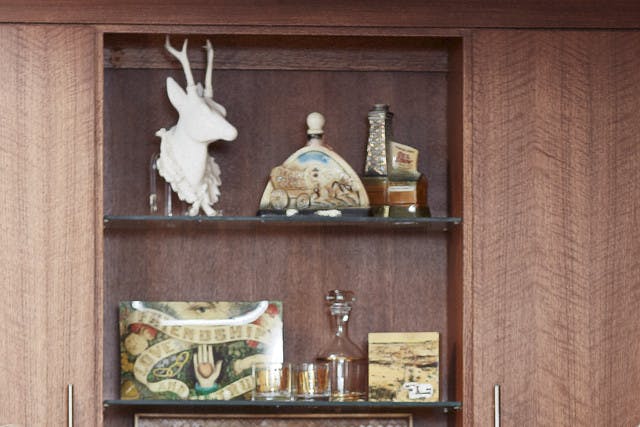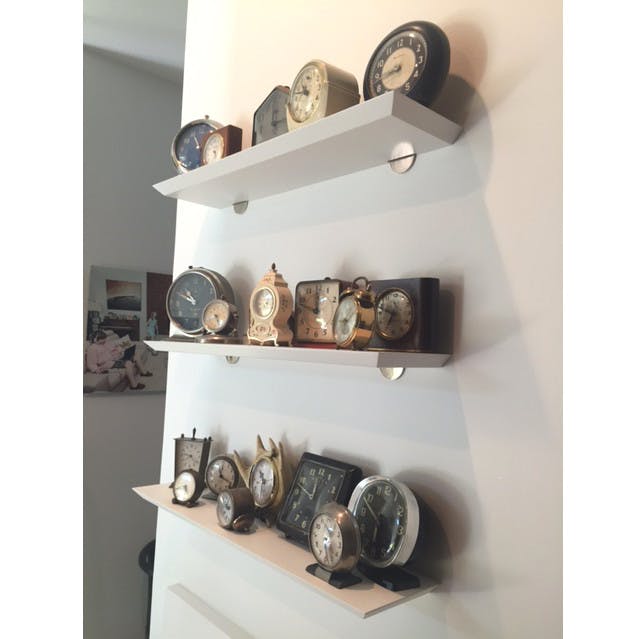 My bar is full of things I love - my collection of old clocks, vintage ceramic liquor bottles my Dad gave me and a beloved John Derian piece that my friend Shannon gave me with words that evoke what it's really all about - Friendship, Love and Trust. Lots of treasures with sentimental spirit - but the bar is often without the actual spirits! I'm a bit of a bartending novice, so liquor and all the ingredients to throw the perfect cocktail party are often missing from the space.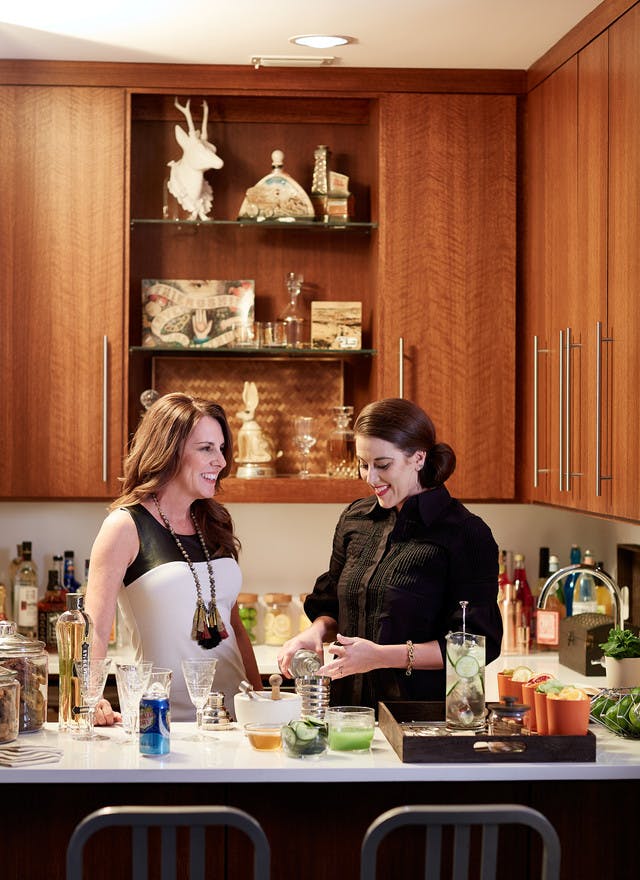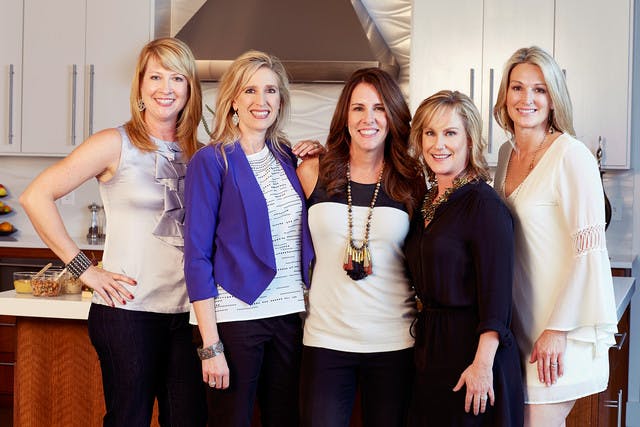 So we had bartender, Kelly Womble, join me with a group of my fabulous friends Kristy, Tina, Shannon and Petra - for a little pre-holiday gathering full of some cocktail mixing and stock the bar tips, as well as some yummy snacks and a lot of laughs.
In terms of mainstays you should always have in the bar, Kelly says a good rule of thumb is one light liquor (vodka, gin) and one dark liquor (bourbon, dark rum). Mixers like Sprite, Diet Coke, tonic water and club soda are also must haves. A nice red and a nice white, as well as a sparkling (prosecco, cava, champagne), and a crowd-pleasing beer (Kelly likes Blue Moon and Amstel Light) should be on hand (and chilled to the proper temps) for guests who don't want a mixed drink.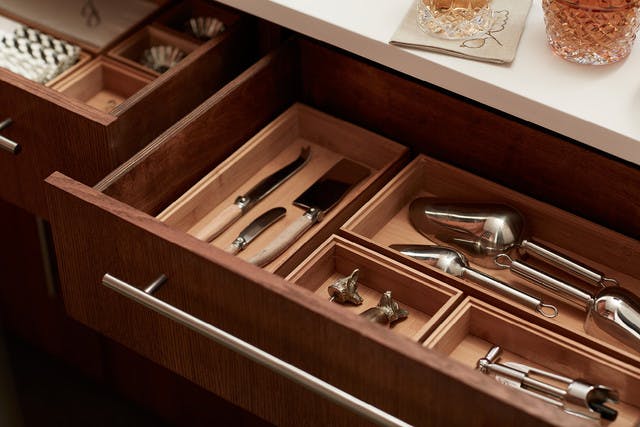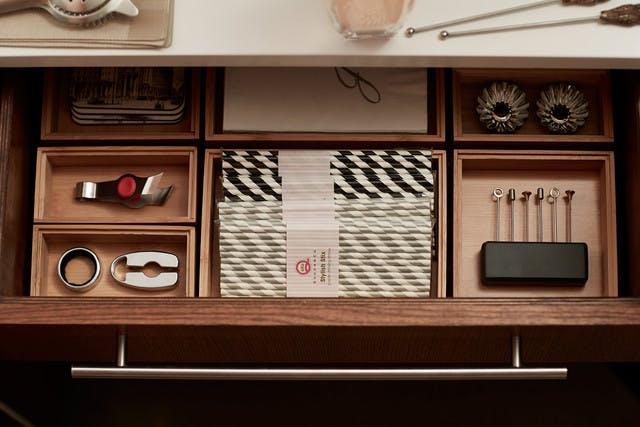 Tools of the Trade: Organized drawers - are, of course, a must! But what are the tools that are important as you work the bar? Together, Kelly and I came up with a quick list of 10 essentials to have at your fingertips:
Liquor/spirit measure - Also known as a shot glass or jigger - measures about 1.5 oz. of liquor
Tongs/scoop - For serving ice and adding fresh ingredients to drinks
Knife - Sharp, for cutting fresh fruits, veggies and herbs
Drink picks - For olives or fresh fruit
Shaker - Which usually comes with a built-in strainer and spirits measure
Drink Stirrer/Bar Spoon - Some drinks are better stirred not shaken - think James Bond
Bottle Opener - For the beer drinkers in the crowd
Corkscrew - I prefer the ones with the "wings" on the sides that you pull down to pop the cork up, but if you opt for the traditional one - make sure you practice opening a bottle before the party
Decorative paper straws - Which instantly make the drink fun and festive
Fun Cocktail Napkins - I have a whole drawer dedicated to these. They have so much personality these days and can be a conversation piece themselves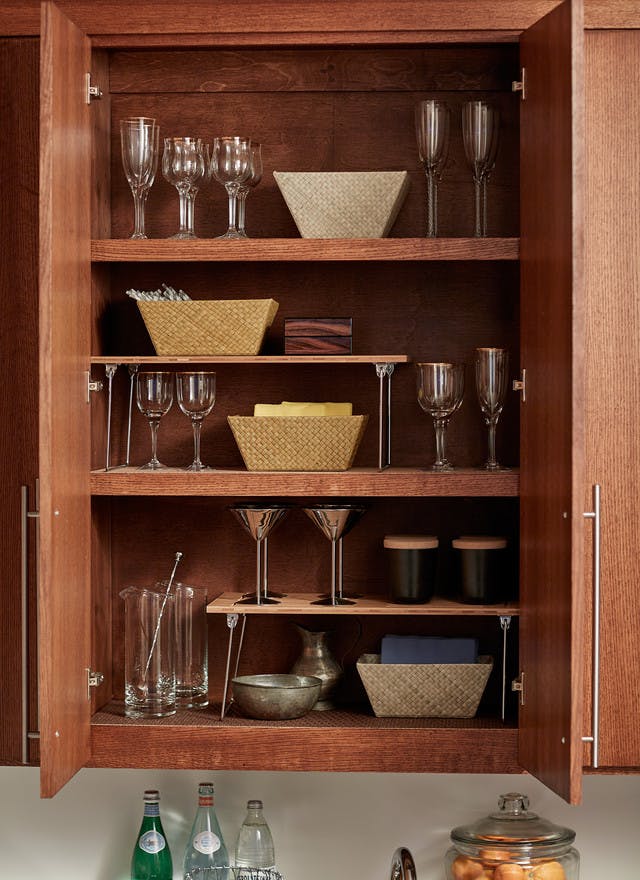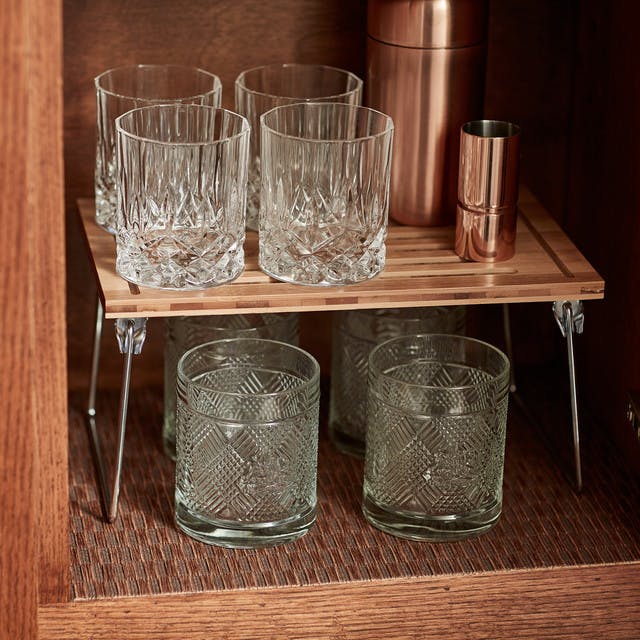 Mix it up! I've accumulated a lot of glassware over the years. Some gifted, some purchased and some handed down - many in odd numbers due to various breaks over the years. I like to mix up the glassware not only based on the drink, but also just to make the party feel a little more homespun and less matchy matchy.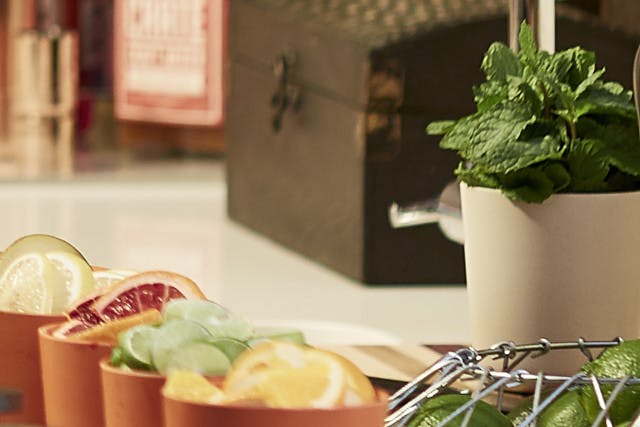 So Fresh! You can really kick up your cocktails with the addition of fresh herbs and fruits. Plus, they look really pretty on your bar. Muddling is a great way to release the flavors in these ingredients. We used my husband's vintage mortar and pestle that we keep in the bar. Kelly also suggests freezing fresh fruits like raspberries and blackberries, which look beautiful as a garnish, but also helps the drinks stay colder longer.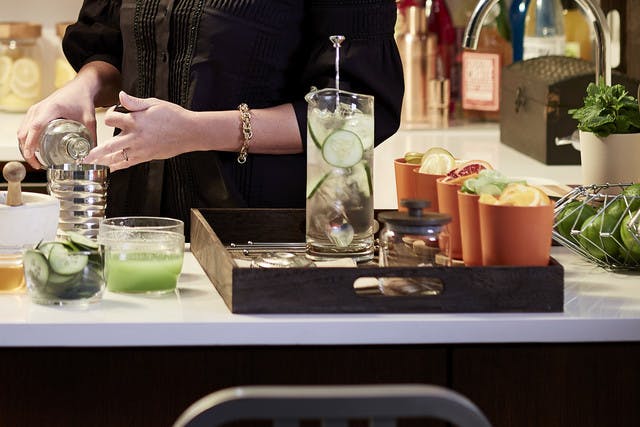 Tray Chic! Trays are such a great way to corral items on the bar and keep them orderly. Of course, they are also great for serving cocktails to your guests.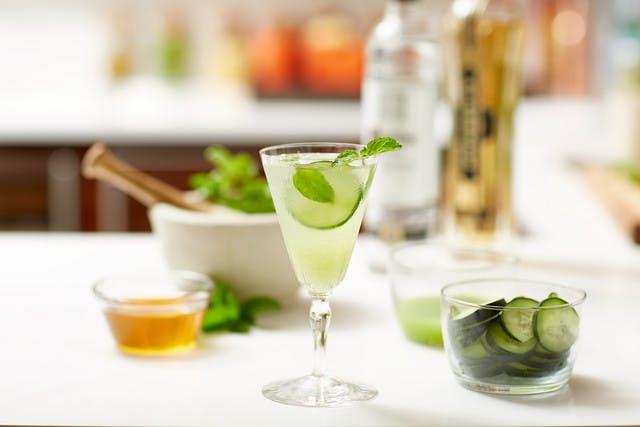 Kelly showed us how to mix up three different cocktails. It's always good to do a trial run before your party to taste test and tweak your cocktail recipe. For the recipes below, unless it's a small get together or you're hiring a bartender, I'd up the ingredients in the recipes to make the drinks in larger quantities. You can do this ahead of time and put the cocktails in pitchers and carafes. You can also add the pretty garnishes and finishing touches as you pour the individual drinks.
The first cocktail is what I deem my official "big girl drink." For a long time, I never really had a go-to cocktail and mostly opted for white wine. After years of taste testing, I finally found the one in a recent girl's trip to Puerto Rico. There, they called it a Nolita. We did our own take on it here.
Casey's Cucumber Cocktail (makes one cocktail)
3/4 oz. St. Germain elderflower liqueur
2 oz. vodka
3/4 oz. fresh-squeezed lime juice
1/4 oz. simple syrup
4 oz. club soda
3/4 cup cucumber juice
Fresh mint leaves
Simple Syrup:
2 parts sugar
1 part water
Bring the water to a boil.
Dissolve the sugar into the boiling water, stirring constantly.
Once the sugar is dissolved completely, remove the pan from the heat. (Note: Do not allow the syrup to boil for too long or the syrup will be too thick once it cools.)
Allow to cool completely and thicken, then bottle.
Cucumber Juice (makes about 4 cups):
Slice four, 1/4-inch-thick slices from 1 cucumber.
Peel and coarsely chop remaining cucumbers; transfer to processor and purée until smooth.
Pour through fine strainer set over large bowl, pressing on solids in strainer.
Discard solids in strainer.
Mixing the Cocktail:
In a cocktail shaker, combine St. Germain, gin, lime juice, simple syrup, cucumber juice, and several mint leaves.
Using a muddling tool or wooden spoon, crush ingredients together.
Add ice, cover, and shake vigorously.
Pour into a glass and top with club soda, a sprig of mint and a cucumber slice.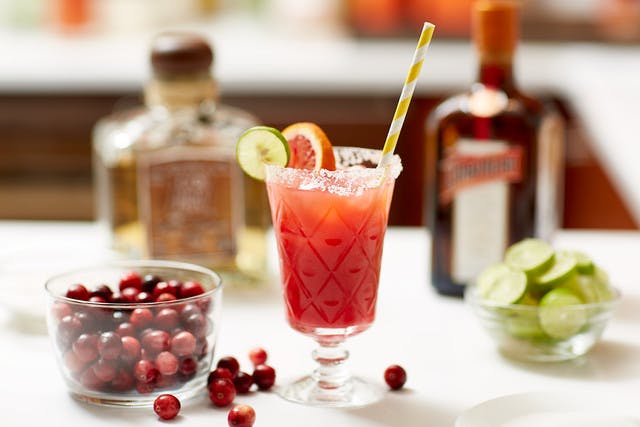 We loved this one for its festive color and yummy mix of sweet and tart tastes.
Cranberry-Blood Orange Margarita:
Ingredients (for 4, 6-oz servings)
2 cups fresh cranberries
½ cup sugar
½ cup blood orange juice
1 cup tequila
½ cup fresh squeezed blood orange juice
3 tablespoons fresh lime juice
½ cup Cointreau
Ice cubes
Cranberries for garnish
Blood orange wedge for garnish
First, make your cranberry blood orange syrup. In a small saucepan, simmer cranberries, blood orange juice and sugar until cranberries burst. With a wooden spoon, smash the cranberries on the side of the pan to release all their juices. Strain and allow to cool. You should have about ½ cup of syrup.
Rub the rim of four margarita glasses (or whatever glass you prefer) with an edge of a blood orange wedge or leftover rind. Swirl the rims through a small pile of kosher or sea salt to salt them. Add one or two large cubes into the glasses.
Combine blood orange juice, tequila, Cointreau, cranberry syrup, and lime juice in an ice filled shaker. Shake vigorously for 15 seconds, and then strain into the salted glasses. Serve or drink immediately.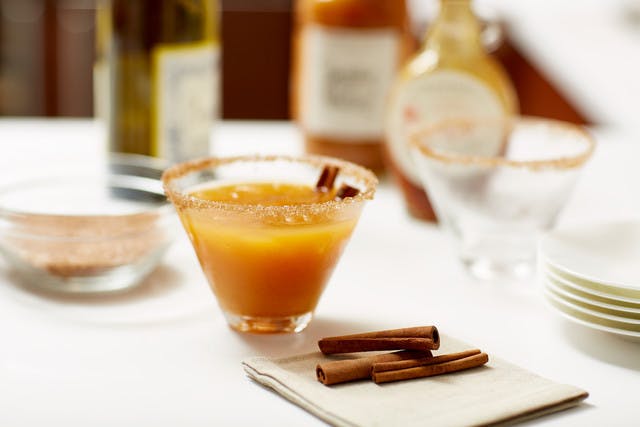 This cocktail is definitely the taste of the holidays and is rich and decadent.
Pumpkin Pie Cocktail (makes one cocktail):
1 tsp. pumpkin pie filling
2 oz. chardonnay
1 oz. Hennessy cognac
2 oz. apple cider
1 oz. pumpkin pie spice syrup
Put all ingredients in a shaker with ice, shake and serve in a pretty glass that's been dusted with cinnamon sugar - I think a smaller glass is best because this drink is like dessert!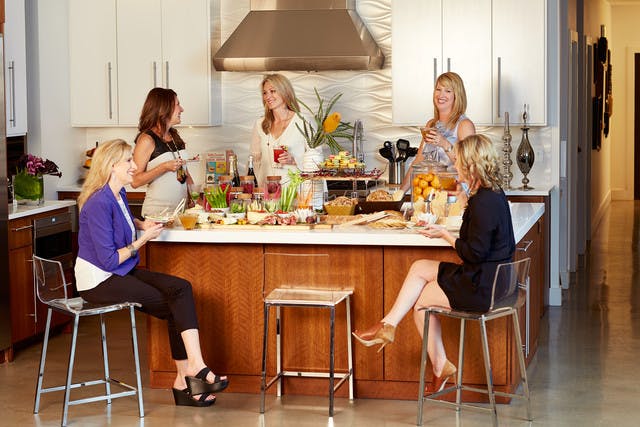 Set Up A Spread: Of course you'll want to have some nibbles at your shindig. Your food and how heavy it is, is really dependent on the timing and theme of your cocktail party. If it's more of an afternoon or early evening happy hour, a charcuterie of lovely meats, cheeses and veggies like we did here is great. You'll need more heft in your selections, though, if this is going to be dinner for your guests.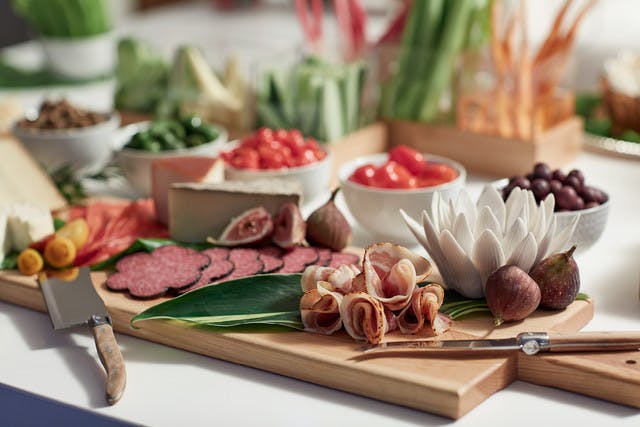 Choose a place away from your bar to set up your food so that guests don't stay huddled around the bar area. Also, set up jars of nuts and other bar snacks in strategic areas where your party is being held (on the coffee table and on side tables) so that there's always a little snack available.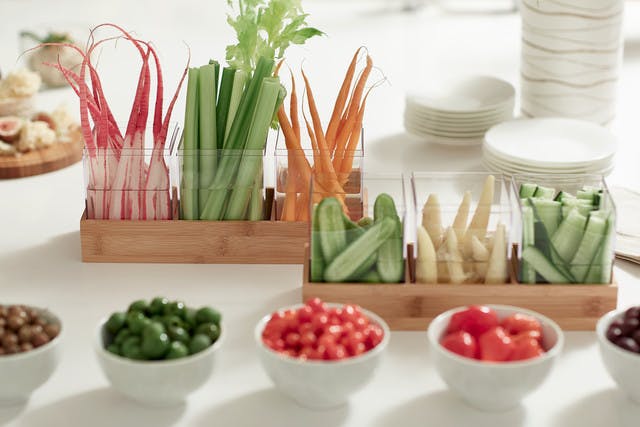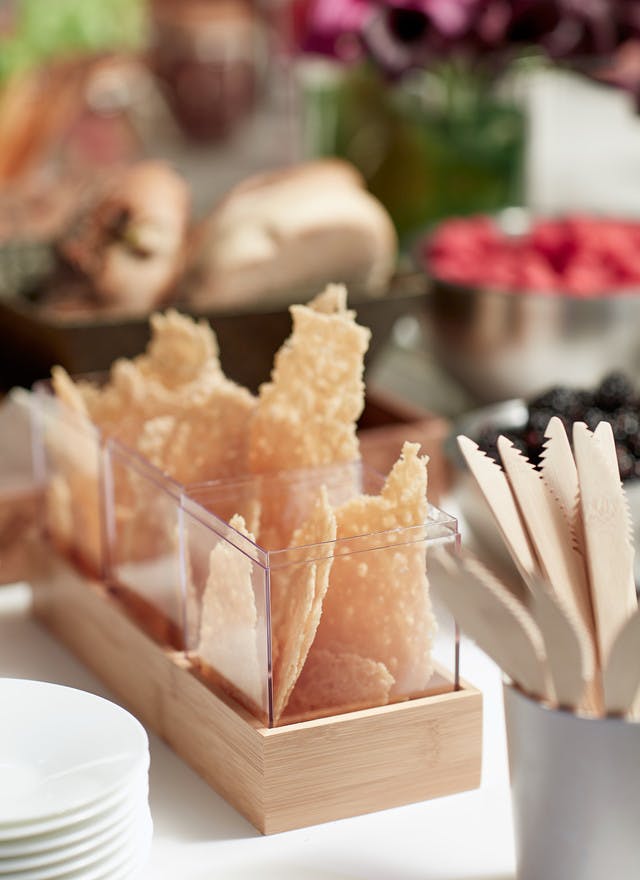 We used our amac boxes, which fit perfectly in our bamboo organizers to hold things like crudités and Parmesan crisps. So cute!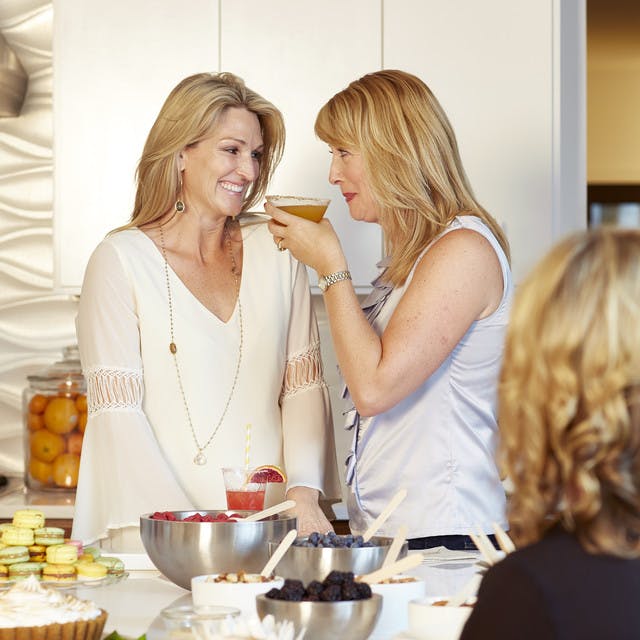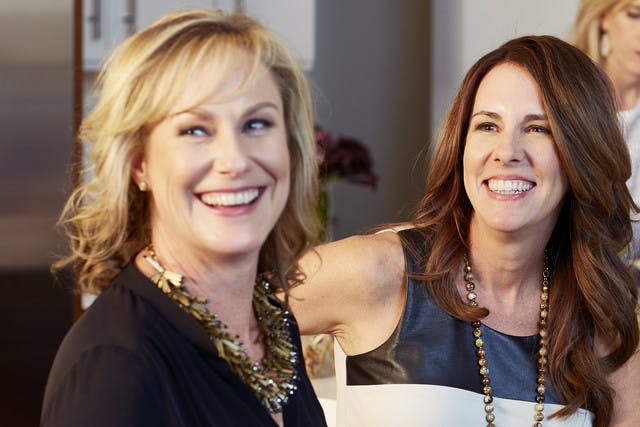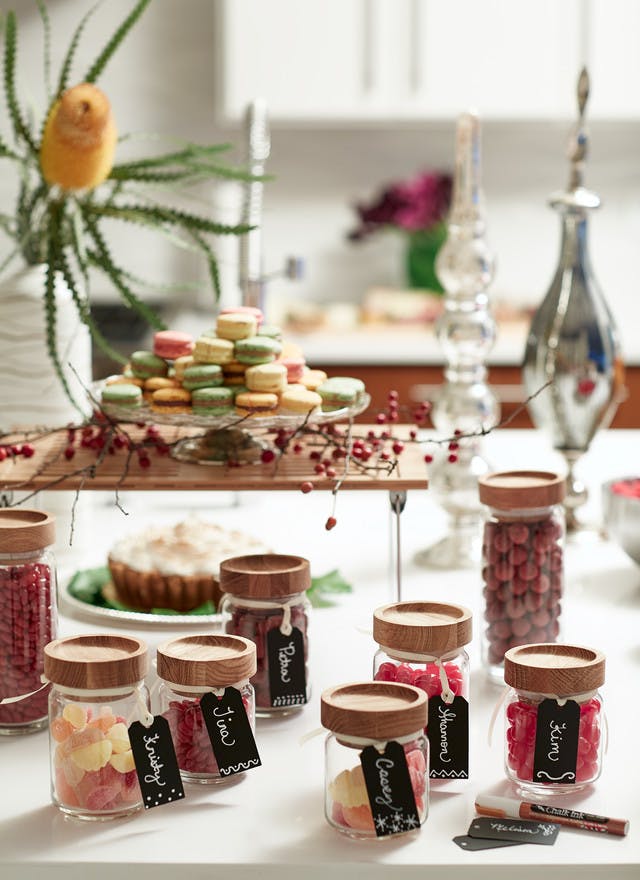 A Sweet Send Off: A parting gift is always a sweet surprise. Literally in this case. We loaded up our fun canisters with treats like cherry sours, chocolate truffles and sugared fruit jellies. We labeled the jars with everyone's name. A little tip - fill some bigger containers with all of the candy and only fill the guest's jars half way up. That way if they see another candy they love they can add it to their jar. It makes it a fun way to say goodbye.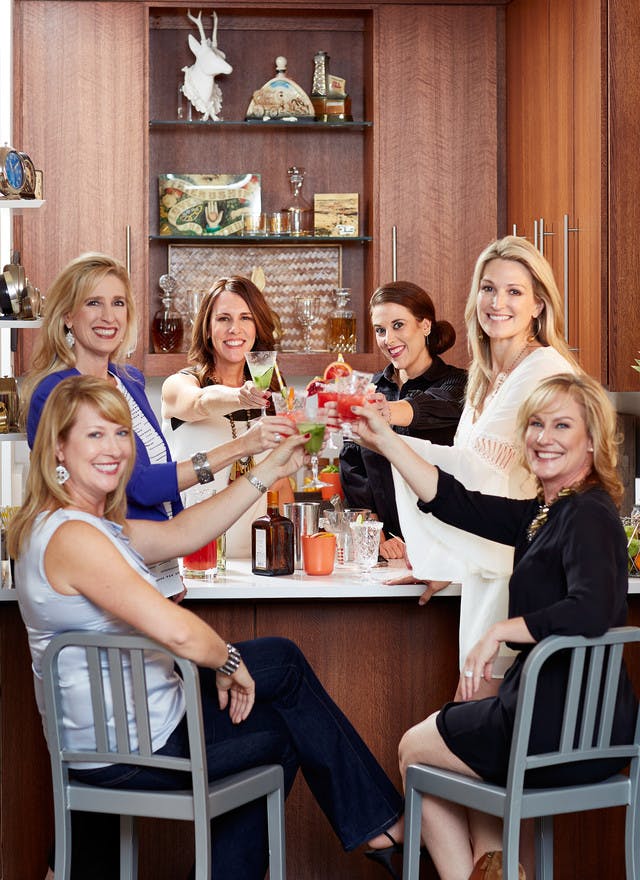 Let's Toast: I always like thinking of a quick toast prior to the cocktail party so that I'm not searching for the perfect words in the frenzy of it all. Take a moment to raise your glass and welcome your guests and give them a fun or touching sentiment about why you've all gathered together.
In this case, it was easy. That John Derian piece in the bar that I mentioned earlier was great inspiration. Here's to Friendship, Love and Truth. And a group of great girlfriends I'm so lucky to have.
Cheers!