Hi!
My name is Melody Rose, from the home and lifestyle blog My Everyday Lifestyle, and I've partnered with The Container Store to bring you some fabulous (and easy) DIY's for your upcoming holiday celebrations. Today I'm bringing you my doable festive tablescape!
There is something so fun and festive about arranging a table. I love all of the layers, levels and textures, and I also love any excuse to pull out my favorite dinnerware and servingware for the season. This year I wanted to use white pumpkins, mixed metallic, browns, and fresh greenery to create a beautiful and elegant fall tablescape that felt comfortable and still really unique, too.
I'll take you through exactly how I did it, and how you can too, below!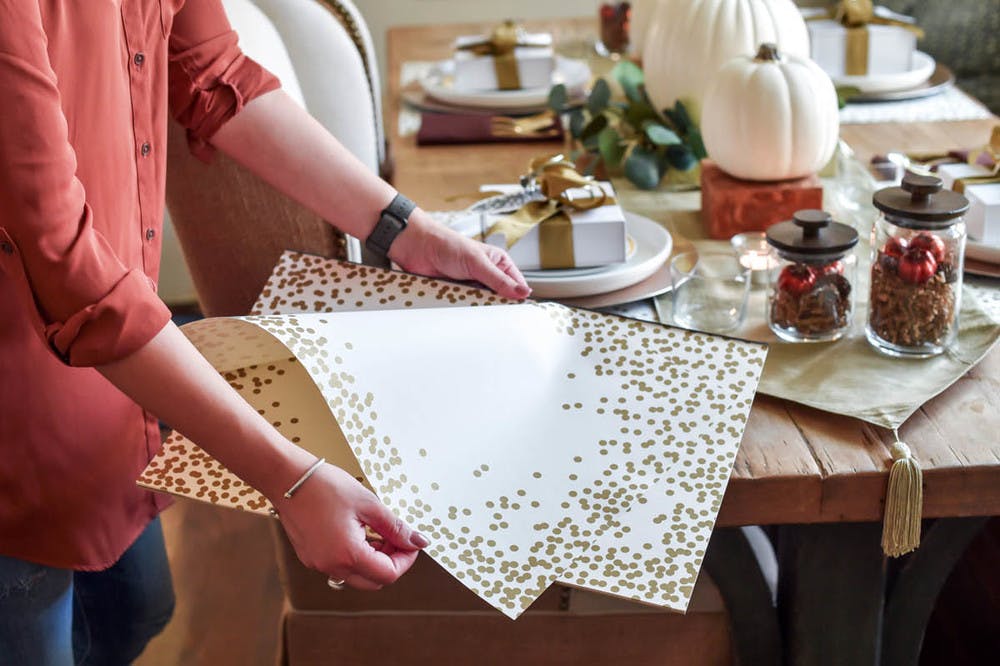 Start with the Place Settings
I started my tablescape designing by using The Container Store's fun gold confetti paper placemat pad as the base of each of the place settings. You can really use this design for so many occasions and the thick paper construction stands up to a meal but is easy to replace and not feel guilty about throwing out.
I might even use them as placemats for New Year's Eve, too.
Giftable Place Setting Details
I always love to give my guests that come over small gifts just say how much I am thankful to have them in my life. During the holidays, I make the gift a part of the tablescape presentation, and The Container Store has always made it easy to tie a gift and a look together since they have almost every style, color and shape of gift box, bag and container to choose from.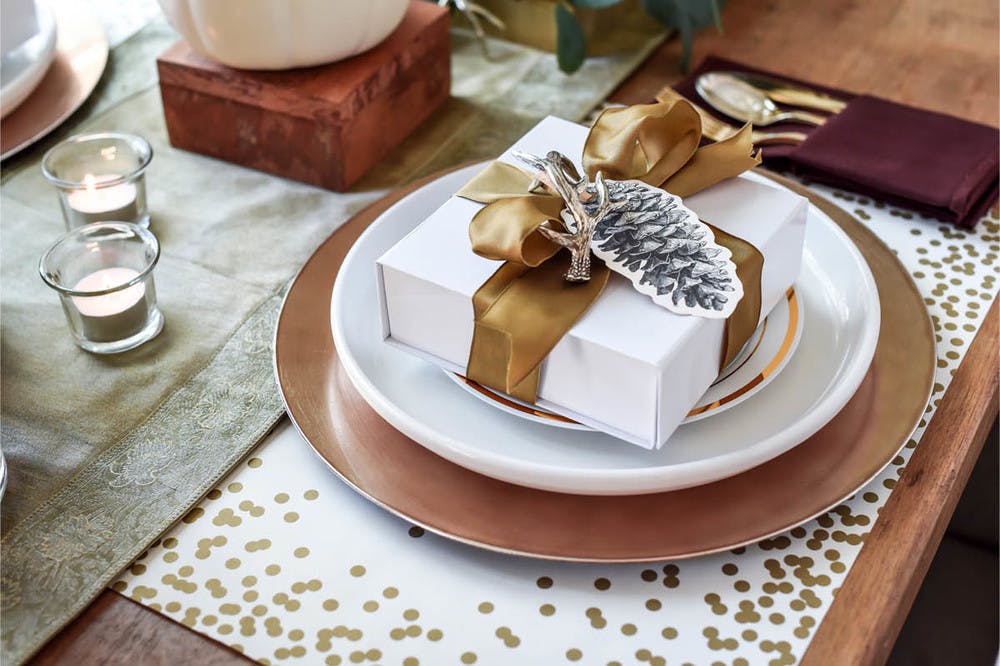 Easy Accents
Next, I tackled the little details surrounding the what would become the centerpiece of the table. I added confetti filled containers which accented the pumpkin motif without going overboard on the concept.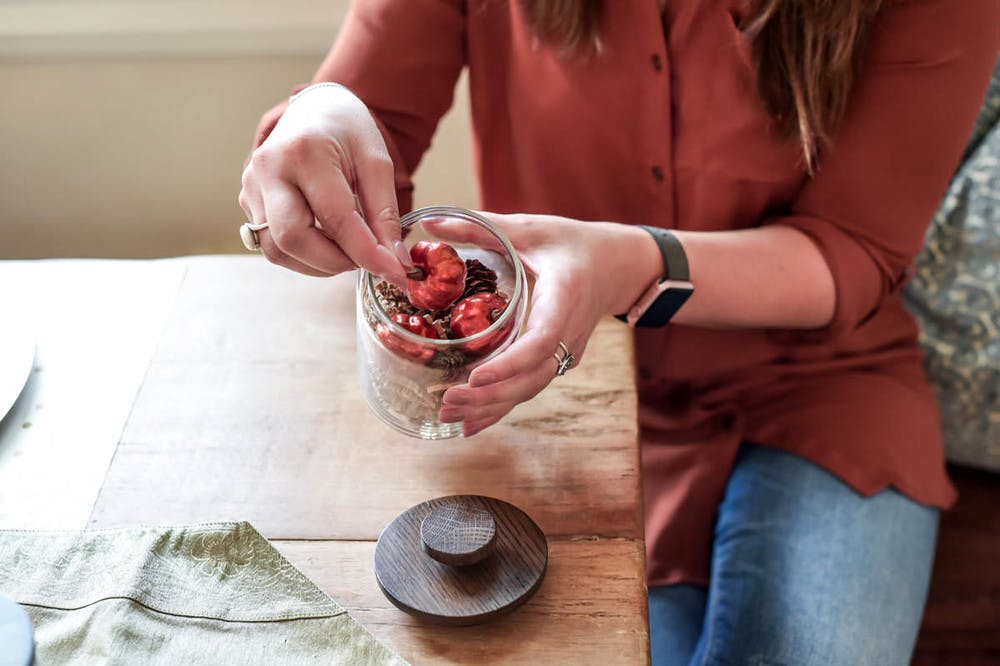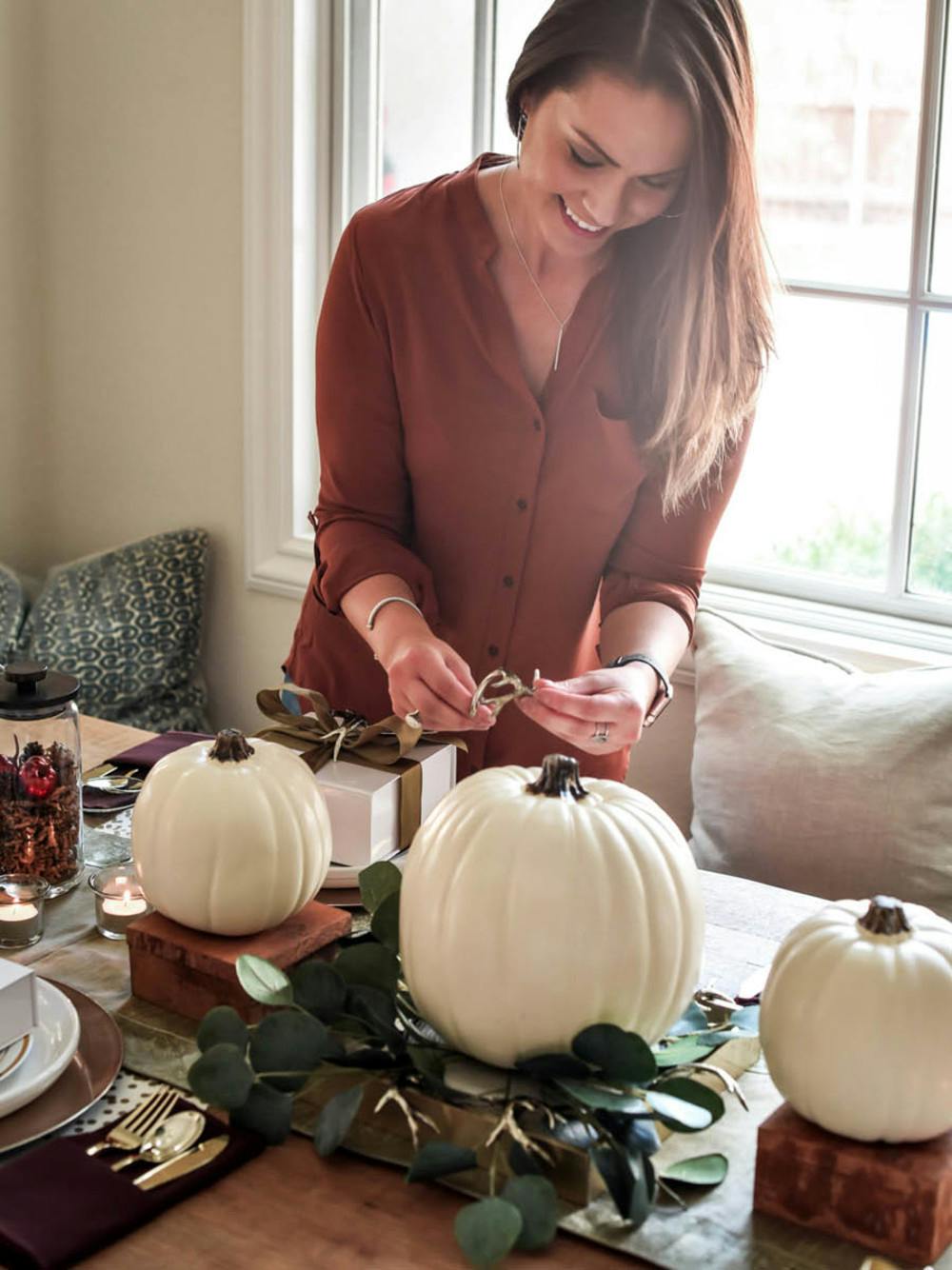 The Main Event
The centerpiece is always just that, the center of the look and the style of the tablescape. To create the centerpiece, I used a gold square lacquer serving tray and holiday cinnamon boxes (fun fact: they're actually made of cinnamon and smell incredible) to create levels to the look. Creating levels of varying heights really diversifies the look for a more interesting centerpiece.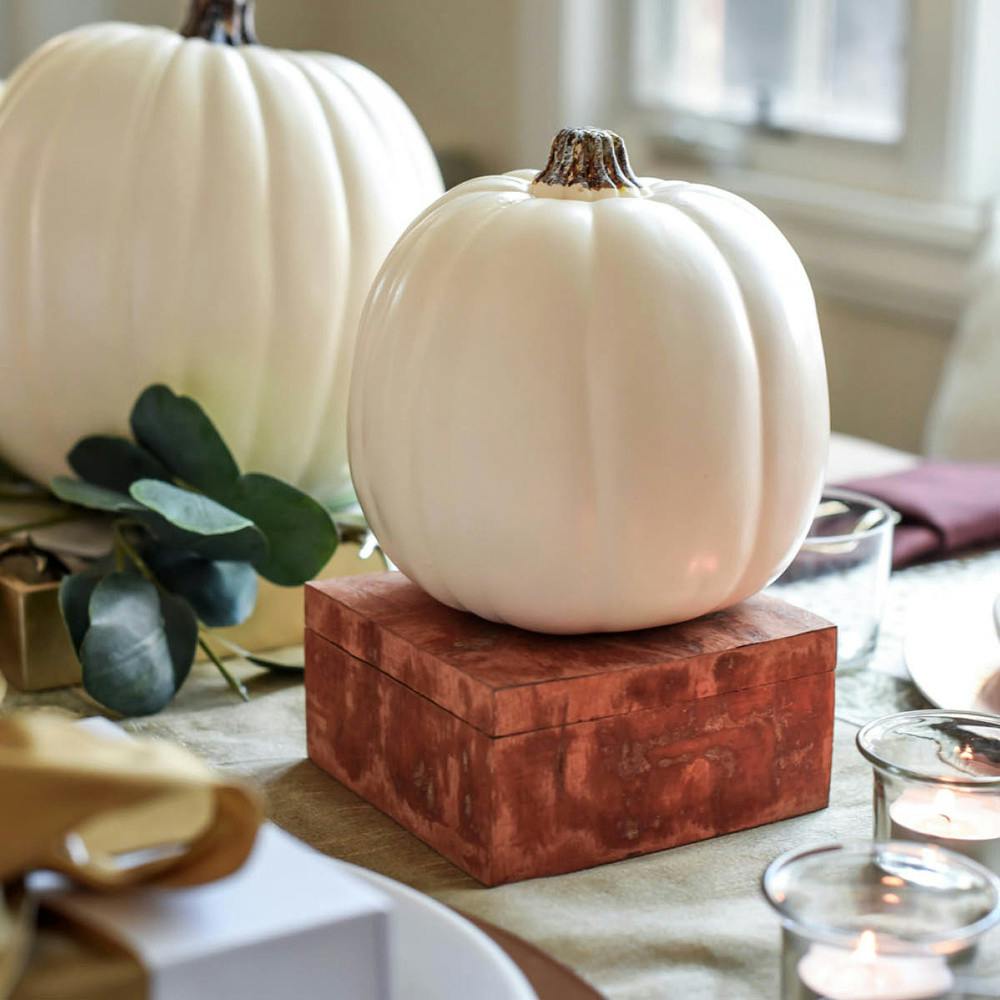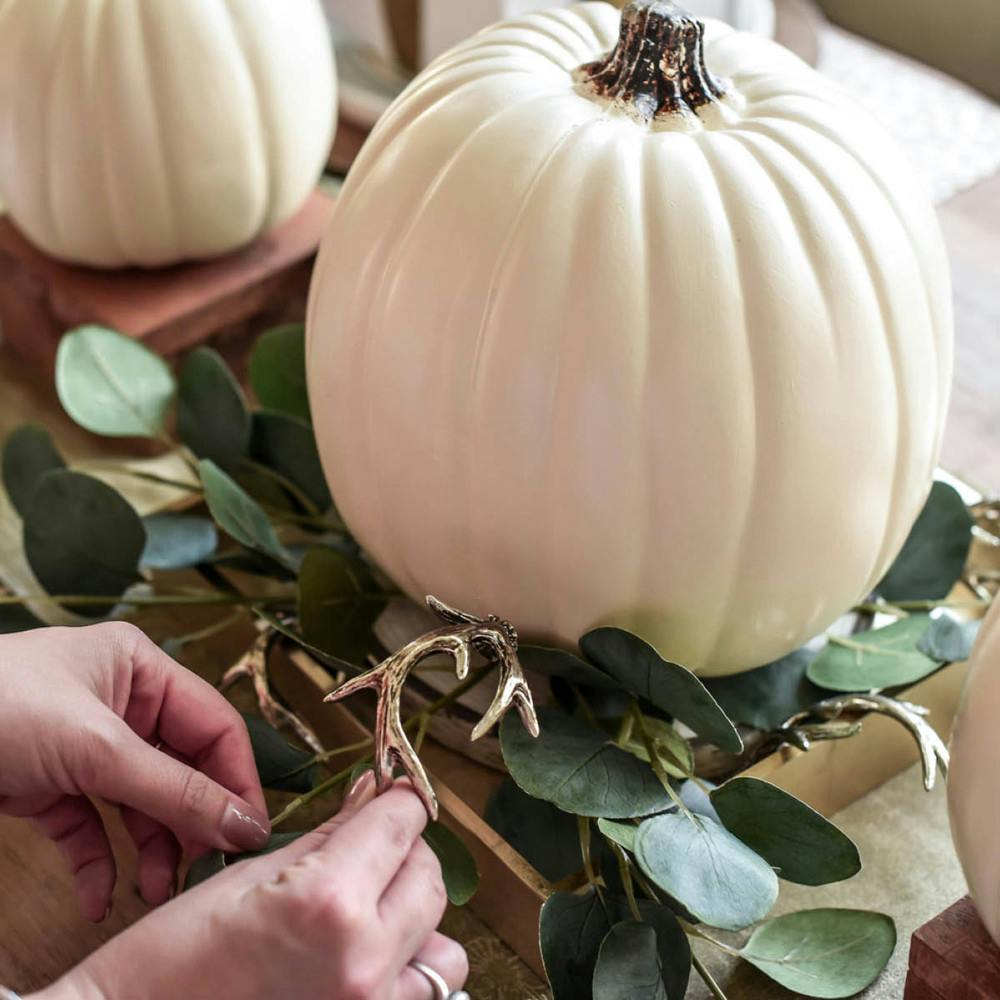 I used greenery inside the tray and added white pumpkins as accents across the golds, browns and greens. I absolutely fell in love with The Container Store's silver antler embellishments (as noted earlier) and tucked them into greenery to add that little details that make the tablescape pop.
Once you start packing up the presentation, you can also use the antler ornaments as embellishments on your gifts.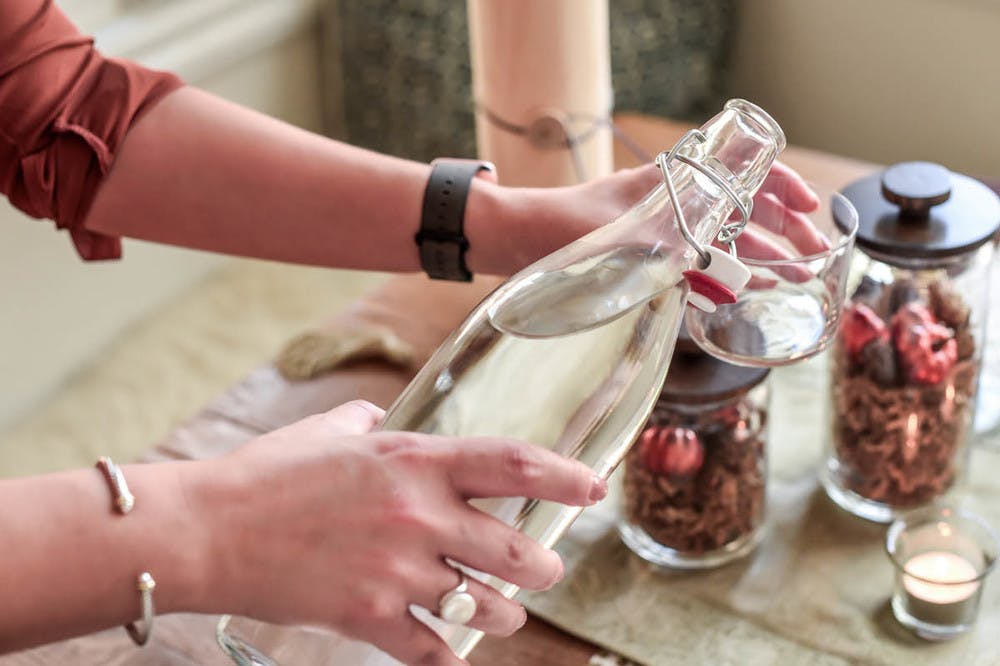 Thoughtful Touches
To serve my guest's water, I used several Clear Giara Glass water bottles. They have an easy grip and add to the simplistic look of the tablescape. They're also a great way to package a giftable treat like specialty oils and vinegars with their airtight, hermetic clamp closures with a rubber gaskets that keep the contents fresh.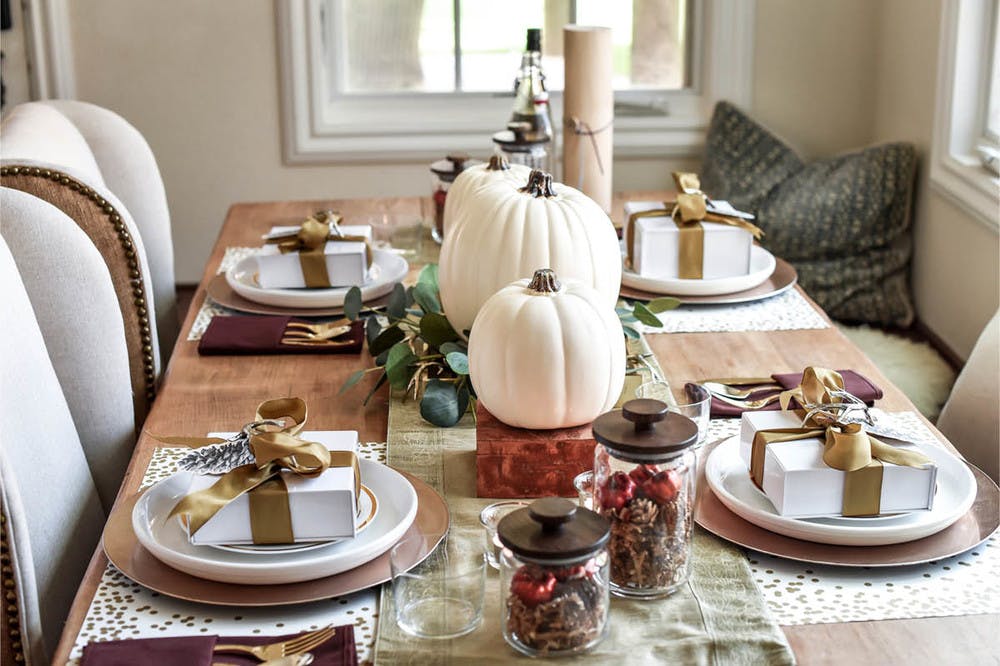 There you have it! A few ways to take your seasonal tablescape up a notch. Let me know what you plan to incorporate into your holiday entertaining, or ask me any of your DIY questions in the comments below.
Happy Fall!
Melody