Oh I remember the days about 20 years ago, when I started traveling for business and it seemed oh so glamorous! Breezing through security lines with no 3-1-1 liquid requirements, no kiddos in tow, no devices that kept you online 24/7. Needless to say, traveling is not like that for me and many of my friends and colleagues anymore, but the necessity of organized and efficient packing, and the desire to still have some semblance of style is something we all crave. Our stylish and savvy Travel Buyer Christine let us take a peek into her Luggage to give us some tips on how to pack for a three-day trip without having to check a bag!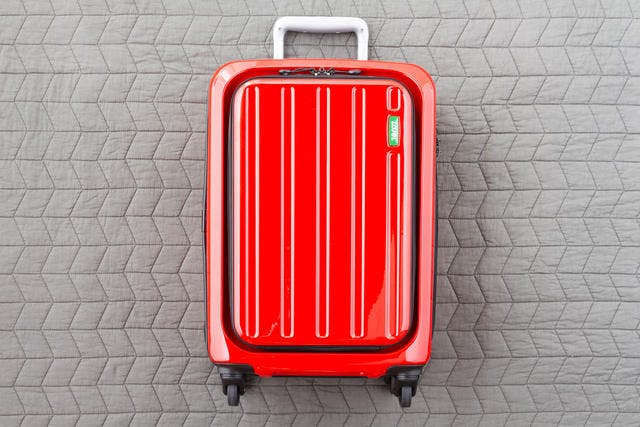 She starts with the 20-inch Red Lucid 4-Wheeled Luggage. It's hard sided and durable, lightweight (only about 6 pounds!) and is stylish and easy to spot. And bonus, it has a front compartment complete with an organizer panel for your laptop or tablet, keeping it easy to access for security or during your flight.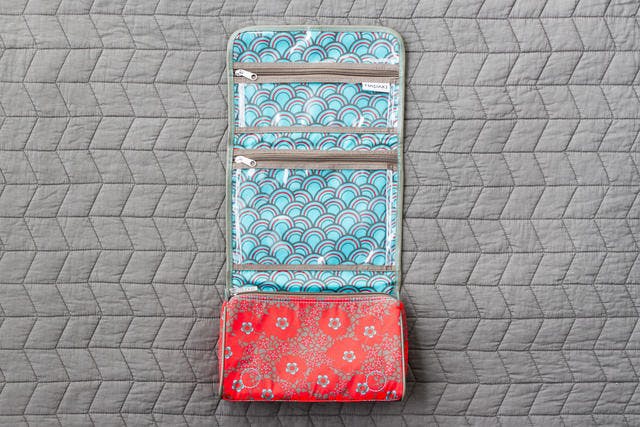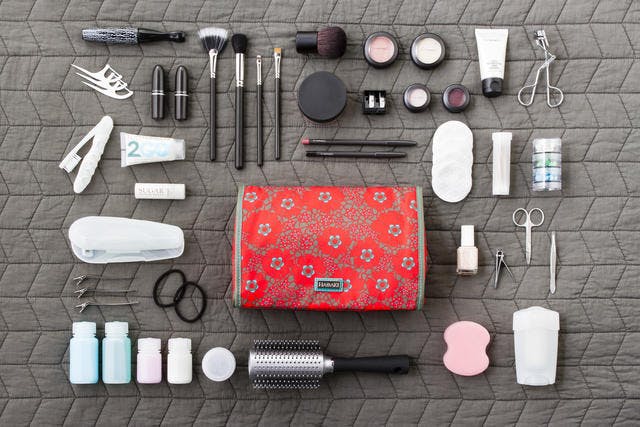 Christine definitely has the 4-1-1 on the ol' 3-1-1 carry-on rules for liquids. She uses a 2-ounce Nalgene bottle for face wash, body wash, shampoo and conditioner, but a 1-ounce Nalgene bottle for her beloved face cream. "A lot of expensive face cream comes in glass jars and you don't want to ever risk it breaking in route. Plus, you don't need a lot for a three day trip." She, of course, packs all of her liquid in the standard clear, 1-quart zip-top bag that can be easily removed from her purse or bag at security. The ingenious 1-ounce Toothpaste 2Go and a Folding Toothbrush with Microban (which inhibits the growth of odor- and stain-causing bacteria) are two other of her must haves. She fits all this and more in a Hanging Toilietry Organizer which has a lot of clear pockets and pouches for makeup and brushes, hair accessories and other tolietries. And, a top loop means you can hang it from a hook in that bathroom when you reach your destination.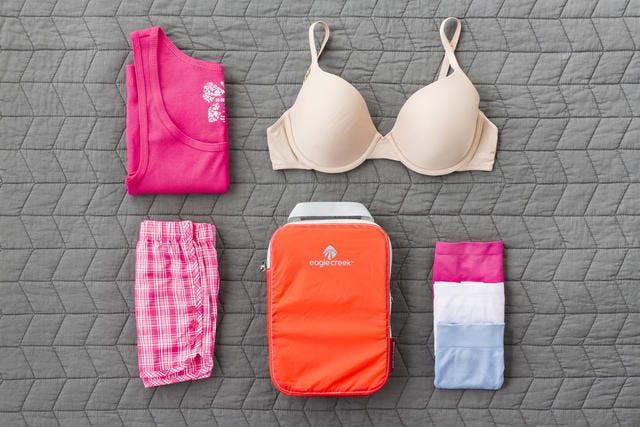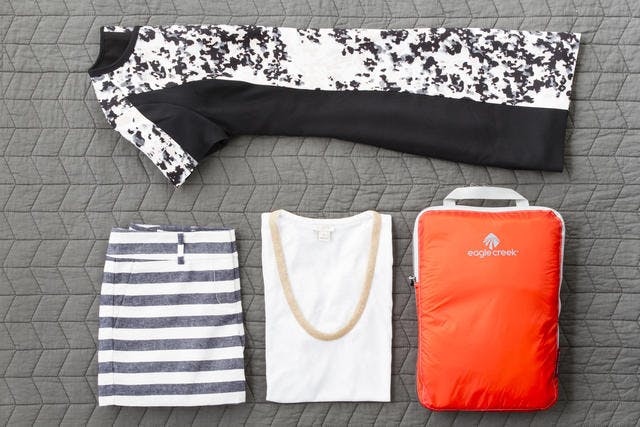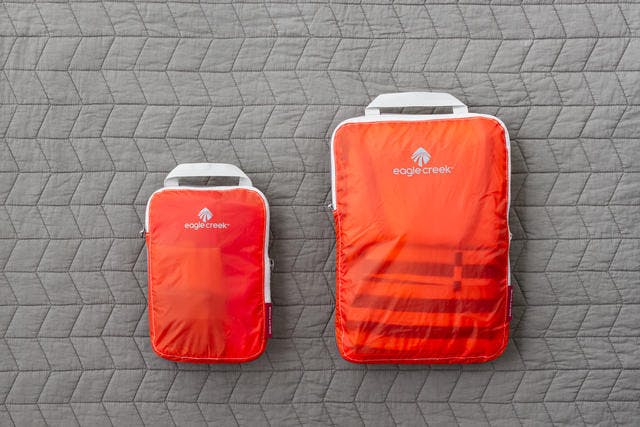 Christine uses an Eagle Creek Flame Orange Specter Pack-It Compression Set to pack tons of underwear, tights, socks, bras, sports bra, camisoles in one, and pajamas and workout clothes in another. Tip: tuck socks into bra cups to keep the bra's shape.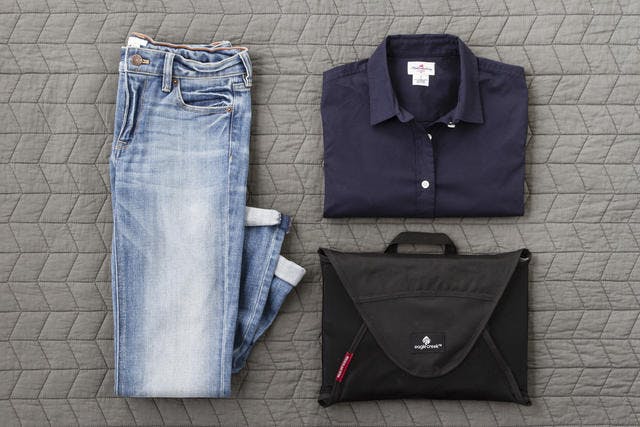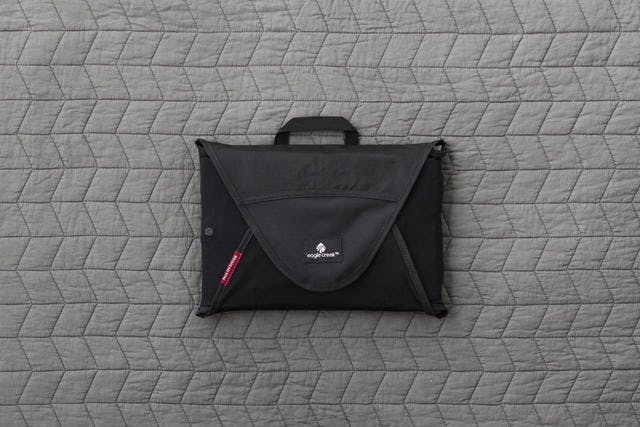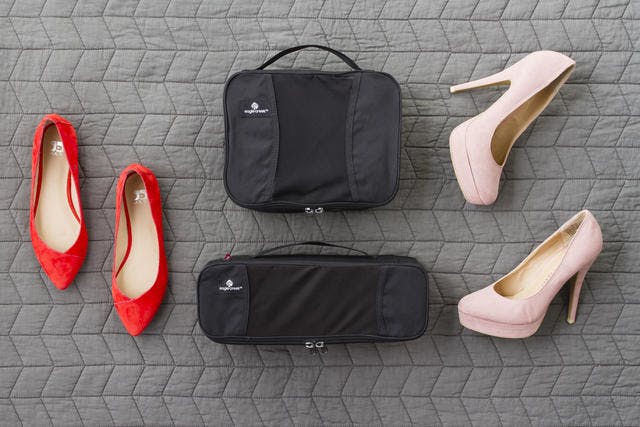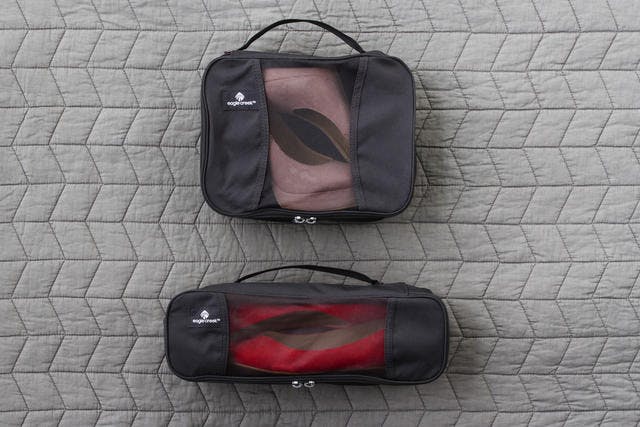 Christine chooses a few key clothing pieces that coordinate and work together - often sticking with a neutral color palette and using accessories for pops of color. Luggage organizers like the small Eagle Creek Pack-It Folder easily holds 6-8 garments and keep things compressed for fewer wrinkles and easy unpacking. Although she has a love of shoes, she keeps them to a minmum for short trips. She uses the Eagle Creek Pack-It Half Cube for heels and the Tube Cube for flats. Cubes are also great for socks, t-shirts, shorts and undergarments. Just roll up the items to maximize every inch of the cube.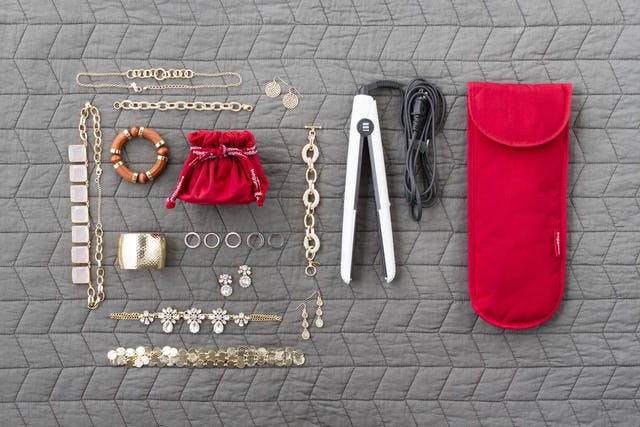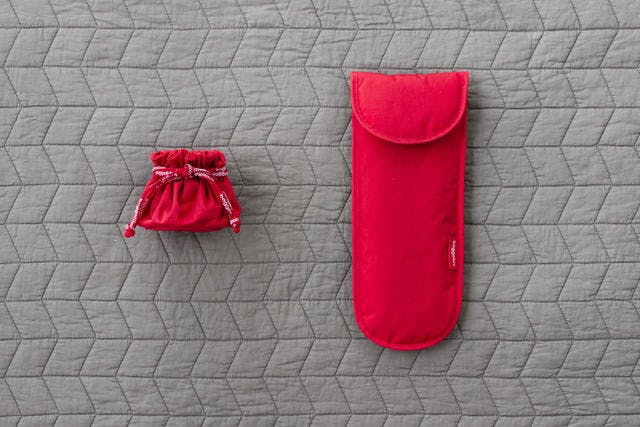 Christine keeps it cute and coordinated with a red baggallini Drawstring Jewelry Pouch (it's compact, yet has eight pockets to store a lot of jewelry) and baggallini Curling & Flat Iron Cover.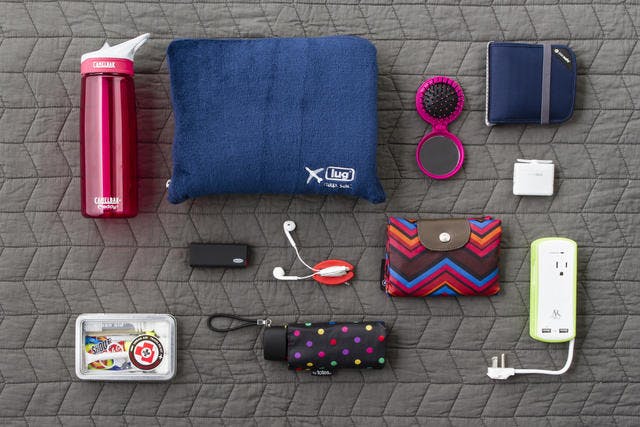 Christine says she always travels with a tote with a slip strip that can fit over the handle of her luggage and has a zipper top. Her recipe for the perfect tote contents:
• Phone charger on a bobino
• A tampon in a toothbrush holder (just in case - prevents it from getting damaged)
• Deodorant remover
• 4-section pill organizer with ibuprofen, tums, vitamins, allergy pill
• Ear plugs
• Lip balm
• Floss
• Pop-up brush
• Smart charger (and cord in pouch)
• Hand sanitizer
• Gum
• Earbuds
• Notebook
• Pen
• Minifan

"I also always have a water bottle (and I dump the water at security and refill before I get on the plane so I have water but don't have to keep the tray table down or worry about it spilling)"

She also likes to tuck a small crossbody bag with her ID, travel wallet, cash, and phone inside so she's ready to go when she arrives to her destination - "I can dump my 'flight bag' and have an around town bag without breaking my shoulder or out 'at night' bag."