< Return to Product Page
Customer Reviews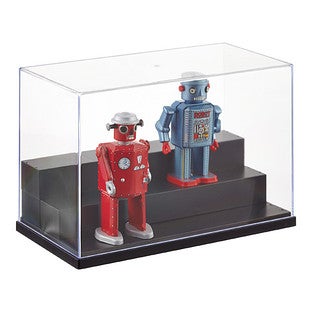 Multi-Level Display Box
Overall Rating:
Customer Reviews
Multi-Level Display Box
65
65
Excellent Case
I've been looking everywhere for a display case and this one exceeded my expectations. You can use it several ways and the cover fits tightly. It is well made and looks expensive. I highly recommend it.
May 25, 2015
just what I was looking for!
I was very excited to find these cases and ordered two right away. I was a bit worried when they arrived because they looked smaller than I had expected, but my POP vinyls fit in them well and my display looks lovely! I am very happy with this product. :)
September 23, 2014
Great item for collectors
I have purchased 3 of these multi-level display boxes in the past year. They are perfect for small collections and anywhere space is at a premium. They can be multi-level or one flat level. i have some small collectibles that I display in these boxes and not only do they look great but it also means that i don't have to try and dust around these small items. They are terrific and look great on shelf units.
April 26, 2014
Great Product!!!
Great product for a good price!! Shipping was done very nicely. Purchased these for my tokidoki and kidrobot collections and I really like it. I've been searching for display boxes for a while, and could not find one that fit what I was looking for. Perfect, definitely will need to buy more soon!
April 26, 2014
Great Display Case at Great Price
I was so happy to find these cases! They are sturdy, manufactured well, and provide lots of room. I use them for my Disney Vinylmation Collection. The spacers allow me to have three rows. All of my vinyls can be clearly seen and are kept DUST FREE!
April 25, 2014
nice display
works well with my 3" kidrobot figures, fits about 5-6 figures side by side, so about 15-18 total. these display cases stack very well on top of one another.
April 25, 2014
Perfect for Vinylmations!
I have seen other Vinylmation collectors use these same exact display boxes for their figures and they are absolutely one of the best displays for them! I have provided a picture to show my Vinylmations in these display cases. I have way too many figures for all of them to be able to fit, but the displays definitely helped organize them and clear up space off of my other shelves that the Vinylmations were taking over.
April 20, 2014
Nice plastic box
I collect various items. And this handy little display box holds smaller items and fits very well, overall,l with the rest of my displayed objects.
April 1, 2014
first time I purchased something I didn't love. a little flimsy
March 28, 2014
Awesome Product
This thing is great for Disney Vinylmations, holds 12 no problem!
March 17, 2014
Perfect for small vinyls and figs
I used several of these for my large collection of Tokidoki as well as some pathfinder figurines. They all look great in the box and the boxes stack. The only bad thing about stacking the is the figs fall over super easy if you bump it, and I am clumsy. 5 stars for price and look.
March 17, 2014
Exactly what I was looking for
Excellent size for displaying twenty one Lego Mini-figures.
March 15, 2014
Great for collectors and VERY affordable!
I collect a lot of small items and always have trouble finding a way to display them, while keep them protected as well. This display case was perfect! The multiple levels allows you to appreciate all the pieces in the collection, and the stacking option is great for even bigger collections. This comes highly recommended!
March 12, 2014
Great display case
I use these cases to dispay my vinylmations. They are perfect for this use. The item is very reasonably priced and always comes well packaged.
March 4, 2014
perfect for display
I bought this so I could display my Disney Marvel Avengers vinylmation figures. It is the perfect size for 12 of them. When the series 2 figs come out, I will get a new one. Another great item from the Container Store. I love that the display can be done more than just the one way
February 27, 2014
Nice display case
I purchased four of these cases to show off my sandalwood chess set and other trinkets. I am extremely pleased with them and have now ordered 2 more to help protect more of my trinkets. (It also will make dusting much, much easier.) The picture below didn't turn out too good, but will show how these boxes protect my trinkets and why I think two more would be good. I could then spread everything out better. I am very pleased with this purchase.
February 23, 2014
Great value!
Purchased these case to display the Disney Infinity game figures.Each case hold about six figures and they look great. After sharing these cases on Facebook many people asked me where to purchase them. I shared the link and people from all over the country started ordering them too. Have seen so many photos of the Disney Infinity figures now displayed in these cases. Think I really started something!
November 6, 2013
Great Purchase
My sister and I purchased this display box for use at our father's memorial. We decided to showcase the medals he received, while serving in the Vietnam War. We were really happy with the purchase. The ability to move the shelves around for a different look was what sold us, as we weren't sure exactly how to go about the display. With a little sticky tack we were able to display not only the medals, but a couple of small mementos our father kept as reminders of his near death experiences. My only drawback would be that it seems a little flimsy, however once put together and on a shelf it's fine(wish it was a little easier to lift for dusting under and around). I suppose we could glue it closed, but that seems too permanent.
October 17, 2013
In complete love!!!
I had purchased this today because I saw that it was perfect to hold the 3 inch Disney vinylmations.i have been collection them for 3 years and haven't found something to display them nicely until now. It is also affordable i have seen similar cases online for $ 20-30. It holds 18 of them perfectly. It is just the best. And it's not too big not to small and helps me save time on dusting. :) I would and have already recommend it to anyone that I know who collects!
May 3, 2013
Favorite Vinylmation Display
This multi-level display case is my favorite Vinylmation display box! It keeps vinlys organized, clean and free from dust. There are three steps in each display box which allow you to clearly see the heads and chests of the back two rows. I can fit up to 21 vinyls in each box, 7 per row, though it is a tight squeeze (see photo). Keep in mind, vinyls with extended necks or oversized accessories may be too tall for the top row. Also, vinyls with hand accessories, tails and body accessories will take up more room per row. These display boxes are also stackable which is another cool feature. My favorite way to use these cases is to display and entire set. Love, love, love this display box!
April 27, 2013
Great display box
This display box is great! It looks expensive but really affordable.
April 26, 2013
Versatile Display
The movable steps make this box so versatile. It is just the right size to fit on a book shelf. The units stack easily. If it was a little taller, I could fit my bobbleheads in it too.
April 26, 2013
Bought for Lego people
My girls wanted something to house their lego people. There is a good bit of headroom left, but it is the best looking and cheapest thing I could find. I like the stairsteps.
April 22, 2013
Star Wars legos resting place!
My son has a massive collection of Star Wars lego sets and after putting them together, he would much rather display them rather than putting them back in their cardboard box. These boxes are perfect for the smaller figures and keeps them dust free! We purchased larger boxes to accommodate the space ships and are on our way to getting his entire collection displayed and he loves the fact that he doesn't have to dust them all the time now!
April 16, 2013
Amazing Display Boxes
These are absolutely amazing. I use them to display my Disney Vinylmations. They look so cute in the display boxes. Every time I look at the cases it brings a smile to my face. I looked for quite some time for something to display my figures in. i finally found these and they are great.
March 18, 2013
EXCELLENT for displaying your small collectibles.
This is so amazing for displaying your small collectibles. No need to dust every single piece every week. Highly recommend this to everyone who wants to show off their "cool stuff." :-) :-) :-) :-) :-) :-)
March 18, 2013
Perfect dimensions for Nendoroid Petit
Absolutely perfect size for Nendoroid Petit figures. I had recently purchased a set of 12, and I was a little worried about how to display them until I saw this. Honestly the dimensions of the display box couldn't have been more perfect if I had gotten it custom made for the job.
March 14, 2013
Display cases vinylmations
I use these to display vinylmations. These are awesome and I look forward in ordering more. Easy to setup, can fit it most places like shelves where i put mines. I fit about 12 vinylmations in one could fit 15 max if you squeeze them in. Going to buy more
March 14, 2013
Best Display Box for Vinlymation
These boxes are perfect for Vinlymations, clear and quite sturdy. You can fit a lot in them, as many as 15 if you squeeze them in. I have put about 10 for a comfortable and easy to see display. The only problem is that the boxes are not locked closed, so the tops can be taken off easily.
February 19, 2013
Great for organizing and displaying Lego sets
I bought a few of these to organize my kids' assembled Lego sets. The clear acrylic top is easy for them to put on or take off for play, I also used museum gel to hold the toys in place once they are put inside the display. Works wonderfully!
February 5, 2013