Rated

5

out of

5
 by
Downtown79
Great Organizer
I am very happy with the expandable undersink organizer. I really like how you can customize the bins and the shelves to fit around your pipes and garbage disposal. Now my under sink cabinet is neat and organized just like it should be and I can find everything easily.
April 14, 2016
Rated

5

out of

5
 by
DebbieSue
Solved my storage needs !
We just moved into an older home that has new bathrooms and kitchen but has limited storage. After digging for my stuff out of boxes for the last two months, I finally discovered the Expandable Under the sink shelving. I went to the store to see the display and I was pretty sure this was going to work. Got it home and it took me all of 10 minutes to assemble, no tools needed and it fit and does exactly how I hoped. I'm very happy with how it turned out. Pictures attached. I should have done a before pic, but I like it so much I'll do another bathroom this way and take a before and after then. See my after pics here.
February 29, 2016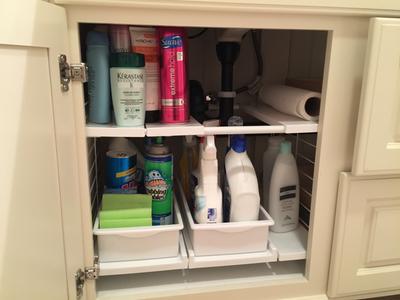 Rated

4

out of

5
 by
MiamiDanceMom
Wow! That was Easy!
We recently moved into a new house with much less storage than the old one. And, while I really love lots of beauty and bath products, our new bathroom just did not have space. So, I ordered this online and could not wait to put it together. Normally my husband and I assemble stuff like this together but he was out of town. So, I decided to give it a go. Wow! That was so easy! Ten minutes tops to snap it together. It really is customizable. I got three times as much space. Okay, so it is not gorgeous or elegant. However, it works as advertised and looks just fine. I like it so much I plan buy two or three more. One for each daughter and maybe one for under the kitchen sink. Even Curious Kitty approves.
June 11, 2015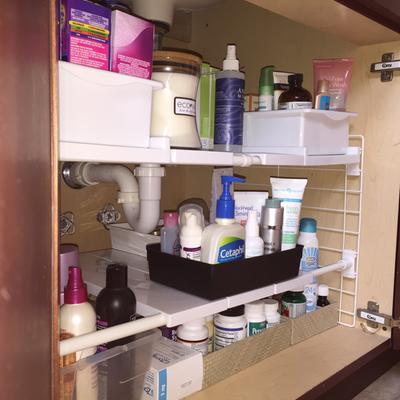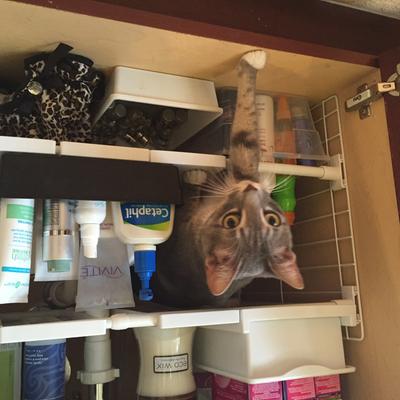 Rated

5

out of

5
 by
Cheffy
Best solution to a tough area
The under sink area of my kitchen had been a thorn in my side for over 20 years. I just couldn't find a storage system that would work around the pipes and hoses under there. I wanted something that would organize the whole area, not just one side. I am thrilled with the results of the Expandable Under Sink Organizer. I could adjust it to fit exactly as I needed. It is a heavy duty plastic, not flimsy at all. I love that I can see exactly what I have under there, no more searching for bottles, brushes, or cleaners. I also incorporated another favorite product of mine, the plastic storage baskets with handles. They are the perfect complement to the organizer. Please see my photo for inspiration!
February 23, 2014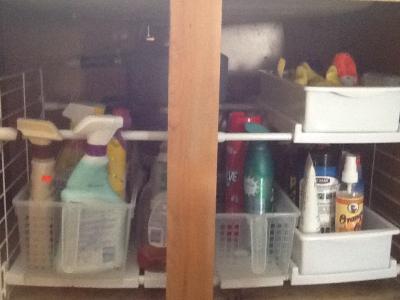 Rated

1

out of

5
 by
Jenn78
Too Big
This doesn't fit under snyof my sinks! Using it in a closet instead. Make sure you measure before ordering.
January 30, 2017
Rated

4

out of

5
 by
13thetigger13
Great organization!
This is awesome. Gave me so much more usable space under the kitchen sink. Easily fit around the pipes. The only things that keep me from giving it 5 stars are the assembly instructions, and that I'm a little bit worried that there material that it's madder of won't hold up long.
January 25, 2017
Rated

5

out of

5
 by
Uugoddess
Love it!
So good to find a way to organize under the sink with with obstruction of the garbage disposal
January 11, 2017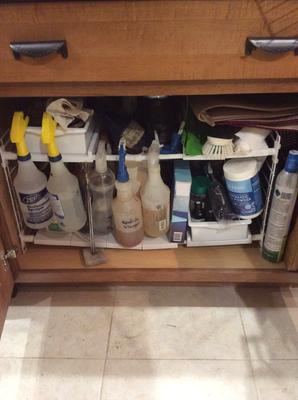 Rated

5

out of

5
 by
Geoff2
Organization!
Absolutely awesome space maker! Easy and super quick to put together.
January 10, 2017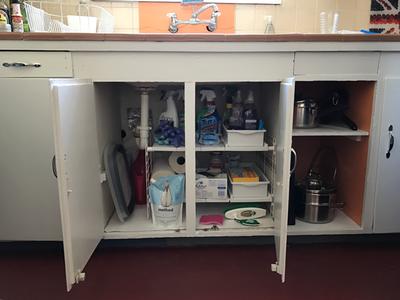 Rated

5

out of

5
 by
Scattered
Untangles the Undersink
The configuration under my new sink looks very much like the one in the picture. With the garbage disposal lower, I had sorta written off that side of the cabinet, but this product made it available for small objects, and I can pull out a shelf, so that nothing gets lost in the back of the other side.
January 8, 2017
Rated

5

out of

5
 by
mehd
Love this!
Very functional and easy to set up. I loved my first one so much I ordered four more -- one for every sink in the house.
October 27, 2016
Rated

3

out of

5
 by
LodaStL
Not as great as it looks
This shelving unit is weak and when you put items on the upper shelves or pull open the drawers, the whole thing rocks. Because of the way my sink and disposal are, I cannot use the drawers on the top at all (can only use them on the bottom rack) and I can only use the shelves on half of the upper part. It doesn't expand to fill my entire under sink cabinet width. My sink sprayer gets caught on the shelving in the cabinet now when I pull it out to use. I think a few heavy duty bins would have worked better for my purposes but I am keeping it. (I am storing a few cleaning spray bottles ie windex, and reusable water bottles ie nalgene bottles and travel coffee mugs, on this unit = not heavy things)
October 26, 2016
Rated

5

out of

5
 by
CleaninHouse
LOVE THIS!!!
We live in a 2 bed/2 bath apartment and space is tight. I purchased 3 of these. First I bought 2 - one for under each bathroom sink. Then I went back for a third to put under the kitchen sink. The amount of space I've created is amazing! And everything is so much neater and organized and easy to find! I'm also using plastic grid baskets on some of the shelves. The shelves cave a bit if you put anything too heavy on them (i.e. heavy shampoo bottles), so the light baskets are perfect for not adding weight. I didn't take before pictures, but I'm attaching after pics for kitchen and 1 bathroom (since I can only add 2 pics). Note that since I have 3 sets I can mix and match where I use the drawers and shelves. I ended up using all drawers and have 4 extra shelves... Oh and it was really easy to put together!
October 11, 2016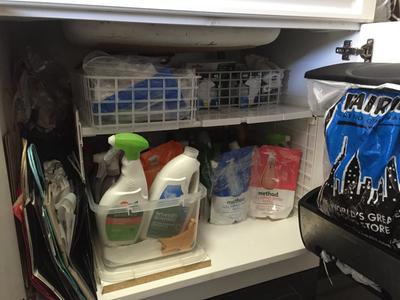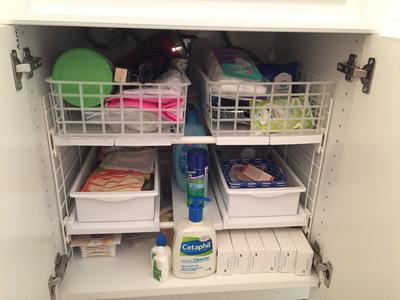 Rated

5

out of

5
 by
SunShn1972
Increeased Usable Space
I used this in combination with some sliding mesh baskets, and was able to fit considerably more under the sink. I was able to move some things I had previously stored in the bedroom. I don't see any problems with the support rods bending, and don't expect any issues in the future. They're made of metal, so they should be sturdy enough for typical under-sink items. Assembly was easy and quick. The rods snapped onto the side pieces fairly easily.
October 9, 2016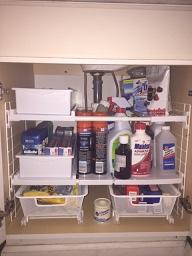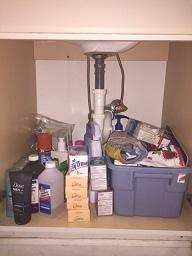 Rated

5

out of

5
 by
Kalimananna
Easy and Effective
I bought 2 of these on sale, for two very different spaces, thinking I'd be lucky if one of them worked well. The first installed perfectly and used vertical space so much better than how I was able to use it before, but I could only use one of the drawers. Then, when I installed the second unit, voila! I was able to put that unused drawer into use in that wider, more horizonal space. For the first time, I feel the space under these two sinks is edited and contained perfectly. I know where everything is and didn't save anything I won't have a use for. Brilliant design!
October 5, 2016
Rated

4

out of

5
 by
biodork
didn't work for me
I must have the only sink configuration that DOESN'T work with this unit. Given the spacing of my sink drain, garbage disposal, and cabinets, the only way I could get this to fit had the two pull-out drawers on the same side and the shelves behind the center cabinet frame piece (which is not present in the product photo). So at the end of the day, it made more sense to just get a set of stackable drawers for one side and not bother with this. Good if it works for you, though!
September 27, 2016
Rated

5

out of

5
 by
Pauhana
Lookin' good
This organizer worked wonderfully for my space. Play around with it until you find your perfect fit. I can fit more under the sink now, but still find everything.
September 22, 2016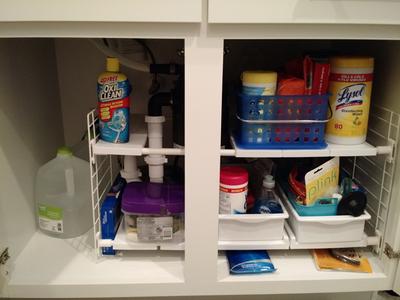 Rated

4

out of

5
 by
grmmarge
helpful storage
this plastic put together storage unit was very helpful at getting my assorted stuff organized. the unit is easy to put together, but you must be aware it is not a "fit all" I was not able to utilize the full amount of shelves due to my plumbing under the sink. though it is not a problem for me, you need to be aware.
September 21, 2016
Rated

5

out of

5
 by
Cabmom23
Great under sink organizer
I love the versatility of this organizer. It easily fits around the plumbimg and it's easy to adjust.
September 20, 2016
Rated

4

out of

5
 by
yellowmew
Good Fit
Make sure to look at the box first so you know exactly where the tension rods attach. Easily adjustable in all the right ways!
September 15, 2016
Rated

2

out of

5
 by
bevann
Flimsy and Better Solutions Out There
We have a high end custom vanity and I needed something to use for organizing around some pipes. This organizer is a little flimsy and waste space. I wish it were wider and deeper. Also, I wish the drawers would easily lift out since we planned on putting our cleaning products in the drawers. I complained to the store and they said disassemble it and bring it back for a refund but it was too much trouble to do so. Besides its under my husband's cabinet. For my cabinet side, I found that elfa was a better solution. I've uploaded the two different solutions in our vanity. I love the elfa and dislike the plastic one. I do recommend the plastic one to those who have a lot going on under their sink and finding another solution for that problem would be difficult.
August 25, 2016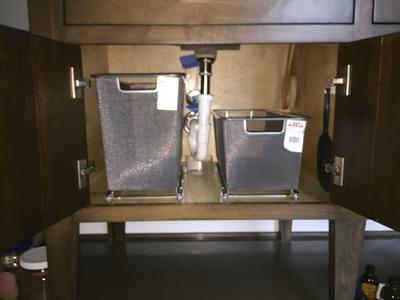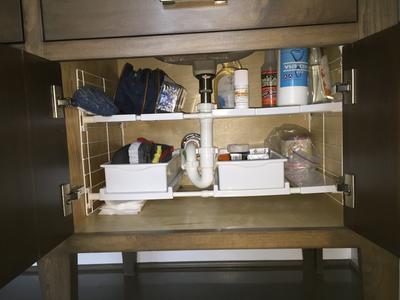 Rated

5

out of

5
 by
Anne5
Well made and useful product
I installed this under my second sink in the kitchen, next to garbage cabinet and with a disposal - what a mess! Now I can see everything and I love the functional slideouts. All cleaning products, paper towels, food store bag recycle, bug stuff. Installation was easy with no tools. Yay!!
August 25, 2016
Rated

1

out of

5
 by
Irises
There are better shelving solutions
I really wanted to like this under sink organizer. I've purchased 2 different brands before and they worked out pretty well. I thought I'd give it a try because it looks more clean and it has deeper shelves than the other ones I bought. However, it was much more difficult to put together and maneuver into place under my sink. Even though I measured, I shouldn't have snapped the supports in place before seeing if it would actually fit the way I wanted it to. Now the shelves can't be adjusted because I can't remove the support pipes from the wire frame and I feel like it's going to break if apply too much pressure. I also don't like that the shelves don't snap onto the pipes and can easily be bumped around (something that doesn't happen with my other sink organizers). Maybe I just got a bad one, but it definitely doesn't function the way that I need it to. I'll be returning it for something more functional.
August 9, 2016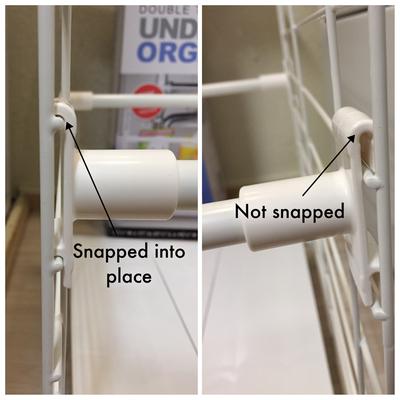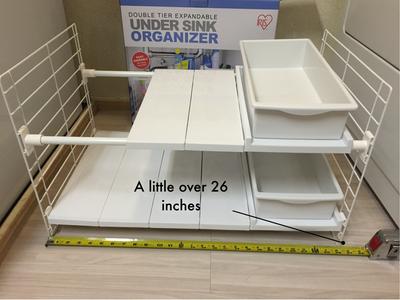 Rated

2

out of

5
 by
KaliR
Very junky.
Shelves are easy to bump off and drawers tend to get stuck, especially with a little weight in them. Very junky, which I suppose is unsurprising given the low price point.
August 7, 2016
Rated

5

out of

5
 by
DavidJames
Take it Home & Try It Out
I purchased this under sink organizer on sale, still a bit doubtful it would be as wonderful as the packaging said. Wow, was I wrong...it was even better than I had expected!! Due to versatility of this product's construction, it can be modified without tools to fit underneath almost any sink. The components slide on a rail to accommodate pipes and garbage disposals. It is constructed of sturdy, vinyl coated metal and thick plastic. It took me less than 10 minutes to install, including removing my existing items, cleaning area and replacing with new organizer! An added bonus are two pulls out drawers that are designed with stops so that you can't pull them out too far. The bottom of the unit covers the bottom of the cabinet, eliminating the need to clean underneath. I plan to try another one for my bathroom vanity.
August 3, 2016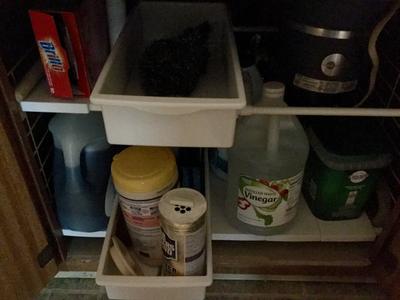 Rated

3

out of

5
 by
Joanna4000
Great for small sinks
This is wonderful, however for a small sink. In my larger sink the divider sinks in a little bit. It's not a huge deal now. Over time I see it getting worse. I would not pay full price for this. I got mine on sale for $27. It's was a good price for what I paid for. It's not worth $40.
August 1, 2016
Rated

3

out of

5
 by
PattyLou
Expandable Undersink Organizer
For anyone with an older mobile home bathroom, this doesn't seem to work at all (at least not in our home) due to the manner in which the manufacturers chose to install the plumbing pipes under the sink. I am so sorry to say this, because I have been looking forward to utilizing this product. So be certain the base (flooring of cabinet) is deep enough, mine is merely inches too short. Also, the width under the sink (if there were no pipes in the way) is a bit too much to allow the bars to hold the flat slats sufficiently.
July 29, 2016
Rated

5

out of

5
 by
Smansh
De clutter
I recently bought three of these for all the bathroom cabinets....love them.
July 15, 2016
Rated

5

out of

5
 by
ClothesHorse
great for organizing under sink space
This is very useful for the kitchen or the bath. It allows you to work around the drain pipes and still have maximum storage. If you make the organizer too wide, it will bend a bit in the middle, but that's about the only downside.
June 8, 2016
Rated

1

out of

5
 by
CEOMOM
Disappointed
The concept is great, but I could not manipulate it to fit under my sink. Also, the material/fit seemed dinky. I didn't attempt to try the product under my other sinks/cabinets. I returned the item.
May 14, 2016
Rated

3

out of

5
 by
UWfan
a little disappointed
I bought one of these for under our kitchen sink. I really like that it has drawers. It is a little flimsy. I had to prop it up in the middle. I wish it could be wider (side to side) but it would need more support. I may get one for a smaller under the sink cabinet in our half bath.
March 4, 2016