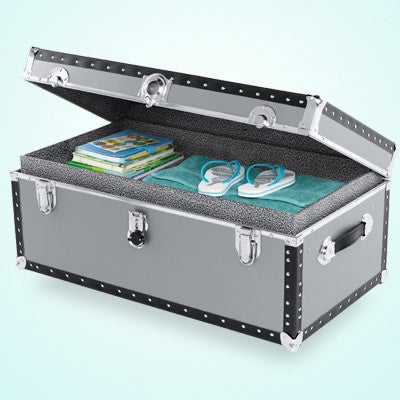 Packing For Summer Camp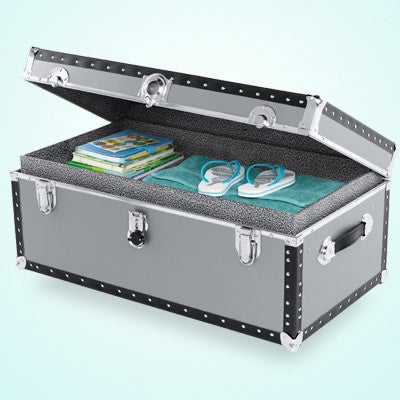 Whether your camper is planning to enjoy the simplicity of a rustic camping experience or is attending a camp that offers activities such as sports, performing arts or computer training, send them packing with our camptime essentials. Our helpful tips will guide you through the packing process.
Camp Trunk Tips
Choose a trunk that is rugged enough to tote to camp for the next few years. Most camp trunks and footlockers are constructed with wood. Thick plastic trunks are available, too, but they're larger, heavier, and need more dressing up . Look for camp trunks with wheels for easy maneuverability.
Personalizing the trunk with vinyl transfers or stickers and photos is a great way to pack a little "home" to go. Tape the photos to a piece of colorful cardstock, then adhere to the inner lid of the trunk. That way you can easily update the photos next year.
Adding stacking shelves to the interior of the trunk can create additional space by dividing the interior into two levels. Use storage boxes to store clothes, notebooks, stickers or treats to make even more efficient use of the space. Clear boxes allow your child to quickly identify what's inside.
A laundry marker will ensure that campers return home with everything they took to camp. Print names on bed linens, clothes, towels, toiletries and sports equipment.
Travel Space Bags are a great way to keep wet or soiled clothes separated from clean, dry clothes. They're easy to use and don't require a vacuum for use. The air is simply rolled out of the bag, compressing the contents and taking up little space in the trunk.
Reclosable bags are an ideal way to divide the trunk when traveling to camp. Parents can pack one outfit in each clear bag marked for every day of the week. This not only makes dressing easy for campers, it keeps parents from over-packing clothing that won't be needed.
Don't forget a shower tote that has holes for drainage. Don't send along full-size bottles of shampoo and conditioner — keep them in smaller, guaranteed leakproof Nalgene Travel Bottles to avoid any spills inside the trunk.
A day pack or small backpack is a great idea to hold "must haves" for your camper such as lip balm, sunscreen, a camera and water bottle
Summer camp packing tips:
Begin gathering items and shopping for things you need about a month before it's time to go.
Help your child pack for camp. Be sure to follow the guidelines provided by the camp for what to bring and what not to bring.
Depending on the destination, you may need to pack rain gear and a light jacket.
Leave items of value at home. Don't pack clothing you wouldn't want to get dirty.
If the camp doesn't provide laundering service, you will need to pack extra clothing. Choose super absorbent towels that are fast-drying.
Be sure to keep medications in their original containers, clearly marked with the dosage. Include your child's physician's number.
Add touches of home with a special "lovey," a few hidden notes, and some pictures of family and friends. Know the camp's policy about sending snacks or care packages.
---