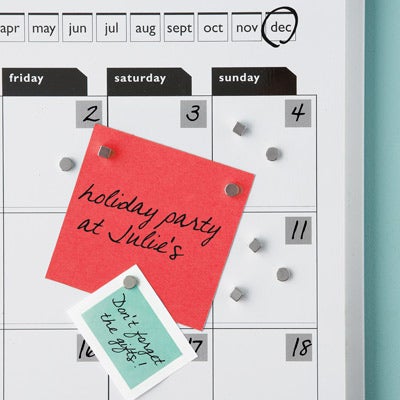 Managing Holiday Schedules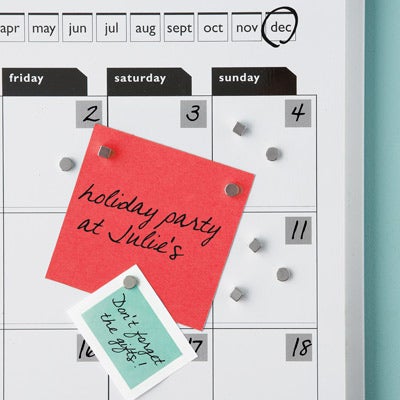 If it's true that the holidays are less happy when you're hurried, it's probably a good idea to plan how to streamline your to-dos in advance. Here are some ideas you might find helpful — share your ideas with us and other customers below!
Make Your Wish List
We often get pulled in a million different directions during the holidays. Aunt Marge wants you to swing by for Christmas brunch. Your boss has invited you to the annual department shindig. The kids have class parties to attend and holiday-themed snacks to bring. Don't forget trimming the tree and shopping for stocking stuffers. Before the start of the season, decide as a family what activities or traditions are most important and should take precedence (do you really want to go to another office karaoke party?) If anything pops up later in the season that doesn't fit with your family's holiday priorities, you can politely decline.
Write It Down
Post a calendar in a central area of your home where everyone can see scheduled activities. If you have a smartphone and schedule items throughout the day, always "sync up" with the family calendar at the end of the day. Include a bulletin or magnet board that can keep party invitations, school reminders — or your tickets to the Nutcracker — convenient and accessible.
Shop Smart
Make a list of the people you want to buy gifts for and include several gift options. If possible, make your list on your portable electronic device so it's always handy. Update it as you purchase items so you don't duplicate. Keep your shopping lists from previous years so you can refer to them the following year — no giving Uncle Don the same gift twice! If possible, consider shopping year-round for gifts and keeping them in a hall closet or spare room. Always have a few "extra" gifts, like note cards, candles or photo frames in the event anyone is inadvertently missed. Another time-saver? Order online and either have it shipped or select in-store pickup!
Don't Wait to Wrap
If you tend to be a last-minute gift wrapper, waiting until all the gifts have been bought before you begin, you may want to reconsider. Wrapping gifts soon after they're purchased will be less stressful than trying to cram it all in. If you enjoy gift wrapping, it can also be a nice way to take a break from the hustle and bustle and enjoy some carols and hot apple cider.
Cook Up a Plan
It goes without saying that for a lot of families, holidays just wouldn't be the same without our favorite foods! Agree on the menu for your feast well ahead of time and plan to cook and store anything that can be refrigerated or frozen to save yourself time. Enlist the help of family members who offer their help. Learning to "let go" when it comes to controlling your family's holiday meal preparations will make the holidays more happy — for everyone!
---