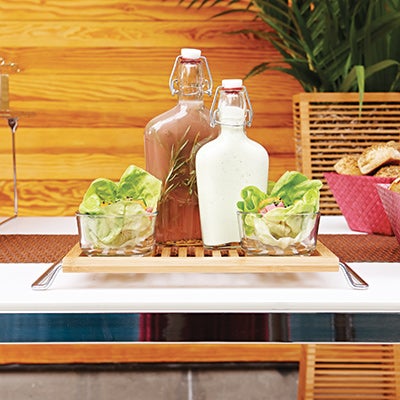 How To Host An Organized Kitchen Shower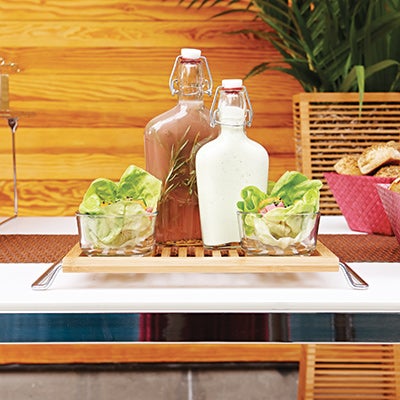 Here's a yummy idea — throw an organized kitchen-themed shower with help from The Container Store. It's a great way to help the bride stock up on everything the couple will need to create the organized kitchen and pantry of their dreams. Be sure to encourage her to register online at The Container Store so guests will have plenty of gifts to choose from. After all, whether they already own a home together, or are moving into their first place — who couldn't use some help getting it organized?
Let guests know they're in for an Organized Kitchen Shower from the very beginning by attaching invitations to a wooden spoon or other small kitchen item. Include a blank recipe card with the invitation and ask each guest to submit a favorite "recipe." This could be an actual recipe or a favorite tip for staying organized in the kitchen.
Tasty Food, Beverage And Decorations
Carry the theme through by repurposing kitchen items to display and serve snacks and drinks. For example, use our tiered cabinet organizer or Lazy Susan to showcase cupcakes or other treats. Our Take-out boxes and lined storage bins make cute containers for snacks. And who can resist our vintage-looking glass milk bottles or hermetic bottles nestled in tubs of ice? Consider labeling them with our chalkboard gift tags for a playful look. For decorations, fill brightly colored colanders or our utensil holders with flowers, or make a garland of wooden spoons.
Spice it up! Fill our unmarked spice jars with different spices and place a numbered sticker on each jar. Set spices in one of our spice racks and ask guests to write down their guesses of what each spice is. Or find recipes to 10-12 classic, common dishes. Start reading the ingredients one by one. The first guest to identify what the dish is earns a point. The person with the most points wins!
Unforgettable Party Favors
Top off your party by giving each guest an unforgettable party favor that will remind them of the day. Flavored olive oils in our hermetic bottles are a classic gift. Other ideas include colored mints in our spice jars (personalized with the bride's initial) or our takeout boxes filled with mini cupcakes!
---