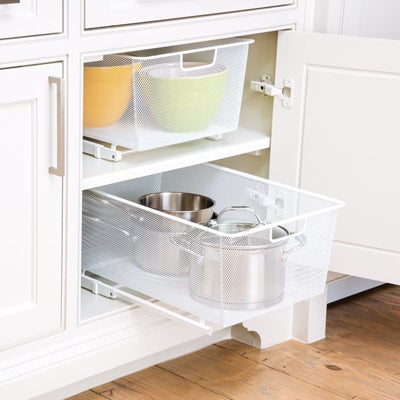 Cabinet Organization Tips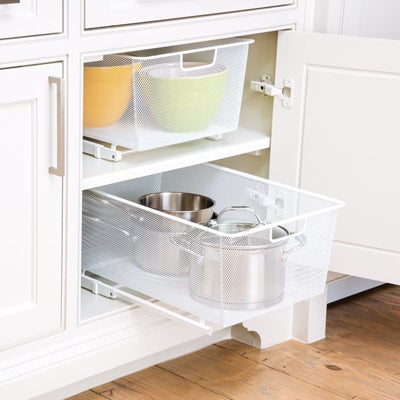 Do things get lost in your kitchen cabinets? Do plastic storage containers and lids fall out when you open a cabinet door? If so, then these tips are for you.
Divide cabinet space to get more space. A freestanding stacking shelf placed on the current shelf gives you two complete shelves, where before you had only one. A much more efficient use of your space, plus items are easier to access if they're not piled in a tall stack.
Many customers complain that spice storage is the biggest problem in their kitchen cabinets. Those spices used less frequently can be stored in a cool, dark cabinet, away from the stovetop. Spices used most frequently can be stored on a countertop spice rack.
Transfer staples such as sugar and flour into clear canisters to prolong the freshness and maximize space in your cabinets.
A quick and easy solution to cavernous cabinets is to add gliding drawers. Made in a variety of sizes and styles, gliding drawers are mounted to the manufactured shelf and bring the contents front and center.
Look for solutions that are specifically designed to tackle the hard-to-organize items in a kitchen. Choose racks to keep the lids to your pots and pans (and even plastic food storage containers) under control. Your lids will be easily accessible and won't spill out each time you open the cabinet.
Related Blog Stories:
Our Multi-Purpose Bins 7 Ways
6 Ways to Organize Your Pantry Shelf
Kitchen & Pantry Organization: Caroline's California Command Central
---