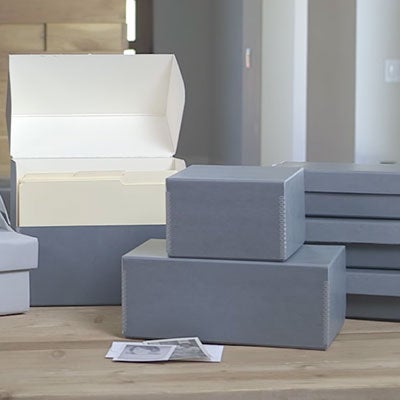 Archival Storage of Documents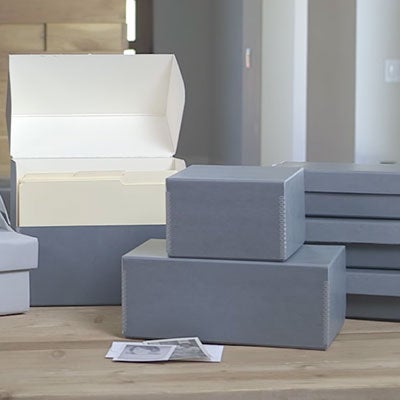 The term archival quality is a term used to designate materials or products that are permanent, durable, and/or chemically stable, and, therefore, can be safely used for preservation purposes. Here are some solutions for protecting and preserving printed materials, such as newspapers, magazines and personal records.
Choose Archival Storage Boxes for printed materials or photographs. They're constructed from acid-free materials and feature a buffering agent to neutralize any migrant acid and atmospheric pollutants. This archival material is crafted into solid, secure boxes that resist dust, dirt, and light infiltration. Rigid, metal-reinforced corners create a secure seam and resist crushing even when stacked. This combination yields a container that will protect for generations to come.
For the storage of documents; small pieces of art; collectible printed pieces such as baseball cards, books, or magazines; and other valuable or important papers; our Upright Box provide the archival environment to preserve and protect your treasures. Their construction allows for access to the contents without touching the surface of the documents and reduces the risk of damage, scratches, or bent corners.
Our Photo Box protects precious and valuable photographs and negatives from the ravages of acid, dust, dirt and light. Archival quality envelopes group sets of photographs or negatives together and can be labeled for easy identification.
Related Blog Stories:
An Unruly Attic Gets Uncluttered
Basement Storage Ideas
Related Video:
---