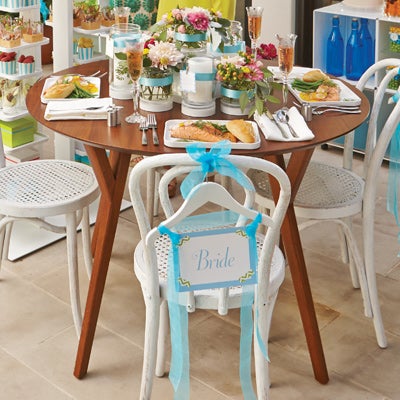 SHOWER & WEDDING
Host An Organized Closet Shower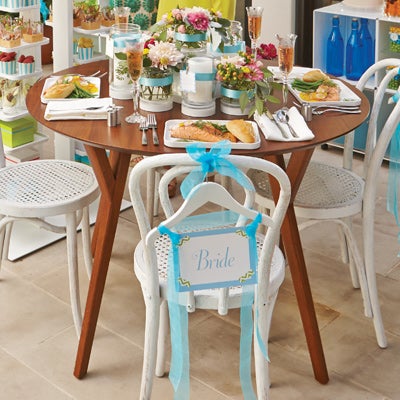 Clothes. Shoes. Accessories. And best friends. Is there anything more fun? Add drinks, snacks and great gifts to keep everything organized and you've got the makings of a fabulous closet-themed shower. Be sure to encourage the bride to register with us so guests will have plenty of gifts to choose from. She can even register for an elfa dream closet. It makes a fantastic group gift!
Invitations Outfitted For Fun
Let guests know they're in for an Organized Closet Shower from the very beginning by attaching invitations to a baby-sized wooden hanger or a clothespin. Include a blank card with the invitation and ask each guest to submit her favorite fashion tip. Be sure to place one of Our Shoe Boxes on display at the shower for guests to put their cards in. Then give the box filled with all the tips to the bride at the end of the shower.
Stylish Food, Beverage And Decorations
Carry the theme through by creating "chandeliers" made of clothespins and making place cards to hang off the back of chairs using wooden hangers and ribbon. Then book a fabulous serving station by adding Melamine Trays filled with yummy treats to our Sapien Bookcase. Stacked Shoe Cubbies also make a fun drink station. For table decorations, consider filling our brightly colored Oskar Boxes with fresh flowers.
Hang Out And Play Fun Games
Here's a shoe-in for a good time! Select 10 pairs of colorful pumps, flats and boots and 10 Our Shoe Boxes. Split the pairs up, putting one shoe in each Our Shoe Box, then mix up the boxes. Clip a number to the side of each box. Take the lids off and let guests get a good look at the contents of each box. Then rearrange the boxes for a game of shoe concentration. The guest that makes the most matches wins!
Unforgettable Party Favors
Top off your party by giving each guest an unforgettable party favor that will remind them of the day. Pretty satin-covered hangers are always appreciated. Other ideas include our cute drawer organizers filled with a mini cupcake or go extravagant and order a shoe made of chocolate for each guest.
---