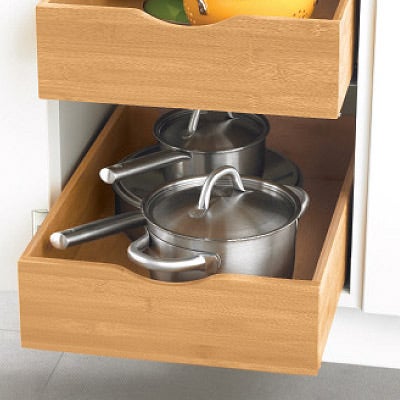 KITCHEN
Top 5 Kitchen Clutter Areas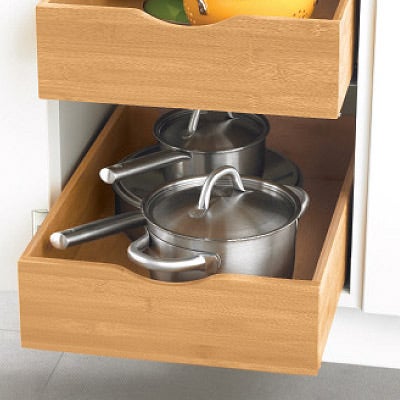 Commonly referred to as the "hub of the home," our kitchens act as the central location of the house — where we ultimately gather to eat and socialize. With that said, we've compiled these organization tips for each area of the kitchen, to help save you time as you cook and to keep the "hub" looking in tip-top shape for your family and guests.
Oftentimes, our kitchen countertops evolve into cluttered storage spaces, leaving us little room for what it's there for — cooking! In making this space over, keep functionality top of mind. Designate a space for food preparation — whether it is near the sink or the stove or both, commit to keeping a clear space on the counter for cooking at all times. Keep only the necessary items you use daily (coffee maker, can opener, utensil basket, etc.) out on your countertop. Anything not used frequently will only clutter your countertop.
The biggest problem with kitchen cabinets is keeping things visible and accessible. Since cabinets are built so deep, add sliding drawers for lower cabinets, tiered stacking shelves for cabinets at eye level, and pull-down racks for hard-to-reach cabinets. Keep your most frequently used items up front.
One key tip for kitchen organization is to store things where we use them. Store sponges and scrubbies in a container that suctions to the side of your sink. Storing soap in pump dispenser not only looks great, it's easy to use.
We are all guilty of drawer clutter. To keep things organized, use expandable or modular organizers and utilize every inch. Separate items by occasion — keeping your barbeque utensils separate from your products for entertaining. You can also choose to organize items by shape, function and/or frequency.
The pantry is a great place for utilizing all storage space from the bottom up and grouping like items together on each shelf. In maximizing this space, don't neglect the door — our elfa Door & Wall Rack is specially designed to fit onto the back of a door. The rack will ease the overcrowding on the shelves and make it possible to have everything at your fingertips. In grouping items, use shelf dividers and categorize things as you most often use them.
Related Blog Stories:
Our Multi-Purpose Bin 7 Ways
5 Ways to Organize Your Kitchen Drawers
Caroline's California Command Central
6 Ways to Organize Your Pantry Shelf
---