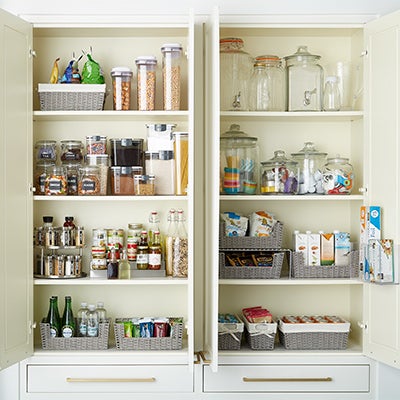 KITCHEN
How To Organize Your Pantry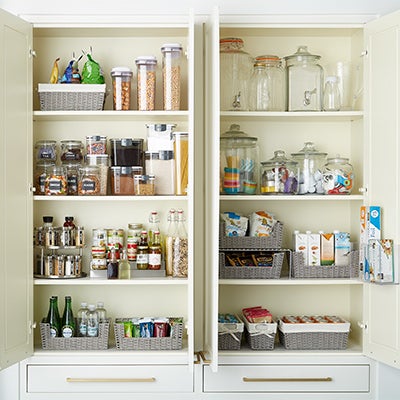 Between not being able to find what you're looking for to things falling off the shelves, the pantry is a space with plenty of organizing challenges.
Clean it out
The first step is to remove all of the items inside — set a staging area on a dining room table.
Discard and Donate
Discard out-of-date items and donate non-perishable items that you won't realistically use to a local food bank.
Measure Your Shelves
Be sure to measure the depth of your shelves as well as the space between them. This will help you determine which organizers will work in your pantry.
Line Your Shelves
Line all of your pantry shelves with a heavy-duty liner that will make clean-up of any spills much easier!
Select Your Organizers
Transfer pantry staples such as sugar, flour and rice into see-through canisters. Doing so will not only help preserve the freshness of these items, it will be easier to see when you're running low on an item. Many canisters are stackable, so you can utilize all of the space between pantry shelves!
A good idea is to group like items together in small bins and label the contents. For example, group containers of baking soda and baking powder in a single basket. Canned goods can quickly get "lost" on deep pantry shelves. Stacking cans one in front of the other is just not practical! You will forget what you've got stored in the back because you can't see it. Choose a tiered shelf organizer that provides you with a full view of your canned goods. Another option is a gravity-fed can dispenser, or even a Lazy Susan.
Make Use of Your Floor
The floor is a good place to store larger items such as bulk food storage containers, pet food in an airtight canister or baskets of often-used items such as onions and potatoes. Utilize the full space between the floor and your lowest shelf by choosing stacking bins or baskets.
Don't Forget the Door
If you have a door in your pantry or kitchen area, don't neglect that often-wasted space. Our elfa Door & Wall Rack is designed to fit onto the back of a door. The system's flexible baskets provide you with extra storage space for canned goods and other dry foods, cleaning supplies and even bottles of soda! The rack will ease the overcrowding in your cabinets and make it possible to have everything at your fingertips.
Shop all pantry organization>>>
Related Blog Posts
Pantry Pefection
elfa Pantry Transformation
Kitchen Refresh: Pantry
---