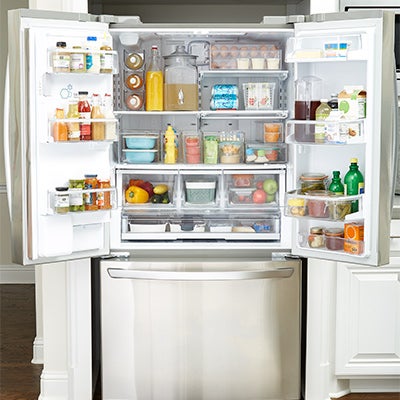 KITCHEN
How To Organize Your Fridge and Freezer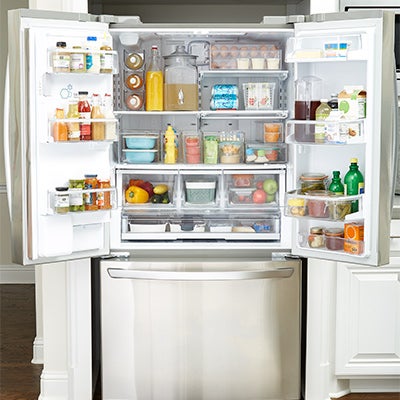 By establishing order in your refrigerator and freezer — spaces you access at least three times a day — you'll enjoy a stress-free meal preparation experience. Plus, you won't forget (or overlook) ingredients you already have on-hand — a major money-saver.
Clean Out and Discard
The first step in organizing your fridge and freezer is to take inventory and discard out-of-date items or items you will not likely use. Be sure to put perishable items in a cooler while you work.
Adjust Your Shelves
Take advantage of adjustable shelves and drawers, found in most new appliances. Since many shoppers like to buy the same brands (with the same packaging) over and over again, taking time to set your shelves and drawers accordingly will save you time in the long run.
Line Your Drawers and Shelves
Using a heavy-duty, water-resistant shelf liner in your crisper drawers makes cleanup a lot easier when fruit or vegetables inevitably go soft. The same is true for your shelves. While you don't have to use a liner, it can be helpful in preventing spills and drips from making everything sticky.
Organize by Size
Keeping food containers of similar size together will create a function for each shelf and make it much easier to locate your small, hard to see items. Store items in jars or bottles in the refrigerator door and bagged items in the freezer door.
Front and Center
Keep the most often used items in front for easy access the whole family will appreciate. You may also find that ready-made snacks in easy-to-open containers are helpful to curb your cravings — fresh fruit or veggies that are pre-washed and ready to eat will suddenly seem more enticing!
Group Like Items Together
Put things like condiments, salad dressings and sandwich fixings together in labeled bins. Consider choosing organization bins and containers with handles to make these items easy to grab out of the refrigerator and take to a prep area.
If you like to store water bottles, soda cans or beer cans in the refrigerator, consider a bottle or can dispenser. These allow you to stack bottles or cans in a small space, while providing easy access to a cold beverage.
In the freezer, use bins to corral frozen dinners and pizzas. And be sure to label freezer-safe containers with the contents and date before storing in the freezer.
Keep it Fresh
There are lots of ways beyond a box of baking soda to combat odors. Vanilla extract will also keep your fridge fresh. Soak a cotton ball or paper towel, put it on a paper plate and wait for it to dry before removing. Or use a product like Fridge Refresh or Odor Magic Filters.
To help keep your fruits, vegetables and herbs fresher longer, consider specially designed Produce and Herb Keepers. These containers work in three ways to keep foods fresh.
Keep it Clean
Clean out both your fridge and your freezer once a month. Make it part of your household cleaning routine. Doing so will make it easier to know what you have and what you still need, in addition to keeping the areas clean.
Shop all Refrigerator & Freezer>>
Related Blog Posts:
---