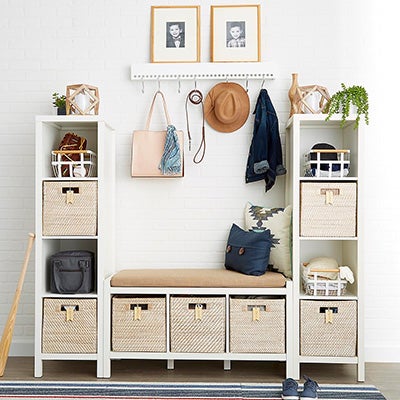 GARAGE
Entryway Storage & Organization Ideas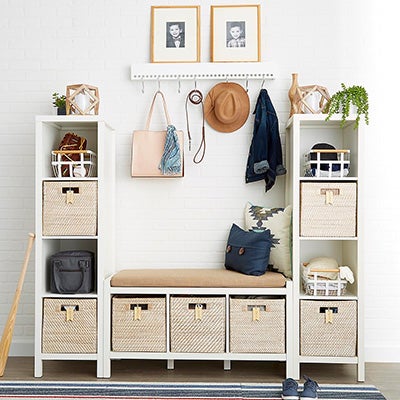 When you walk into your home every day, are you met with a sense of calm and composure? Or, is the "stuff" of your life strewn all about, creating a cluttered, chaotic (and unwelcoming) space? Organize your mudroom or entryway into four functional zones to say "so long" to entryway clutter...for good! Creating zones where like-items are stored helps establish a routine of always returning items to their designated spot.
(Hats, coats, boots, scarves and umbrellas)
Having a designated spot to collect these items will help everyone save time when heading out the door...and the end to missing mittens! In the summer months, make sure to have a bin with sunscreen, bug spray and swim goggles that are easy to grab on the way out.
(Keys, sunglasses, handbag, water bottle, reusable shopping bags)
One of the great benefits of organizing the area next to your entryway is that you will always have a place for your keys when you walk in the door and, they'll be the last thing you grab on your way out the door! Consider adding a place to collect items like library books that need to be returned.
(Backpacks, lunch bags, papers that need to be signed)
Place these items at an appropriate height to make them easy for kids to reach on their own. This teaches children the benefits of being organized from an early age — they will always know where to find what they are looking for!
(Leashes, dog treats, dog bags, travel water bowls)
When it's time to take your four-legged friend on a walk, save time by hanging the leash right by the door.
Entryway Extras
Create a small clothing care kit to keep at your family's most often-used entrance. It could include deodorant remover, stain remover, lint roller, fabric shaver and a small sewing kit.
An entryway is also a great place to keep a first aid kit and a list of emergency contacts.
---