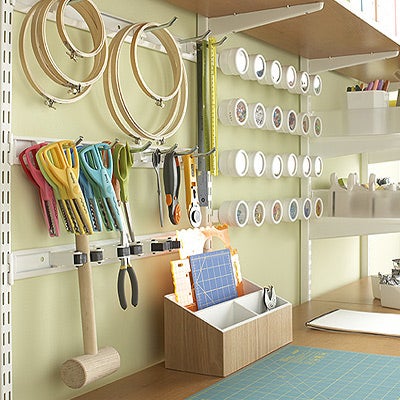 CRAFT ROOM
5 Craft Room Organization Ideas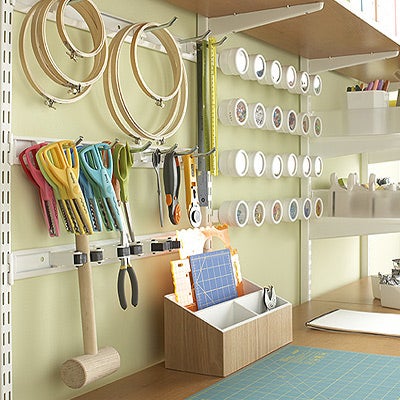 Do you feel a bit limited in your craft-making abilities because it takes so much time to find the necessary materials? It's time to spark that creative energy with an organized craft room with a few craft room storage ideas. Keeping craft supplies organized will save you time. So, whether you're into card making, scrapbooking or one-of-a-kind gift wrapping, you'll have more time for the things you love.
Keep all of your craft supplies and materials in one area of your home, and stick to it. If you like to keep watch of your child as you work, designate an area in the playroom — this will keep both of you busy. If you prefer lighting over convenience, set up an area in a well-lighted room. Pressed for space? Turn a standard closet into a craft closet, to keep things tucked away when you're not working.
Organize by hobby. If you have multiple hobbies, keep things separated. Use a different shelf, drawer and/or color-coded container for each craft, and try to keep these different items confined to their assigned areas.
Designate a space in your craft area for items typically used in every project like scissors, glue guns and tape, and keep it tidy. Store these items in an easy to access area, such as in a drawer or on a grid system over your work space.
Utilize all of the available space, including wall space, overdoor space, even storage under a bed or table, for your craft storage containers. You will be amazed at how much room you can create for storing your supplies!
Consider mobile storage. If you want the flexibility to take your creative works with you, choose a portable or rolling container that can organize your projects, including supplies. Choose from handled totes or rolling drawers to stay organized.
Related Blog Stories:
A Sweet Charleston Paper Boutique Gets A Makeover
She's So Crafty!
She Loves This Room to Pieces!
Our Divided Turntable Organized 6 Different Ways
Our So-Hooked Rack 6 Different Ways
Our Wrapping Paper Makes Personalizing Gifts & Party Favors Easy
---