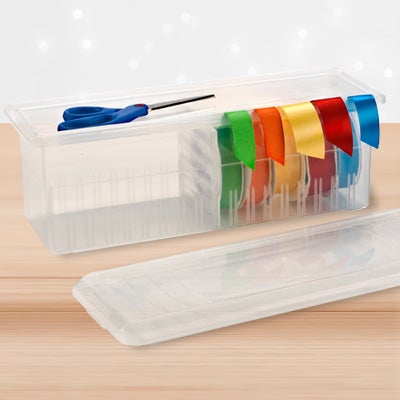 CRAFT ROOM
The Best Gift Wrapping Supplies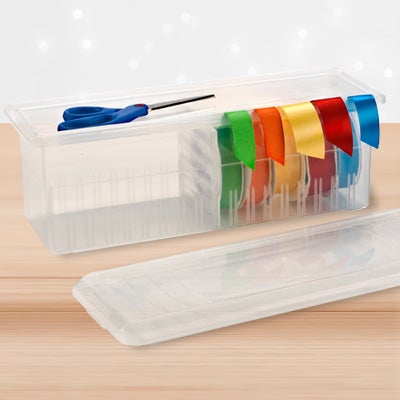 Gift wrapping pros will tell you — you're only as good as the materials you're working with. We offer these "must-have" wrap accessories to ensure that your gift wrapping experience is organized and stress free.
Sounds simple, but using double-sided tape is a secret the pros use for a flawless finish!
Nothing can ruin a wrapping experience like a dull pair of scissors that shreds wrapping paper or cuts ribbon unevenly. Select a high quality pair of scissors and use them ONLY for ribbon — doing so will prolong the sharp cutting edge. Tie a piece of ribbon around the handle so you'll remember. Consider Rolling Scissors or other solutions designed specifically for making cutting gift wrap easier.
This is an essential tool for securing handmade bows. Plus, it can be used as a fun and playful addition to your present.
Stock up on gift boxes of varying sizes so you always have something to wrap with. Choose boxes that fold flat for easy storage.
Available in a rainbow of colors, tissue adds a special touch when you use it to wrap the present inside the box. Choose colors that coordinate with the gift wrap you've chosen for a purely professional presentation. When wrapping fragile items, place crumpled balls of tissue around the item after wrapping it for additional protection.
It happens to everyone — there are times when you just don't have time to wrap a present! Keep a supply of gift bags in varying sizes for last-minute wrapping emergencies.
Keep all your gift wrapping essentials neat, accessible, and in first class shape with a gift wrap organizer. Keeping supplies organized will make gift wrapping easier and more enjoyable. Choose from a wide variety of organizers to suit your storage needs — from organizers that hang from a closet rod to ones that can be stowed under a bed.
Related Blog Stories:
Our Wrapping Paper Makes Personalizing Gifts & Party Favors Easy
A Sweet Charleston Paper Boutique Gets A Makeover
She's So Crafty!
---